FIFA World Cup lands in Phuket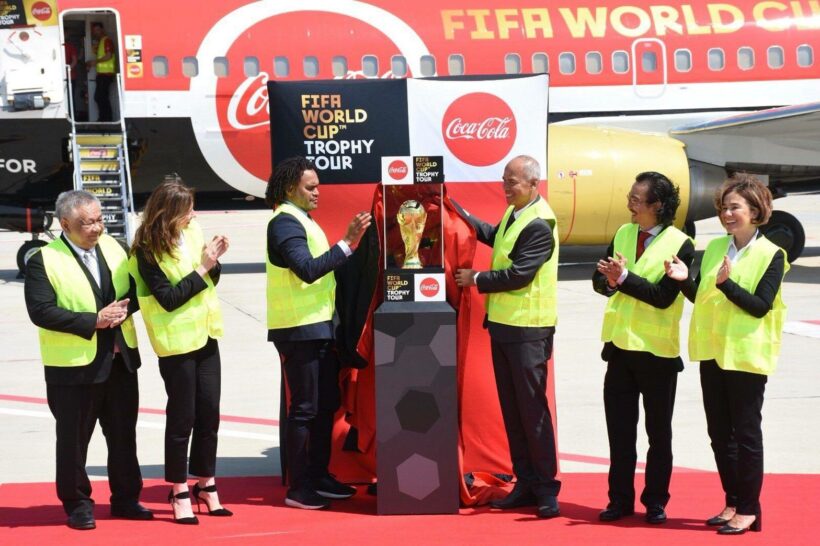 The FIFA World Cup has already arrived in Phuket for an exhibition. The exhibition is arranged under the auspices of the 'FIFA World Cup Trophy Tour 2018 by Coca-Cola' which takes place today (January 27) at Central Festival Phuket.
Phuket fans will be meeting with the legend of FIFA Christian Karembeu, former player of French National Team in the World Cup 1998.
The world-famous football player and the cup arrived at Phuket International Airport yesterday (January 26) morning and in the afternoon Phuket's Governor chaired the welcoming ceremony at Novotel Phokeetra in Phuket Town.
The world tour is expected to travel to 51 countries in 6 continents over a total distance of 126,000 kilometres during 9 months. It started in Russia, which is the host of this year's World Cup, on September 9 last year and will return back to Russia on June 7 this year.
After Thailand, the FIFA Cup will have an exhibition in Loas and Macao.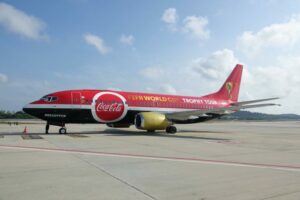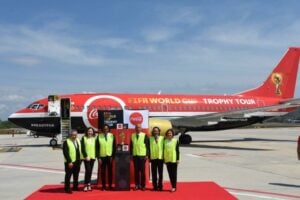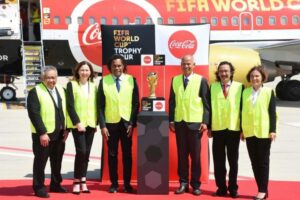 Keep in contact with Thaiger by following our Facebook page.
Never miss out on future posts by following Thaiger.
1st day of Songkran road safety campaign – 356 injuries, 25 deaths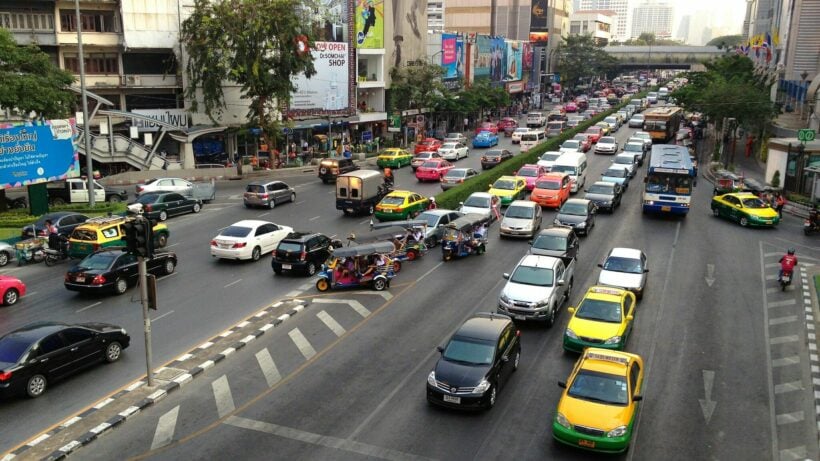 The Songkran road safety campaign is off to a moderate start with a reported 25 deaths and 356 injuries across Thailand on Saturday. The Disaster Prevention and Mitigation Department director-general reports that there were 348 road accidents in the country on the first day of the campaign. Though the figures don't sound like an achievement, they are actually a fair bit lower than the average road death toll each day in Thailand throughout the year, assuming the data is accurate.
About 83% of the accidents involved motorbikes, 7.5% involved pick-up trucks and 4% were with cars. The biggest percentage of incidents happened between 4 and 8 pm, with 28% of accidents occurring in the late afternoon and early evening. Around 20% of crashes were between 8 am and noon, and 17% between noon and 4 pm.
Speeding is the number one cause of traffic accidents, with 32% of incidents a result of people driving too fast. Sudden lane switches, regardless of speed, contributed to about 20% of crashes. Alcohol was another major contributing factor, with intoxicated drivers involved in 23% of accidents that were attributed to drink-driving.
Bangkok, Chon Buri and Chiang Mai saw two fatalities on the roads of each province, while Phatthalung province in Southern Thailand had 22 injuries from 20 traffic accidents, the most in any province in Thailand.
As part of the Songkran road safety campaign, 342,000 cars, trucks and motorbikes were stopped and inspected by over 60,000 officials across Thailand yesterday. There are 1.913 main road checkpoints set up throughout the entire country. More than 58,000 citations were handed out to drivers for many different infractions, notably over 16,000 drivers were caught without a license and nearly 15,000 people were violating Thailand's helmet laws by riding without one.
SOURCE: Bangkok Post
Keep in contact with Thaiger by following our Facebook page.
Never miss out on future posts by following Thaiger.
Thailand road accidents cost 500 billion baht per year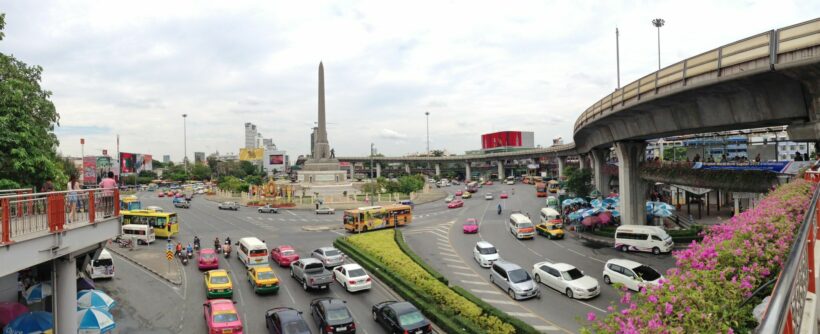 Thailand is notorious for its road and driving conditions, and a disproportionate number of driving accidents. The World Health Organisation now reports that road accidents cost an estimated 500 billion baht in 2019 alone. The WHO report placed Thailand as the number one country in ASEAN with a 32.7 per cent death rate, the highest in Southeast Asia. The Road Accident Victims Protection Co explains that the WHO calculates the financial damages of driving deaths in different countries around the world. Thailand's 500 billion baht loss amounts to about 3 per cent of the country's entire 2019 gross domestic product of 16.87 trillion baht.
By analyzing statistics and making projections about road deaths from 2021 to 2027, the estimates during the next 6 years that Thailand is facing an average of about 15,400 deaths per year in the best case, and looking a worst case scenario of over 18,600 deaths per year in traffic accidents. Adding an extra depressing edge to this gruesome statistic, the report shows that nearly 40% of those killed in traffic accidents are the heads of households. With the loss of the family head, an average of 2.43 people per death lose the support of their primary family earner, putting them in peril. The death of younger household leaders, and other untimely and unnatural deaths also may contribute in the longterm to a disparity in an aging population.
2020 saw a strong drop in road accidents and deaths, from 22,000 in 2019 to just under 18,000 fatalities, though this drop is mainly due to the national lockdown in April and general decrease in travel due to the Covid-19 pandemic. If Covid-19 improves in the coming month and the country springs back to life, the number of deaths are likely to spring back as well. Estimates show that road fatalities could return to 19,000-20,000 in all of 2021, which is about 1 death every 26 minutes. Worldwide about 317,000 people die in driving accidents every year, or about 1 every 23 seconds.
SOURCE: The Nation Thailand
Keep in contact with Thaiger by following our Facebook page.
Never miss out on future posts by following Thaiger.
Songkran activities cancelled in Ayutthaya due to Covid-19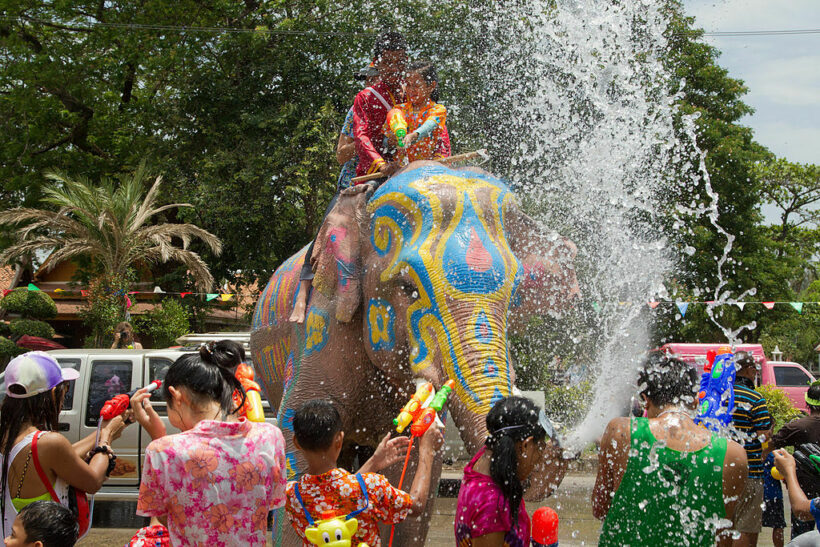 After the recent outbreak of Covid-19 across Thailand, in a large part due to entertainment activities, Thailand's former capital city of Ayutthaya has now officially cancelled all Songkran festival activities for the upcoming holiday. All events previously planned to mark the Thai New Year's holiday between April 13 and 15 have now been called off. An urgent declaration by the provincial governor today informed the public of the decision. Many people across the country are cancelling Songkran events or any observance of the holiday at all.
The decision by the province's Songkran committee and the Tourism Authority of Thailand's Ayutthaya office was directed especially at tourists who may be planning to travel to the area for traditional festivities. Complex and ornate events had been planned, scheduled to be held on Si Sanphet road, with the sudden cancellation announcement abruptly ending the preparations for holiday merriment.
TAT and the local government agreed that the cancellation was necessary to prevent the possible spread of the Covid-19 pandemic, especially in light of the current outbreak across Thailand. In Ayutthaya, 86 people have been infected with 21 new cases diagnosed yesterday. In an effort to slow the spread of Covid-19, the Ayutthaya Hospital issued a statement limiting visits for hospital patients. The hospital encourages people to do video calls with their relatives as the hospital will only allow one relative to spend time with each patient. This overall situation led to the official decision to call off all Songkran festivities.
SOURCE: Bangkok Post
Keep in contact with Thaiger by following our Facebook page.
Never miss out on future posts by following Thaiger.