Chonburi sting nets suspects and drugs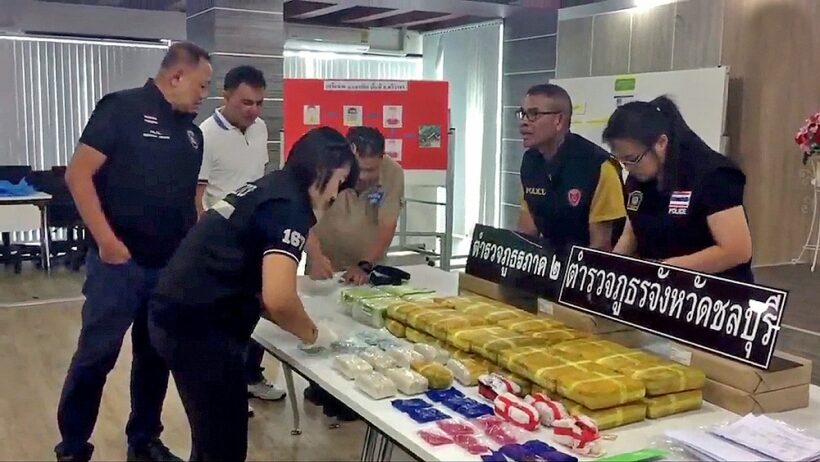 A police sting operation led to the arrest of three young male suspects and the seizure of 218,000 methamphetamine pills, 4,150 grams of crystal methamphetamine or "ice" and 700 Ecstasy pills in Chon Buri province's Sri Racha district.
Police Region 2 chief Pol Lt-General Jitti Rodbangyang told a press conference on Sunday that the suspect, 22 year old Saran Silarak, and two accomplices aged 17 and 15 (whose names were withheld due to their age), were initially charged with possessing narcotics with the intent to sell.
Jitti said the police sting operation, conducted on Friday afternoon, sought to buy 2,000 methamphetamine pills from Saran and a Thai woman identified only by her nickname, Nam. The pair then arranged for the two teens to deliver the drugs at an agreed location in Soi Sri Racha-Nong Khor in Tambon Surasak.
Police arrested the two teens and extended their search to a dormitory in Soi Ban Hin Perng of Tambon Bang Phra where the officers found 216,000 methamphetamine pills, 4,150 grams of "ice" and the 700 Ecstasy pills. A subsequent stake out at the dormitory led to Saran's arrest.
Jitti said Saran reportedly confessed to police that he had been hired by a Bangkok resident identified by the nickname Ta to move methamphetamine pills around, and he had delivered them to customers six times before. He was paid about 40,000 baht on each occasion.
He said this was the first time he had been arrested on drugs charges.

STORY: The Nation
📱 Download our app on Android or iOS for instant updates on your mobile
📧 Subscribe to our daily email newsletter
👍 Like/Follow us on Facebook
🔔 Subscribe to or Join our YouTube channel for daily video updates
Bangkok sees 7.87 million vehicles over Songkran holiday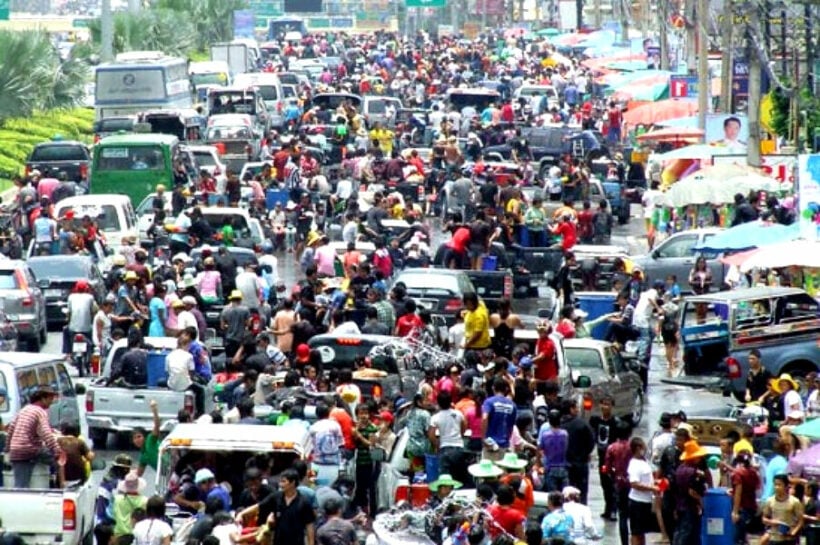 Covid-19 and its third wave be damned, close to 8 million vehicles travelled in and out of Bangkok so far during this year's Songkran festival holiday period. Thailand's Ministry of Transport released figures yesterday on the yearly holiday and revealed that more than 7.87 million cars, trucks, buses and motorbikes hit to roads and travelled into and out of Bangkok during the festival period, despite almost all official celebrations, events and gatherings being cancelled nationwide again this year.
The figures, calculating incoming and outgoing traffic between April 10 and April 14, show that travel is much lower than originally predicted but massively higher than last year's travel. The drop makes sense as many predictions may have been made before the last minute closures of entertainment venues and cancellation of Songkran events due to the recent third wave outbreak of the B117 strain of Covid-19. The 7.87 million vehicles figure is about 30 per cent lower than predicted. There were also an estimated 4.52 million people using public transportation such as buses over the holiday period, again lower than predicted, this time by about 36 per cent.
On the other hand, in what may be a bad sign for Thailand's health, at a time when new daily records are being set for Covid-19 infections, many more people are ignoring the pandemic and travelling anyway. The nearly 8 million vehicles on the roads to Bangkok during Songkran represent a nearly 35 per cent increase over last years Coronavirus-muted figures. And when social distancing is of utmost importance, the 4 and a half million people travelling by public transport is a startling 74 per cent increase over the nearly completely locked-down figures of 2020's Songkran holiday period.
One final note for the "if Covid-19 doesn't get you, climate change will" crowd: Of the 7.87 million cars, buses, trucks, and motorbikes on the road, a very non-eco-friendly 7.4 million of them were private vehicles.
SOURCE: The Pattaya News
📱 Download our app on Android or iOS for instant updates on your mobile
📧 Subscribe to our daily email newsletter
👍 Like/Follow us on Facebook
🔔 Subscribe to or Join our YouTube channel for daily video updates
Is spraying disinfectant on the Thai-Burmese border effective?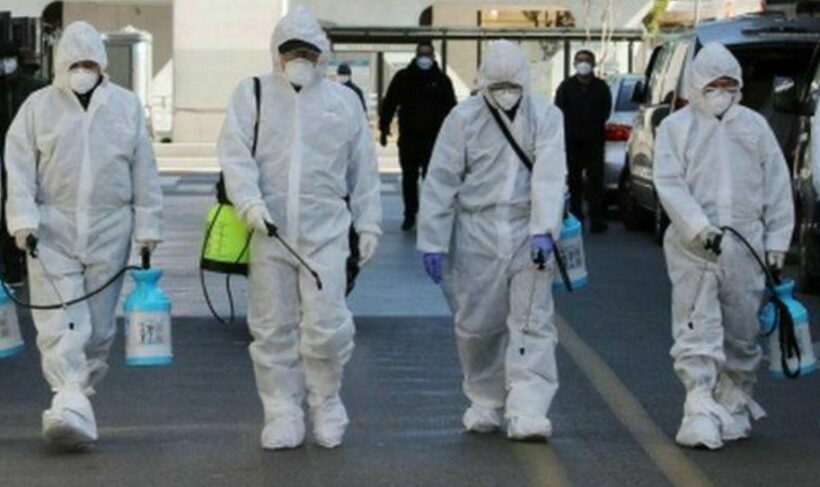 Some controversy exists over the Royal Thai Army attempting to sterilize areas of the Thailand-Myanmar border by spraying disinfectant along the border region. The army sprayed areas set up as a temporary holding facility for many Burmese refugees. The move drew condemnation from critics who claimed the disinfectant was not effective and not worth the expense of implementation. A spokesperson for the Royal Thai Army responded to social media ire justifying the action.
The spraying was done after the Burmese refugees had returned across the border to Myanmar, after fleeing temporarily to escape the escalating humanitarian crisis following the February 1 military coup. After the refugees left, disinfectant was sprayed around the area in compliance with Public Health directives designed to slow the Covid-19 spread and maintain safety. The disinfectant was intended to kill any possibly contagious remaining virus or disease in the area.
The spokesperson said the military used existing government equipment they requested from the Ministry of Public Health to efficiently disinfect the area. She asserted that the spraying was not just to help local people, but also to reassure them that it was safe to return to their daily lives in the area, to go to work or do farming, without fear of becoming infected with Covid-19.
While the response online to the spraying disinfectant scheme is still generally negative, it's worth noting that the same spraying has been used to effectively sterilize 162 schools and 268 other areas since January. The spray is a safety precaution to minimize the spread of Covid-19 and has been used throughout communities in places like bus terminals, marketplaces, temples and other places where people tend to gather.
SOURCE: The Pattaya News
📱 Download our app on Android or iOS for instant updates on your mobile
📧 Subscribe to our daily email newsletter
👍 Like/Follow us on Facebook
🔔 Subscribe to or Join our YouTube channel for daily video updates
Songkran road safety day 5: 37 deaths, 330 accidents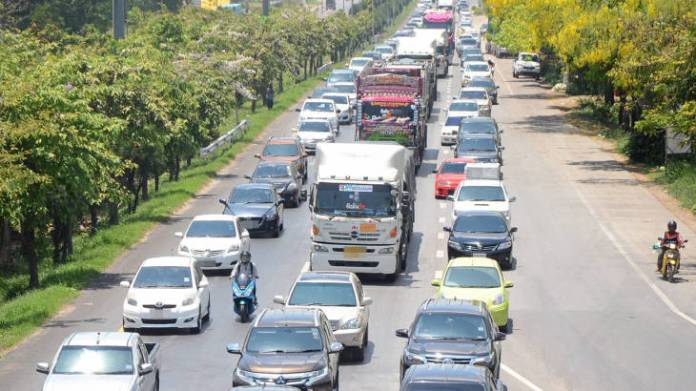 On the fifth day of Songkran's infamous "seven dangerous days", there were 330 road accidents resulting in 37 deaths and 328 injuries reported across Thailand. Songkran brings an increase in travel, and with it, an unfortunate increase in traffic accidents and road deaths. With Covid-19 severely curbing festivities this year, figures are generally down, but the government continues to encourage its Songkran road safety campaign.
New revelations today from the Director-General of Department of Disaster Prevention and Mitigation who observed that inter-provincial roads and secondary backroads are more dangerous and deadly statistically, data he attributes to the amount of drinking and driving on these roads. The DDPM has ordered surveys of these roads and high-risk areas that produce higher than average injury and death rates. The departments in these areas will survey the areas for the remainder of the safety campaign, as road accidents may increase in the coming days as holiday travellers begin to return home to work.
DAILY FIGURES
As usual, speeding was the top cause for accidents with nearly 35% of crashes attributed to it, with driving while drunk accounting for nearly 32% of all accidents. Once again motorbikes were involved in the overwhelming majority of road accidents, with 86% of crashes. And again, straight routes were the location of 61% of accidents, a wide majority. 37% of yesterday's road accidents were on national highways while slightly more accidents, 38%, occurred in local communities and villages.
Accidents were most frequent during the late afternoon and early evening again, with 27% of reported accidents happening between 4 pm and 8 pm. 18% of injuries and deaths were between 30 and 39 years old, the most common demographic.
Pathum Thani was the most fatal province today, with 4 reported road deaths. Prachuap Khiri Khan had the highest rate of road accidents, with 12 incidents within the province. 13 was the number of the most injuries in a province, with that figure being tied by Kanchanaburi, Nakhon Sri Thammarat and Tak.
TOTALS
After 5 days of the Songkran "seven dangerous days" there have been 1,795 accidents reported. 1,818 people were injured on the roads of Thailand in the last 5 days, with 192 road deaths reported nationally.
Nakhon Sri Thammarat has become the most dangerous province, with its 76 road accidents being the most of any province as well as its 82 injuries topping the list of injuries by province. The most deadly provinces were Bangkok, Khon Kaen, and Pathum Thani.
SOURCE: The Pattaya News
📱 Download our app on Android or iOS for instant updates on your mobile
📧 Subscribe to our daily email newsletter
👍 Like/Follow us on Facebook
🔔 Subscribe to or Join our YouTube channel for daily video updates