Whale sharks threatened with extinction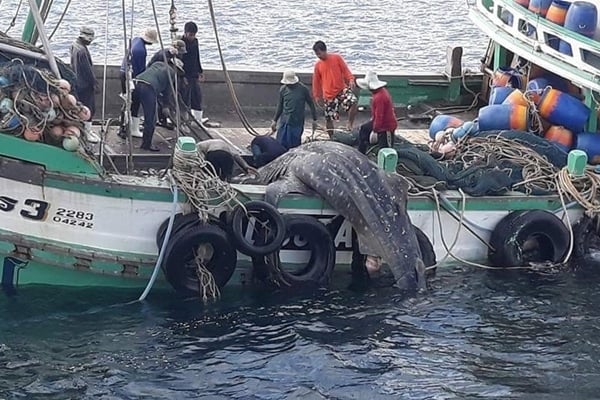 SPECIAL REPORT
By Piyaporn Wongruang, The Sunday Nation
Its head was down, while its tail was up to the air, after being tied up tightly with a rope attached to a big reel on that trawler. Once in a while, the three-metre-long whale shark jerked, prompting its tail to sway, suggesting that it was still alive.
"See! It's still alive! It still breathed too," shouted a woman on a diving boat motoring next to the trawler.
It was last Friday (May 18) when a group of divers encountered a trawler near Racha Yai island off the Phuket coast. There, they saw the whale shark dangled as it was tied up and dragged into the air with its tail tied tightly.
According to one of the divers who decided to post the story on Facebook, and which was later circulated widely, the diving-boat captain noticed that the trawler leaned to one side. As he moved the diving boat closer, the scene of the giant whale shark tied to the reel could be seen clearly by all divers on the boat. They decided to chase the trawler in an attempt to pressure it to release the whale shark. It took a while before the crew of the trawler untied the whale shark from the reel. It got stuck on one side of the trawler before being pushed out to the water.
The marine experts and veterinarians from the National Parks, Wildlife, and Plant Conservation Department, which were assigned to follow up the case, reported to the department that intestines appeared to spurt from the shark's belly, leading them to conclude that its organs would be severely damaged following its harsh capture and release. Nobody has seen it since, despite the joint effort to locate it, nor has anyone managed to confirm whether the creature is dead – or alive.
The latest incident bodes poorly for the species as a whole, according to marine experts and ecologists, including Petch Manopawitr, a deputy director and Thailand program coordinator of the International Union for Conservation of Nature (IUCN) Southeast Asia, and Assistant Professor Thon Thamrongnawasawat, a vice dean of Kasetsart University's Fisheries Department. The tragic event reflected the threats to the whale shark's population at large as the world's oceans become increasingly hostile waters for vulnerable species.
Whale sharks, here and in international water, have shared a similar fate as they faced threats that are pushing the entire family of sharks to the verge of extinction, with a sharp decline in population observed while their reproduction rate is too low to replenish the stock.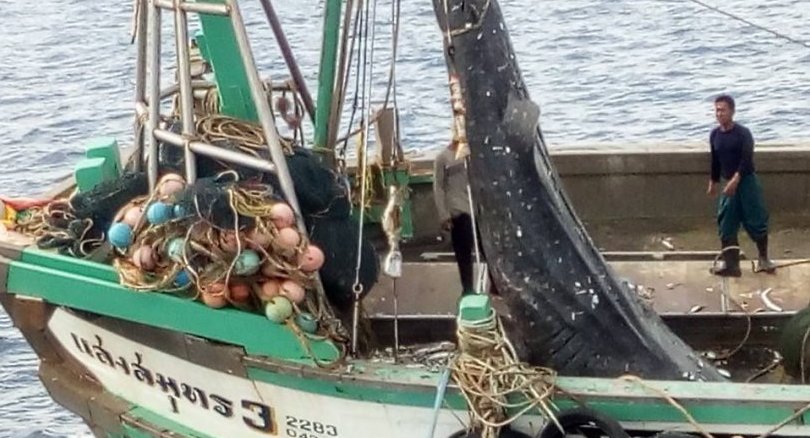 The IUCN two years ago decided to move the species from vulnerable to endangered species on its Red List, implying it faces a very high risk of extinction in the wild. They are officially a big step closer to extinction.
"Whale sharks are large animals, important like elephants," said Petch.
"The creatures are filter feeders, thus playing an important role in an ecosystem by helping control the circulation of nutrients in the food chain. Because of their special size and rarity, these animals have become a new tourist attraction, which help contribute to local economies, and that's the reasons why the creatures are important both ecologically and economically."
According to the IUCN's assessment, whale sharks are the world's largest living fish, and a cosmopolitan tropical and warm temperate species. Their genetic results indicate that two major subpopulations exist, in the Atlantic Ocean and Indo-Pacific, respectively. The IUCN estimates that 75 per cent of the global population is inferred to occur in the Indo-Pacific, while 25 per cent are in the Atlantic. The decline of the population in the Pacific is around 40 to 92 per cent, inferring an overall decline of 63 per cent over the last 75 years, or three generations of sharks. That is part of the justification for the IUCN has flagging the species as endangered, given that it is the bulk of its global population.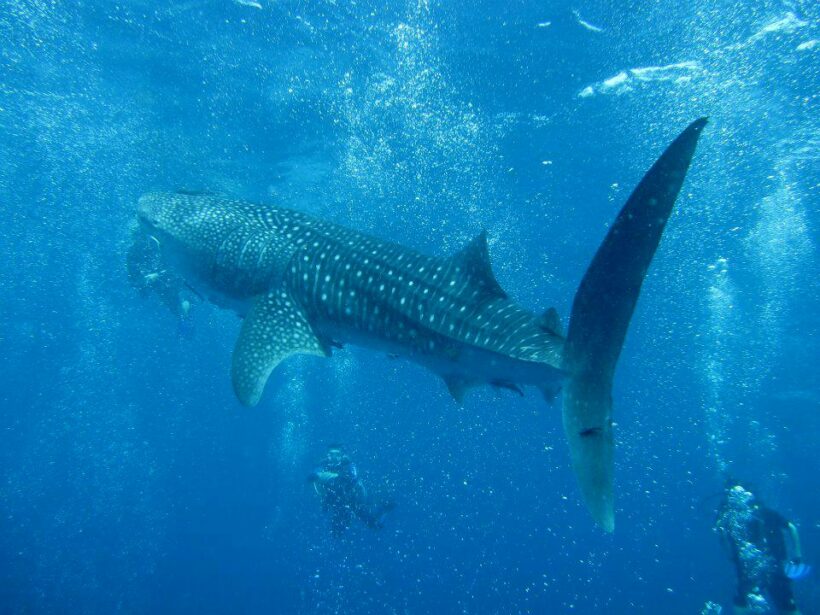 Photos Courtesy of DCMR
As of February 2016, there were 7,011 individual sharks placed on the database of whale shark sightings, identified from images of their spot patterns submitted between 1964 and 2016. For Petch, what is more of a worry is the fact that the species is slow-growing, late-maturing, and has low-fecundity, prompting it to replenish its declining stock slowly.
Around 100 whale sharks have been recorded roaming through Thai waters, according to the Department of Coastal and Marine Resources. Threats The IUCN Red List assessment found that growing human pressures were contributing to the threats putting whale sharks at an increasing risk of extinction, along with some few other newly assessed animals.
"It is alarming to see such emblematic species slide towards extinction," said Jane Smart, director of IUCN's Global Species Programme, in a press release.
The new assessments emphasise how urgent it is for the conservation community to act strategically to protect the diversity of life, she said in the release. Their numbers have been halved over the last 75 years, according to the assessment, as the giant continued to be both fished and accidentally killed by ship propellers. Large-scale fishing of whale sharks had been ended by some countries in Asia, including India, the Philippines and Taiwan, the assessment noted. Yet they continued to be fished in other locations, including southern China, where they are often caught along with tuna as the two species are often found together.
In Thailand, they are also often caught as "by-catch" when other species are being targeted, a trend that worries Petch, who wishes to see it stop.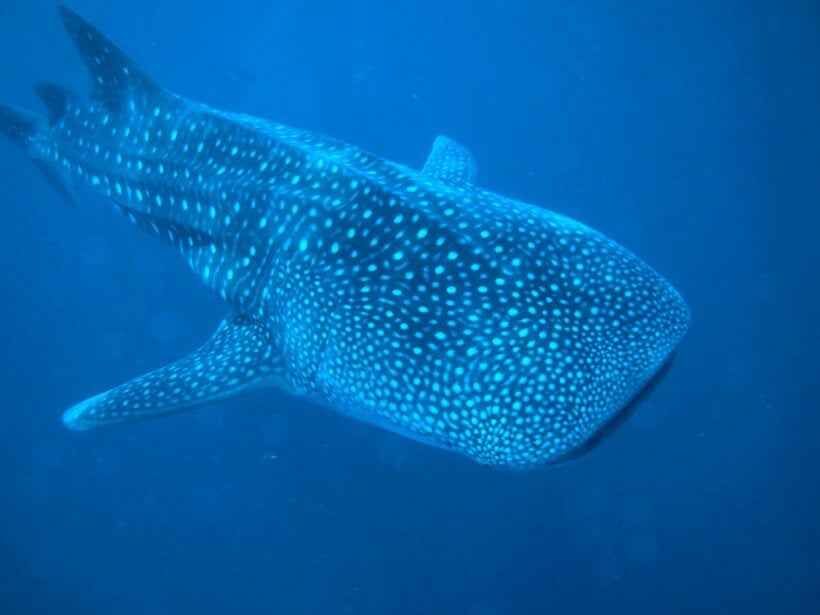 Whale sharks were once widely prevalent in Thai waters and were a tourist attraction, especially for scuba diving, for more than 20 years. Realising their importance, Thon and his fellows pushed for the setting up of a group called Raksa Whale Sharks to help protect the species. They also managed to push for their inclusion on a fishery prohibition ban list of the Fisheries Department. The fish were later listed as a protected species under the wildlife conservation law, according to Thon, a member of the national reform committee on natural resources and environment committee.
Whale sharks, still, have been under threat, often being hit by boats, contaminated by microplastic, or fished inadvertently or by-catching. Petch said by-catching was still considered a major threat to the species as there have been continued reports over the incidents. As long as there was demand for their parts, including their fins, they would continue to be taken although fished inadvertently, he said.
"The issue is a reflection on non-selective fishery because the fishing gears used in the activity, particularly trawling nets, are too effective in gathering everything that comes in their way. So, it is necessary for concerned authorities to come up with better regulation of this activity.
"I wish to see the latest whale shark incident as the beginning of what I call sustainable fishery. This is actually in line with the Sustainable Development Goal 14 concerning sustainable use and conservation of marine resources," said Petch, adding it was possible, given the country is now under pressure over the IUU, or Illegal Unreported and Unregulated Fishing.
"It's like you have a diamond in your hands, so you should take this opportunity to take care of it," said Petch. Thon agrees that by-catching still poses a critical threat to the species. He pointed out that fishery regulation has been improved and that's the reason why the trawler was seized following the alert from a satellite-based Port in-Port out reporting. By-catching, he said, must be punished under the law. Personally, Thon wished to push for more stringent listing of the animal to ensure they would be better protected. Thon wants to see them included as a preserved species after the Cabinet endorsed the proposal two years ago.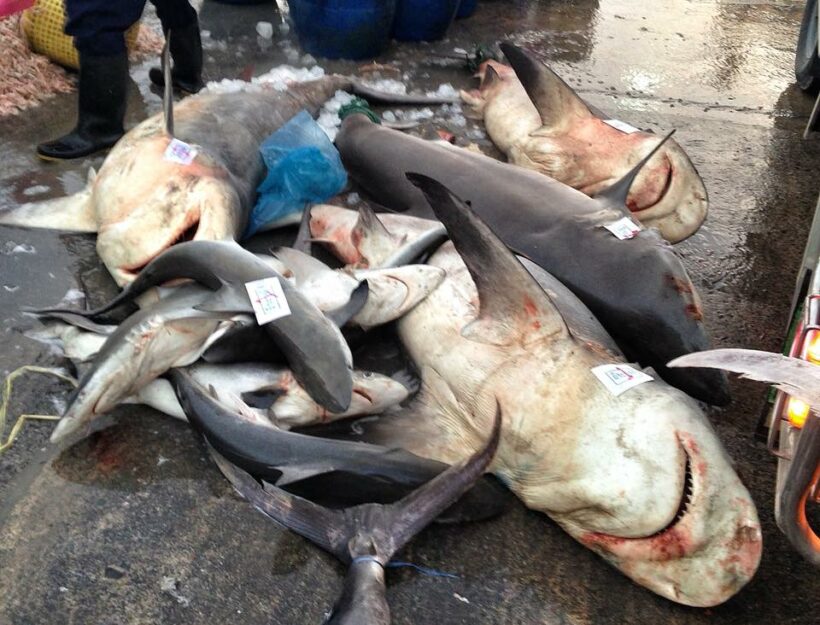 Courtesy of Sunshine Sketcher FB Page.
Marine scientists agree the shark populations here and in international waters are on the verge of extinction
"It's another goal that, say, we want to preserve them just like what international community does, like IUCN and CITES," said Thon.
According to the IUCN, one-fourth of the shark species on record worldwide – nearly 300 of 1,041 species – are threatened with extinction. These species have been variously classified as vulnerable, endangered, or even critically endangered, including Whale Sharks. Mediterranean and Thai waters are where the shark population has declined at the highest rate, IUCN noted in its recent report.
The latest research – a collaboration between Thai researcher Sirichai Arunrugstichai of the Prince of Songkla University's Department of Biology and his fellows – confirmed the trend was happening in Thai waters. Their work, published in the Fisheries Society of the British Isles' Journal of Fish Biology in February this year, examines the composition and biological aspects of sharks caught by Thai commercial fisheries in the Andaman Sea.
The researchers looked through the by-catches (those species caught inadvertently) by fishermen at several main ports over a year, and discovered a sharp decline in the shark population. They also detected shifts in the population composition compared to a previous study in 2004. They managed to count 2,123 sharks, and recorded only 17 species, compared with 64 species previously reported. The current study revealed noticeable declines in the landings of slow-growing, late-maturing, and low-fecundity species, including the Bull Shark. The absence of many species and changes in life-stage composition, they pointed out, suggested that the populations of these groups might be "close to collapse".
The researchers have called for urgent additional studies and monitoring efforts, and highlighted the need for incentives to manage shark fisheries in the Andaman Sea more effectively. Marine scientists here agree that there is scant information in regard to sharks. Thailand has been attempting to protect the species following an international commitment, the International Plan of Action for Conservation and Management of Sharks, initiated by the Food and Agriculture Organisation. It has been developing the National Plan of Action for Conservation and Management of Sharks, but it is not yet implemented.
ORIGINAL REPORT: The Sunday Nation
Keep in contact with The Thaiger by following our Facebook page.
Never miss out on future posts by following The Thaiger.
When can we travel again? World Covid Travel Update | VIDEO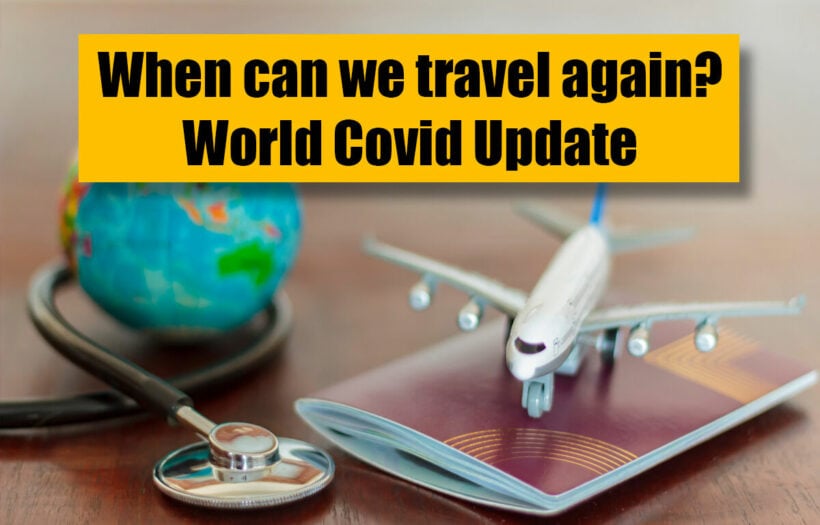 Today we'll look at the larger world travel picture in this Covid era, and then we'll check the latest opportunities if you want to come back to Thailand for travel.
So when can we pack the bags and travel again? Well, in theory, right now. But in practice, depending where you're coming from and where you want to go, that may still be very complicated… and remain so for at least the rest of this year. But some of the world's travel so-called experts are now speaking in terms of months and not years. Whilst some of that might be optimistic travel industry spin, there may be some greater certainty on re-openings of some sectors of the world travel industry in the next few months.
But first, consider all the variables that need to fall into place for things to go smoothly..
Despite the roll out of various vaccines, and more on the way, some countries are more advanced in that process than others. The appearance of virus mutations could send all the best guesses for an improvement in travel opportunities into disarray. Whilst it seems the vaccines will be a great benefit for victims to avoid the worst ravages of Covid-19, there is still a long way to go to measure the longer term effects on the changes in transmission and community immunity.
Keep in contact with The Thaiger by following our Facebook page.
Never miss out on future posts by following The Thaiger.
Thailand tourism sector seeks to reopen the country by July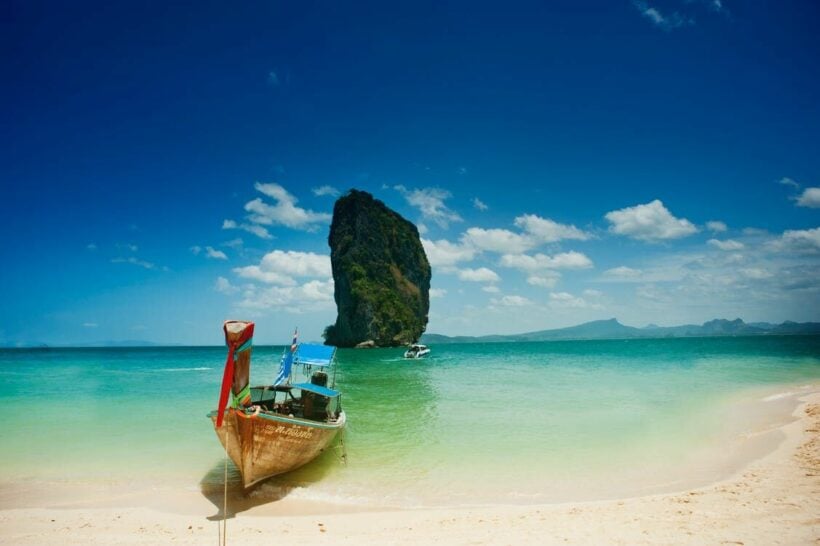 The following was submitted by Open Thailand Safely, a campaign pushing the Thai government to reopen Thailand to international tourism by July 2021.
Leading international tourism companies in Thailand have launched a campaign to reopen the country's borders from 1 July 2021.
The #OpenThailandSafely campaign was launched 2 March with the support of over 15 major companies including YAANA Ventures, Minor Group, Asian Trails, Capella Hotels and Resorts, EXO and many others. (The full launch list is here)
The Open Thailand Safely campaign has laid out its arguments in a petition which will underpin a formal request to the Royal Thai Government to respond favourably to the rollout of Covid-19 vaccination programmes underway in Europe, USA and other Thailand tourism source markets.
The petition is open to anyone in Thailand or around the world who would like to see the country reopen.
The campaign argues that 1 July is an appropriate date for five reasons: the majority of citizens in many source markets will have been vaccinated by then; it gives time to Thai medical authorities to vaccinate both front line staff in hospitality settings in Thailand and/or vulnerable citizens around the country; it gives international travellers time to make travel plans and bookings; the date gives time to airlines, hotels, tour operators and others to start marketing and sales and get ready for tourism operations to commence; and it will take Thailand at least a year, and maybe longer, to return to the large numbers of international visitors that it had before the Covid-19 crisis.
To ensure the safe reopening of Thailand, the petition argues that "international tourists can be asked to satisfy any safeguards the Thai Government may require. This may, for example, include showing officially recognised proof of a Covid-19 vaccination from their home country, purchasing health insurance, showing proof of a negative Covid test within 72 hours of departure, and so on."
#OpenThailandSafely was the initiative of leading Bangkok-based private sector travel companies YAANA Ventures, Minor Group and Asian Trails.
The CEO of YAANA Ventures, Willem Niemeijer [pictured right], said: "The 1 July reopening would be a strategic opportunity for Thailand to show a leadership role among Asian countries and prepare the way for a solid recovery of the Thai economy in 2022."
In the coming days, the Open Thailand Safely campaign will also send the 1st July request to Thailand Prime Minister General Prayut Chan-o-cha, the Minister of Tourism and Sports, Mr Phiphat Ratchakitprakarn, and the Governor of the Tourism Authority of Thailand, Mr Yuthasak Supasorn.
According to the Bank of Thailand and official sources in Thailand, tourism, pre-Covid, was worth about 2.9 trillion baht (US$96.5 billion). Some 39.7 million international visitors in 2019 helped sustain up to 8.3 million jobs. However, arrivals fell to 6.7 million in 2020 making between two and four million people unemployed.
Meanwhile, destinations such as Seychelles, Maldives, Greece and Sri Lanka have either opened borders already or are in discussions to do so in light of successful Covid vaccine rollouts in their key source markets.
People can sign the petition for Thailand to reopen on 1 July at www.OpenThailandSafely.org.
Keep in contact with The Thaiger by following our Facebook page.
Never miss out on future posts by following The Thaiger.
Thailand News Today | Dodgy vaccine doctor nabbed,Pattaya club raided for 'explicit' shows | March 3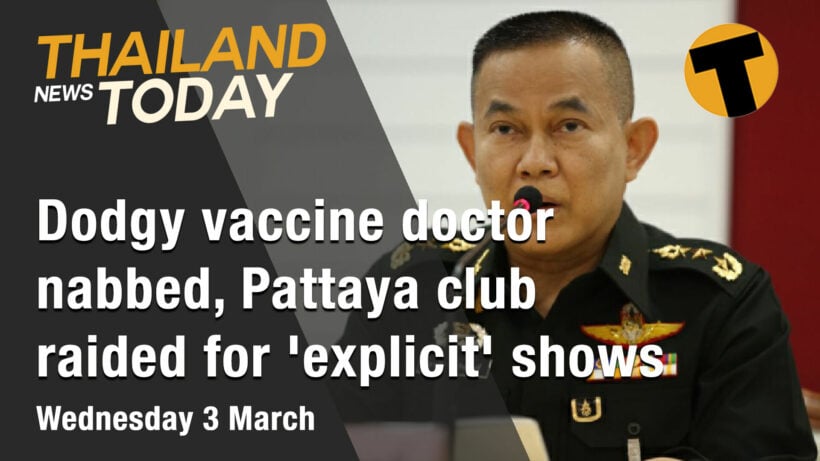 The Bangkok Military Court has issued an arrest warrant for a Royal Thai Army medic who is accused of injecting troops with a fake Covid-19 vaccine. He reportedly made more than 100,000 baht by charging troops, who were on a UN mission, 500 baht each for a tetanus vaccine and a fake Covid-19 vaccine, which an internal army investigation determined was simple saline solution…. Harmless but not very effective.
The Thai Army held a press conference after the medic's fake vaccine scam made headlines, saying the incident had tarnished the army's image. The field medic, who was also a lieutenant, injected more than 250 Thai troops stationed in South Sudan on a UN peacekeeping mission with the fake vaccine, claiming it was the head doctor's order. An Army spokesperson says the medic was in the Thai-South Sudan Horizontal Military Engineering Company and "is a serious disciplinary offence and also violates ethical standards as the wrongdoer is a doctor."
The governor of the central province of Samut Sakhon is slowly recovering after more than 2 months battling Covid-19. Weerasak Wichitsangsri tested positive for the virus in late December and subsequently ended up on a ventilator for over 40 days. It's understood Weerasak's time on the ventilator was a record for the hospital and, at times, medics were unsure if he would recover.
Pattaya City Police inspected a nightclub after reports that the venue was hosting pornographic shows over the weekends. Although the nightclub, named as Dragon Man Club in Thai media, wasn't presenting a sexually explicit show when officers dropped in, the owner was arrested for operating an entertainment business and selling alcohol without the proper permit.
The Thai government has approved a budget of over 6 billion baht to procure an additional 35 million doses of Covid-19 vaccines. The budget was approved at a Cabinet meeting yesterday.
The Covid-free gulf islands of Koh Samui, Koh Phangan, and Koh Tao are offering special discounts and privileges to tourists until the end of April. Over 80 tourism operators are taking part in the program.
In an act of good will, navy officials have rescued 4 cats from a ship that had caught fire and began to sink about 13 kilometres off Koh Adang in the southern province of Satun. The ship's 8 member crew had jumped off the sinking vessel and were rescued by a passing fishing ship, but the cats were left onboard.
Keep in contact with The Thaiger by following our Facebook page.
Never miss out on future posts by following The Thaiger.