Foreign media slammed for intruding on the Mu Pa 13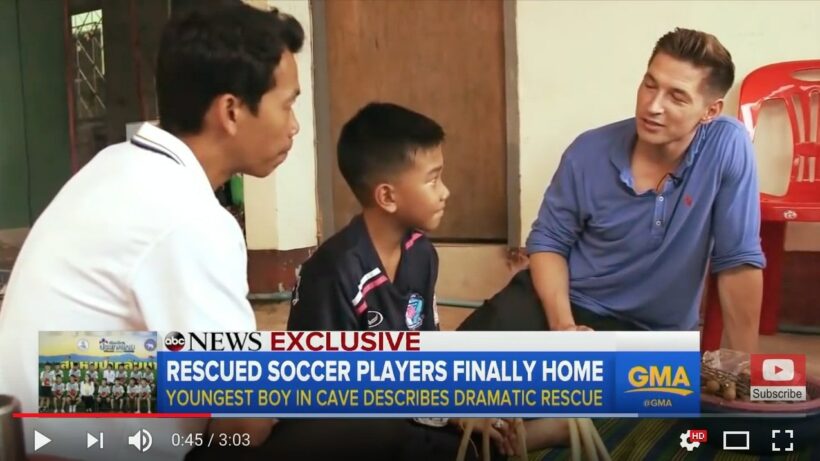 The Mu Pa 13 spoke to the Thai and world media on Wednesday night in a one-time-only media conference. Authorities said that it was now time to leave the team alone and let them re-unite with their families and friends, and get back to their studies and football.
The media have mostly respected the wishes and left the team alone – a threat from the Thai Government to prosecute them under Child Protection Laws helped. But there was always going to be the temptation to get the 'story'. America's ABC News were the first to transgress on the Government's and medical authority's wishes. But there have been other foreign journalists trying to contact members of the team too.
The Justice Department's deputy permanent secretary Thawatchai Thaikhieu has expressed disappointment at the conduct of some foreign journalists who are defying advice of psychiatrists and child welfare officials against interviewing the young members of the Wild Boars soccer team after they were discharged from the hospital.
"Some foreign media have acted below the professional standard which is something regrettable and unforgivable," said Mr Thawatchai.  He was apparently responding to an interview that a correspondent of ABC News had with one of the young survivors from Tham Luang cave.
Thai PBS are reporting that the interview has created an uproar on Thai social media after it was aired last night, prompting calls for Thai authorities to take action against the American journalist.
"It is regrettable that foreign media that should be aware of the convention on children's rights and the process to protect children and youths turnde out to have lower standard than we think. It appears as if they lack common sense and sense of responsibility despite the fact that Thailand has put in place a system to protect this group of children," wrote Thawatchai in his post.
Child welfare officials and psychiatrists have urged the media to stay away from the 12 young footballers to avoid pressuring them to answer questions that might force them to revisit their harrowing experience.
Here's the ABC News interview, conducted against the wishes on the Thai Government and officials.


Read more headlines, reports & breaking news in Chiang Rai. Or catch up on your Thailand news.
Better analysis needed to track down the source of new chemicals in illicit drugs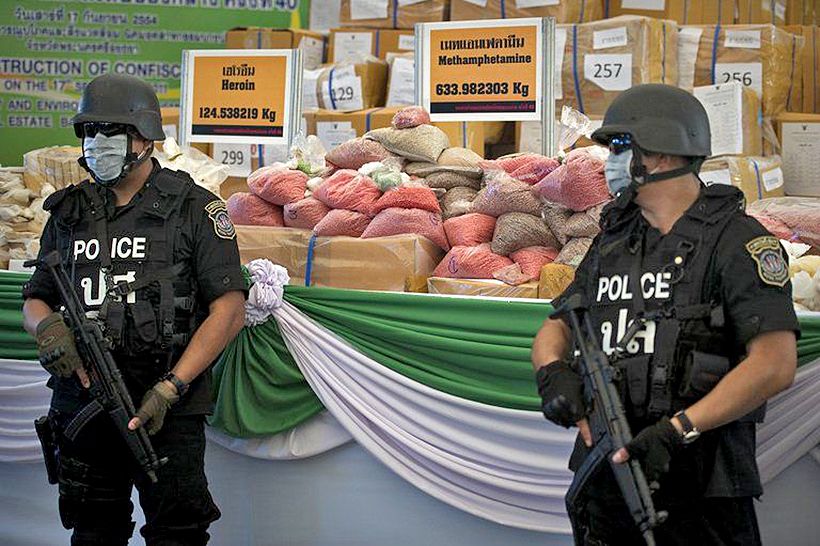 The Office of Narcotics Control Board has been training personnel in drug analysis to handle new illicit substances coming onto the streets.
A Chinese analysis lab has recently discovered 230 new psychotropic substances which are making their way into recreational drugs and other foods.
China has subsequently banned several beverages and sweets that contain these new illegal substances.
Thailand's Justice Minister Prajin Juntong says that better analysis was key in drug prevention and suppression, as it helped identify the sources of the precursor chemicals. Each source used different formulae or ingredients, he said.
"New chemicals that were not used in narcotics before, and not listed in official databases, are now being used. So each confiscated batch will no longer be destroyed right away but be analysed first."
"Lab tests are time-consuming and require new technology to ensure tests can keep up with the drug trade. This information was shared globally."
He reported that  Thailand has been cooperating with Australia, China and Singapore and other ASEAN countries in sharing knowledge and analysis techniques.
"Thailand usually serves as a transit country for narcotic smuggling to a third country."
China's National Narcotics Control Commission analyst Liu Peipei says her agency recently found 230 new psychoactive substances that could yield "highs", but had different ingredients from heroin, methamphetamine and other common drugs.
"Recently China has banned the sale of a beverage contaminated with a narcotic that may be harmful to consumers. We also found THC (the active chemical in cannabis) in chocolate and jelly," she said.
SOURCE: The Nation
Golden Triangle drug labs increase shipments 1000% – Speed and Ice pouring over the border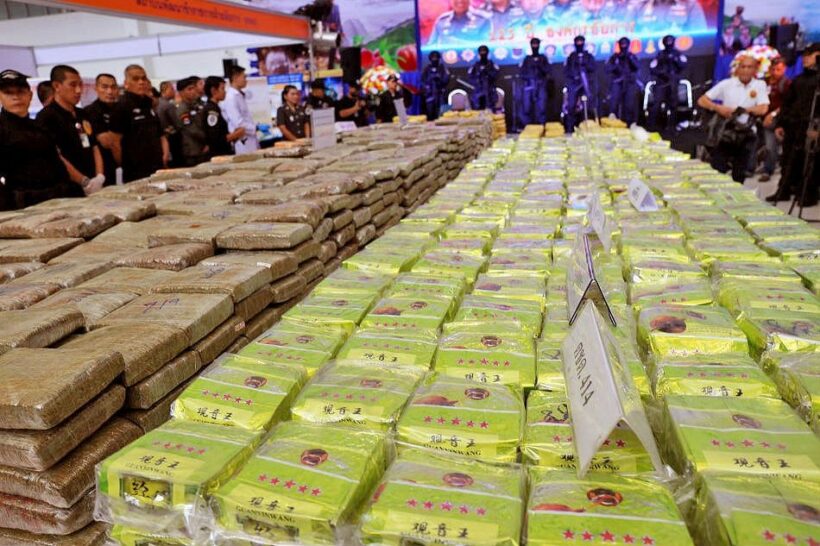 The number of seizures of high-purity crystal methamphetamine are surging into northern Thailand. The demand rises and the methods of detection and enforcement also improve. It's a vicious circle.
Authorities say the number of drug seizures have risen 1000% in just the past 2 years, a stark indication of the growth in industrial-scale production in neighboring Myanmar.
Some 18.4 tonnes of crystal methamphetamine or 'ice', was seized in Thailand last year, according to preliminary statistics from the Thai Office of the Narcotics Control Board. They know it's a tiny proportion of the amounts produced and shipped out undetected.
That figure is up from 5.2 tonnes in 2017 and 1.6 tonnes in 2016. It's more than three times the amount captured across all of Southeast Asia five years ago – a staggering rise in production and distribution.
Thailand remains a major trafficking route for the artificial drug manufactured in Myanmar's Shan and Kachin states – the north-eastern states of Myanmar that border China, Laos and Thailand.
Police say organised crime groups work with local pro-government militias and armed rebels to set-up "super labs" and allow transport through the regions to borders beyond.
The same mega-labs are also pumping out 'cocktail' tablets of methamphetamine, mixed with caffeine and other 'fillers'. The drug is nicknamed 'yaba' in Thailand. Specialist chemists and 'cooks' are brought in from Taiwan and China to run the meth labs in Myanmar, while the ingredients and lab equipment mostly come from China.
The methamphetamine tablets are a low-grade recreational drug, inexpensive and popular with blue-collar workers and low-end recreational drug users across South East Asia. The price for a 'yaba' pill has plummeted from around 200 baht to 80 baht in the past five years.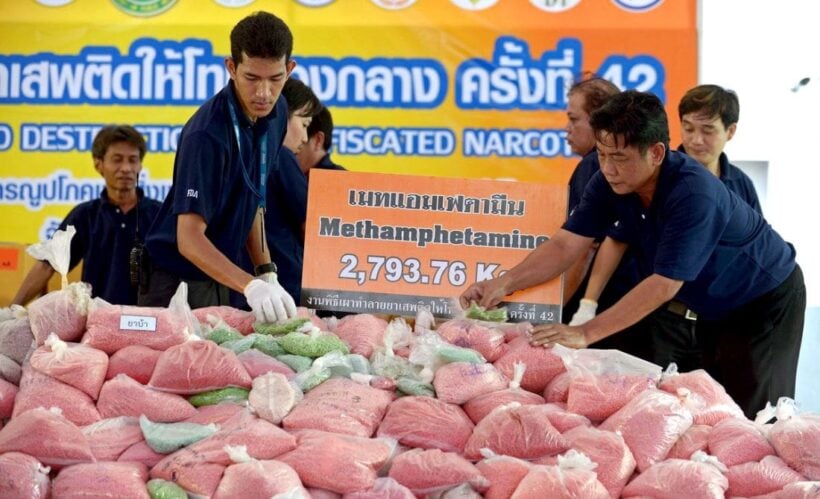 But the Golden Triangle, bordering north-eastern Myanmar, Laos and Thailand, has a long history of illicit drug trafficking.
It came to the West's notice as a cultivation hub for opium and heroin refining but those, now, easily detected crops are being replaced with methamphetamine production. The factories are easily hidden underneath the jungle canopy, and with the assistance of 'co-operative' local authorities, armed gangs and state-sponsored militias, the precursor drugs and final product move in and out with little trouble.
Once the drugs have made their way through Thailand the drug syndicates use "motherships" that intercept the drugs off the Andaman coast and distribute them to other parts of South East Asia, Australia and New Zealand.
Whilst the growth in production and purity of the drugs is alarming authorities, they are also intercepting and detecting a lot more of the road shipments making their way across the Thai borders. But they readily admit they are only netting a tiny part of the larger iceberg.
Despite the frequent showcasing of large drug hauls by Thai police, the vast majority of the drugs coming out of the back-doors of Myanmar's meth labs are getting through undetected.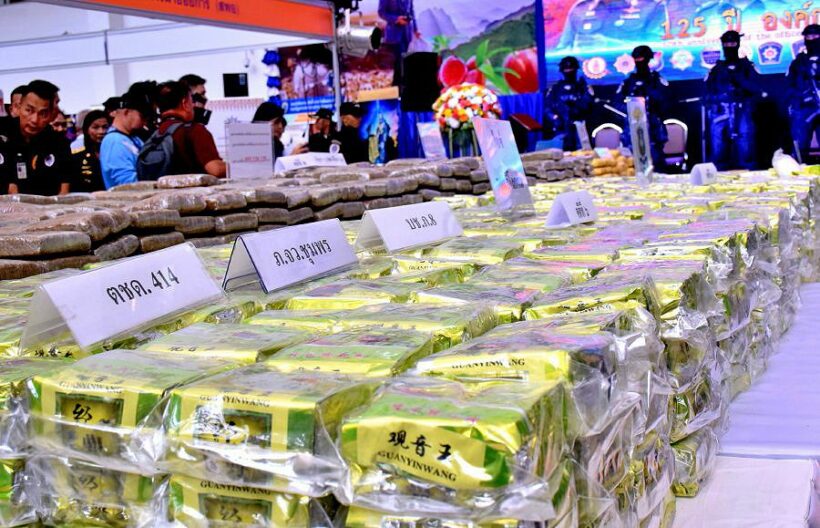 Tham Luang caves closing for retrieval of all rescue equipment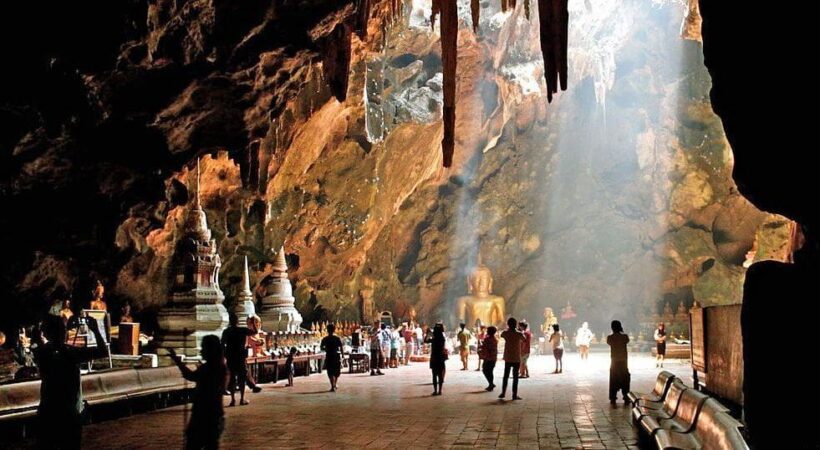 Chiang Rai's Tham Luang caves, the scene of the international cave rescue last July, will close to all visitors from February 19 to allow Thai Navy SEALs to enter and recover equipment left in the cave after the rescue mission.
The mission, which captured the attention of media around the world and changed the young men's lives forever, extracted 13 members of the local Mu Pa youth football team who became trapped by flooding last July when they headed there for a post-training one hour excursion.
Mr. Kavee Prasomphol, chief of the Tham Luang-Khunnam Nangnon national park in Mae Sai district, says the closure of the cave would also allow naval officers to document the scene inside the cave. The areas surrounding the cave remain open to the public.
On January 17, 2019, a SEAL team and rescue workers, including British cave diver Vernon Unsworth and park officials, inspected the cave's interior and found a large quantity of abandoned oxygen tanks, pumps and other equipment.
They entered the cave system only as far as the third chamber, but have not yet reached the location where the footballers took refuge for more than two weeks.
Enjoy The Thaiger's dedication to the rescuers and volunteers who found and retrieved the football team…