Chiang Rai: Solid food but no TV – Doctors report on the first eight out of the cave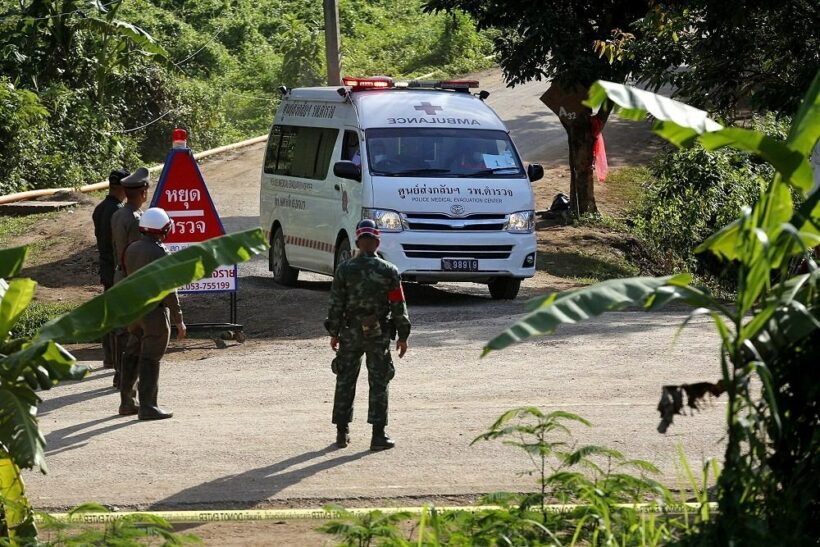 The eight members of the Mu Pa Academy football club, already rescued from the Tham Luang Cave in the past two days, are in good health mentally and physically. But attending doctors say all had high white blood cell counts and two initially showed indications of pneumonia.
Senior health officials briefed reporters at Chiang Rai Prachanukroh Hospital this morning, saying the group would remain under observation at the hospital for at least one week.
"All eight are in good health – no fevers as of this morning. They showed no signs of problems from their long dive to safety," said Public Health Permanent Secretary Dr Jessada Chokdamrongsuk.
Doctors say that all of them had shed a kilogram or two while trapped in the cave but were now able to get out of their hospital beds and walk around.
"They've received medication to stabilise their white blood cell count, which had risen due to lack of food and being in a cold, damp environment."
The first four footballers brought out, aged 14-16, were taking Vitamin B1 and have now taken off the sunglasses they were given to wear full-time to protect their vision after the long period in darkness.
The four who came out later, ages 12-14, were still wearing their sunglasses.
Doctors say the boys said they'd seen no bats or other animals inside the cave, but doctors would keep watching for any indications of infectious disease. Samples had been sent for lab tests in Bangkok and the results should come out in two days.
"They are also in good mental health, able to talk and appearing cheerful. Some even joked with the PM Prayut Chan-o-cha when he visited them last night," Jessada said.
Jessada told reporters the families of the first four boys rescued were also allowed to see them on Monday night, though only through a window.
"If tests turn up no signs of infectious disease, we'll allow their families inside to talk to them, but they'll have to wear protective suits and stay two metres away."
All of the eight are going to chat on the phone with their families later today.
Asked what the first thing boys said was, Jessada said, "They were thankful and happy to be rescued and wanted to go home."
Since being found in the cave, the boys were fed power gels and soft food to build their strength gradually. As of Tuesday morning, they were able to eat normal but mild-tasting food.
"They seem to be hungry often." (Sound like typical teenage boys!)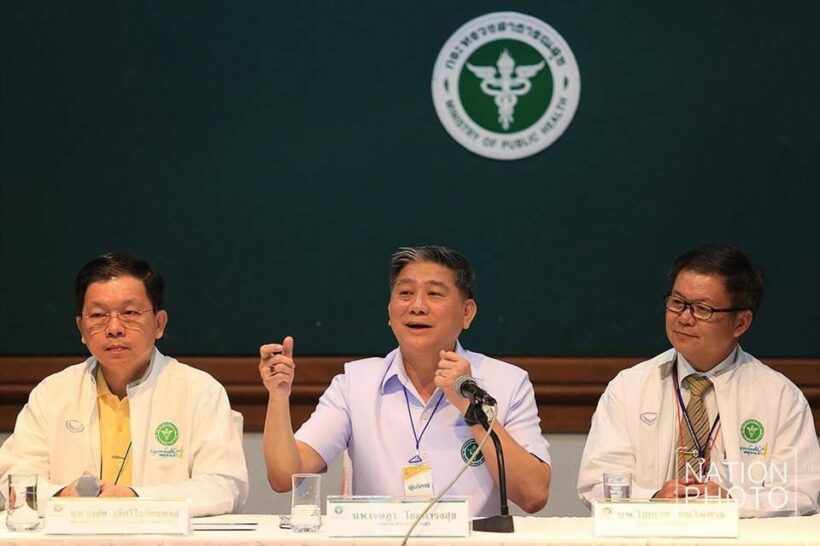 STORY: The Nation


Read more headlines, reports & breaking news in Chiang Rai. Or catch up on your Thailand news.
History books will have to rewrite the Tham Luang cave story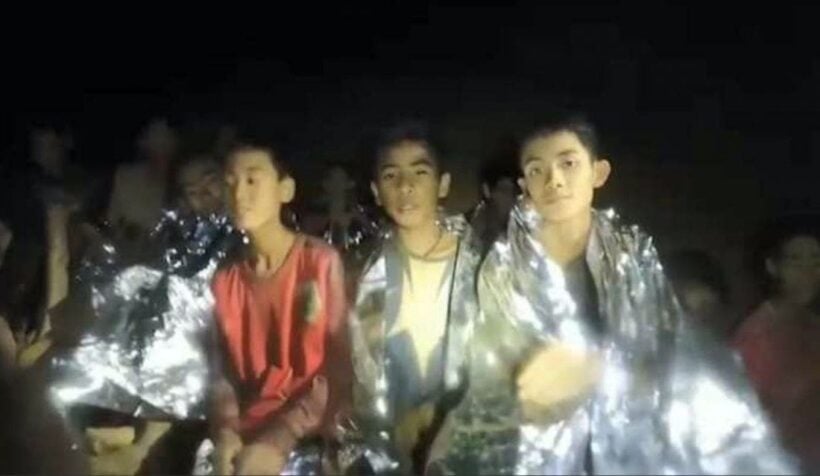 "Two British divers have today found the 13 team members perched on the Nerm Nom Sao ledge."
"I promise I will care for the kids as best as possible. I want to say thank you for all the support," 25 year old Cochairs Ekk wrote in a touching letter, nine days after they were found sitting atop a ledge known as "Nerm Nom Sao" inside the Tham Luang cave by British divers.
And so the narrative goes of the two British divers finding the team at the, now famous, Nerm Nom Sao ledge deep inside the cave. It was said to be about 400 metres past the better known 'Pattaya Beach' rise in the caves. The famous photos of the 13 boys perched on the ledge, surviving there for more than a week with only water, went viral around the world.
You can read 100s of versions of the famous discovery on websites, book and documentaries around the world.
Except that, according to one of the British divers who found the boys, it's wrong.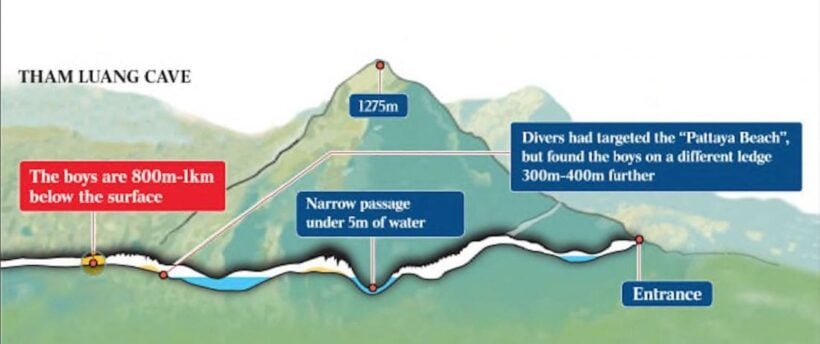 Today Australia's ABC SE Asian correspondent Liam Cochrane revealed that the 'Nerm Nom Sao' ledge doesn't even exist.
According to Liam Cochrane's Tweet (with corrected grammar)…
In a stunning revelation, British caver Vern Unsworth says the #Thai Wild Boars football team was not trapped at 'Nerm Nom Sao' but were at 'Pattaya Beach' all along. Mr Unsworth went in last month to help clear Tham Luang of silt. Vern Unsworth told the ABC: "Nerm Nom Sao doesn't exist, it's a figment if some journalist's imagination." If true, this would contradict the official account, every doco and every book (including mine!)
"Well, we've been back to Pattaya Beach where the, where the boys were actually found," Vernon Unsworth told the ABC, just before he guided the Australians into the cave.
Dr Richard Harris and Cr Craig Challen, the two medical cave divers who were instrumental in hatching the plan to sedate the young men as a pivotal part of the cave rescue, revisited the Tham Luang Caves in Chiang Rai today after receiving Thai medals to honour their contribution in a ceremony in Bangkok last Friday.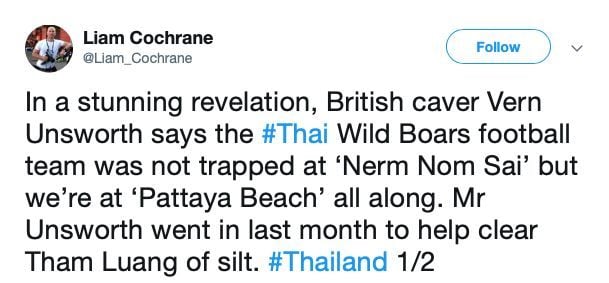 Australian Tham Luang cave divers receive prestigious Thai awards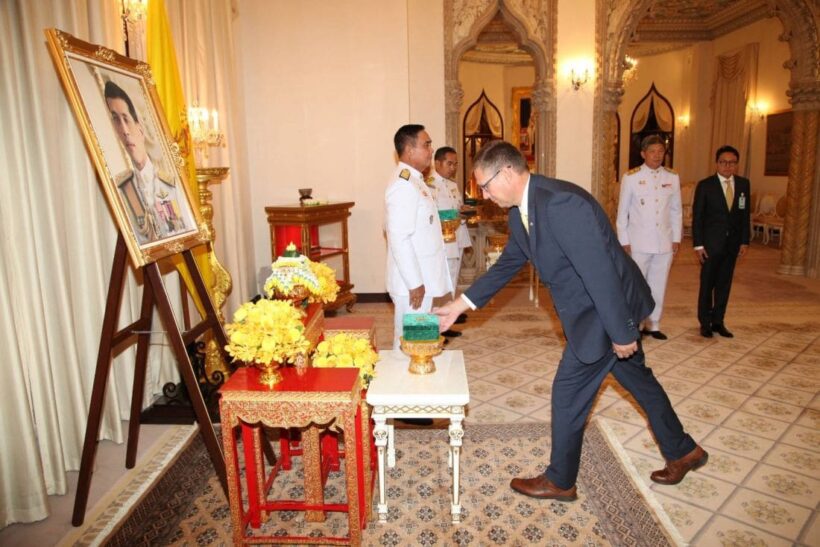 Australian cave divers Dr Richard Harris and Dr Craig Challen have been conferred the Most Admirable Order of the Direkgunabhorn at a ceremony in Bangkok, for their crucial role in the Tham Luang cave rescue.
The pair received the honour in a ceremony at Government House in Bangkok on Friday afternoon, before meeting with the PM Gen Prayut Chan-o-cha.
"It's very exciting, it's great to be back," Dr Harris said.
"We had no idea at the time of the rescue that this was going to be such a big story."
Drs Harris and Challen have returned to Thailand for the first time since their crucial contribution to the rescue of the 13 young footballers from the Tham Luang cave site in Chiang Rai almost a year ago.
Drs Harris and Challen were also in January jointly named Australians of the Year – one of the country's highest honours.
The pair will now travel to Chiang Rai to return to the Tham Luang cave site and meet with the MU Pa football team and their families tomorrow (Monday).
"That's really exciting for us to go and see them and make sure they're well and see how they're doing after the rescue," Dr Harris said.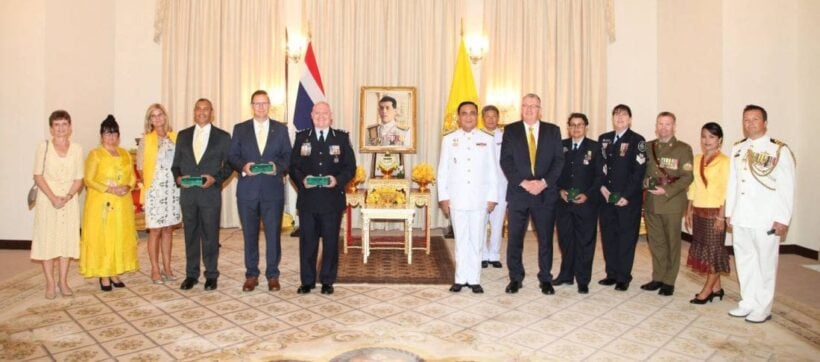 Severe localised storms predicted for central, north and north-east until April 16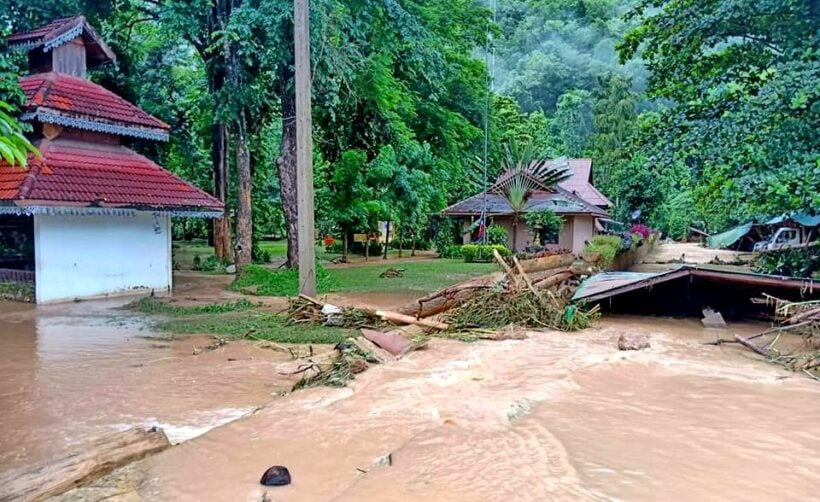 FILE PHOTO
The meteorological office (TMD) says there could be localised severe thunder storms for the entire upper area of the country until Tuesday.
The north, north-east, eastern seaboard and central regions, including Bangkok and surrounding areas could all be randomly hit by tropical thunderstorms.
The TMD office director Phuwiang Prakhammin has warned of rain storms, thunder and lightning, high winds and even hail.
"People were warned to avoid open spaces, not to stand under trees as it is a lightning strike hazard and be careful of unstable advertising hoardings."
Farmers have also been warned about protecting their livestock and crops in the agriculture-heavy northeastern provinces. Here are the provinces that may be affected…
Northeast: Bueng Kan, Sakon Nakhon, Nakhon Phanom, Mukdahan, Khon Kaen, Chaiyaphum, Kalasin, Maha Sarakham, Roi Et, Yasothon Loei, Nong Bua Lamphu, Khon Kaen, Chaiyaphum, Nakhon Ratchasima, Buri Ram, Surin, Si Sa Ket and Ubon Ratchathani
Northern region: Chiang Mai, Chiang Rai, Phayao, Phrae, Nan, Lampang, Tak, Sukhothai, Uttaradit, Phitsanulok, Kamphaeng Phet, Phichit and Phetchabun
Central: Nakhon Sawan, Uthai Thani, Chai Nat, Sing Buri, Ang Thong, Ayutthaya, Lop Buri, Saraburi, Suphanburi, Ratchaburi, Kanchanaburi, and Bangkok.
East: Prachin Buri, Sa Kaeo, Nakhon Nayok, Chachoengsao, Chon Buri, Rayong, Chanthaburi and Trat
SOURCE: Daily News