Stranded Russian and friends help monk build houses in Chiang Mai – VIDEO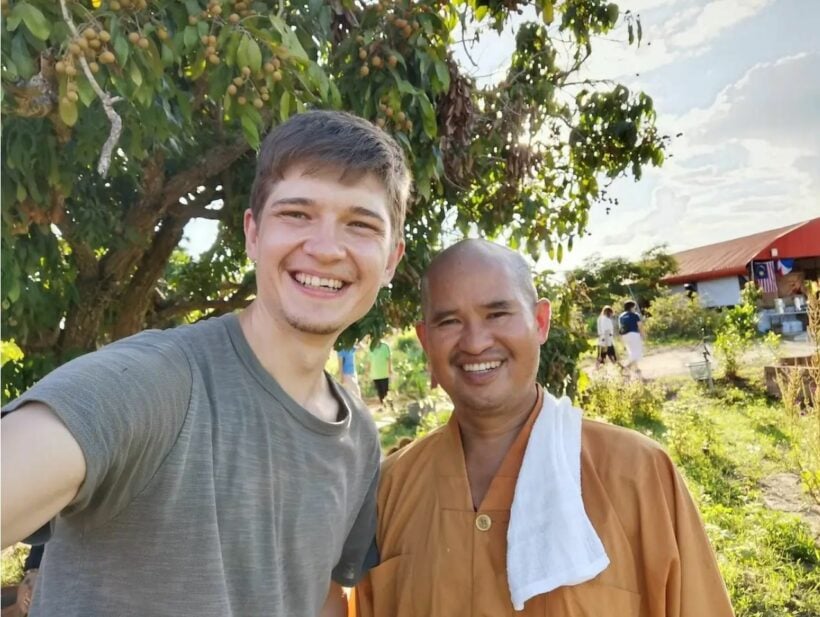 When Nikita Proshin left his home in Russia in January to travel for a year, he had no idea he would spend the last 5 months in Thailand. Although he ended up stranded in the Kingdom, through a work-exchange program, he's helping a Buddhist monk build houses. The 25 year old says he doesn't know what will happen next, but he plans to "go with the flow" to meet his 2020 goal of travelling a year without going home.
When the virus began spreading across the world, borders closed, flights were cancelled, and travel, for most people, was put on pause. While many travellers packed their bags and headed back home while they could, Proshin decided to continue his adventure, even if it meant staying in a single destination for months. He settled in Thailand, where he's recently moved into a monk's home to help him build houses.
Originally from Omsk, Russia, Proshin travelled to China 5 years ago where he discovered his passion for exploring.
"An average vacation, like 2 or 3 weeks long, is not enough for me. I wanted more."
Check out the video, it's very entertaining…
He lived in China for 4 years, eventually travelling back home. This year he made a New Year's resolution to travel for the entire year. He left with a few thousand dollars with a plan to journey across Asia and Europe.
As the coronavirus spread, countries began closing their borders. Proshin needed to choose a destination where he could stay and ride out the closures in safety. He initially planned to visit Vietnam, but because he was travelling from China, Vietnam wouldn't let him in. So he headed to Thailand at the beginning of February. He travelled around the country and eventually settled in a hostel in Chiang Mai.
"I made a promise to myself that I would travel the entire year, and I didn't want to break it."
While he had some savings, he was quickly running out of money staying at the hostel. A few new friends he'd made at the hostel heard about a work-exchange program outside the city. So they all packed their bags and moved into a local Buddhist monk's home.
Work exchanges are common for travellers because they offer a chance to learn about a region's culture through experience. In exchange for a room and food, the traveller offers work. In this case, Proshin and his friends would build homes.
Proshin says the monk, 'Pongmia', heard about the travellers' struggles getting flights home due to the coronavirus. Many were getting stuck in Thailand with no place to stay and dwindling budgets. Pongmia launched a work-exchange program to help. Currently, there are about 10 travellers living with the monk's family.
Every day starts before sunrise. On a rotating chore chart, Proshin makes breakfast several times a week with the monk's mother, and although they don't speak the same language, Proshin says they can still understand each other.
SOURCE: insider.com
Keep in contact with The Thaiger by following our Facebook page.
Never miss out on future posts by following The Thaiger.
4 top tourist destinations to be prioritised for Covid-19 vaccine distribution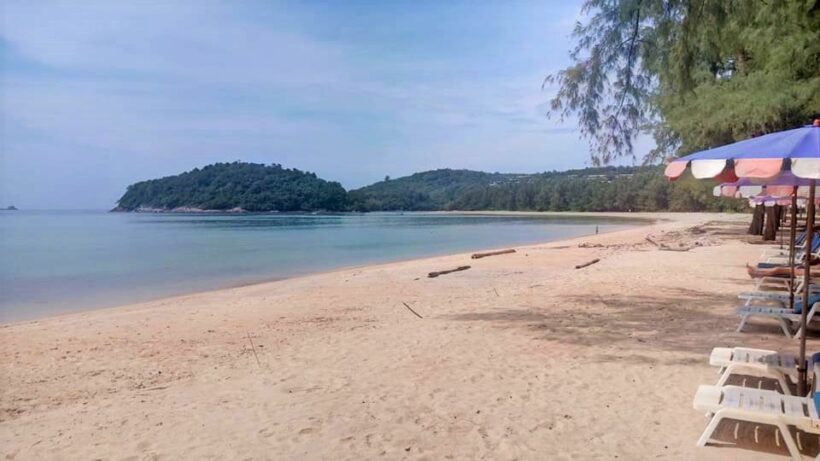 The Centre for Covid-19 Situation Administration says 4 of Thailand's major tourism destinations are to be prioritised in the distribution of vaccines. They are Phuket, Chon Buri, Chiang Mai and Surat Thani. In addition, a further 9 provinces with significant infection numbers are being prioritised in the rollout of the first vaccine doses arriving in the Kingdom today.
Taweesin Visanuyothin from the CCSA says 70,000 doses will go to the hard-hit "highest control" area of Samut Sakhon, where Thailand's second outbreak began late last year. 8,000 doses are being set aside for medical officials in the central province, along with 6,000 for frontline healthcare workers, 46,000 doses for seriously ill patients, and 10,000 doses for migrant workers and local residents.
Another 105,000 doses will be distributed to similar groups in Bangkok, in the central provinces of Pathum Thani, Nonthaburi, Nakhon Pathom, Samut Songkram and Samut Prakan, and in the western province of Ratchaburi and the Mae Sot district of Tak.
The Pattaya News reports that 14,700 doses will be sent to 4 major tourist destinations, with 4,700 going to the eastern province of Chon Buri, 4,000 to the southern island of Phuket, 3,500 to the northern province of Chiang Mai, and 2,500 going to the island of Samui in the southern province of Surat Thani.
In the case of the vaccines going to tourism spots, it is not yet known which groups will be vaccinated first, with that decision being left to the Provincial Communicable Disease Committee and other related authorities.
Meanwhile, the CCSA says other plans for the 4 tourism destinations are being considered, including the possibility of "area quarantine", which would allow vaccinated foreign arrivals to remain within certain boundaries during their quarantine period. The Tourism Authority of Thailand has been pushing for a vaccine passport policy for vaccinated visitors, while PM Prayut Chan-o-cha says the government may consider lifting quarantine restrictions for vaccinated tourists.
SOURCE: The Pattaya News
Keep in contact with The Thaiger by following our Facebook page.
Never miss out on future posts by following The Thaiger.
UPDATE: Thailand Covid zones and your restrictions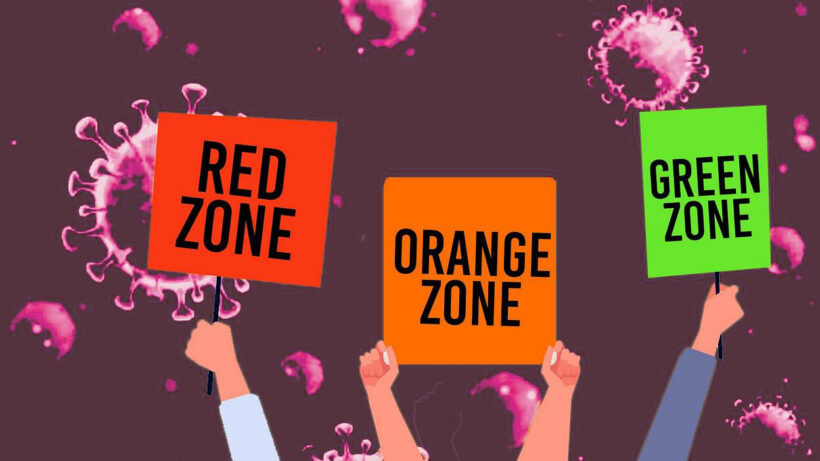 Which of the five coloured zones are you living in? A green zone? Red zone? Pale red zone? hat's the difference and what's open and what's not? If you're not in Samut Sakhon, the coastal province just south west of Bangkok, then some of the restrictions imposed by the CCSA have recently been lifted. Here's a quick look at what's open and what restrictions remain as of Friday, January 29. (Some local provincial exceptions will apply)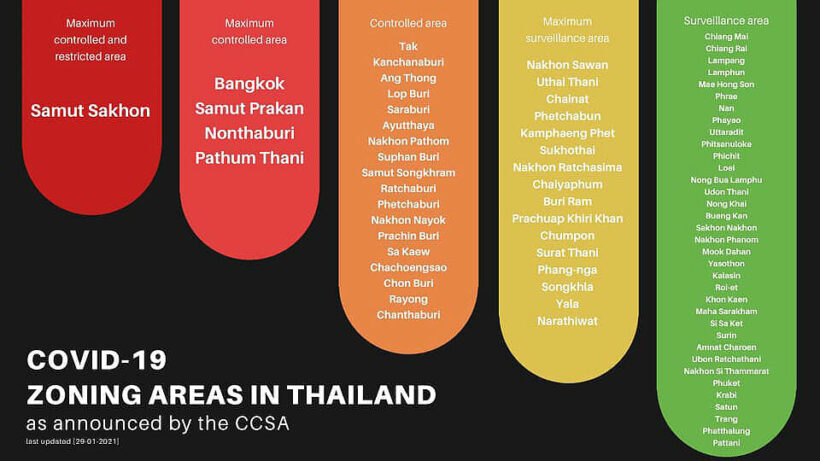 According to the list there's a Red Zone for Samut Sakhon, called a Maximum Controlled and Restricted Area, and then the light Red Zone, called a Maximum Controlled Area. Previous Red Zones – Rayong, Chon Buri (including Pattaya) and Chanthaburi – have been downgraded to Orange Zones, aka. Controlled Area. Trat, previously a Red Zone, has disappeared off the map! (An omission – we understand Trat is now an Orange Zone).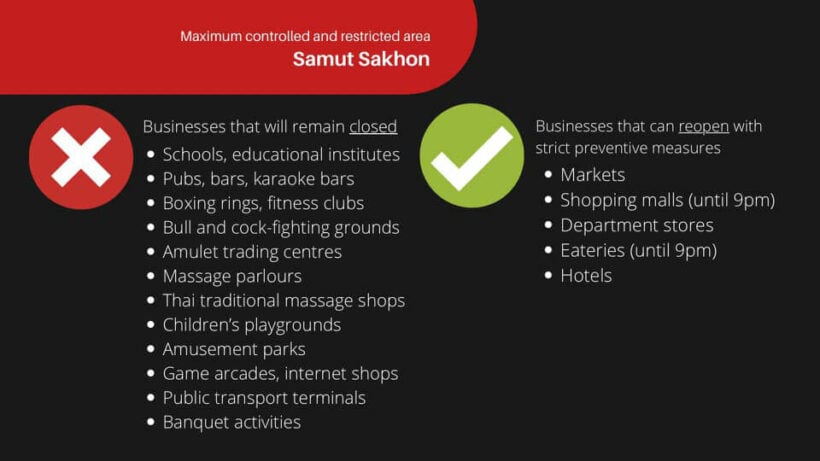 In Samut Sakhon, the epicentre of the latest outbreak around the seafood markets and coastal fishing ports, has the maximum current restrictions. Restaurants can currently stay open only until 9pm at the moment, markets and hotels are still allowed to open.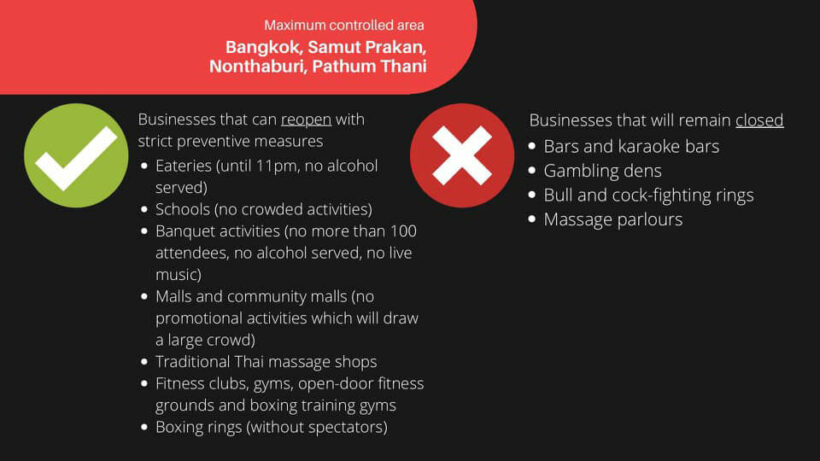 The 'pale' Red Zone includes Bangkok and now allows restaurants to stay open until 11pm but the serving of alcohol is still banned. Bars and karaoke bars are still required to remain closed. As is the 'bull and cock-fighting rings'. Shopping Centres are being asked not to conduct promotional activities that would draw large crowds but are otherwise still open. The city's schools are all open although some private institutions have decided to remain closed – check with your school to confirm. Gyms and boxing gyms are allowed to re-open.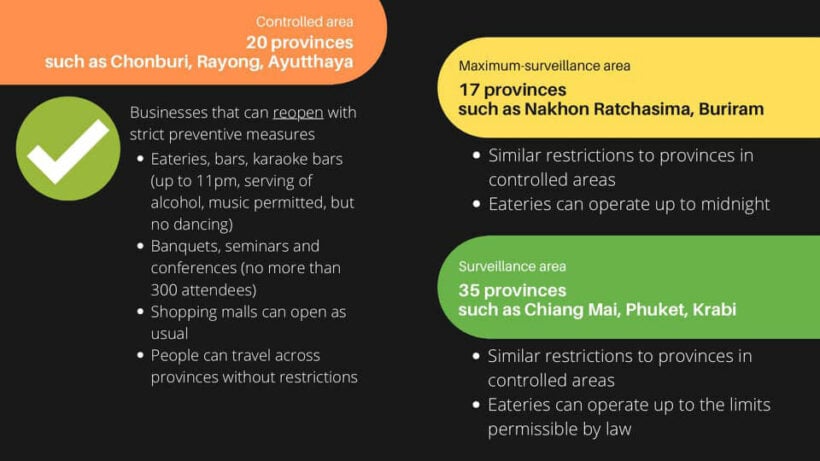 The Orange Zone includes Pattaya which now permits restaurants and bars to re-open until 11pm, including the serving of alcohol, but no dancing (damn!). Shopping Centres can open as per usual and residents in the Orange Zones are now allowed to travel across provincial borders again unhindered. All this will allow some of Pattaya's entertainment establishments a sigh of relief as they were relying heavily on some weekend traffic from Bangkok to keep the wheels turning until the tourists are allowed back into the country.
The other 3 popular tourist zones of Chiang Mai, Krabi and Phuket have been in the Green Zone throughout the current month of restrictions and can operate much as they were before December last year. But domestic airlines have slashed their flights to these areas and the few flights remaining are asking higher fares than the pre-second wave prices.
Some of the provinces will still require you to carry the Mor Chana app on your phone and other provinces, eg. Phuket, have their bespoke websites to register where you are staying. If you don't have a mobile phone the local officials usually just check you ID and ask a few questions about where you've been and get contact details if they need to get hold of you.
Of course, despite the latest list of eased restrictions and changes in the colour zoning, there will be some local variances and enforcement. Local provincial governments have been given the power to add additional restrictions in some cases.
GRAPHICS: Thai PBS World
Keep in contact with The Thaiger by following our Facebook page.
Never miss out on future posts by following The Thaiger.
Air pollution reaches "unhealthy" levels in Thailand's north and northeast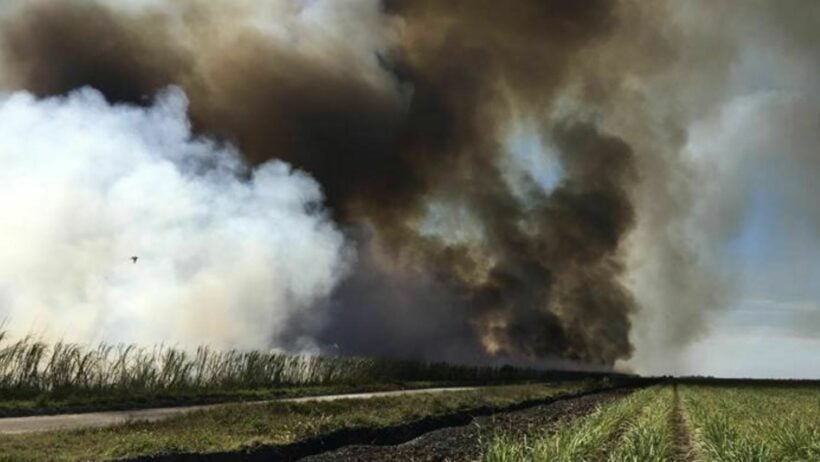 18 provinces in Thailand's north and northeast are being hit by a wave of smoke and air pollution as the burning season kicks in for the country's agricultural sector. The next 2 months are the peak of the burning off season for agricultural waste as farmers prepare their land for the next crops of corn, rice and sugar and use the fires to aid the harvest of some of their crops.
With sugar cane plantations, for example, farmers choose to burn the leaves off the plant, exposing the stalks, before harvesting the profit-making stalks, saving time and money. There are mechanical ways to achieve the same result but the farmers, pushed to slender profit margins by the multinational food companies, are unable to invest and amortise the additional costs.
The levels of PM 25 micron particulate, a measure of the smoke and haze, has been at "unhealthy" levels in Chiang Rai, Phrae, Sukhothai, Phitsanulok, Tak, Phetchabun, Phayao, Nan, Chiang Mai, Lampang, Khon Kaen, Roi Et, Chaiyaphum, Ubon Ratchathani, Saraburi, Nong Khai, Nakhon Phanom and Nakhon Ratchasima.
The Pollution Control Department are now openly admitting that the major cause of the seasonal smoke is "open burning by farmers who are preparing their land", according to the Bangkok Post. On Monday the Deputy PM Prawit Wongsuwan issued orders to prevent farmers from starting the plantation fires. You can check the result of his orders in the fire map below.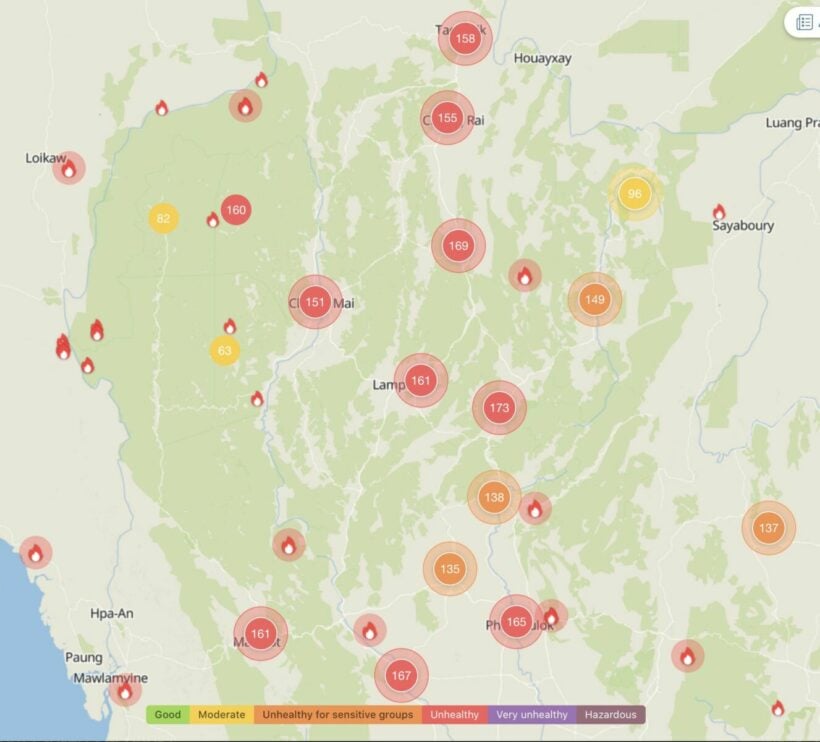 iqair.com measures the average level of PM2.5 dust in the North at between 35-85 micrograms per cubic metre (μg/m³) yesterday, considered "unhealthy". In the Northeast, the levels ranged between 40-99μg/m³.
The Thai Pollution Control Department considers PM2.5 readings below 50μg/m³ as "safe" but the Thai standard is twice as high as what is considered safe by the World Health Organisation.
firms.modaps, the NASA satellite fire tracking service, shows the number of fires currently alight around Thailand and the concentrations in the north and north east. The fires in northern Cambodia and north east Myanmar are also contributing to the Thailand's smog and haze, depending on which way the winds are blowing. During this time of the year, the winds are predominantly north east and light across much of Thailand. The firms.modaps feed is live, registering the fires alight at the time the screen capture was taken.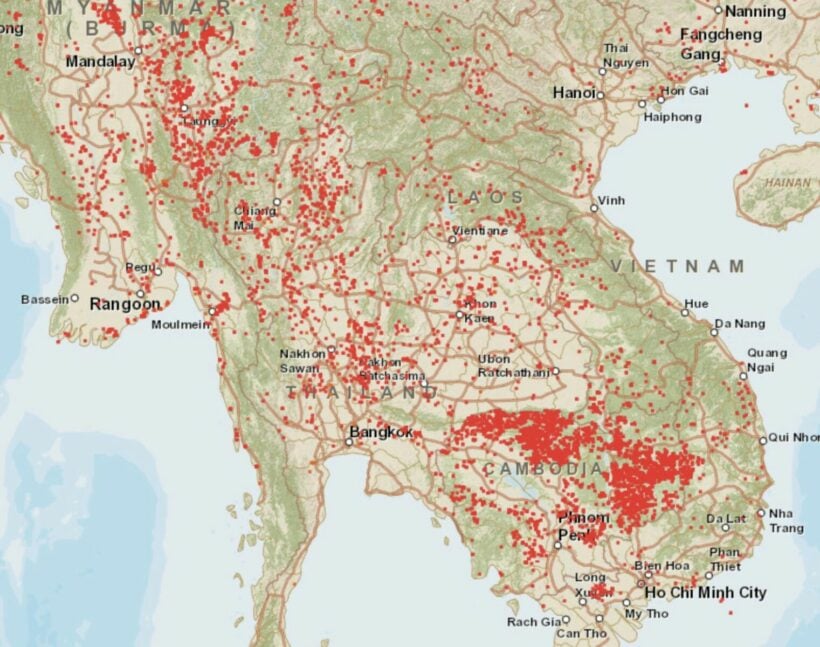 Bangkok starts off Wednesday with relatively better air quality than the past few weeks.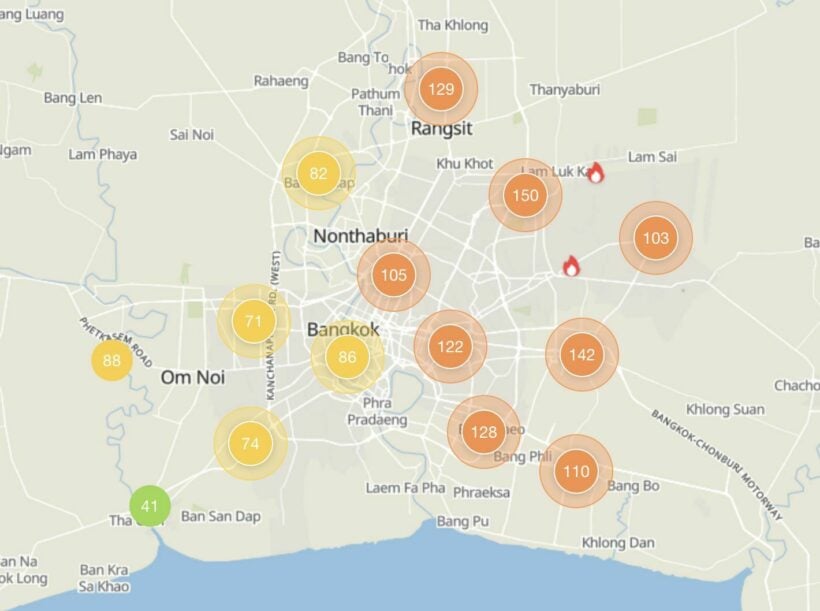 SOURCE: Bangkok Post
Keep in contact with The Thaiger by following our Facebook page.
Never miss out on future posts by following The Thaiger.