Dixie chicks changes name due to racist connotations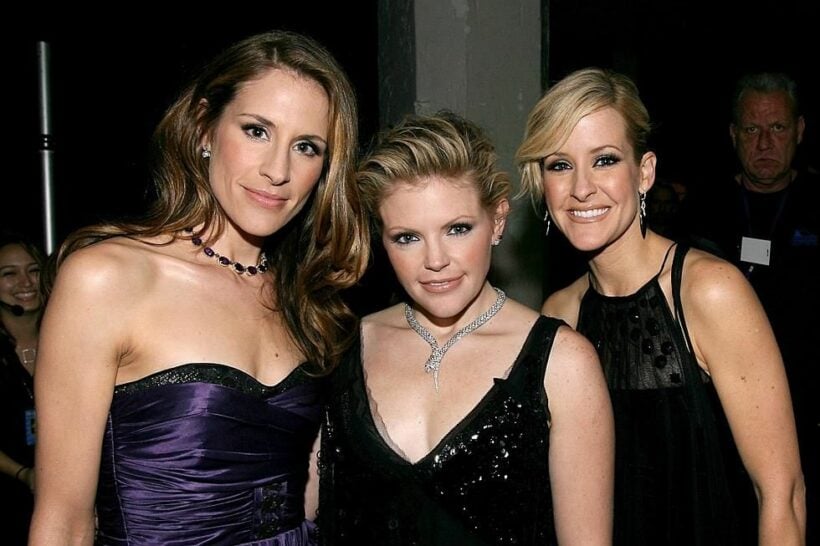 After the US has exploded with protests and calls for racism to be seriously addressed, the country music group Dixie Chicks has chosen to drop "dixie" citing its racist connotations.
The word "dixie," was used to describe the confederate states in the US that supported slavery as it was derived from Jeremiah Dixon, whose name came to signify the 11 slave-holding states that made up the Confederacy before being defeated in the civil war.
The Chicks, as they now wish to be called, sang of the recent racial tensions which could help explain the name change, however, no announcement has officially been made by the group except for an unattributed quote in a press release: "If your voice held no power, they wouldn't try to silence you."
Another music group has also followed suit by changing their name after saying they were embarrassed to have not taken into account the meaning of their name. The group, Lady Antebellum has dropped the latter name to just "A" after antebellum was used to describe southern US slave-holding before the civil war.
Both groups' decision comes after calls for outdated or racist terminology and imagery in the US to be removed, as civil rights movements have become quite strong after the recent killing of an unarmed black man George Floyd by police. The killing, however, is only one of the many wrongful deaths seen of people of colour at the hands of police. Many activists worldwide have pointed to systemic racism in law enforcement and governments alike.
The recent killing of Floyd has sparked violent protests in America, with supporters saying peaceful protests never produced any kind of change.
The Dixie Chicks aren't new to taking a stand as they were largely banned from country music radio stations after criticising President Bush's decision to go to war with Iraq in the early 2000s.
SOURCE: The Guardian
Keep in contact with The Thaiger by following our
Facebook page
.


Find more SE Asian News courtesy of The Thaiger.

Broke? Find employment in Southeast Asia with JobCute Thailand. Rich? Invest in real estate across Asia with FazWaz Property Group. Even book medical procedures worldwide with MyMediTravel, all powered by DB Ventures.

In the midst of re-opening, there are now new lockdowns around the world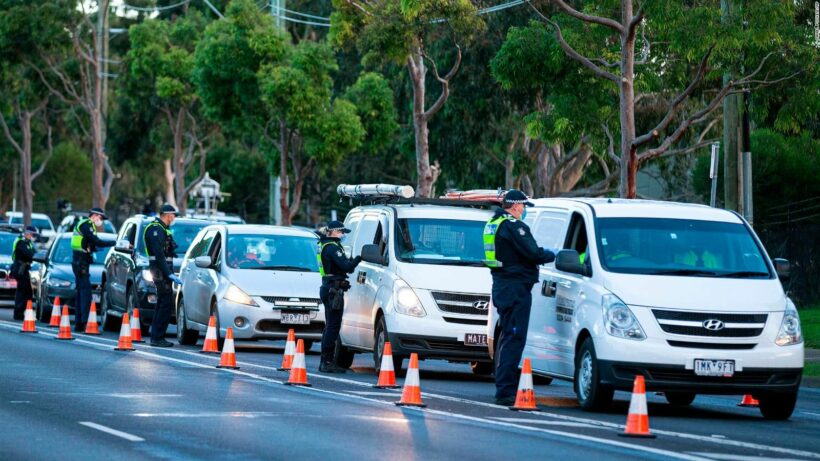 Countries that appeared, only a few weeks ago, to have their local Covid-19 outbreaks under control – Australia, Hong Kong, Singapore for example – are now seeing new waves of the virus drawing immediate attention from officials, locking down the affected areas. They know, for now, it's the only solution to counter new outbreaks.
These mini-outbreaks in formerly 'low-risk' areas draws attention to the difficulties of containing Covid-19, even when countries have been ruthless with border closures, 'lockdowns' and quarantine measures.
In Melbourne, Australia's southern city, it's been a backward step as the country closed the state border between the states of Victoria and New South Wales, just to the north on the other side of the Murray River. It's the first time the border has been closed in 101 years, since a similar measure was introduced during the Australian outbreak of the deadly Spanish Flu.
In Hong Kong, officials say they are now containing a third wave of Covid-19 cases following weeks of zero local viral infections.
In Singapore the numbers of cases were exactly 1,000 on April 1. Singapore officials were patting themselves on the back and praised for their quick reactions to suppress the spread of the virus in the tiny island state. Then cases started appearing in the accommodation areas where the large migrant worker population live. Today there are now 45,298 cases amongst a population of 5.6 million with at least 100+ new cases still being reported every day. 41,000+ have now recovered and there has only been 26 recorded deaths in Singapore.
Admittedly these case studies pale into insignificance when compared to the US, India, Brazil, South Africa or other countries in South America or the Middle East who are registering 1,000s of daily new cases at the moment. But it raises questions about how parts of the world, hard hit earlier, and now trying to recover their economies, will ever expect to return to anything resembling 'normal'. Even if they do, the constant fears of another 'wave' of the coronavirus, or the prospect of re-opening their borders, is an ongoing challenge.
As well as Australia, Singapore and Hong Kong, South Korea, China, New Zealand, and Israel (1,335 new cases in the past 24 hours), have all reported new Covid-19 outbreaks after initially appearing to contain Covid-19. Thailand has now reached 45 days without a single locally transmitted case but is still reporting fresh cases every day of repatriated Thais flying back to Thailand with the infection.
But, with the the latest knowledge, authorities are able to quickly 'jump' on the affected areas and better contain the spread. Most countries now have more developed contact-tracing too, all helping to minimise the spread of 2nd or 3rd waves.
Melbourne had just about fully re-opened when the new cases started showing up in the middle of June and is now reporting 120+ new cases each day, following almost 2 months of single digit daily infection rates for the entire country.
Now city residents are again confined to their homes, unless it's for food shopping, caregiving, exercise or work. Cafes and restaurants, allowed to reopen just weeks ago, are again closed, going back to their delivery and take-out services again. All entertainment venues are also closed. Victoria (where Melbourne is the capital) is now being isolated from its state neighbours of New South Wales and South Australia.
"The South Australian Government has announced all residents returning from Victoria will be required to take a coronavirus test within 24 hours of their arrival, and wear face masks when coming into contact with others." The South Australian Premier Steven Marshall says that all travellers from Victoria are required to self-isolate for 14 days, and submit for a coronavirus test.
The closure of the border with New South Wales is the first time such a measure has been taken since the Spanish Flu pandemic, 100 years ago. There are border towns scattered along either sides of the river border that are now effectively cut off from each other. Any Victorians needing to cross the borders have to register with the government and checkpoints have been set up.
The Australian experience with a second wave mirrors the response in China where swift, draconian measures are applied to contain the virus. Without a vaccine, it's a blunt but effective tool to control local outbreaks of the disease.
Hong Kong is currently debating a return to lockdowns and restrictions. After weeks of relaxation and two months of few new cases, there is now around 20+ new cases each day over the past week. Hong Kong is a particularly concerning location due to close living and cramped streets. SARS, the Severe Acute Respiratory Syndrome, another coronavirus related to Covid-19, reached Hong Kong in March 2003. Over 3 months, a total of 1,750 cases were identified. During this time 286 people died of the disease. SARS proved to be even more fatal than Covid-19.
Now the Hong Kong government is again urging residents to be vigilant about wearing face masks, exercising social distancing, and public hygiene.
Daniel Andrews, the Victorian premier, says "I think a sense of complacency has crept into us as we let our frustrations get the better of us. I think that everyone knows someone who has not been following the rules as well as they should have. I think each of us know that we have got no choice by to take very, very difficult steps."
His words ring true for every location in the world where a new wave or isolated outbreaks re-occur.
But in some parts of the world the first wave is still in full flight – countries like the US, Brazil, India, South Africa and other South American nations are currently seeing an acceleration of new Covid-19 infections.
For a developed nation with a world-class health system, the problem in the US is of particular concern, where the pandemic has become highly politicised. Even the wearing of masks, now seen as part of a community's weaponry against infection, is being flagrantly ignored by sections of the US community who see their refusal to wear a mask as a sign of solidarity with the US President. Even the advice from the country's Centres of Disease Control is now being openly challenged by some politicians.
Australia, Hong Kong, Singapore and other parts of Asia, that tackled the virus earlier and 'flattened the curve' before others, are showing the difficulty of avoiding new infections, even in the best of circumstances. Where communities are mostly following health authorities' guidelines, wear masks, are vigilant about social distancing and are educated about the situation… new outbreaks can still occur.
The 'new normal' for the world isn't 'normal', but it is 'new'. It's been a century since the world suffered the loss of some 50 million people from the ravages of The Spanish Flu (some 500 million were infected with the H1N1 virus according to CDC and Wikipedia). Now, in a new century, with all the technology and accumulated knowledge, we are still finding it difficult to manage a tiny virus.
Keep in contact with The Thaiger by following our
Facebook page
.
US Covid-19 cases surge past 3 million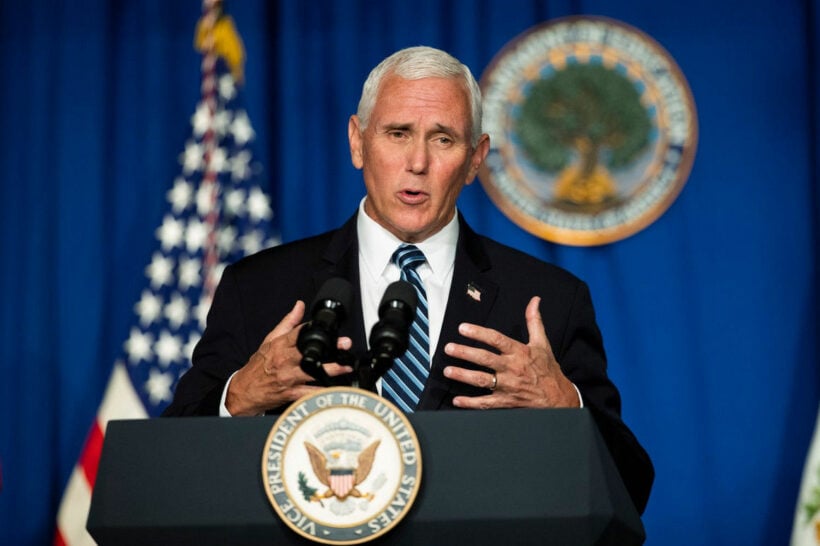 Over 3 million people in the US have now tested positive for Covid-19 since the start of the outbreak (3,158,932 as of midday Thai time).
Nearly 135,000 deaths have been recorded and the country is now facing an acceleration of new cases in a number of key states, notably Florida, Texas, California, Arizona, Georgia and Tennessee. On a positive note, the country's death rate from Covid-19 has flattened out as treatments improve and many of the new cases are being seen in younger patients.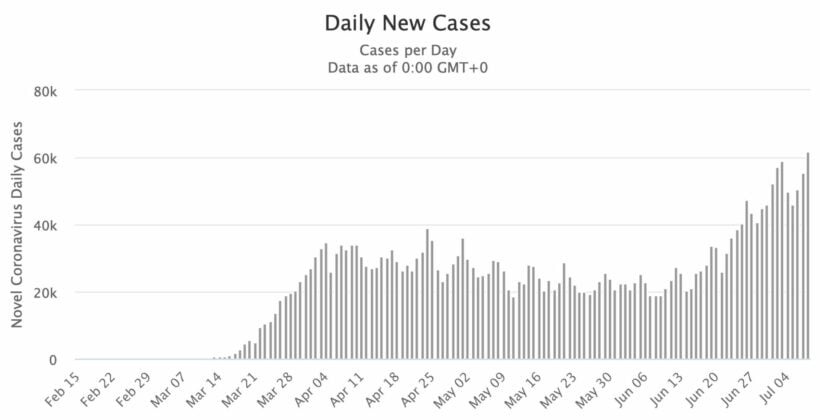 SOURCE: worldometers.com
Despite the rising number of cases and hospital admissions, the White House has been pushing forward on the re-opening of businesses, including schools, around the country. The US Vice-President Mike Pence, heading up the White House Coronavirus Taskforce, argued rules should not be "too tough".
He stated, against the evidence, that "cases were flattening out", while the US President Donald Trump said on Tuesday that America was "in a good place" regarding the pandemic.
In the past 24 hours the US has recorded 61,848 new confirmed Covid-19 cases, a new daily record for the US. Texas and Florida have recorded the highest numbers of new cases with 10,199 and 9,989 respectively.
Dr Anthony Fauci, an infectious disease expert and adviser to the President and the White House Coronavirus Taskforce, says the US was still "knee-deep" in only its first coronavirus wave.
Meanwhile, Mr Pence defended the Trump administration's response to the pandemic at the US Department of Education yesterday, whilst wearing a mask for most of his speech.
"While we mourn with those who mourn, because of what the American people have done, because of the extraordinary work of our healthcare workers around the country, we are encouraged that the average fatality rate continues to be low and steady."
He pushed forward on the country's re-opening of schools saying that the US Centres for Disease Control and Prevention is issuing new guidelines after the US President criticised a plan put forward by the CDC was "very tough and expensive" and threatened to cut off funding to schools that weren't prepared to re-open in late August, early September.
Referring to the CDC guidelines in a Tweet, the US President said… "They are asking schools to do very impractical things. I will be meeting with them!!!"
In Oklahoma, health officials in the city of Tulsa say the President's campaign rally held on June 20 in a large sports stadium, and the protests that were taking place outside the venue "likely contributed" to a new spike in local cases , according to Associated Press.
Tulsa City-County Health Department Director Dr Bruce Dart says that there has been almost 500 new cases… "and we had several large events just over two weeks ago, so I guess we just connect the dots."
On the business front, United Airlines is warning that unless flights dramatically increase, the company would have to lay off nearly half of its workforce, some 36,000 employees.
And more than 5,600 companies in the US fossil fuel industry have taken a minimum of US$3 billion in coronavirus aid from the federal government. The businesses include oil and gas drillers, and coal mine operators, as well as refiners, pipeline companies and companies providing services for the industry.
SOURCES: BBC | USA Today | Bloomberg | Worldometers
Keep in contact with The Thaiger by following our
Facebook page
.
UK's Kew Green Hotels launches 7 properties in Bangkok

Despite a quickly changing business environment for the world hospitality industry, some companies are accelerating expansion plans in anticipation of the eventual recovery.
Kew Green Hotels, one of the UK's leading hotel management companies with over 55 hotels in its portfolio, has now announced plans to expand into the south east Asian market through a joint venture with Siamese Asset. The new entity, Siamese and Kew Green Management Company Thailand, are launching 7 properties in Bangkok, 4 under the Wyndham Hotels & Resorts brand. Alongside the launch of these 7 properties, Kew Green Hotels will also be launching a Commercial Hub for south east Asia to support the region, based in Bangkok.
Siamese and Kew Green Management Company Thailand will launch 4 hotel and branded residences in the heart of Bangkok next year…
The Wyndham Queen Convention Centre, Wyndham Garden Sukhumvit 42, Ramada Plaza by Wyndham Sukhumvit 48 and Ramada by Wyndham Sukhumvit 87, with an additional three properties in the pipeline. Guests staying at each of the Wyndham Hotels & Resorts will have access to Wyndham Rewards, the global hotel loyalty rewards program.
Kew Green Hotels set themselves apart by "combining years of experience with innovative ideas to deliver outstanding hotel services and by delivering exceptional returns for hotel owners. Combining market-leading technology with expert talent, the Commercial Hub will integrate proactive and reactive sales, marketing, analytics and revenue management, to support their increasing hotel portfolio in the region, providing a consolidated approach to deliver growth".
Chris Dexter, CEO of Kew Green Hotels, says they look forward to delivering "world-renowned Thai hospitality in these seven properties, supported by our state-of-the-art commercial hub".
"As a growing company, this milestone reflects Kew Green Hotels' broadening expertise in the international hotel market and reputation for operational excellence, strong commercial awareness and industry leading profit delivery."
The Wyndham Queen Convention Centre Hotel & Residences, with 120 rooms and suites, is conveniently located just 50m from Queen Sirikit National Convention Centre MRT station, yet close to the greenery of Benjakitti and Lumpini parks. The hotel and residences offer panoramic views of the city, the bustling Port of Bangkok and outstanding surroundings. Amenities include rooftop gardens, a sky lounge, infinity pool, restaurant, executive lounge and an expansive fitness room, all with spectacular panoramic cityscape views. The hotel is just five minutes from contemporary shopping centres within the vibrant Central Business District of Bangkok.
Wyndham Garden Sukhumvit 42 sits in the heart of Ekkamai, known for its lively collection of popular cafés, bars and restaurants and just 300m from Ekkamai BTS station and five minutes from the Ramindra-Art-Narong Expressway. The hotel offers 120 rooms with city views, a roof-top garden, a restaurant, a Kafeology coffee bar on the terrace, swimming pool, spa and gym.
Ramada Plaza by Wyndham Sukhumvit 48 offers 100 rooms together with a sky bar, restaurant, bar lounge and spa with far reaching views across the city plus a swimming pool and gardens. The hotel is less than 10 minutes' walk from Phra Khanong BTS station with easy connectivity to world-class shopping, dining and nightlife.
Ramada by Wyndham Sukhumvit 87 is located between BTS Bang Chak and BTS Onnut at 430m and 550m respectively, with convenient access to shopping malls and entertainment in the Ekkamai area. With 85 rooms, the hotel offers a dedicated yoga room and roof-top gardens, a swimming pool, garden and Kafeology coffee bar.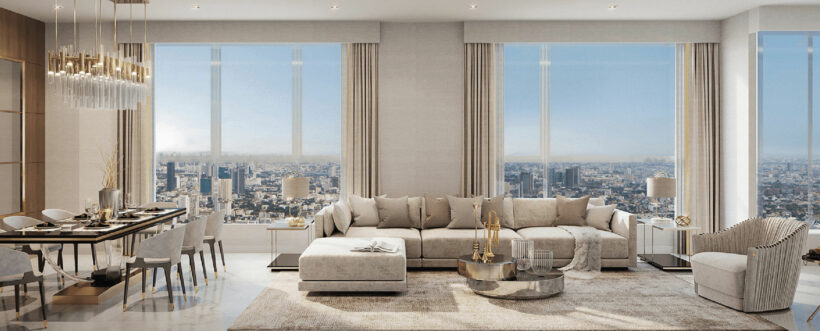 Keep in contact with The Thaiger by following our
Facebook page
.