Prayut tentatively embraces China's Belt and Road strategy for Thailand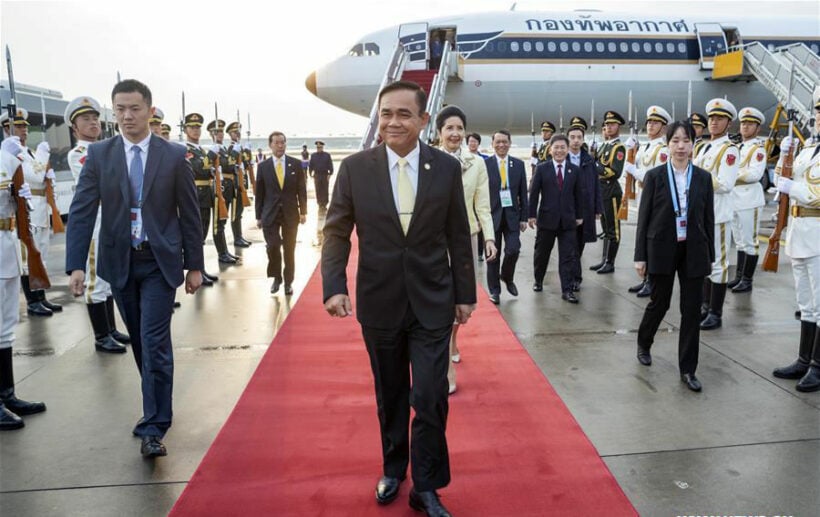 Thai PM's appearance at the second Belt and Road Initiative forum in Beijing last weekend suggests the luke-warm relations between China and Thailand persist. Whilst both nations portray a strong willingness to progress in their financial partnerships there is still a gulf between the two country's preferred outcomes in the deals they are forging.
Last time Beijing snubbed the Thai PM as frustration boiled delays over negotiations to push forward with the high-speed rail line would one day run between China's south and Singapore – any route was going to have to go through Thailand.
Now, after five years of haggling, there has now been a signing of a Memorandum of Cooperation between Thailand, Laos and China. That the forum was able to pull together this important step was significant political and practical progress in the project.
Construction on Thailand's section of the HSR line has been repeatedly delayed because of disagreements over the terms of a related loan from the Export-Import Bank of China, land rights disagreements and concerns over the project's commercial viability.
But last Friday Prayuth finally announced he would push forward with construction of Thailand's section of the railway to meet a 2023 deadline.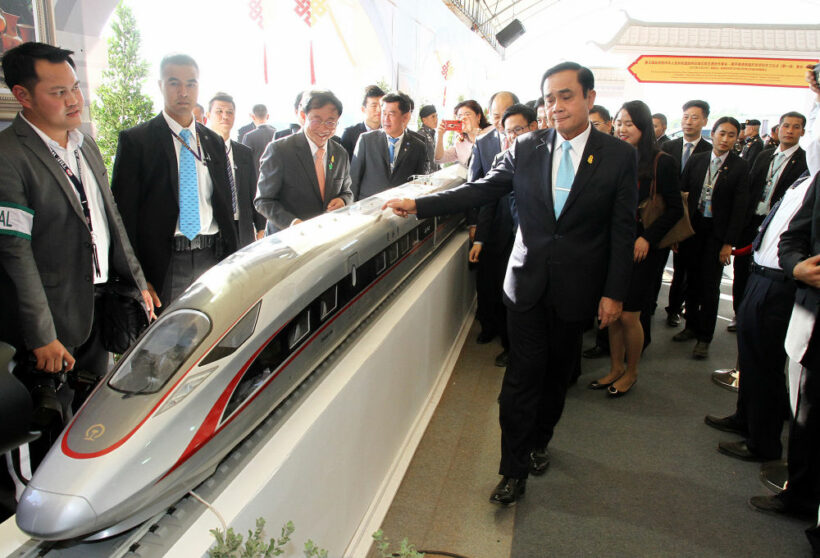 It was also an important meeting for Prayut to assure his Chinese counterpart of his government's status – currently acting in a caretaker mode awaiting the announcement of the March 24 election results – that they were still able to push the project forward. Even if Prayuth isn't prime minister after the next government is formed, the next Thai government will remain legally bound to abide by the country's 20-year National Strategy, implemented last October and enshrined in the 2017 constitution.
The success of the 20 Year National Strategy is linked to the Kingdom securing foreign investment for the $45 billion Eastern Economic Corridor development plan, a vital economic fulcrum for future national growth.
Paul Busbarat, lecturer in international relations in the faculty of political science at Bangkok's Chulalongkorn University told Nikkei Asian Review that two major Thai infrastructure projects are vital to China's Belt and Road success in the region.
"The EEC link to the Kra Canal, connecting the Gulf of Thailand to the Andaman Sea, is possible if the Chinese really push it," he said.
"The grand scheme is the EEC as a hub of industry, from which the Chinese can export through the Kra Canal without going through the Malacca Strait."
China is also pushing for Chiang Rai in Thailand's north to be a new Sino-Thai centerpiece for a cross-border SEZ (special economic zone) and logistics hub that would allow the elimination of tariffs on goods from southwest China through the Mekong River region.
Keep in contact with The Thaiger by following our Facebook page.
Never miss out on future posts by following The Thaiger.
Phuket eases restrictions, bars back to late-night hours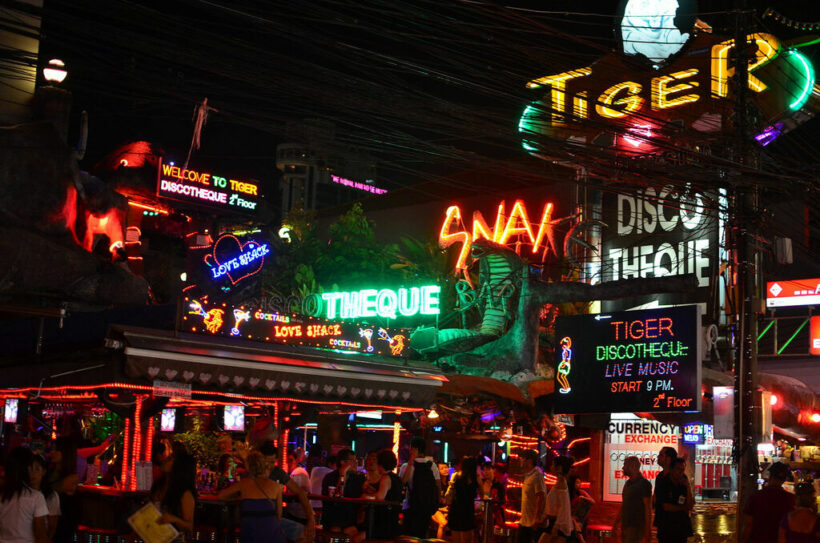 Things are getting back to normal in Phuket. The provincial government eased disease control restrictions, allowing restaurants, bars and entertainment venues to go back to their normal operating hours – no more midnight closure order – and lifting the late-night alcohol ban.
While bars can now stay open late and serve alcohol after midnight, dancing is prohibited and venues cannot serve alcohol in containers that will be shared among groups of people.
The Phuket Communicable Disease Committee agreed to ease the restrictions yesterday and an order allowing late-night hours and alcohol sales was posted today by the Phuket's Public Relations Department.
"As the Covid-19 situation in Phuket has improved that there are no more Covid-19 infections found, the committee agreed to cancel the late-night alcohol ban in order to revive the economy of Phuket."
All businesses related to gathering activities are warned to follow the Covid-19 preventive measures.
SOURCE: Phuket News
Catch up with the latest daily "Thailand News Today" here on The Thaiger.
Keep in contact with The Thaiger by following our Facebook page.
Never miss out on future posts by following The Thaiger.
Thailand's tourism targets film production to gain revenue during Covid-19 crisis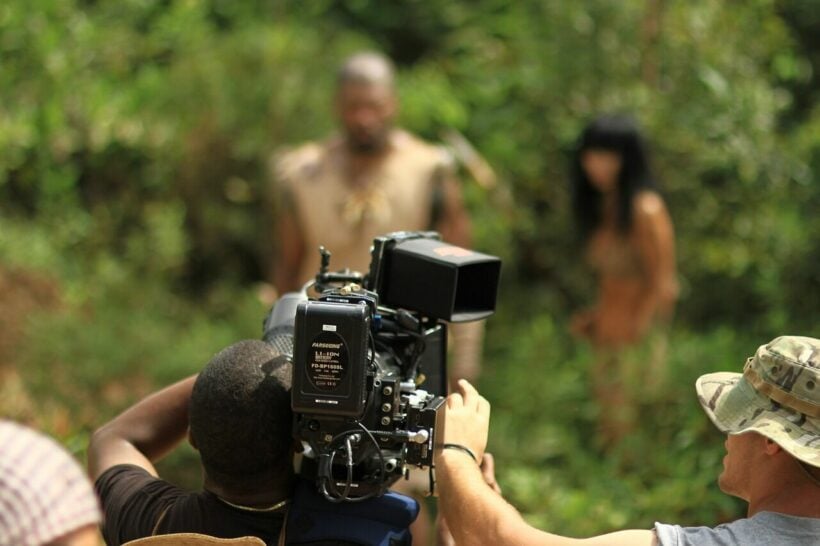 Thailand's tourism officials have a new idea to draw in visitors: film production. The Tourism and Sports Ministry is aiming to generate around 3 billion baht from foreign film crews and is targeting projects with an investment over 100 million baht, hoping to compensate for the loss of revenue due to the lack of international tourists during the coronavirus pandemic.
Foreign tourism revenue drastically dropped nearly 83% in 2020, going from nearly 40 million tourists in 2019 to only 6.7 million tourists in 2020.
The tourism department's director-general Anant Wongbenjarat says that Thailand welcomed 176 international film productions to the country last year, generating 1.73 billion baht for the local economy. But this is a sharp decrease compared to the previous year where the 740 foreign film crews generated 4.86 billion baht.
In August, the CCSA decided to grant special entry permission to film productions. 53 film production projects were based in Thailand during August and December, contributing 1.14 billion baht to the economy. Those entering Thailand must still undergo a 14 day quarantine.
"International productions can proceed and generate income for locals despite the tourism slowdown."
Anant also says there are 4 more film production projects underway, and it is forecasted to generate 186 million baht, bringing the total to 57 projects. In the first half of this year, there will be nine more productions expected to come in and help create at least 800 jobs for locals.
SOURCE: Bangkok Post
Keep in contact with The Thaiger by following our Facebook page.
Never miss out on future posts by following The Thaiger.
Massage workers in Pattaya call for reopening of spas and massages shops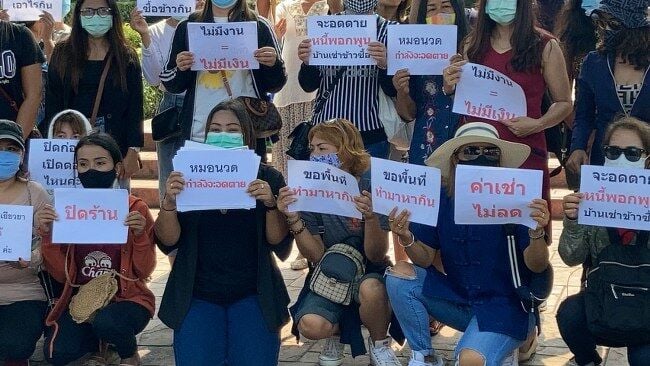 A group of about 50 workers from Pattaya massage shops and spas gathered together to call for the reopening of their businesses after being closed for the past month due to Covid-19 restrictions. The group called themselves the "Pattaya Health Massage" presented a letter signed by 60 massage shops, spas and gyms to Bang Lamung District Sheriff this morning.
Chon Buri is listed as a "high risk" area with maximum restrictions. Many nonessential businesses in the province have been closed including massage shops, spas and gyms.
Now that Chon Buri has gone 5 consecutive days without a local Covid-19 infection, the workers say it's time for businesses, like massage shops and spas, to reopen.
The workers also raised the point that other provinces and districts across Thailand are loosening restrictions as the number of active cases continues to drop. The workers also said that there are no Covid-19 clusters or major outbreaks related to massage shops or fitness venues.
Bang Lamung District Sheriff Amnat Charoensri met the protesters and collected the petition and says he understands that many people need to get back to work to earn income. Local officials are expected to hold a meeting within the next week to potentially loosen restrictions.
SOURCE: Pattaya News
Catch up with the latest daily "Thailand News Today" here on The Thaiger.
Keep in contact with The Thaiger by following our Facebook page.
Never miss out on future posts by following The Thaiger.