Illegal Phuket migrant workers get five-month reprieve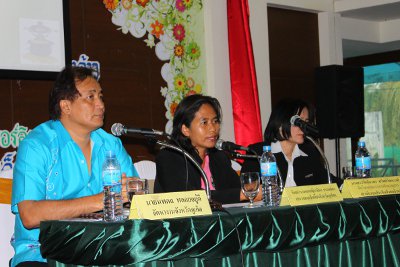 PHUKET: More than 20,000 unregistered migrant workers in Phuket now have until mid-June to register with the government, thanks to a Cabinet resolution earlier this month extending the deadline by five months.
The extension gives employers time to obtain two-year work permits for unregistered alien workers from Burma, Laos and Cambodia, said Phuket Provincial Employment Office Chief Noppadol Ployudee.
Workers whose permits were set to expire on January 20 or February 28 now have until June 14 to extend them, but their employers need to request the new permits and submit documents to begin their employees national verification process by April 12.
Any workers who fail to complete the verification process by June 14 will not be allowed to work after that date, he said.
As an added incentive, alien workers who apply for permits and complete the verification process before June 15 will be eligible for 500-baht visas to re-enter the country, Mr Noppadol said.
After the deadline, the visa fee will return to the normal rate of 2,000 baht, he said.
Mr Noppadol explained the new deadline to employers at a meeting attended by about 60 people at the Phuket Merlin Hotel on Tuesday.
Topics covered at the meeting included other issues affecting employers hiring low-wage foreign workers, such as the social security services registered workers would be eligible to receive.
Attendees were told there are 10,700 employers in Phuket with a total of 62,183 alien workers in their employ. These break down as follows:
– 38,287 Holders of permits who have completed the verification process;
– 859 Holders of permits under a Memorandum of Understanding (MOU) between Thailand and their home countries;
– 2,479 Holders of existing permits who have yet to complete the verification process;
– 20,588 New applicants who must complete the verification process by June 14.
Mr Noppadol said the Thai government is now in discussions with Laos and Cambodia that would allow their nationals to work in Thailand under an MOU agreement, doing away with the need for national verification.
However, the date when formal talks on the issue would take place had yet to be announced, he said.
Mr Noppadol said there are now 72 companies in the country registered with the Ministry of Labor to act as agents to help the employers complete the complicated process of legalizing alien workers.
In addition, the Burmese government has set up verification centers in five more provinces: Chiang Mai, Samut Sakhon, Samut Prakan, Surat Thani and Bangkok.
In addition to the original three located in Ranong, Tak and Chiang Rai, this brings the national network to eight, he said.
Nationwide, more than a million workers from the three countries must complete verification by the June 14 deadline.
In Phuket, the vast majority of migrant workers are Burmese or people of other ethnicities whose homelands are controlled by the Burmese junta, including many ethnic Mons.
Many unregistered workers fear that providing data to the Myanmar government would lead to persecution of family members back home or other injustices.
Estimates of the number of Burmese workers living in Phuket have ranged as high as 200,000.
A report in the independent Democratic Voice of Burma last month cited a migrant advocacy group claims that the verification and work permit scheme backed by both the Thai and Burmese governments has done little to improve the lives of those who enrolled.
The report quoted Sein Htay, group coordinator of the Human Rights and Development Foundation, as saying that of the 700,000 workers registered so far, only 50,000 enjoyed the same welfare benefits as their Thai counterparts.
Under Thai law, the employer must cover 5% of the worker's social security fund, but Sein Htay said that many employers were reluctant to pay the extra money.
"The rest have no labor privileges whatsoever," he said.
"When using the previous migrant ID cards, they had been entitled to the 30 baht healthcare scheme introduced under former Thai prime minister Thaksin Shinawatra, but the registration process effectively canceled this privilege…
"In a way, they have become like the illegal migrant workers. Now they have to cover their own medical expenses and such," the report quoted Sein Htay as charging.
"The current issue we are facing is that employers are refusing to take responsibility for their workers and denying them compensation [when injured at work]. And the workers can't afford to sue their employers as court cases may take months or even years and there's no guarantee that they would win the lawsuit," he said.
— Atchaa Khamlo


Do you need help with your business? Are you searching for a new job? Or an employer looking to hire? Try JobCute today.
Phuket hotel watch – 3 months down, 9 to go in 2019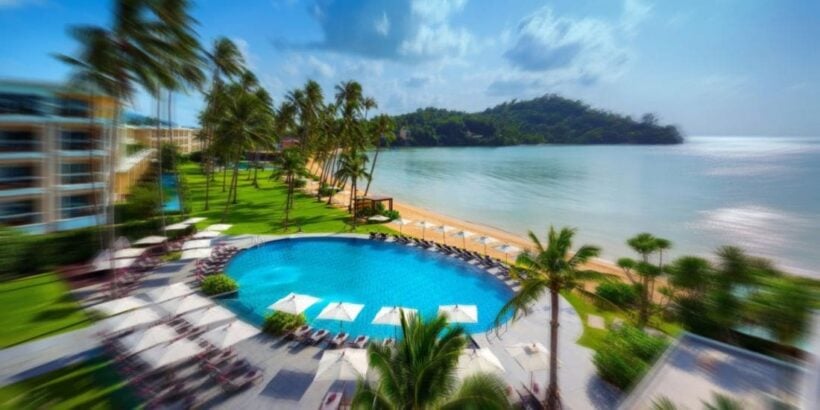 by Bill Barnett of C9Hotelworks.com
At the beginning of the year Phuket's tourism and hotel sector was cautiously optimistic after a strong first half of 2018 and humbling second half. Key terms that kept popping up were Mainland Chinese, Thai Baht Appreciation, Elections and Supply Concerns.
So today, with three months of performance under the belt in 2019 what are the key trends in hotel trading? These can best be compressed in the following points –
According to data from hotel benchmarking group STR, Thailand remains Southeast Asia's leading destination for Mainland Chinese, but the gloss is being diminished by Vietnam's meteoric rise, and strong numbers by the Philippines and Cambodia.
Market-wide RevPar shunk by 0.04% in 2018 and flat demand at the onset of the year is now shifting into negative territory moving into February and beyond. Turning back to last year, group demand is falling which is as key concern in a wholesale driven marketplace.
One stark positive is that RevPar is being propped up by rates and not occupancy. A key takeaway is that in peak and high season, Phuket hotels are able to drive rates up in key periods and continue to do so. This of course is a broad trend.  Good hotels tend to perform at higher levels, while poorly managed ones remain subpar.
Getting beyond the numbers, as I speak to hoteliers the expectation is that wholesalers remain a critical component of the island's hotel industry and despite the expected shift with technology to more direct bookings, the reality is that wholesale models are sensitive to demand volatility and the result of this feeding frenzy most often will be either flat rates for the year or in some cases a retraction.
We expect the remainder of 2019 to be challenging. Some hotels will look at this as an opportunity to reposition, renovate or cut costs. While others will look at new segments, niche offerings or emerging markets like India to regain momentum.
As for the top critical issues facing Phuket hotels, in my opinion these can be distilled in the following Top 3 Things Keep Me Awake at Night…
• Mainland Chinese – If tourism players or hotels believe the damage to Brand Phuket is over, think again. Talking to key tour operators there remains a hangover from last year's boat sinking incident and travellers remain keenly concerned over safety. Only time and more concentrated promotion will see a return of the numbers.
• Growing Supply and Demand Imbalance – The current pipeline is just over 8,000 keys in development on the island. What's more concerning is that projects in planning are not represented in this metric, and by our estimate there are approximately 5,000 more keys in planning. While both the pipeline and planning numbers will see some wash, the sum total exceeds current and forecasted demand.
Moreso, the rise of unlicensed condominiums, apartments, houses and villas is continuing unabated and is further exacerbating supply issues. Every time you see a group of tourists renting a 3 or 4 bedroom villa, that's three or four hotel rooms that lay empty. Government control of unlicensed properties is a key issue facing Phuket's tourism industry.
• Diminished Natural Resources and Strained Infrastructure – Water tops the list and there is little doubt we are reaching the tipping point with mounting shortages and soaring demand. Electricity is another concern. Lastly is a rising number of vehicles on the road, a urbanising trajectory and slow development of roads and public transport.
To these point's lets revisit the hotel development pipeline and reflect that a island long term master plan, zoning for new tourism expansion and requirements for developers to invest in public infrastructure to obtain operating licenses is sorely lacking. Something has to give on this front.
In conclusion am I pessimistic about Phuket's tourism and hotel future in 2019 and beyond? Absolutely not, direct airlinks are growing and the island has a well-structured capacity for handling tourism, but I firmly believe looking into our problems, discussing and finding ways to resolve these are critical to a sustainable growth pattern.
'Seastead' set up off coast of Phuket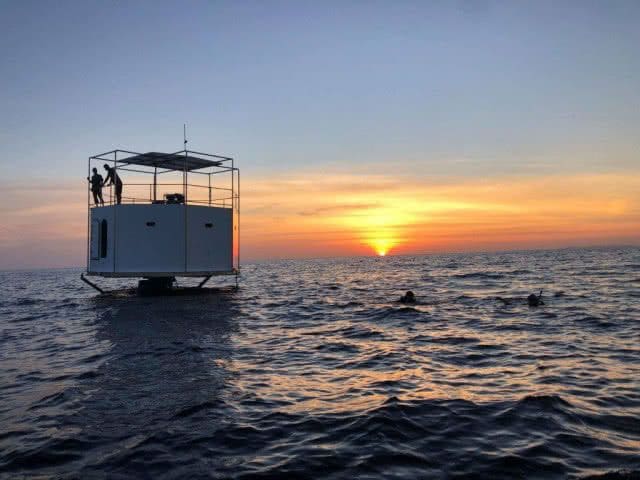 PHOTOS: Nation TV
A Thai couple has successfully set up a 'Seastead' near Phuket.
Seasteading is aiming to build floating societies with "significant political autonomy". Nearly half the world's surface is unclaimed by any nation-state, and many coastal nations can legislate "seasteads" in their territorial waters (like a "homestead" but wetter).
The nation TV reports that website 'Bitcoin.com' and 'Ocean.builders' report that the Thai couple Chad Elwartowski and Nadia Summergirl are are the first seasteaders who established a small seastead 12 nautical miles off Phuket.
Most of the construction of the Seasteading was built on the island of Phuket. The installation in the sea started on January 9.
Mr Elwartowski reveals that the reason that they have chosen to settle near Phuket as the construction price is cheap. The sea is suitable for the establishment as waves are not too high and can attract many tourists.
SOURCE: Nation TV
Massive 11 hotel project, surf club and waterpark for Kata, Phuket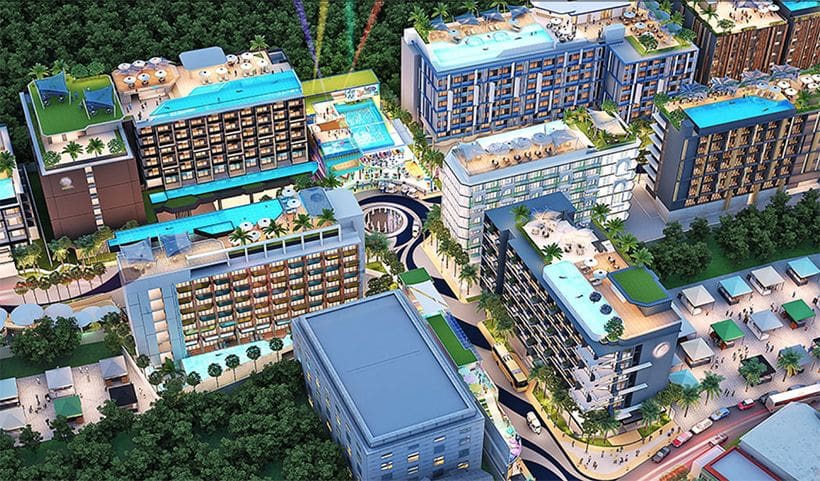 by Bill Barnett, C9Hotelworks.com
Thai developer K.W. Plaza group has unveiled plans for a large-scale mixed-use project called The Beach Plaza on 15 rai, that will have 11 three and four star hotels with a total of 1.490 rooms. The developer is already pitching the unconstructed project to global hotel interests for an imminent sale.
The properties will have varying room sizes from 25 to 35 square metres and range in size from 78 to 204 rooms. Part of the development scheme will see the hotels individually sold off to hotel investors and/or operators.
Late last year the group built and sold the Surf Resort in Patong which was brokered by JLL to a Singapore-based owner/operator.
Other components of the project include a surf club, waterpark, and freestanding restaurants and retail.
An initial hotel has already obtained EIA approval and is currently for sale, with construction of other properties to be phased. The Beach Plaza is off-beach, behind the Kata Night Market and close to Club Med, Ozo and the Ibis.
For more details on the project click HERE.