Illegal Phuket migrant workers get five-month reprieve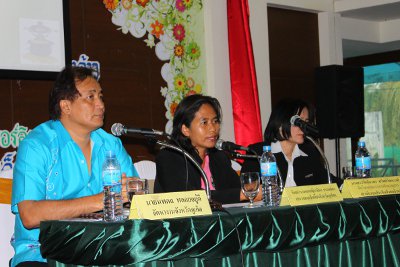 PHUKET: More than 20,000 unregistered migrant workers in Phuket now have until mid-June to register with the government, thanks to a Cabinet resolution earlier this month extending the deadline by five months.
The extension gives employers time to obtain two-year work permits for unregistered alien workers from Burma, Laos and Cambodia, said Phuket Provincial Employment Office Chief Noppadol Ployudee.
Workers whose permits were set to expire on January 20 or February 28 now have until June 14 to extend them, but their employers need to request the new permits and submit documents to begin their employees national verification process by April 12.
Any workers who fail to complete the verification process by June 14 will not be allowed to work after that date, he said.
As an added incentive, alien workers who apply for permits and complete the verification process before June 15 will be eligible for 500-baht visas to re-enter the country, Mr Noppadol said.
After the deadline, the visa fee will return to the normal rate of 2,000 baht, he said.
Mr Noppadol explained the new deadline to employers at a meeting attended by about 60 people at the Phuket Merlin Hotel on Tuesday.
Topics covered at the meeting included other issues affecting employers hiring low-wage foreign workers, such as the social security services registered workers would be eligible to receive.
Attendees were told there are 10,700 employers in Phuket with a total of 62,183 alien workers in their employ. These break down as follows:
– 38,287 Holders of permits who have completed the verification process;
– 859 Holders of permits under a Memorandum of Understanding (MOU) between Thailand and their home countries;
– 2,479 Holders of existing permits who have yet to complete the verification process;
– 20,588 New applicants who must complete the verification process by June 14.
Mr Noppadol said the Thai government is now in discussions with Laos and Cambodia that would allow their nationals to work in Thailand under an MOU agreement, doing away with the need for national verification.
However, the date when formal talks on the issue would take place had yet to be announced, he said.
Mr Noppadol said there are now 72 companies in the country registered with the Ministry of Labor to act as agents to help the employers complete the complicated process of legalizing alien workers.
In addition, the Burmese government has set up verification centers in five more provinces: Chiang Mai, Samut Sakhon, Samut Prakan, Surat Thani and Bangkok.
In addition to the original three located in Ranong, Tak and Chiang Rai, this brings the national network to eight, he said.
Nationwide, more than a million workers from the three countries must complete verification by the June 14 deadline.
In Phuket, the vast majority of migrant workers are Burmese or people of other ethnicities whose homelands are controlled by the Burmese junta, including many ethnic Mons.
Many unregistered workers fear that providing data to the Myanmar government would lead to persecution of family members back home or other injustices.
Estimates of the number of Burmese workers living in Phuket have ranged as high as 200,000.
A report in the independent Democratic Voice of Burma last month cited a migrant advocacy group claims that the verification and work permit scheme backed by both the Thai and Burmese governments has done little to improve the lives of those who enrolled.
The report quoted Sein Htay, group coordinator of the Human Rights and Development Foundation, as saying that of the 700,000 workers registered so far, only 50,000 enjoyed the same welfare benefits as their Thai counterparts.
Under Thai law, the employer must cover 5% of the worker's social security fund, but Sein Htay said that many employers were reluctant to pay the extra money.
"The rest have no labor privileges whatsoever," he said.
"When using the previous migrant ID cards, they had been entitled to the 30 baht healthcare scheme introduced under former Thai prime minister Thaksin Shinawatra, but the registration process effectively canceled this privilege…
"In a way, they have become like the illegal migrant workers. Now they have to cover their own medical expenses and such," the report quoted Sein Htay as charging.
"The current issue we are facing is that employers are refusing to take responsibility for their workers and denying them compensation [when injured at work]. And the workers can't afford to sue their employers as court cases may take months or even years and there's no guarantee that they would win the lawsuit," he said.
— Atchaa Khamlo
Keep in contact with The Thaiger by following our
Facebook page
.


Do you need help with your business? Are you searching for a new job? Or an employer looking to hire? Try JobCute today.

500 people own 36% of equity in Thai companies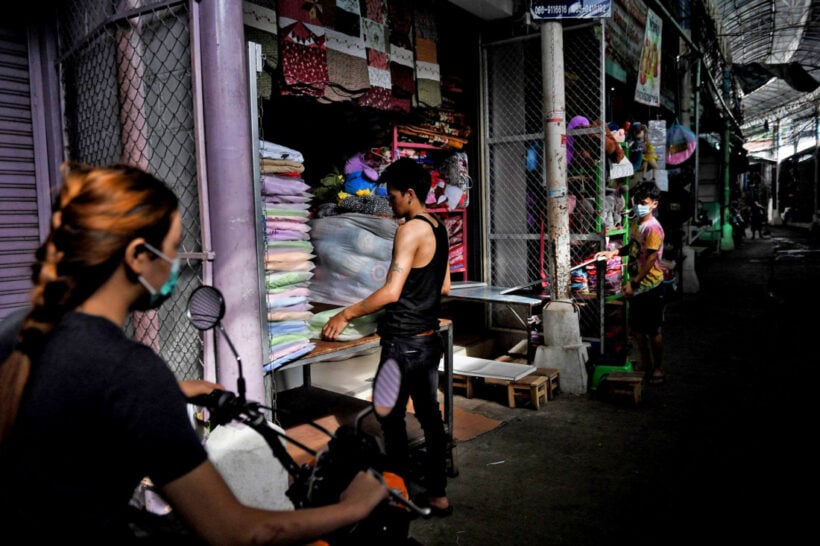 Roughly 36% of Thailand's corporate equity is held by just 500 people, highlighting wealth inequality in the Kingdom, according to a study released by the Bank of Thailand's research institute.
Each of these 500 amass some 3.1 billion baht (102 million USD) per year in company profits, according to the report from the Puey Ungphakorn Institute for Economic Research. In contrast, average yearly household income in Thailand is around 10,000 USD.
A report out this week from the Economic and Business Research Centre for Reform at Thailand's Rangsit University also pointed to divisive and polarised politics being another root cause of the economic divide.
Thailand's private sector is dominated by tycoons running sprawling conglomerates. According to the World Bank, the gap between the mega-wealthy and the rest of the Thai population of 69 million is among the many economic challenges for Thailand. According to Bloomberg, the perception of a divide, exacerbated by an economic slowdown, is a major political fault line.
"Magnates arise in Thailand from institutional factors that privilege certain businesses," said the executive director of PIER, author of the study.
The institute said Thailand needs to promote competitiveness to reduce profits from monopoly power and bolster entrepreneurship to create a more equitable distribution of corporate wealth.
The research is based on analysis of 2017 Commerce Ministry data on the 2.1 million shareholders in Thai firms, and was funded by the University of California San Diego.
SOURCE: Bangkok Post
Keep in contact with The Thaiger by following our
Facebook page
.
Thai Airways must modify rehabilitation plan to survive: Airline President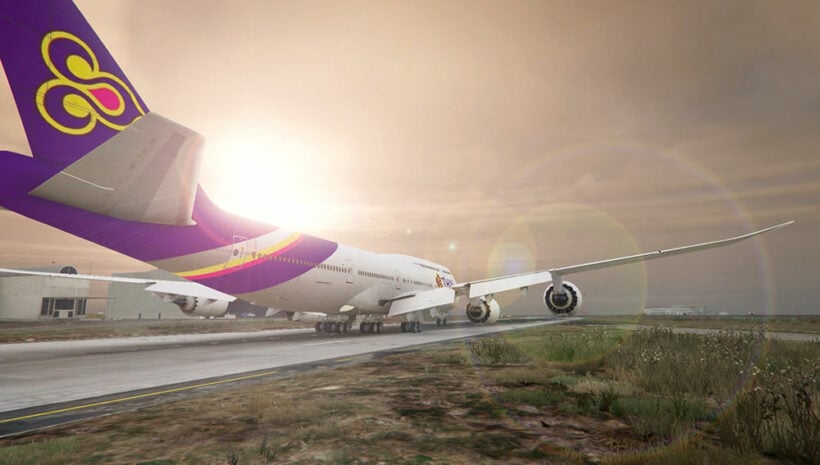 PHOTO: gta5-mods.com
"Thai Airways will have to modify its rehabilitation plans to survive in the face of tight competition." This frank admission by the airline's president Sumet Damrongchaith.
The national carrier is now carrying a total debt of over 2.45 billion baht and losses of more than 20 billion, despite being able to reduce its debts by 48 billion baht over the past five years.
Sumet says the first step will be to restructure the airline's management and finances as well as reconsider its plan to spend 1.5 billion baht on 38 new aircraft. He admits the biggest problem is that Thai Airways has low capital but a high debt-to-equity ratio of eight times.
In order to maintain its competitiveness, the carrier will have to reduce its debts versus assets and boost its working capital with support from the ministries of Transport and Finance. Hence, it plans to borrow approximately 3.2 billion baht in fiscal 2020 in line with the budget limit set by the Office of Public Debt Management.
This loan will be taken to support the airline's investments as well as for its working capital, to update equipment and maintain existing aircraft, but will not be used to repay old debts.
The Nation also reports that the airline is also concerned about maintaining its liquidity because at the end of June this year, its revolving credit line stood at 13.4% of the total revenue forecast for 2019.
Sumet admits that, though the original rehabilitation plan has a set framework, the situation has now changed due to the appreciation of the baht, so in order to achieve goals, the work method has to be redesigned, such as finding a way to procure more passengers.
"We are now in the process of analysing new markets."
Meanwhile, Thai Aiways' board chairman Aek-Niti Nitithan-Praphas says the board is reconsidering plans to procure a new fleet taking into consideration the state of the global and domestic economies as well as the US-China trade war.
"The growth of the tourism industry and the airlines' financial status needs to be reviewed in line with strong competition and routes that are no longer popular. It's better to carefully revise the plan instead of exposing the airline to greater risk. The target should be reduce expenses by 20%."
Meanwhile, Thai Airways aims to boost the sale of tickets, find ways of increasing online shopping of duty-free goods and reducing unnecessary expenses by 10%without affecting the quality of service in the last three months of 2019.
The airline is also negotiating the option of cutting down overtime expenses and is looking into curbing losses incurred by it's semi-budget offshoot Thai Smile by increasing its flying hours to 10.5 hours daily. These steps are expected to help the airline reach breakeven point in the short term.
The airline is also considering long-term goals such roping in more passengers by offering greater benefits to Royal Orchid Plus members, focusing on digital marketing, retiring non-performing assets as well as increasing revenue from related businesses such as kitchens and aircraft repair centres.
SOURCE: The Nation
Keep in contact with The Thaiger by following our
Facebook page
.
Singha grabs a 90% stake in Thailand's Santa Fe restaurant chain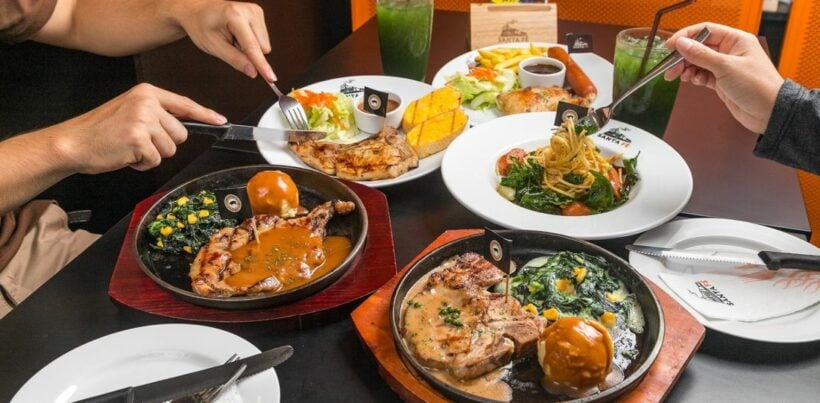 (…or is that a 90% 'steak'?)
PHOTOS: Wongnai
DealStreetAsia, an investor news site reporting on Asian business, confirms that Singha Corporation has purchased a majority stake in the Thai restaurant chain, Santa Fe. It's understood that Singha purchased the shares held by Lakeshore Capital for approximately US$50 million or 1.53 billion baht, giving it a 90% stake in the chain seen in most Thai shopping centres.
The Nation reports that Singha will now oversee over 110 restaurants across Thailand in one of the country's biggest food industry deals of the year. The company first turned its attention to the food industry two years ago, launching Food Factors Company under the Boon Rawd Brewery group.
WongnaiFood Factors aims to make 5 billion baht over 3 years under the stewardship of Piti Bhirombhakdi. The company has an ambitious long-term target of 10 billion baht a year, along with plans to be listed on the stock exchange.
The Santa Fe chain was established in 2003 by Surachai Charn-Anudet's KT Restaurant Company, with the aim of becoming a major competitor to Sizzler, the American chain brought to Thailand by Minor Food.
SOURCE: The Nation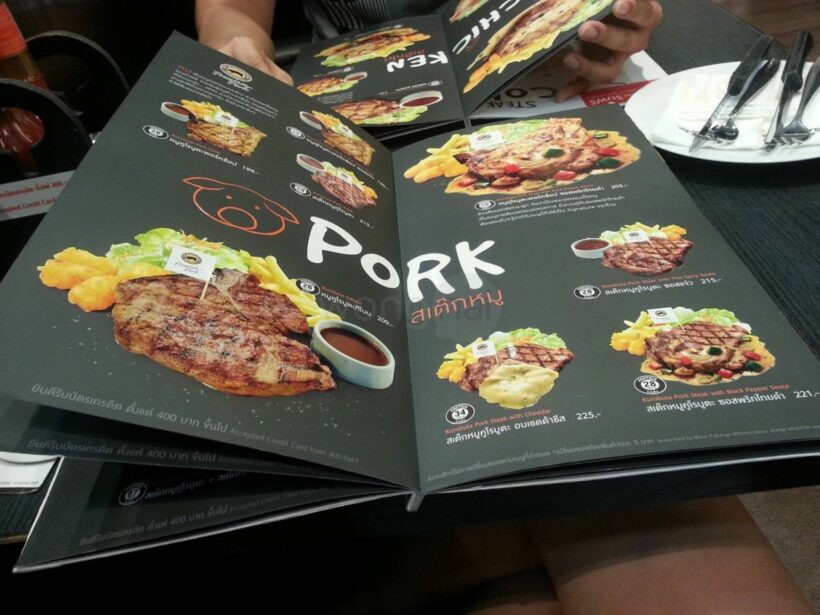 Keep in contact with The Thaiger by following our
Facebook page
.