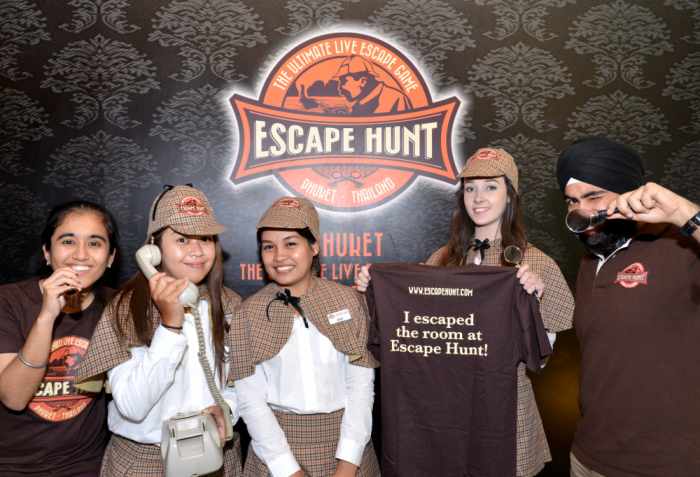 PHUKET: In hopes of further capitalizing on the success of their first venue in Bangkok, Escape Hunt has opened franchises worldwide, including in Phuket, where a venue opened recently in Kathu.
Business partners Jasnam Sachathep, Surasit Sachdev and Navin and Dave Anandsongvit quickly realized the business' potential in Phuket and celebrated their grand opening on August 11, joining the 23 other franchises that are already open or opening around the world, including in Pattaya.
Spawned from the popular online and smartphone escape games, Escape Hunt operates on the basic premise that you are locked in a room, with only a certain amount of time to figure out the clues and get out.
Although reaching greater popularity in recent years, the real-life escape-room scenarios are not a novel concept. In 2006, Agatha Christie's crime novels inspired a group of Silicon Valley programmers to create "Original Piece" which has been solved by only 23 people.
The Phuket Escape Hunt has eight rooms sporting four different themes. Having two rooms with matched themes means that groups can go head to head, directly pitting one team's power of observation against another's. Alternatively, a single team of two to five players is given 60 minutes to beat the clock.
Although not too many details can be revealed for fear of spoiling the game, think one part Sherlock Holmes and one part Cluedo – also known in North America as the popular board game Clue.
The Escape Hunt game has proved challenging, with no groups able to solve the riddles and escape in less than 44 minutes and 20 seconds, the current record set by a certain husband-and-wife duo.
The owners believe that Escape Hunt will become a popular pastime in Phuket, attracting corporate and MICE (meetings, incentives, conventions and exhibitions) groups, or as substitute entertainment for sunburned beach goers.
The Escape Hunt Phuket is located in Kathu at 46/42 Moo 6 Prabarami Road and is open 365 days a year from 10:30am to 7:30pm. For more information or to make a booking, visit phuket.escapehunt.com, or call 076-323861 or 082-7899620.
— Jeremie Schatz