American firms want to relocate to Thailand to counter US-China trade war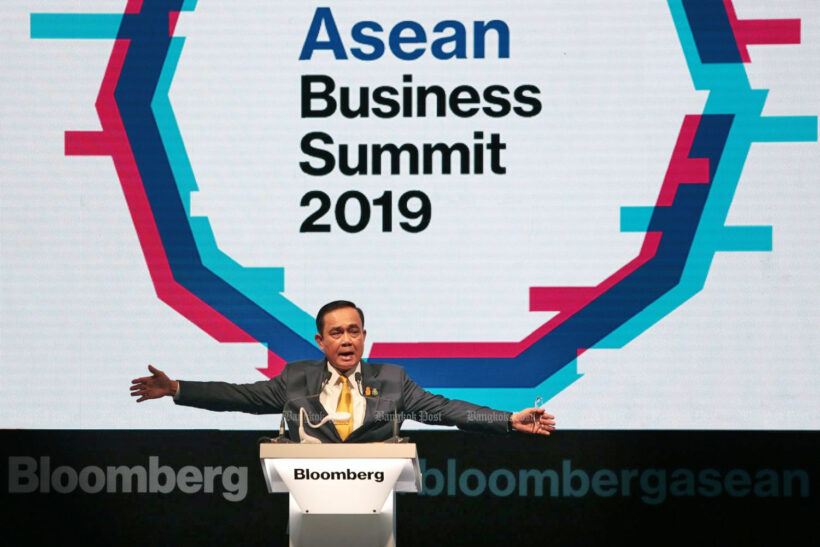 PHOTO: "You're all welcome!" – Thai PM Prayut Chan-o-cha at the ASEAN Business Summit – Bangkok Post
US business leaders visiting Thailand are looking for opportunities, especially relocating their production bases, as they try to sort out heir businesses in the wake of the US-China trade war.
The US Secretary of Commerce Wilbur Ross and executives of 16 American companies met the Thai Finance Minister at the ASEAN Summit to discuss trade and investment. They told the Minister that US firms are especially interested in in the Eastern Economic Corridor (EEC), Thailand's flagship economic project. One of the world's leading medical supplies makers has already invested in the area.
The companies are also looking at the energy, infrastructure and financial services areas, according to the Ministry.
Ross and the delegation are visiting Thailand, Indonesia and Vietnam to promote the "Free and Open Indo-Pacific" strategy, seen as a countermove against China's Belt and Road Initiative. But their rhetoric belies a highly protectionist new paradigm for US trade policy.
Ross also supports Thailand 4.0 and praised the Kingdom for moving up to 21st place in the Doing Business ranking and for successfully hosting the 35th ASEAN Summit last week in Bangkok.
SOURCE: The Nation
Keep in contact with The Thaiger by following our
Facebook page
.


Do you need help with your business? Are you searching for a new job? Or an employer looking to hire? Try JobCute today.

Read more headlines, reports & breaking news in Thailand. Or catch up on your Thailand news.

Thai tourism to take hit over Coronavirus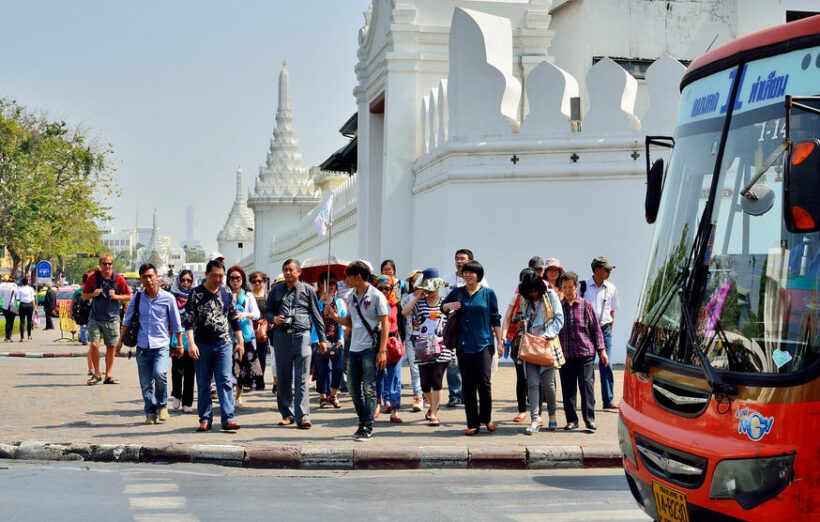 by Bill Barnett of c9hotelworks.com
A travel ban is now in effect in Mainland China for tour groups who were booked for holidays overseas. Over the past few days hoteliers in Phuket, Bangkok and throughout the country are reporting significant cancellations, not only of groups but also independent travellers (FITs).
Last year Mainland Chinese travellers to Thailand nearly eclipsed 11 million, and represent over a quarter of international visitors to the Kingdom.
What has the industry reeling, is the negative travel sentiment not-only within Asia but also long-haul destinations, that has spurred a growing number of non-tourists to defer travel.
For Phuket, which has considerable direct airlift to Mainland China, lower numbers in a peak period are likely to create more rate pressure once a tourism reboot takes place.
Another key segment that is likely to have an impact is the island's MICE business, as many large conferences and meetings occur in the low-season and reports have some event organisers putting plans on the shelf until there is greater certainty over the current crises.
As to the question of 'crisis what crisis?!', there is little doubt that the disruption which Thailand will face over the tour ban is one that will also impact every tourism destination in Southeast Asia. Chinese holidaymakers, many booked on group tours, spent almost US$18 billion in Thailand in 2019. That's 25% of the total foreign tourism receipts, according to government data. The tourism industry, in total, contributes 21% to GDP, according to the World Travel & Tourism Council.
Mainland China has become such a significant global travel and economic machine, that when it blinks, so does the rest of the world.
SOURCE: c9hotelworks.com
Keep in contact with The Thaiger by following our
Facebook page
.
Online grocery shopping gains popularity in Thailand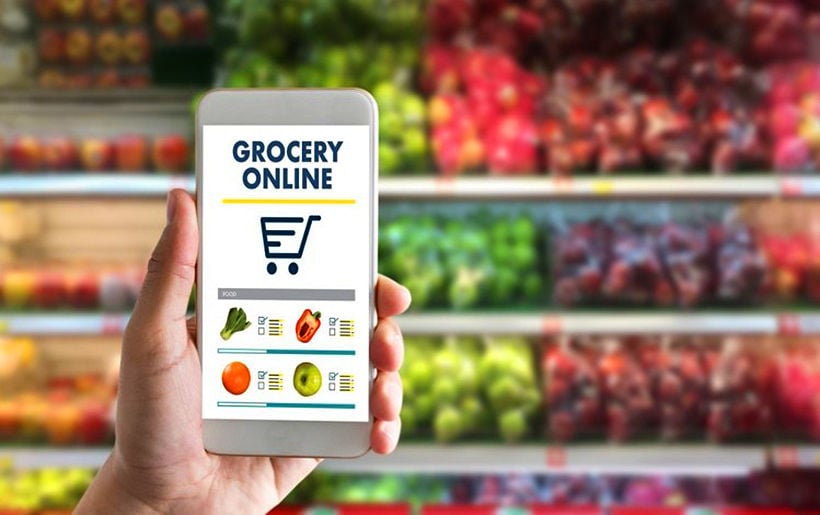 Squeezing the avocados and smelling the mangoes, in person, may well become a thing of the past as online grocery buying quickly gathers pace. The intense competition in online grocery sales is expected to surge in 2020. Online Apps like Line, Grab and Lazada are making major inroads into the Thai grocery market valued around 30 billion baht. Pushing the growth is the 'stay at home' phenomenon where people try and avoid air pollution, traffic, no plastic bags to conveniently carry any groceries and the free delivery offered by the online shopping providers.
Lazada and Grab have already launched their grocery shopping services, LazMart and GrabFresh. Now Line Man, a subsidiary of Line Thailand, has announced it will partner with HappyFresh, to offer online grocery services. In all cases the shoppers can "scroll through the aisles" online rather than physically walking around a supermarket, select their produce, pay for it and have it delivered – in some cases for free.
Online grocery accounts for 3% of the whole grocery market in Thailand and is expected to rise to 5% in the next two years and 10% by 2025. HappyFresh say they've identified their principal market as 25-40 year olds spending an average of 1,200 baht per purchase.
The chief strategic officer of Line Thailand, Jayden Kang, speaking for Line Man, says the next two years are key to Thai customers learning how to leverage online grocery shopping into their busy lives.
"Online grocery is still nascent in Thailand and the main customers now are expats, white collar workers and condominium residents as well as housewives," as quoted in Bangkok Post.
"With free delivery and urbanisation, the customer base is expected to broaden."
Line Man already has 3 million active users ordering meals through the current services along with 100,000 restaurant partners for food deliveries.
SOURCE: Bangkok Post
Keep in contact with The Thaiger by following our
Facebook page
.
Latest Khao Lak hotel report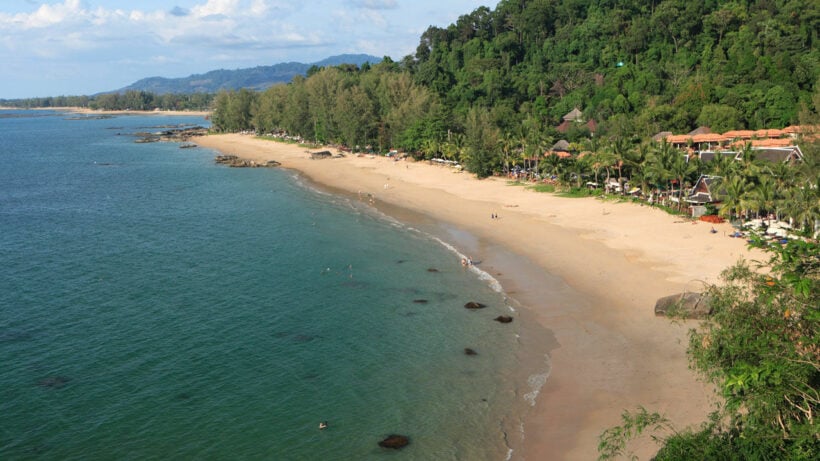 by Bill Barnett, c9hotelworks.com
Increasing hotel supply in Khao Lak with stable tourism growth reflects a destination market entering a new cycle. Khao Lak is a beachside destination an hour and a half drive north from Phuket Airport in Phang Nga province. The upcoming second Greater Phuket airport (in Phang Nga) is expected to push the destination to diversify offerings in a more mature tourism scenario.
Khao Lak differentiates itself from Phuket's mass tourism as it is dominated by Western travellers. Year-to-date, up to November 2019, the province recorded a total of 970,692 guest arrivals at accommodation establishments with most of the hotels concentrated in Khao Lak. Tourism demand remained stable last year with a slight 0.7% growth.
The existing hotel supply in Khao Lak has 154 properties, representing 10,606 keys. Half of the developments are focused on the beach areas located at the centre of Khao Lak, namely Bang Niang (20%), Nang Thong (23%) and Khuk Kak (7%).
The hotel market continues to be dominated by the wholesale segment with long-haul travellers. Thomas Cook was traditionally one of the largest wholesalers in the market before the company ceased trading in Q3 last year. The impact is expected to be short-term with new bookings redirected through other wholesalers or distribution channels.
Aside from stronger destination awareness contributed by existing and upcoming international branded hotels, the Andaman International Airport which is under development north of Phuket is expected to drive a new market cycle for Khao Lak.
To download and read the "Phang Nga and Khao Lak Hotel Market Report", click HERE.


Keep in contact with The Thaiger by following our
Facebook page
.