Airbus scales back in the UK and invests more in Thailand's new aviation maintenance hub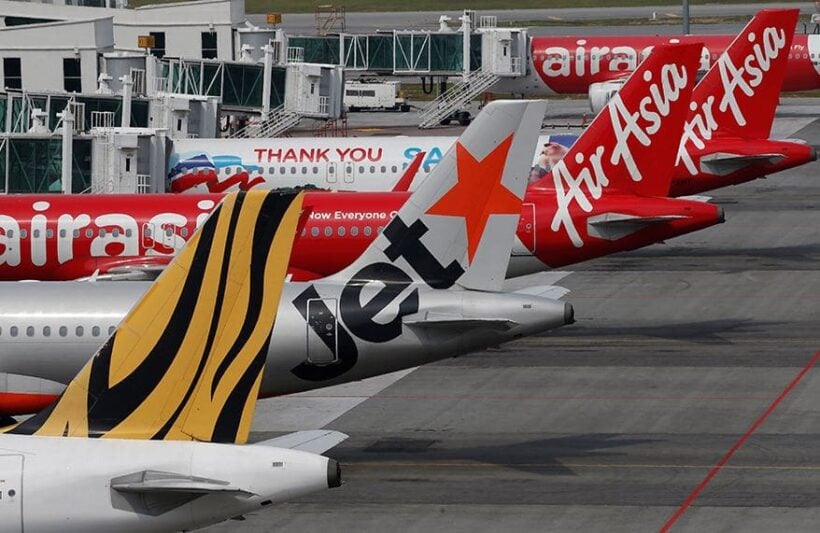 by Supalak Ganjanakhundee
Uncertainty over Thailand's political situation is apparently less of a concern for Airbus than the political uncertainties in the UK with Brexit looming. Whilst Airbus is pulling out some of its manufacturing in Britain, the European consortium is now looking to Thailand for new maintenance and repair facilities to help service the rapidly growing ASEAN aviation sector.

European aircraft manufacturer Airbus, which first set up shop in Thailand more than 40 years ago, said the MRO (maintenance, repair and overhaul) sector offered enormous potential for the country's aerospace business in the coming years.

France Airbus and national flag carrier Thai Airways International launched a joint venture for MRO facilities at U-tapao Airport last June. U-tapao is the renovated military airport now servicing the provinces immediately to the east of Bangkok, including the resort of Pattaya and the industrial provinces of Chon Buri and Rayong.

The MRO facility at U-tapao is part of the government's Eastern Economic Corridor (EEC) strategy and enjoys strong support from the business community, which has called for its continued rollout after the March 24 election.

The MRO will be a key showpiece of the aeronautics industry in ASEAN, given the enormous growth of the local aviation industry and new routes being launched, many in and out of Thailand.

All those new aircraft require maintenance," says Cedric Post, the French Aerospace Industry Association's deputy director for European and international affairs.

"The in-service fleets in the Asia Pacific region will grow in size from 6,900 aircraft to over 20,000 in the next 20 years."

"While other ASEAN members including Singapore have been in the MRO market for a long time, there is still room for Thailand due to its strong automobile and electronics manufacturing base."

Singapore is short of land and costly while Thailand's U-tapao Airport is large enough to serve current operations and expansion, Cedric said.

The U-tapao MRO centre will be one of the most modern and extensive in the region, offering heavy maintenance and line services, said Airbus head of marketing for Asia and North America, Joost van der Heijden.

"We will incorporate the latest digital technologies, specialised repair shops and a maintenance training centre," he added.

"For Airbus, our MoU with THAI is about the opportunity to innovate and to lead the way in the aerospace sector."

When fully operational, the U-tapao MRO centre is to offer heavy and routine maintenance for all wide-body aircraft types, specialised repair shops including for composite structures, as well as extensive maintenance training courses for technical personnel from Thailand and overseas.

Airbus and THAI are still working on the final details of the deal, while already partnering to address the MRO requirements.

"This will be a major new facility that reflects our confidence in Thailand," said van der Heijden.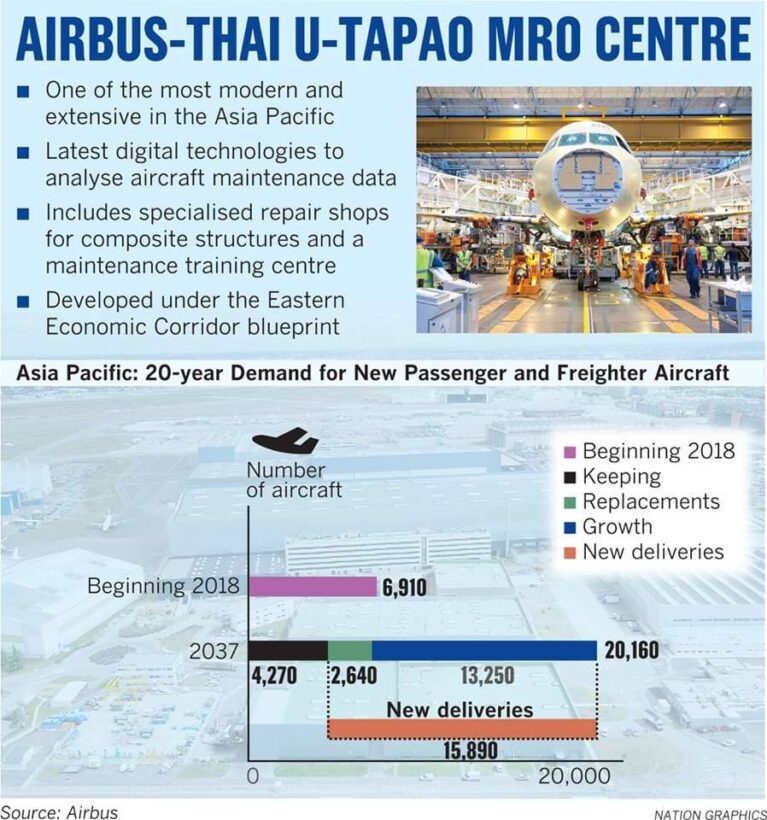 SOURCE: The Nation
Keep in contact with The Thaiger by following our
Facebook page
.


Do you need help with your business? Are you searching for a new job? Or an employer looking to hire? Try JobCute today.

Read more headlines, reports & breaking news in Pattaya. Or catch up on your Thailand news.

Thai restaurants and food chains switching to home deliveries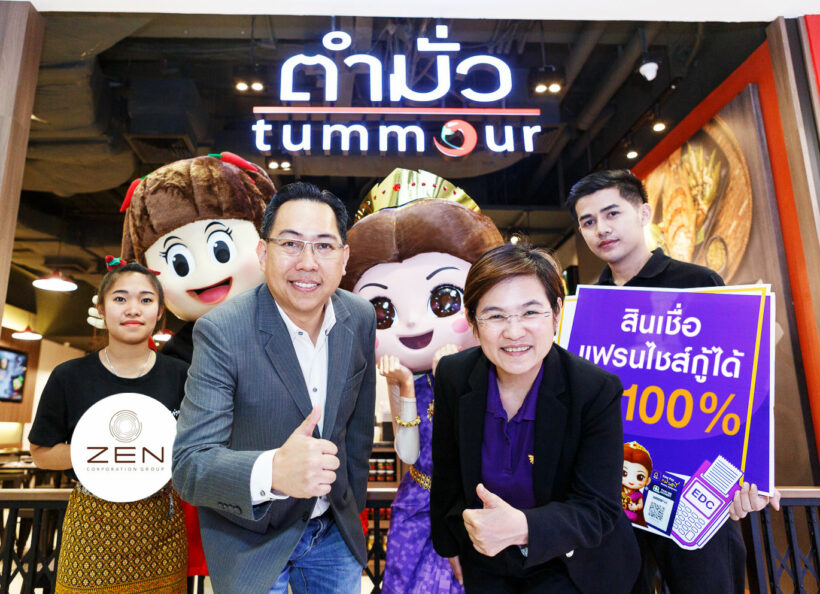 A difficult time for restaurants as the government rolls out lockdowns across the country. So many of the restaurants and food chains are changing from sit in facilities to home delivery. They're saying that they need to switch their financial strategy to stay afloat as the spread of Covid-19 becomes more serious in Thailand. So they're becoming 'virtual' restaurants providing the same food but as a home delivery instead.
Smaller restaurants will have the option of either providing their own deliveries and reaching out to their customer base on social media, or registering with some of the App-based service providers like Grab Food and Food Panda. But these services take a whopping commission to be listed.
Otherwise their only other option is to close for now until the current situation passes. (Mr. Google is going to be your best help to find local deliveries at this time)
Nadim Xavier Salhani, CEO of Mudman, the operator of Dunkin Donuts, Au Bon Pain, Baskin-Robbins and Greyhound Cafes, says the company's sales have already dropped 30%.
"The delivery business has not increased as expected because consumers' behaviour has changed with the outbreak. Many are opting to cook their own food, while delivery competition is fierce. We are still paying our employees, but may have to make cuts in April. Everyone has to accept the pay cut because it is better than a layoff."
"I want government announcements to be clear. So far the decisions are very grey and confusing. Communication is very weak. The policy has to be clear."
Boonyong Tansakul, chief executive of Zen Corporation, the operator of food brands such as Zen, AKA, Tummour, Din's and Khiang, says…
"The company willtoday start to provide delivery service for Khiang around the clock until April 12. The company will assign some staff to recruit new customers in residential areas such as Sukhumvit, Silom, Sathon, Thong Lor and On Nut, offering customers the option to buy three meals on a daily, weekly or monthly basis to increase sales opportunities."
For the consumer there is plenty of selection and new protocols for delivery which will guarantee the safety of the delivery service as well as customers.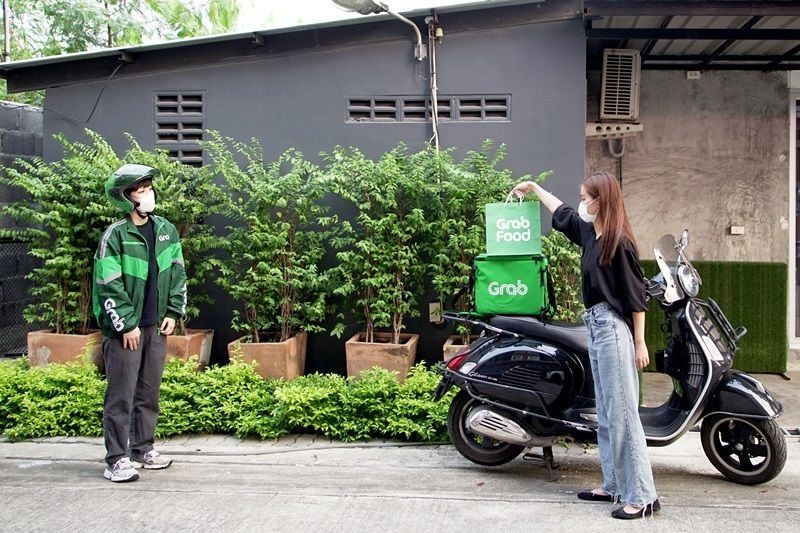 SOURCE: Bangkok Post
Keep in contact with The Thaiger by following our
Facebook page
.
Opportunities for 2020 export growth in Thailand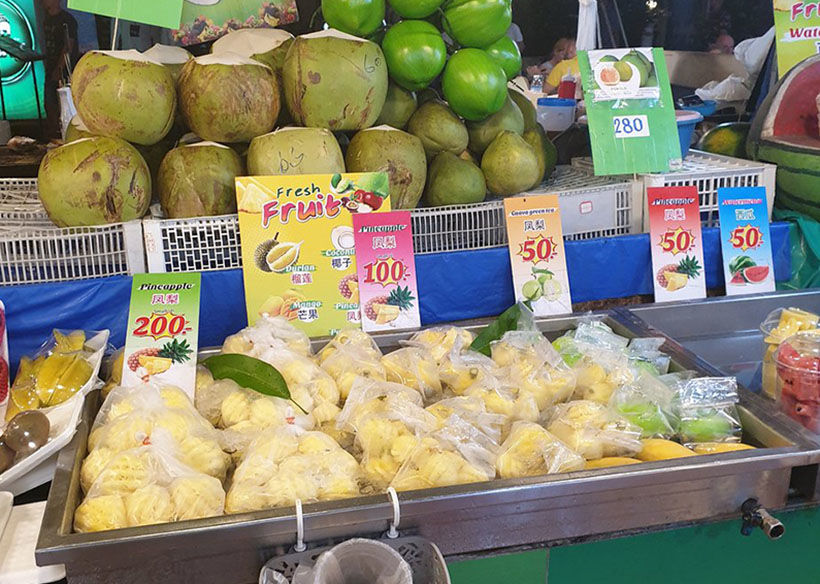 Despite the whirlwind of shutdowns, lockdowns and craziness descending on Thailand at the moment, the departments are still churning out numbers and trying to forecast the way ahead.
They say that, due to the Thai baht weakening and massive government interventions around the world for both monetary and fiscal policies, there is still a chance that Thailand could reduce the economic impact of the Covid-19 outbreak with a resurge in exports.
However, despite exports declining in February the Commerce Ministry still sees room for Thai export growth later this year.
Director-general of the Trade Policy and Strategy Office Pimchanok Vonkorpon, says that Thailand is competent in the food and agricultural industries as well as essential goods, while electronic shipments can recover, which account for 14% of total exports.
"The Commerce Ministry has adjusted its trade promotion strategy for the coronavirus pandemic by organising an online exhibition and online business matching, running from May-August 2020."
Commerce Minister Jurin Laksanavisit also repeats the importance of fruit exports in the ASEAN market, Thailand will continue to facilitate and enhance shipments to those countries.
Yesterday the ministry reported Thailand's customs-cleared exports fell by 4.47% in February
The contraction was attributed to lower oil prices and a high base from weapons exports last February, Excluding gold, oil and weaponry, Thai exports in February 2020 expanded 1.51% year-on-year reported Pimchanok.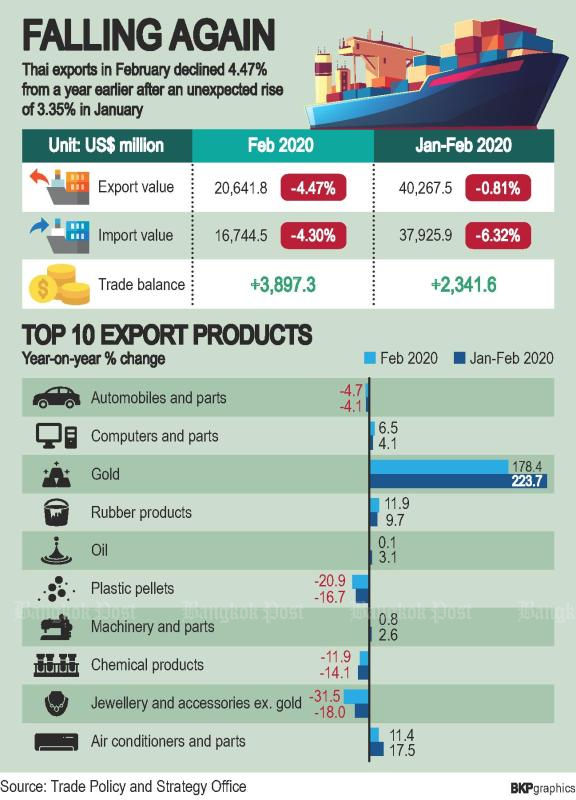 Exports of agricultural and agro-industrial products decreased by 3% to $3.07 billion in February this is led by, rice (-26.6%), fresh, frozen, and processed fruit (-16.2%), cassava products (-11.1%), and sugar (-3.8%).
The Trade Policy and Strategy office forecasts exports will grow 0-2% this year if shipments average $20-21 billion a month.
SOURCE: Bangkok Post
Keep in contact with The Thaiger by following our
Facebook page
.
Cabinet will look at proposal to help with home internet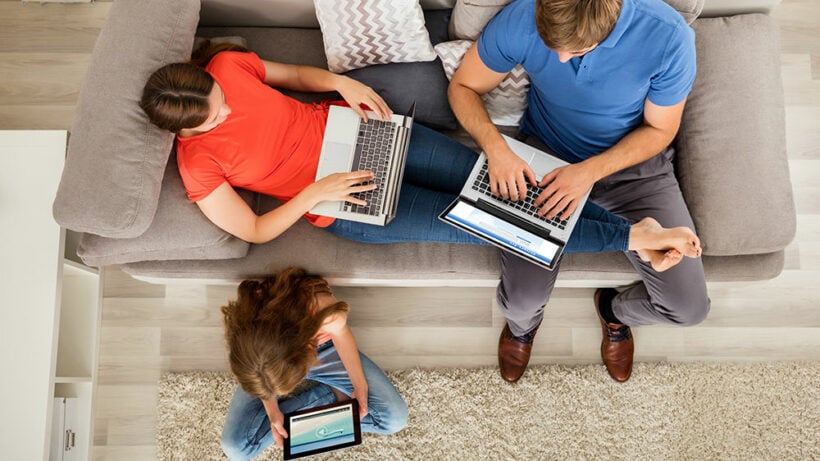 Cabinet today will look at a proposal to help people working from home with 10 Gb free internet for their smartphones, along with other subsidies.
The Thai National Broadcasting and Telecommunications Commission will ask for cabinet approval providing mobile users with 10 free gigabytes of data usage per subscriber, per month up to June 30.
The NBTS say they recognise that the current situation will involve many people working from home.
For fixed broadband service, existing household broadband subscribers would be supported in using a higher capacity package without additional charges. But details are lacking on that proposal at the moment.
Secretary-general of the NBTC, Takorn Tantasith, says the proposals follow Sunday's special meeting between the NBTC and mobile and telecom operators to come up with ways to assist the public during this 'lockdown' phase.
The proposed assistance is expected to cost the Thai government 10 billion baht, or around 3.5 billion baht per month up to the end of June.
The NBTS says the 10GB of data usage per mobile subscriber a month could be funded by the first instalment payments from the 5G spectrum licence auction which was held last month.
"If the proposal is approved by the cabinet, the NBTC will hold a meeting with telecom operators to discuss the assistance."
SOURCE: Bangkok Post
Keep in contact with The Thaiger by following our
Facebook page
.