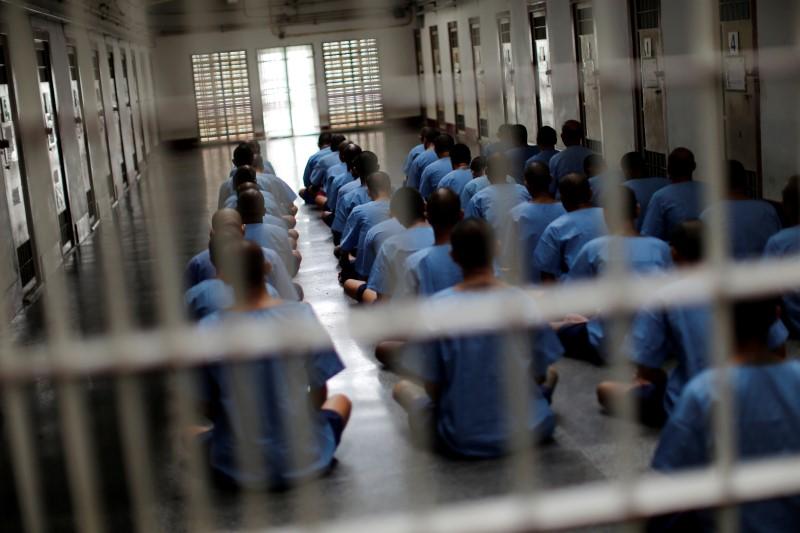 British nationals are more likely to be arrested in Thailand than in any other overseas country, official figures reveal.
However, it's in Spain and the USA where the highest number of arrests of British nationals were recorded.
According to the most recent stats available, which record the period from 1 April 2015 to 31 March 2016, a total of 194 Brits were arrested in Thailand, which amounts to 45 per 100,000 visits.
The stats, which last week were compiled by statistics company Statista, were taken from the Helping British Nationals Abroad 2015/16 report.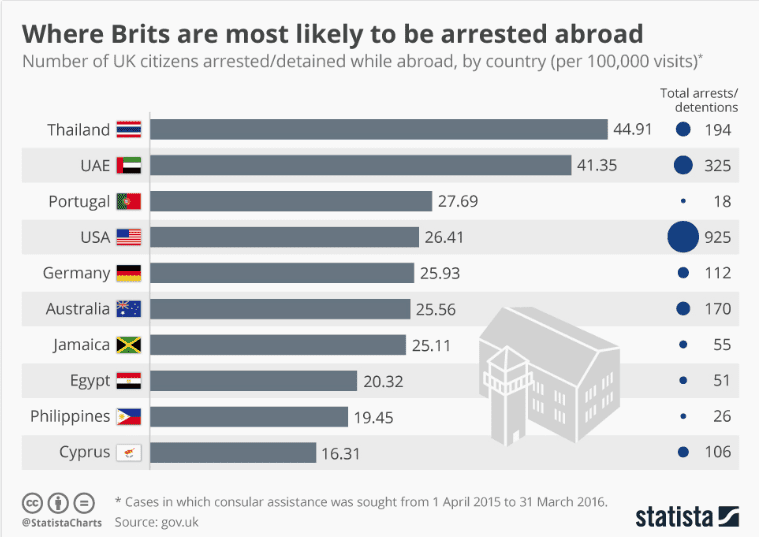 The report found that after Thailand, it's the UAE and Portugal where Brits are most likely to be arrested with per 100,000 figures of 41.35 and 27.69, respectively.
While Spain topped the list overall with 1,012 arrests, that was from 13 million British visitors, giving it a per 100,000 figure of just 7.8, which is average for most destinations.
By comparison, 432,000 Brits visited Thailand during the same period, resulting in 194 arrests, FCO figures revealed.
The report also found that Thailand is among the countries where Brits are most likely to be hospitalised.
According to the report, Thailand was among the countries to record the highest number of cases involving mental health issues among Brits.
The report also found that the British Embassy in Bangkok is among the busiest consular section in the world, dealing with 1,112 cases during the period of the report, behind only Spain (2,872 cases) and USA (1,516).
The news comes after it was revealed that Thailand was among the most deadly countries for British nationals.
A report by The Sun last month revealed that Brits under the age of 40 are more likely to die in Cambodia and Thailand than in any other overseas country.
Thailand and Cambodia had more deaths per capita than any other country.
Cambodia which record 11 deaths from 136,232 visitors in 2017, has a death rate of approximately 8 per 100,000 British visitors.
Thailand, which record 25 deaths of Brits under the age of 40 from 411,000 British visitors has a death rate of 6 per 100,000 visitors, it was reported.
STORY: Thai Visa
Keep in contact with The Thaiger by following our
Facebook page
.
Thailand News Today – Friday, May 29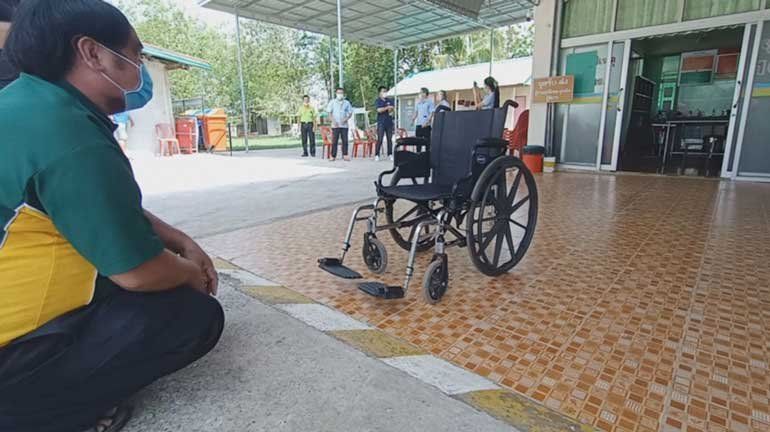 Thailand Covid-19 figures
11 new cases of Covid-19 virus in Thailand, same as yesterday. Of the number, all were reported as imported cases coming from Kuwait.
All were Thai nationals returning from overseas and have been placed into a mandatory 14 day state quarantine. For the 4th day in a row, Thailand has announced zero locally transmitted cases.
Radio station gunman confesses, faces murder charges, death penalty
The gunman who allegedly shot 3 of his coworkers at a public radio station is facing murder charges and the death penalty if convicted.
The 59 year old was an electrician and TX technician at the station. He apparently lashed out after problems with his coworkers at the National Broadcasting Services of Thailand in the northern Phitsanulok province. Amongst those killed were the station manager and fellow technicians at the station. Police say he brought two guns to the station to commit the crime.
Pattaya curfew breaker drowns
A 41 year old Thai man in Pattaya has drowned, apparently attempting to avoid arrest for breaking Thailand's national curfew.
He was pronounced dead after being found by local fishermen floating off the shore of Pattaya Beach yesterday. Pattaya City Police were notified of the incident near the Bali Hai Pier around noon.
A relative told police that the went out at about at 3am for squid fishing, knowing that he was breaking the curfew. It's been speculated that he was afraid of being arrested and fined, so he jumped into the water to hide and subsequently drowned.
Haunted hospital wheelchair. Ghost? Or the wind?
An empty wheelchair at an Udon Thani Thailand hospital, moving all by itself, has some locals claiming it could be a mischievous ghost.
Now, the hospital is even planning a prayer event to honour the wheelchair's deceased owner to put the spirit at peace.
Footage of the supposedly haunted wheelchair has done the rounds on the internet. Some of the hospital staff believe it was the ghost of its former owner who died at the hospital, moving the wheelchair around.
Other, more sceptical viewers, say it might have been the wind. Meanwhile a Buddhist ceremony is being organised and the wheelchair's brakes checked.
Thai Airways can't refund 24 billion baht in unused tickets
Thai Airways' recent declaration of bankruptcy and debt rehabilitation has left many holders of unused tickets up in the air.
The carrier grounded its fleet in early April, and now claims that they're unable to refund tickets purchased since. The value of these tickets is estimated to be around 24 billion baht.
But the airline does promises to return the money within 6 months. Ticket holders may also change the dates of flights as well without penalty fees.
The national carrier has announced on its website that it will resume operations in July, as borders slowly begin to reopen and passengers start returning. But the CAAT has the borders closed to international flights until at least the end of June and the arrangements for foreign flights into Thailand after that time are yet to be announced.
First female doctor in Thailand celebrated by Google
If you do any search on Google today you'll see a graphic of a doctor holding a baby. The image is of Thailand's first female doctor, Margaret Lin Xavier, and today marks her 122nd birthday.
Xavier was an expert in obstetrics and gynaecology. She opened a private clinic with her sister who was a pharmacist. Many times she would treat women for free who couldn't afford care as well as sex workers.
She studied over seas but moved back to Thailand in 1924 when she was 26 years old and started working as an obstetrician at the Thai Red Cross and Chulalongkorn Hospital. She was the first Thai woman to earn a medical degree and practice in the country.
Although she died in 1932 due to encephalitis, her work opened the door for women in the medical field.
The Thaiger salutes this pioneer in Thai obstetrics and gynaecology, Margaret Lin Xavier.
Keep in contact with The Thaiger by following our
Facebook page
.
Covid task force orders strict hygiene measures for Bangkok construction sites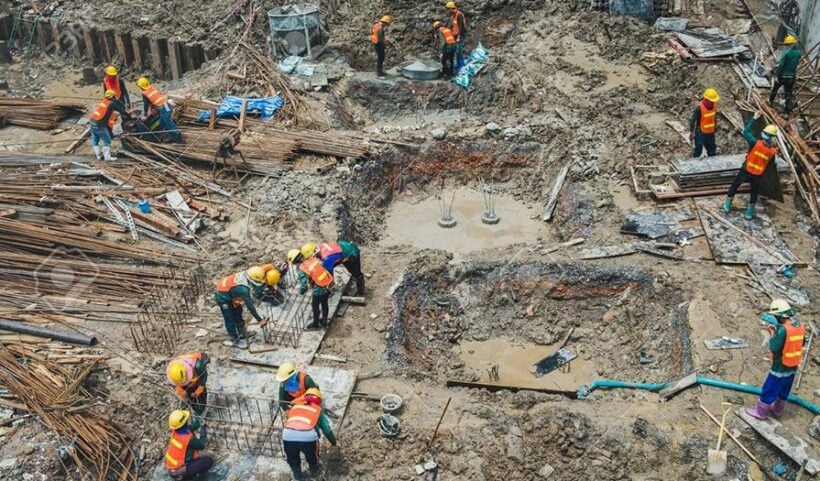 The Bangkok Metropolitan Authority has been ordered to implement tough hygiene and safety measures at construction sites in the capital, to prevent any resurgence of the Covid-19 virus. The Centre for Covid-19 Situation Administration says the city must take rigorous steps to mitigate the risk of workers contracting and spreading the virus.
A report in Nation Thailand says city officials are fully prepared to comply with the order, with BMA permanent secretary Silapasuay Raweesangsoon saying instructions on the strict hygiene protocols have already been communicated to all district offices.
"Since April, BMA has ordered all district offices to employ measures at construction sites to prevent the outbreak, which include screening of personnel before entering the area, providing alcohol gel and face masks, cleaning the areas after work, separating personal items and maintaining social distancing practice."
"To comply with the CCSA, the BMA has sent health officials to perform aggressive tests on construction workers that are at high-risk, like those who come from neighbouring countries or provinces."
Her statement comes as central Thailand prepares for the return of thousands of migrant workers from Myanmar in the coming month. The government has already said employers are responsible for quarantining their workers for the required 14 days, as well as providing them with masks and hand sanitiser, and carrying out regular health checks.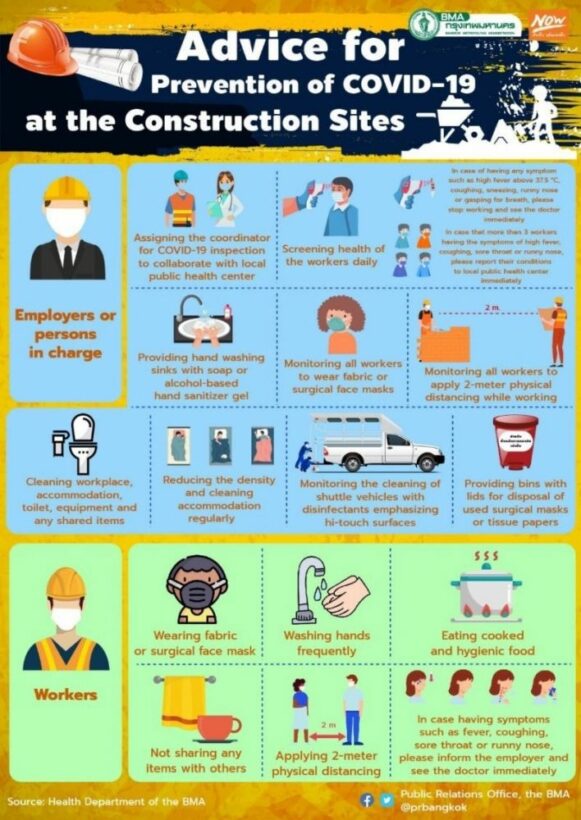 PHOTO: Nation Thailand
Silapasuay says thousands of construction workers in Bangkok have already been tested for the virus. Bosses at construction sites are also asked to check the health of their employees regularly, both at their workplace and their accommodation.
"We have already tested 49,728 workers, while we aim to increase this number further to ensure safety at all construction sites in Bangkok."
SOURCE: Nation Thailand
Keep in contact with The Thaiger by following our
Facebook page
.
Taxi driver attacked and stabbed after accident in Bangkok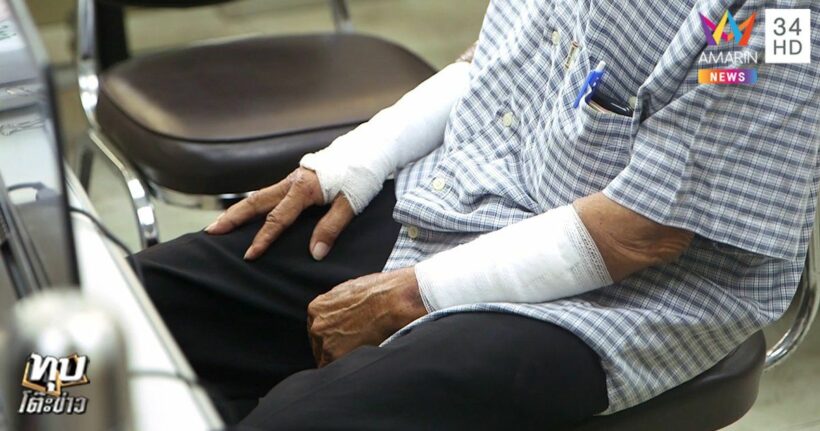 A motorbike driver attacked a taxi driver on Wednesday this week after an accident by taking off his helmet and repeatedly hitting the driver with it before stabbing him with a screwdriver.
A witness says the motorbike cut in front of the taxi on Phet Kasem Road, or Highway 4, in Bangkok, but the taxi couldn't stop in time and ran into the motorbike, Thai media reports. When the taxi driver stepped out to look at the damage, the motorbike driver took off his helmet and attacked him. Then he took out a screwdriver and stabbed the taxi driver. When people ran up to help, the motorbike driver hopped on his bike and drove off.
The witness took photos of the accident and shared it on Facebook. Yesterday, the motorbike driver turned himself into the Phet Kasem Police and was charged with reckless driving and causing physical and mental harm.
SOURCE: Thai Residents
Keep in contact with The Thaiger by following our
Facebook page
.