Tourists complain about thin elephant being forced to do party tricks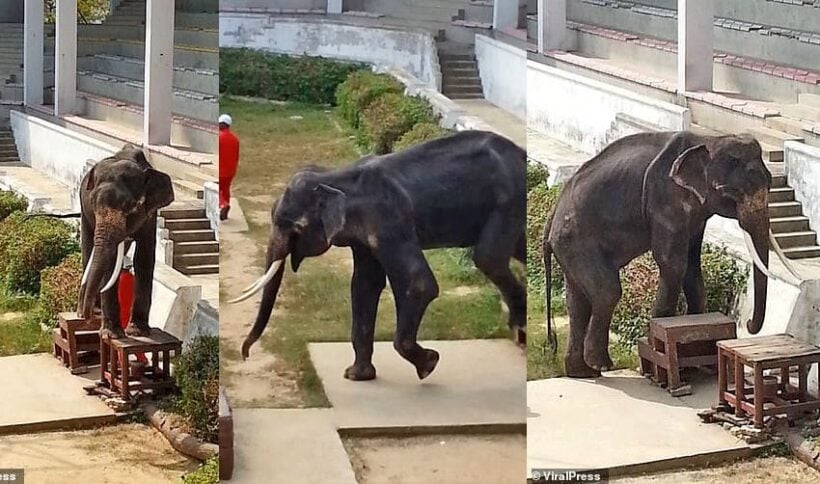 PHOTOS: Mail Online
dailymail.co.uk is reporting that an adult elephant has been photographed performing in front of deserted audience seating at Samut Prakan Crocodile Farm and Zoo, just south of Bangkok.
With its bones clearly visible, a female elephant is seen balancing on two wooden tables before being led down and forced to walk across a metal tight rope.
She pauses in the middle, turns around and walks back, according to the article.
The skeletal frame of the small Asian elephant, with its pelvis and shoulder poking through its saggy leathery skin, raised concerns from one visitor who filmed the 'show'.
"I've been visiting the zoo for a long time because I like to look at the animals. But when I visited last week I was upset when I saw one of the elephants. The elephant looked so thin and weak. I felt so sorry. I think he needs help."
The unidentified tourist thought the zoo might be having financial problems and couldn't afford to look after the elephant. The Samut Prakan Crocodile Farm and Zoo was built in 1950 as Thailand's first crocodile farm. It boasts that it is the world's largest crocodile farm and has expanded to include other animals as well.
dailymail.co.uk reports that the zoo now has over 60,000 crocodiles of different kinds in various pits and features daily shows. Locals say that the zoo was once popular, but in recent years the crowds have dwindled and many shows are now empty.
Visitors who reviewed the zoo, which has a one star rating on TripAdvisor, said they were 'heartbroken' at what they saw, although the attraction did receive some praise. Here are some other responses…
"The place is poorly maintained – a lot of the facilities are run down and look like it hasn't been upgraded in a long time."
"It's very heart wrenching to see the animals kept in such poor conditions and God knows if there's even anyone taking care of them."
"I literally cried numerous time throughout the day."
A spokesman for the zoo said that all the elephants at the park are "good".
"No, no, no. The elephants here are all healthy. They are all good. None of them are thin. They are all fed well. They do shows every day."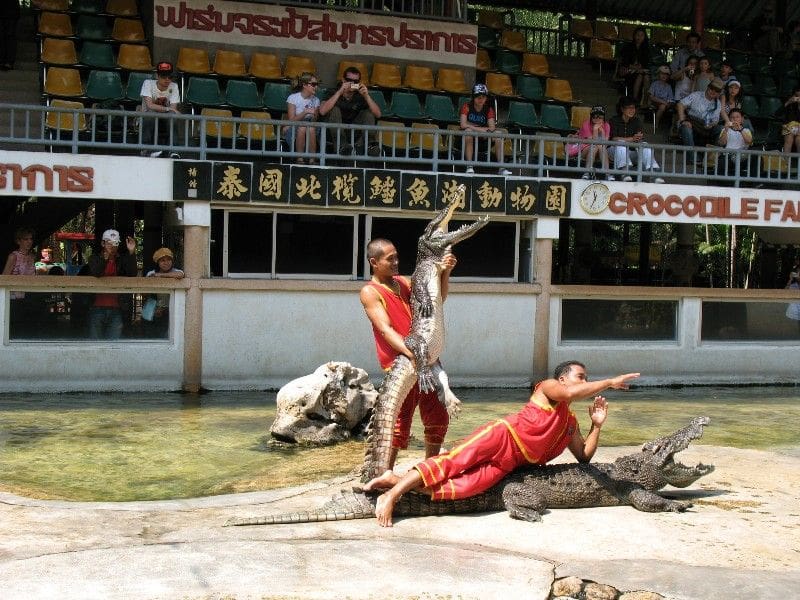 ORIGINAL ARTICLE : Mail Online


Read more headlines, reports & breaking news in Bangkok. Or catch up on your Thailand news.
Chinese 'red notice' fugitive arrested at Suvarnabhumi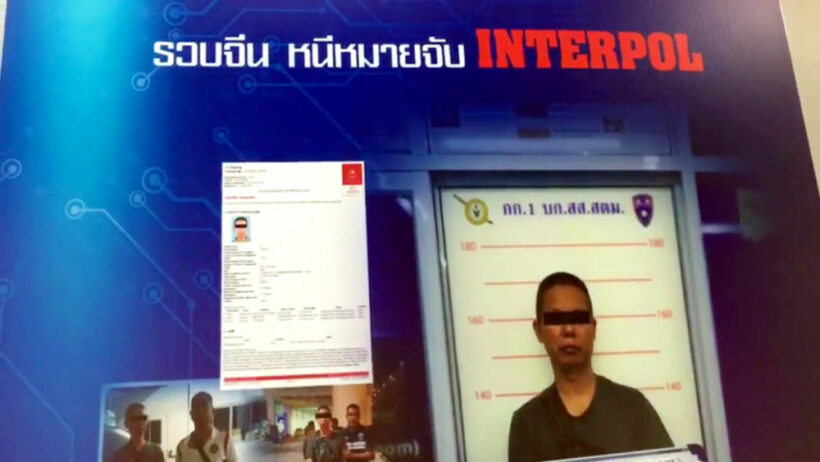 A Chinese fugitive wanted on an Interpol red notice has been arrested at Suvarnabhumi Airport, acting Immigration Police chief Lt Gen Sompong Chingduang said.
48 year old Lu Dayang was arrested on Sunday while trying to fly to Macao. Sompong said the Chinese Embassy informed his staff that Lu was wanted for allegedly smuggling illegal goods into China.
He said Lu entered Thailand back on May 8 on a 15 day tourist visa. The bureau revoked his visa on May 17 and identified his return flight.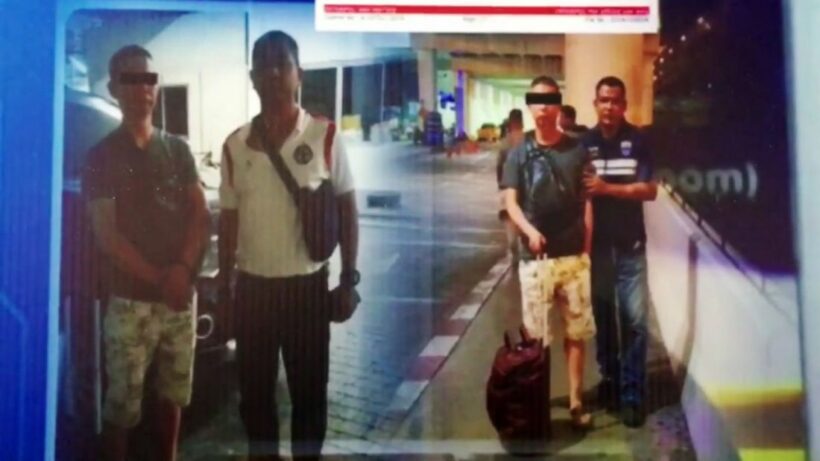 SOURCE: The Nation
30,000 baht bill for diarrhoea treatment at private hospital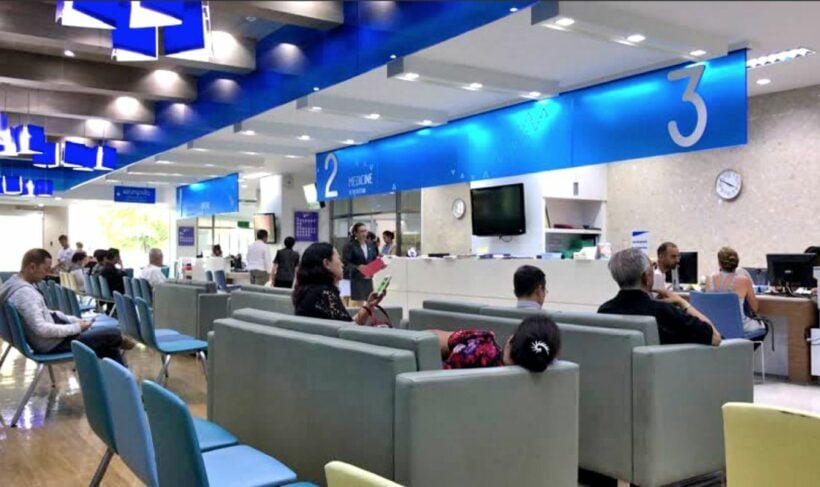 FILE PHOTO
It's enough to give you the s**ts!
An unnamed private hospital is being asked to explain how it charged a patient 30,000 baht for the treatment of a simple stomach infection.
A source at the Internal Trade Department says that a review of the medical bill indicates the hospital bill was "unreasonable".
"The hospital will be asked to explain."
The complaint filed via the Internal Trade Department's 1569 hotline. Earlier this year, the Cabinet approved a resolution to control the prices of medical supplies and services amid screams of opposition from indignant private hospitals.
The source of the story says that the private hospital in question would face legal punishment if it is unable to provide a reasonable explanation for the unreasonably high bill.
"From our examination of the bill, it is clear that the hospital has subjected the patient to over-treatment with many items that in fact might not have been necessary," the source said.
If found guilty of over-charging, the hospital executives could face up to seven years in jail and/or a fine of 140,000 baht.
In January the Internal Trade Department has summoned the management of 70 out of 353 private hospitals for a discussion on why the price of medicines they sell are three to nine times higher than market prices.
New rules are now being drafted requiring private hospitals and medicine providers to declare their selling prices on the Internal Trade Department's website. The rules are an attempt to reign in the voting of medicine prices where some private hospitals have been accused of charging up to 900% of the actual retail cost for prescriptions.
SOURCE: The Nation
Police searching for building owner after two die in Bangkok shophouse fire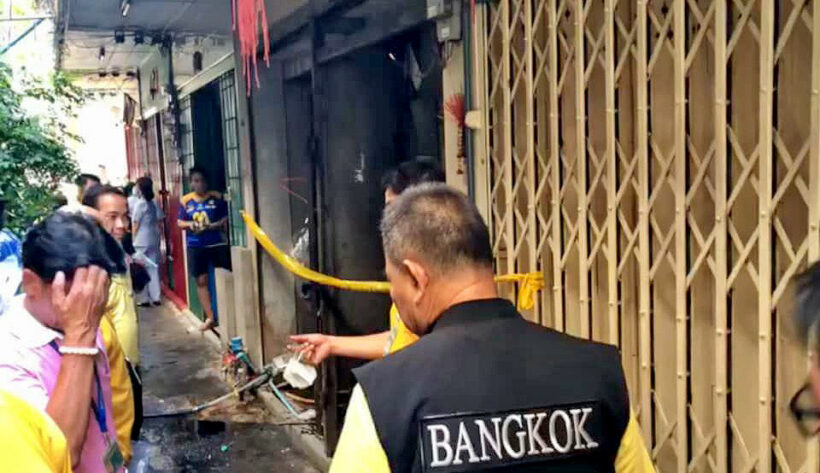 PHOTO: The Nation
A 67 year old woman and a 60 year old man have been killed after a fire engulfed a five-storey shophouse modified to provide rented rooms in Bangkok's Phra Nakhon district early today.
The Samrarnraj police station was alerted at 1.15am of the fire at the shophouse near Chao Phor Sua shrine on Boon Siri road. Five fire engines were dispatched to the scene.
Fire fighters took about 40 minutes to put out the blaze, which started in a second-floor room and spread to the fourth floor. People living in other rooms fled outside with everything they could grab as fire fighters fought the blaze.
After the fire was put out, they found the charred body of 67 year old Rat Noonsup on her bed on the fourth floor. She had been confined to her bed with chronic illnesses. Her nephew, Suksan Seangchan, told police he was sitting and talking to friends on the ground floor outside the building when he heard an explosion. He said he looked up to see fire had broken out and then tried to put it out with neighbours.
He said he then remembered his aunt was in the building so he tried to run up the stairs, but an iron beam fell on him and a fire fighter dragged him out.
Police will investigate the cause of the fire and will summon the 64 year old owner of the modified building for questioning.
At 9am, fire fighters and police checked the scene again and discovered another body, identified as that of a carpenter known only as Tum, who was about 60 years old.
Police say the shophouse was modified to provide 10 rented rooms at a rate of 100 baht a day for vendors in the area. Police are looking for a man, identified as Tong, who was seen drunk and shouting threats that he would set fire to the building.
SOURCE: The Nation