HM The Queen celebrates her birthday today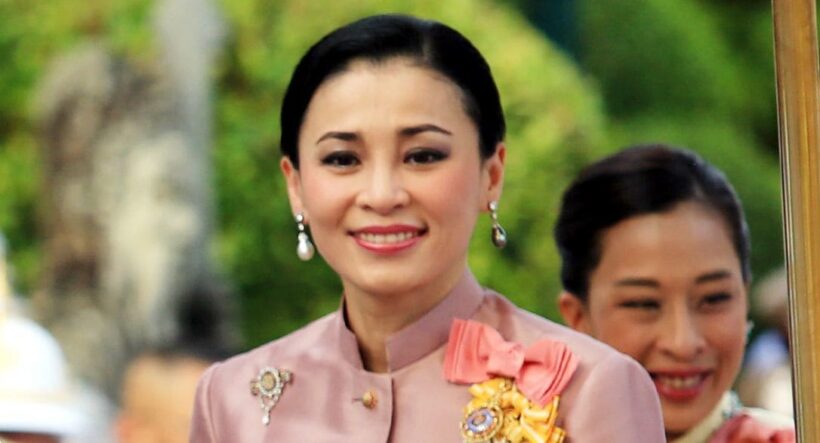 Her Majesty Queen Suthida's birthday is being celebrated across the country today.
The Queen was born on June 3, 1978. She graduated from Assumption University's School of Communication Arts in 2000, after which she served as a flight attendant on JAL ways and then, from 2003-2008, with Thai Airways International.
The Nation reports that in 2010 she was an acting operation staff officer at the Royal Guard Unit. Two years later she became the unit's deputy battalion commander and then commanding officer of the Training Battalion at the King's Guard School.
In 2013 she was promoted to the post of deputy commanding officer at the school and then commanding officer.
Between 2010 and 2018 she completed several military training courses.
In 2017 she was deputy chief aide-de-camp to His Majesty the King in the Royal Aide-de-Camp Department with a rank of Special General and then deputy commander of the Royal Security Command, again as a Special General.
HM King Maha Vajiralongkorn named her as his Queen on May 1, days before his coronation.
Keep in contact with The Thaiger by following our
Facebook page
.
UK's Kew Green Hotels launches 7 properties in Bangkok

Despite a quickly changing business environment for the world hospitality industry, some companies are accelerating expansion plans in anticipation of the eventual recovery.
Kew Green Hotels, one of the UK's leading hotel management companies with over 55 hotels in its portfolio, has now announced plans to expand into the south east Asian market through a joint venture with Siamese Asset. The new entity, Siamese and Kew Green Management Company Thailand, are launching 7 properties in Bangkok, 4 under the Wyndham Hotels & Resorts brand. Alongside the launch of these 7 properties, Kew Green Hotels will also be launching a Commercial Hub for south east Asia to support the region, based in Bangkok.
Siamese and Kew Green Management Company Thailand will launch 4 hotel and branded residences in the heart of Bangkok next year…
The Wyndham Queen Convention Centre, Wyndham Garden Sukhumvit 42, Ramada Plaza by Wyndham Sukhumvit 48 and Ramada by Wyndham Sukhumvit 87, with an additional three properties in the pipeline. Guests staying at each of the Wyndham Hotels & Resorts will have access to Wyndham Rewards, the global hotel loyalty rewards program.
Kew Green Hotels set themselves apart by "combining years of experience with innovative ideas to deliver outstanding hotel services and by delivering exceptional returns for hotel owners. Combining market-leading technology with expert talent, the Commercial Hub will integrate proactive and reactive sales, marketing, analytics and revenue management, to support their increasing hotel portfolio in the region, providing a consolidated approach to deliver growth".
Chris Dexter, CEO of Kew Green Hotels, says they look forward to delivering "world-renowned Thai hospitality in these seven properties, supported by our state-of-the-art commercial hub".
"As a growing company, this milestone reflects Kew Green Hotels' broadening expertise in the international hotel market and reputation for operational excellence, strong commercial awareness and industry leading profit delivery."
The Wyndham Queen Convention Centre Hotel & Residences, with 120 rooms and suites, is conveniently located just 50m from Queen Sirikit National Convention Centre MRT station, yet close to the greenery of Benjakitti and Lumpini parks. The hotel and residences offer panoramic views of the city, the bustling Port of Bangkok and outstanding surroundings. Amenities include rooftop gardens, a sky lounge, infinity pool, restaurant, executive lounge and an expansive fitness room, all with spectacular panoramic cityscape views. The hotel is just five minutes from contemporary shopping centres within the vibrant Central Business District of Bangkok.
Wyndham Garden Sukhumvit 42 sits in the heart of Ekkamai, known for its lively collection of popular cafés, bars and restaurants and just 300m from Ekkamai BTS station and five minutes from the Ramindra-Art-Narong Expressway. The hotel offers 120 rooms with city views, a roof-top garden, a restaurant, a Kafeology coffee bar on the terrace, swimming pool, spa and gym.
Ramada Plaza by Wyndham Sukhumvit 48 offers 100 rooms together with a sky bar, restaurant, bar lounge and spa with far reaching views across the city plus a swimming pool and gardens. The hotel is less than 10 minutes' walk from Phra Khanong BTS station with easy connectivity to world-class shopping, dining and nightlife.
Ramada by Wyndham Sukhumvit 87 is located between BTS Bang Chak and BTS Onnut at 430m and 550m respectively, with convenient access to shopping malls and entertainment in the Ekkamai area. With 85 rooms, the hotel offers a dedicated yoga room and roof-top gardens, a swimming pool, garden and Kafeology coffee bar.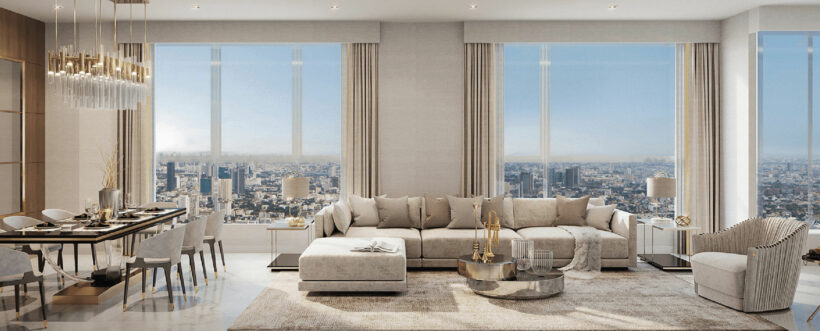 Keep in contact with The Thaiger by following our
Facebook page
.
Pathum Thani police hunt "100 million baht auntie"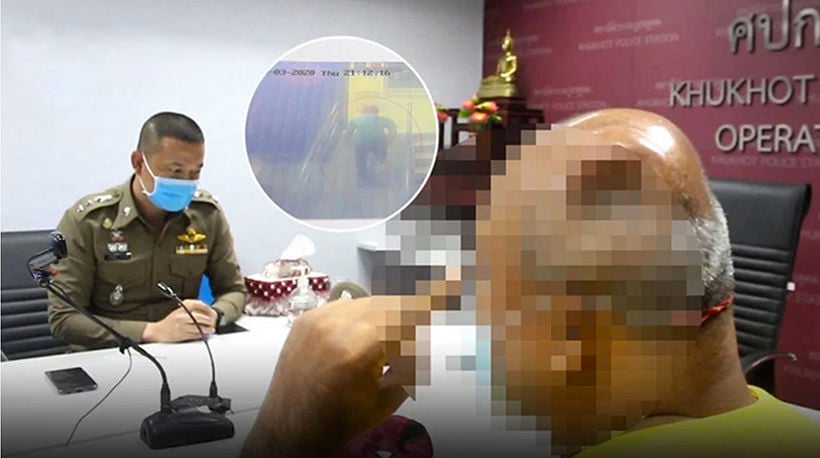 Police in Pathum Thani, just north of Bangkok, are tracking down a mysterious loan shark known as "Mrs. Millionaire" to face charges that she hired a man to beat a vendor who owed her money, leaving him with permanent brain damage. The woman, whose age is estimated at around aged 65-70, dresses plainly and carries a large rubbish sack around, which reportedly contains the cash she lends to traders in local markets, including the one outside the Zeer Rangsit IT centre where the March 12 attack occurred.
Despite her modest appearance, she's been dubbed the "100 million baht auntie" and linked to a gang which employs violence to chase down unpaid debts.
63 year old Weerapat Kampiranon, who's run a market stall outside Zeer Rangsit with his wife, selling crab fried rice for the past 8 years, complained to Kukot police last week about the assault, which took place as he and his wife were packing up for the day. He had been in a coma for months.
The couple later addressed the media with celebrity lawyer Ronnarong Kaewpetch, who demanded Pathum Thani police explain why loan sharks were able to ply their trade freely around the market, even after the government told them to drive "informal lenders" out of business during the Covid-19 virus epidemic.
Weerapat says he was getting on his motorcycle while his wife went to the toilet when the attack occurred. A man wearing a cap and face mask hit him 4 times over the head with a heavy object, leaving him with internal bleeding and temporary loss of brain function, requiring 2 months' hospitalisation.
His wife says she heard the sound of her husband being struck and raced out in time to see the attacker, who fled the scene. Pointing to a large caved-in area on the side of his head he told police he can't remember much about the attack.
"Doctors say I have lost 10% of my brain capacity and the damage is permanent. I had to re-learn how to walk, and still stammer a bit."
Weerapat's wife says the past months were gruelling – medical bills for his care came to 100,000 baht, which they raised from relatives.
"He was in critical condition for 4 nights, and I wasn't sure he'd make it. I was worried about losing the mainstay of my life. It was like bringing up a child. He had to start again."
Weerapat said "100 million baht auntie" has many customers in the marketplace outside Zeer. He borrowed an initial 60,000 baht from her in late 2016 as he wanted to sell T-shirts and open a new branch of his stall. She charged monthly interest of 10%. He carried on borrowing and his debt at one point reached 80,000 baht, though she agreed to halve the interest 2 years ago when the economy soured.
Ronnarong, the lawyer, says Zeer Rangsit is well known for its loan shark lenders. Police have issued a 10,000 baht reward for information leading to auntie's arrest, but say they've been unable to establish her name and know little about her. They say she's unlikely to be as wealthy as her nickname suggests nor attached to any gang.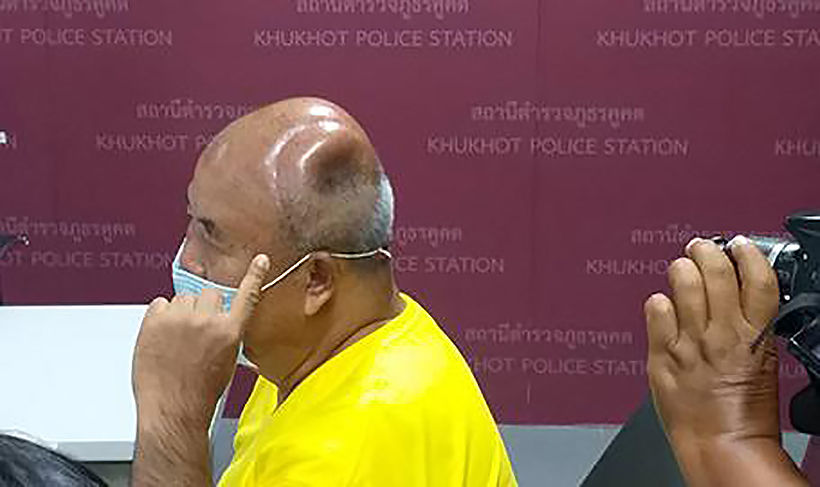 SOURCE: Bangkok Post
Keep in contact with The Thaiger by following our
Facebook page
.
Poll shows most Bangkok residents dissatisfied with public bus service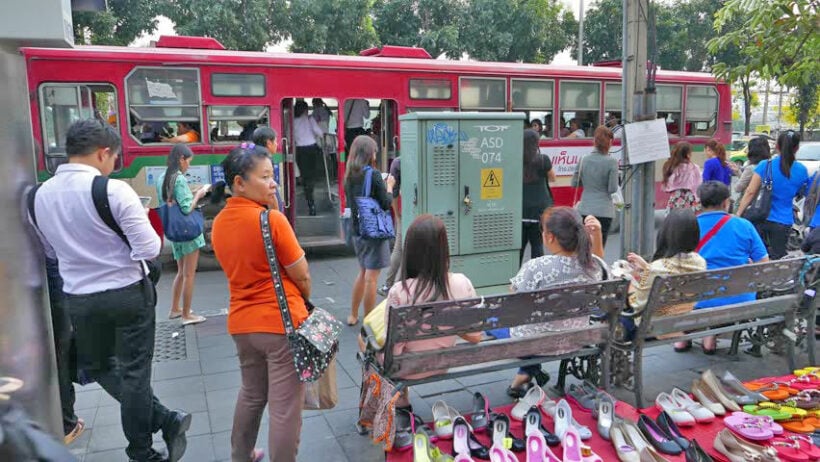 A recent survey by Bangkok Poll showed most of the city's residents aren't satisfied with the capital's bus services, citing long waiting times, shabby conditions and thick black exhaust. The poll, conducted June 25-29 by the Bangkok University Research Centre, surveyed 1,299 people aged over 18 to gauge public satisfaction with city buses.
The largest group, 46.7%, said they were unsatisfied with buses operating on Bangkok streets; 33% were partly satisfied and 20.3% were mostly satisfied.
Asked to identify the problems with the capital's public buses, 61.1% complained of long waiting and inadequate numbers of buses. Another 51.7% said most of the buses are old, while 41.2% complained of black smoke.
Asked to suggest improvements they'd like to see, 61.6% said they want buses to arrive on time to shorten commuting times. Some 53.1% wanted all city buses to be air conditioned. About 51.9% wanted them to be less crowded by adding frequencies and seats, in line with "new normal'' and social distancing measures to prevent the spread of Covid-19, according to the poll.
SOURCE: Bangkok Post
Keep in contact with The Thaiger by following our
Facebook page
.