DSI calls for dissolution of foundation funding Dhammakaya cult

"The foundation operates as a quasi-Buddhist cult and commands adherents to its teachings from around the world."
The Department of Special Investigation (DSI) is calling on public prosecutors to request the courts to dissolve the Khun Yay Maha Ratana Upasika Chandra Khonnokyoong Foundation. The Foundation was implicated in the Klongchan Credit Union Cooperative (KCUC) embezzlement case. The DSI say they want to prosecute members of the foundation's committee for money laundering.
DSI also wants the prosecutors to ask the court to confiscate the foundation's 13 billion baht assets.
The foundation, established in 2004, is under the patronage of Dhammakaya Temple's ex-abbot Phra Dhammachayo, who faces an arrest warrant over money-laundering charges. The foundation operates as a quasi-Buddhist cult and commands adherents to its teachings from around the world.
Read more about the elusive Phra Dhammakaya HERE.
The renegade monk and his accomplices have been accused of accepting money from KCUC's ex-boss Supachai Srisupa-aksorn, who is in jail for stealing billions of baht from the cooperative. The DSI had investigated Supachai and his accomplices over embezzlement charges, and then looked into Phra Dhammachayo and other people's alleged role in money laundering and possession of stolen articles.
Since initial investigation uncovered transactions linked to the foundation, accused of constructing facilities for the temple using money that was allegedly swindled out of the KCUC, the DSI launched another probe, results of which were provided to reporters by Paisit yesterday.
Paisit says the investigators found the foundation and its board, led by billionaire telecom tycoon Boonchai Bencharongkul's younger sister Wanna Chirakiti, guilty of conspiring to launder money and also violating the foundation's objectives. Hence, he said, the DSI is recommending that prosecutors disband the foundation and seize its assets, including the assets already confiscated by the Anti-Money Laundering Office earlier.
The 2,000-rai Dhammakaya Temple in Pathum Thani's Khlong Luang district has many newly built structures in its vast compound as well as in several affiliated centres nationwide.
The most expensive structure was the Khun Yay Maha Ratana Upasika Chandra Khonnokyoong Building, which cost 5 billion baht, followed by the temple's car park costing 2.6 billion and the 1.5 billion baht World Peace Valley Meditation Centre at Khao Yai in Nakhon Ratchasima's Pak Chong district. The meditation centre is also under investigation for alleged forest encroachment and misuse of land meant for agriculture.
SOURCE: The Nation


Read more headlines, reports & breaking news in Bangkok. Or catch up on your Thailand news.

Thai Rath downsizes newspaper workforce citing crippling decline in revenues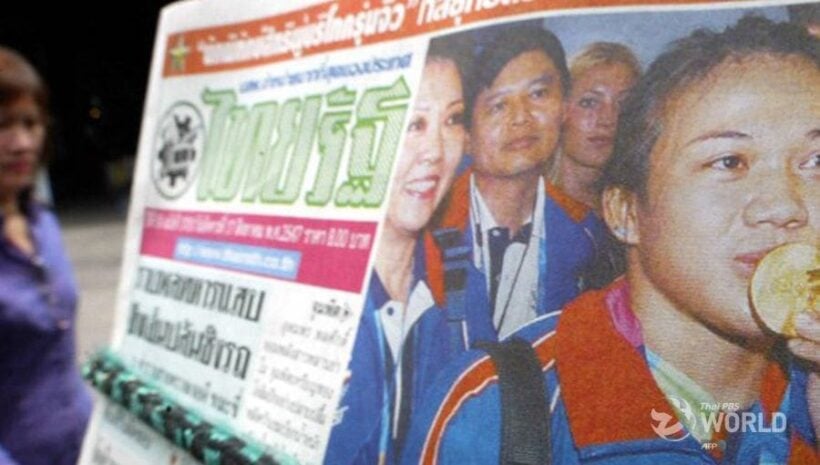 Thai Rath, the country's biggest newspaper, is buckling under the weight of digital change and downsizing its staff.
In yet another sign of the woes in the Thai media industry, the mass-circulation Thai Rath newspaper is downsizing through a voluntary early retirement scheme.
Thai Rath, which at its peak claimed a daily circulation of one million,  said in a statement yesterday that the drastic change in media consumption behavior has hit the paper badly.
Thai Rath was founded on 5 January 1950 by Kampol Wacharapol as Khaopap which was published between 1950 and 1958. The newspaper was shut down in 1958, along with other leading contemporary newspapers, by the military government of Field Marshal Sarit Thanarat. Kampol then "rented" the Siang Ang Thong newspaper's name from Laor Ketkaew, and continued publishing under that name between 1 May 1959 and 24 December 1962. On 25 December 1962, Thai Rath published its first issue.
The statement, signed by its CEO Ms Yingluck Watcharaphol, admitted that the paper was not able to meet its revenue target although it had tried all possible means to keep the newspaper business afloat.
It said it is necessary for the company to downsize and to reduce its staff so it will be able to carry on with the business, adding that all staff members at every level of the Watcharaphol Company which owns the newspaper and a digital TV channel, are eligible to join the voluntary early retirement program.
The paper offers a severance pay starting at 30 days of wages up to 300 days worth of wages, depending on their employment period.
Thai media industry has been going through a particularly rough time since the explosion of digital media a few years back, coupled with over-supply in the digital TV market.  Several other media outlets have also downsized, ceased publishing or reduced pages because of declining circulations and advertising revenue.
Miss Philippines wins Miss Universe 2018 – Thailand in Top 10

PHOTO: philstar.com
Just in case you needed to know…
Miss Universe 2018, the 67th Miss Universe pageant, was held today at Impact, Muang Thong Thani in Nonthaburi Province. Miss Thailand made it into the event's Top 10.
Demi-Leigh Nel-Peters of South Africa crowned her successor, the pageant winner, Catriona Gray of the Philippines.
The 24 year old Filipina-Australian was crowned this morning at the Impact Arena in Bangkok beating 93 other female contestants from across the globe.
As in every Miss Universe pageant, the top five contestants were asked individual questions to determine who would make it to the Final 3. The final three beauties were then asked a standard question to find out who will bring home the title.
The top five contestants were Gray, Miss Puerto Rico Kiara Ortega, Miss Vietnam H'Hen Nie, Miss South Africa Tamaryn Green and Miss Venezuela Sthefany Gutierrez.
The show was hosted again by US comedian and game shaw host, Steve Harvey and supermodel Ashley Graham, while television personality Carson Kressley and runway coach Lu Sierra provided commentary and analysis throughout the event.
American singer-songwriter Ne-Yo performed during the competition.
Contestants from 94 countries and territories participated in this year's pageant, surpassing the previous record of 92 contestants in 2017.

Malaysian PM receives honorary doctorate from Rangsit University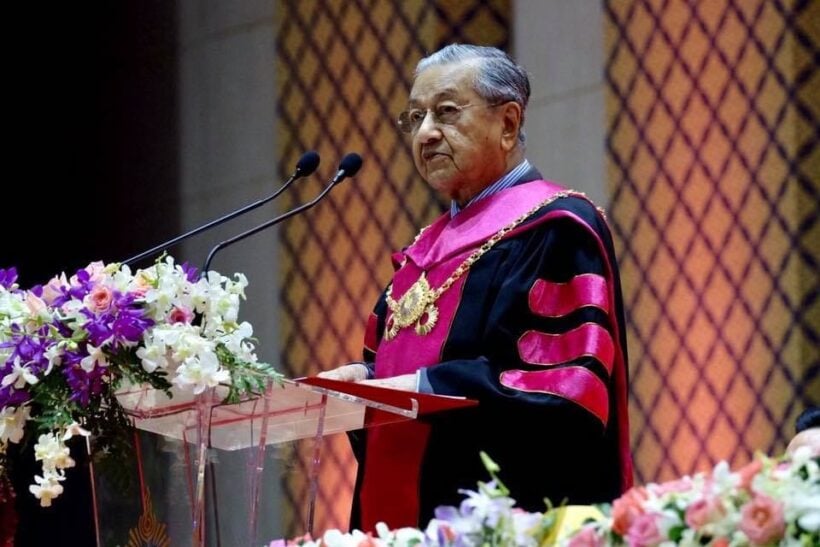 PHOTOS: Facebook/Rangsit University
Malaysian Prime Minister Mahathir Mohamad and Rangsit University President Arthit Ourairat during the convocation ceremony on Sunday. – Picture from Rangsit University Facebook
Malaysian PM Mahathir Mohamad has been in Bangkok over the weekend, his second trip to the Kingdom in the past three months. But this time it was mostly social and to receive an award.
The 93 year old Malaysian premier said in a speech that ASEAN has yet to get its due credit as the only regional organisation that has been sustainable and with tremendous potential.
In his acceptance speech, after receiving an honorary doctorate by Rangsit University in recognition of his statesmanship, Mahathir also highlighted how students are future leaders who can also help maintain relations among ASEAN countries.
Mahathir was awarded the doctorate for leadership in social, business and politics by university president Dr Arthit Ourairat during its convocation ceremony.
Mahathir noted how ASEAN countries have been able to resolve problems peacefully.
"The relationship between the member countries of ASEAN has been very good because we are able to resolve problems within us in a peaceful manner, " he said.
"So, ASEAN has remained as a very stable and peaceful region in the world and I think that we have to appreciate this fact because many regions in the world are not doing well today," he said, adding that there were problems in North America, Europe, Middle East and many other places.
The Malaysian leader returned from retirement to "save Malaysia from being destroyed by corruption and greed" and "bravely speaks up for those countries which are unable to do so," said Dr. Arthit.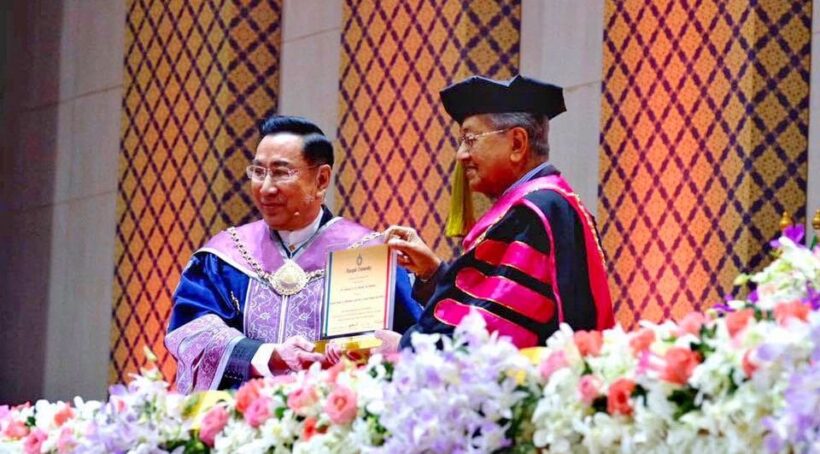 The Malaysian PM receives his Doctorate from Rangsit University President Arthit Ourairat during the convocation ceremony