Another Russian tourist drowns at Karon Beach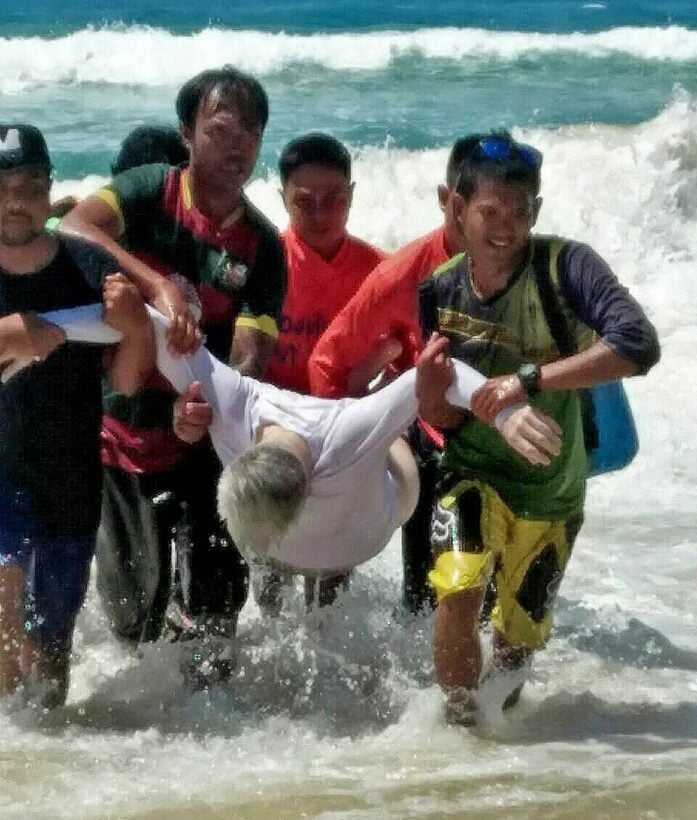 Another Russian tourist has drowned in the seas off Karon Beach today (October 18), while swimming in a red flag zone. This time the man was swimming at the far southern end of Karon Beach.
53 years old Evgenii Erdlei was rescued from the sea by local beach vendors and officers from the Marine Safety Unit of the Royal Thai Navy. The team tried to do CPR and called the ambulance but the man was pronounced dead when he arrived at hospital.
The man was visiting Phuket with his family for a holiday and staying at a Karon Hotel.
Another Russian man died after he dragged unconscious from the waters off Karon Beach last Sunday (at the northern end of the beach). He was also pronounced dead when he arrived at hospital.
A Chinese tourist also drowned this week whilst snorkelling off Koh Racha Noi.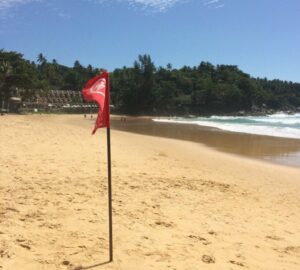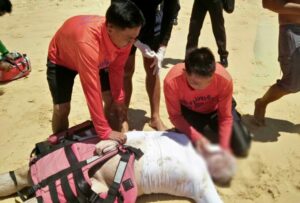 Keep in contact with The Thaiger by following our
Facebook page
.
Phuket's water bosses claim there will be enough water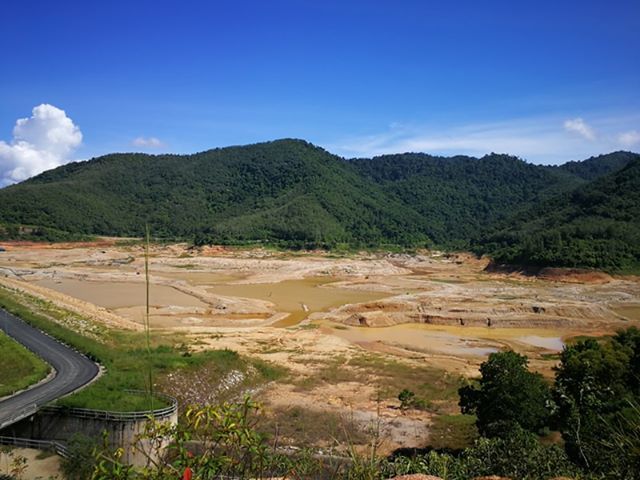 PHOTO: Bang Neow Dam in Thalang, just a few muddy ponds
Well into the second half of the Phuket wet season and the three main dams are well below capacity, Bang Wad Dam just over 13% capacity and the Bang Neow Dam in Thalang district around 5%, mostly unusable muddy ponds. The newer Khlong Katha in Chalong is at a much higher level, about 30% of capacity.
But this time of the year the three dams need to be well on their way to full capacity if the island is to get through the high tourists season and dry season without a repeat of last year's muddle where provincial obfuscation and confusion put the health of thousands of residents at risk by cutting off their water supply and water trucks became more populous than passenger vans.
The lack of water also co-incides with increased development and more tourists arriving each year.
Now the Director of the Phuket Provincial Irrigation Office, Somsawat Chaisinsod, is calling for province administrators and the Phuket Provincial Waterworks Authority to begin water saving campaigns as the annual heavy rains in October may not arrive or be less frequent. The suggestion of water 'restrictions' was not mentioned in the meeting.
At a meeting attended by Phuket's Governor Phakaphong Tavipatana, Mr. Somsawat claimed that the island's annual rainfall, for the first seven months of 2019, has only been 10% less than average.
But the dams are a LOT more than 10% lower in capacity. In the case of the Bang Neow Dam in Srisoontorn, it's virtually empty.
A representative from the PWA said that the Authority is currently buying 45,000 cubic metres of water per day from undisclosed "private sources" to top up the island's potable water needs.
"The PWA is in the process of securing water supply from a new supplier to improve the water supply and reduce the volume of water drawn from the dams."
Meanwhile Prapan Kanprasang, chief of the Department of Disaster Prevention and Mitigation in Phuket, told The Phuket News he "believes Phuket has enough water to the island through the next dry season, after the annual rains cease early November".
"We have enough water to use."
Keep in contact with The Thaiger by following our
Facebook page
.
Airports of Thailand block entrance to new Central Village at Suvarnabhumi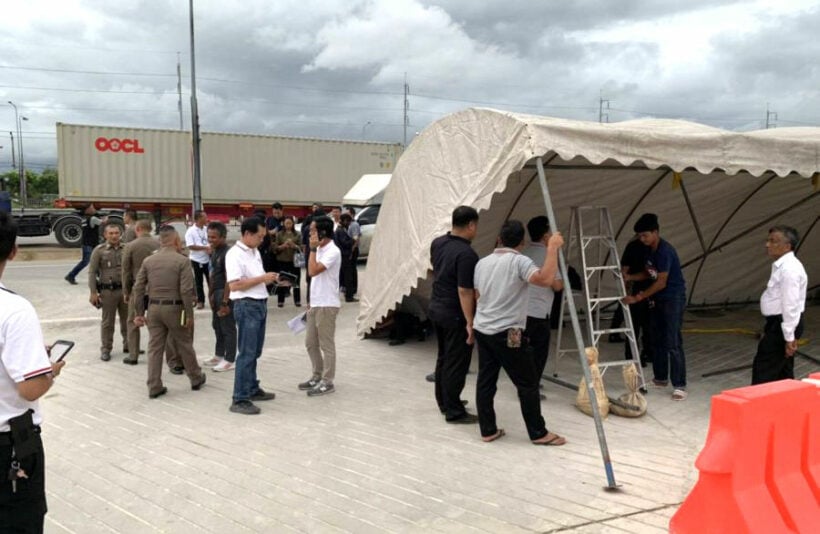 PHOTO: The Nation
Please be seated and fasten your seat belts due to severe turbulence at the front of the almost-open Central Village "luxury outlet" shopping area next to Suvarnabhumi airport in Bangkok.
A dispute between Airports of Thailand and Central Pattana, the owners of Central Village, has hit some mid-air turbulence after AOT officials set up tents blocking the entrance of the hew shopping precinct to open on August 31. The AOT claims the outlet "trespasses the flying zone of Suvarnabhumi Airport" next door.
AOT president Nitinai Sirismatthakarn says he sent officials to inspect the disputed area earlier and found that Central Village was building a road connecting the outlet to the main road.
"The road they are building trespasses the airport's flying zone. The land was assigned to AOT's administration by the Treasury Ministry."
Nitinai added that Central Village also applied for permission to lay a water pipe through the land, which cannot be approved because this, too, would violate flying zone regulations.
Meanwhile, Central Pattana issued a letter claiming its construction strictly follows current urban laws and regulations, and that it had received approval from related agencies before commencing all work.
The letter also said that applying for tap water and electricity connections from responsible authorities is a fundamental right to basic infrastructure, which every citizen is entitled to.
SOURCE: The Nation
Keep in contact with The Thaiger by following our
Facebook page
.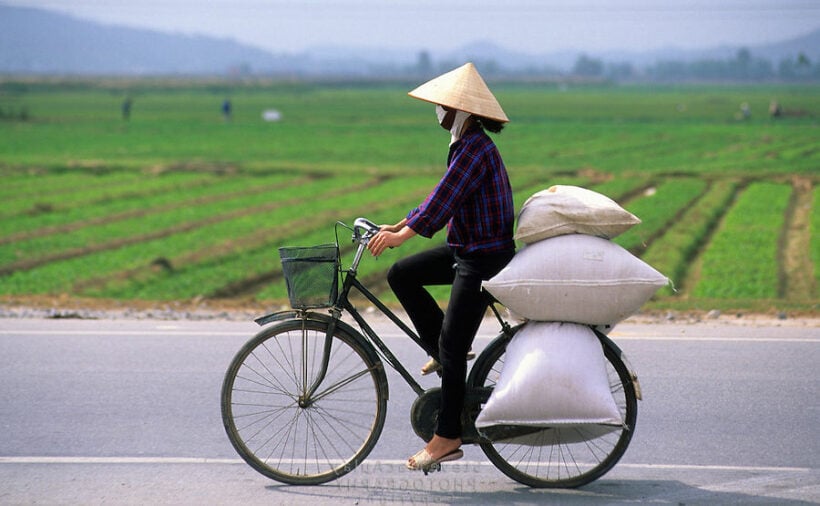 OPINION
Expat blog 'Dan about Thailand' by ThaiVisa's Dan Cheeseman, has an article about the Thai expats who are looking to regions beyond to plant their flag as the murmurings become a symphony of complaints about their current life in the Land of Smiles.
"Living in Thailand for many of us Expats is what dreams are made of. With a beautiful climate, food and wonderful Thai people, it is paradise. But everything has its tipping point yet we don't really know what an expats tipping point was when it came to upping sticks and leaving."
Dan, a family man who has spent time living in Pattaya and Hua Hin, reflects mostly on the plight of the British expat who has seen a falling baht/pound exchange rate, rising costs and complexities in visas, affect their capabilities and desire to continue living in Thailand.
There has been a whole number of factors in recent times that has made living in Thailand more challenging, moreso for retired expats; with the strengthening of the baht and weakening of domestic currencies causing a serious financial issue. This shifting of valuations has meant Thailand is no longer a cheap place to retire.
In reality the 'British Expat' is a small proportion of the 2019 Thai expat mix which is now made up mostly by Chinese, Japanese, Americans, then a wide range of many other nationalities including the British.
It has always been a finger in the air to try and guess the numbers of retirees in Thailand, if you spoke with many seasoned working expats a few years ago they would more often than not say somewhere between 250,000 and 500,000 retiree expats lived in Thailand.  But it was always pure guesswork.
Earlier this year, the United Nations Migration report put the figure at nearer 75,000 retirees living in Thailand. This was a figure that shocked many, as it was far lower than anyone could have guessed.
And so to the Thailand's nearest neighbours, including Vietnam, which are now being touted as a viable alternative to move their pension and their lives. Dan provides evidence of a palpable interest in the communist country, still emerging from the protracted Second Indochina War, aka. the Vietnam War, and a developing economic south east asian star.
I recently had lunch with the CEO of one of the six big insurance companies for expats in Thailand. He said each week they get 5 requests from retired expats to move their Health Insurance to Vietnam. That is over 20 requests a month and if this is consistent with the other 5 insurance companies, the figure rises to a 120 expat requests a month.
At the end of the day, life does not stand still and the unpredictability of it means sometimes you just don't see things happening – until they do. It would appear for many retired expats living in Thailand that choice is now Vietnam.
Read the full article HERE.
Keep in contact with The Thaiger by following our
Facebook page
.