Air Asia under fire over racial discrimination at Don Mueang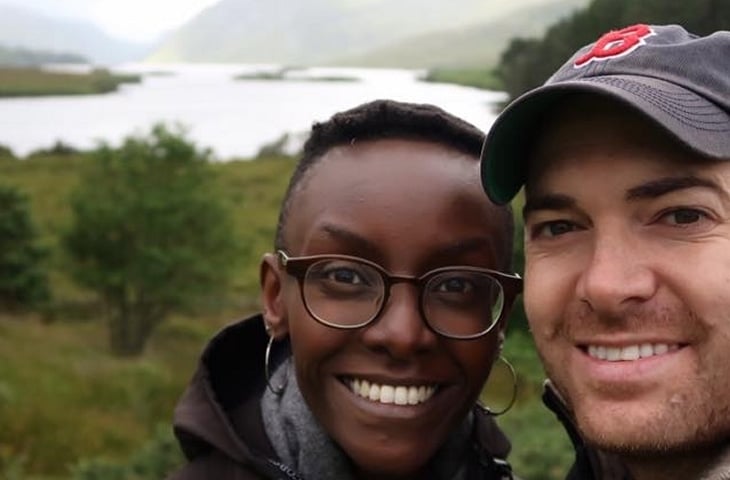 A Bangkok expat has taken to social media to share an open letter to Tony Fernandes, CEO of AirAsia, after facing what he describes as "Racial Discrimination" by airline staff at Don Mueang International Airport in Bangkok.
Philip Culbertson describes in detail how check-in staff questioned his group for an hour, demanding to see US$800 each from his wife and her cousin, both holders of Kenyan passports, for a two day trip to Laos. No cash, no tickets.
After an hour held up at check-in, a manager for the airline spoke with the group and soon relented on Mr Culbertson's wife having to show proof of funds. They then pooled their cash to provide the $800 demanded for Mrs Culbertson's cousin.
In the open letter it is then claimed the manager and her assistant held all three for around 30 minutes scrutinising the cousins passport even after the funds demanded had been provided.
Mr Culbertson describes the incident as "incredibly humiliating" adding "Our holiday was ruined as we were unable to shake the blatant discrimination and hassle that we endured with Air Asia".
Here's the letter….
Racial Discrimination / Profiling – Air Asia Staff
Private Letter/Message have gone unanswered by AirAsia
Open Letter to Tony Fernandes
I write this as a long time Air Asia customer who recently endured a long bout of what appeared to be, racial discrimination from Air Asia staff in Don Meung Airport (Bangkok, TH) on 11 August 2017.
Allow me to begin by stating that I am a contracted employee who works for an organization in Bangkok, Thailand where both my wife and I have resided over the past two years. Both my wife and I are legal residents of Thailand and both my wife and I have permits, and multiple entry stamps (valid through 31 December 2017) in our passports. Based on the work I do, I am very familiar with how the airports and immigration are meant to operate in Thailand, and the treatment we received from Air Asia staff was in no way legal, nor ethically compliant with the standards set. This information is pertinent.
For context, I regularly fly for both business and pleasure throughout the region, approximately twice a month. I have traveled to 61 countries for work and pleasure, and the treatment we endured from Air Asia staff on 11 August 2017, was the worst and most humiliating airlines experience that both my wife, her cousin who was travelling with us, and I have ever endured.
· We booked three round trip tickets from Bangkok – Luang Prabang for a three day weekend holiday on 4 August 2017. Booking Number TR2J2E.
· Flight FD1030 departing Bangkok at 14:30 on 11 August 2017.
· Air Asia customers: Myself, Wife and Cousin
· Arrived at ticket counter on 11 August at approximately 12:05PM
· All passports and visa documents were valid, had proper validity periods, adequate available pages, and onward flight information was available.
· We provided our passports, ticketing information to the Air Asia agent behind the counter at this time as we were near the front of the line.
For the next 60 minutes the ticketing agent refused to provide our tickets to us. Again, both my wife and I have valid immigration documents in both our passports. Her cousin has a multiple entry Thai visa that is valid through till 08 February 2018. The cousin had provided proof of $5,000USD to Thai Immigration in Nairobi, Kenya at the Royal Thai Embassy, upon such proof she was granted a multiple entry visa for Thailand.
The country we were going to tour was Laos (visa on arrival for all nationalities) a country my wife and I have visited three times now, all on Air Asia. The agent disregarded all of our valid documents and proceeded to ask to see how much cash we had on hand to take to Laos? Since when is this ticketing procedure with Air Asia?
He then proceeded to state that both my wife and her cousin must show $800USD each to him before he will issue our tickets. Again, we fly regularly through this airport, and with Air Asia, this was new to me. Also, who carries that kind of cash in 2017 for a two night holiday in Laos? We were beginning to panic as we did not have $1,600USD just sitting in our wallets. He then began demanding he see the cousin's ticket for return to her country of origin (Kenya). She provided him the ticketing information that shows she will depart Thailand on 17 August 2017. He spent a considerable amount of time "researching" the validity of this ticket. We continued to stand there in disbelief for this one hour period, quietly as he rummaged through our passports.
Again, why is Air Asia refusing to issue a ticket to three individuals with valid work permits, and multiple entry visas that are valid through the entirety of 2017 by the Ministry of Immigration (MOI)? I can tell you that my wife and her cousin were the only black people in line and they just so happened to be the only people being asked about onward flights, being told to brandish $1,600USD in cash, and the only people being held up for over an hour.
The agent then told us to go speak to his Manager as he was refusing to issue our tickets. Last I checked, Immigration has the right to enforce certain criteria, but not the airlines at check-in. Airlines do however have the responsibility to ensure passengers have proper visas, and their passports are valid, and in some cases, check for 'onward travel.' All such criteria we met and happily provided. Never once have I been refused my ticket by an airline at the check in counter.
It should also be noted that in accordance to Thai Law, an Immigration officer in some cases can request proof of funds of 10,000Baht ($325) for individuals and 20,000Baht ($650) per family. Not however $800 for an individual, and not by airlines staff. This is a requirement meant to prevent "begpackers" or people who may become destitute in their country, and is enforced in some rare cases on those who are seeking a 'visa on arrival' to that country of station. Not from an airlines staff member wishing to depart the country of question.
Furthermore, if such policies are being instituted by airlines staff, there should be signage that says such and staff should be able to adequately provide this information. Neither such situation occurred, and after checking with our Immigration partners with the Ministry of Interior in Thailand, they further expanded that the onus is not on the airlines, and such practice is unorthodox and 'unheard of'.
We proceeded to the Manager and a young lady, both Air Asia staff. They continued the process of asking to see Ms. Kamau's onward flights, continuously checking the stamps in our passports, and then saying we need to produce $800USD for "each Kenyan". I argued respectively and in a low tone that again, my wife is on a spousal permit in Thailand (as they clearly saw in her passport) and she has a multiple entry stamp in her passport (as they clearly saw multiple times). They finally relented on that, but then demanded her cousin show $800USD cash to spend in Laos (for two days). I asked to see where this is a rule, or what policy is this? They were unable to answer. My wife and her cousin were the only people being held to such rigorous standards, as well over a hundred passengers moved through the line in a fluid manner. Again, my wife and her cousin were the only black people in line being shaken down by your staff, leading one to believe there may be an element of racial profiling.
We spent another thirty minutes with these two staff, who continued to pour over the cousin's very distinguishable multiple entry Thai visa. They continued to "research" her onward flight to Kenya on 17 August, and they continued to say they would not issue our tickets until we showed $800USD. This was incredibly humiliating. They said this must be done with the Kenyan passport. I know for a fact this is not true. My wife (Kenyan passport) and I just flew in and out of Thailand a week prior, as well as a high number of times before this. Never an issue. All three of us were humiliated. They continue to say that if we don't show the money, they will not issue our tickets. Finally, we pulled out all the money we had and laid it on the counter. People walked by and whispered, I saw some Thai people taking photos of us as we laid out our $100 dollar bills, and stacks of Thai baht, trying to come up with a number that equals $800. (see photo).
We were finally able to muster the cash, and your staff stood there diligently counting through our money as crowds watched nearby. After another ten minutes the staff issued our tickets. By this time we were at risk of being late for our boarding gate. After being humiliated by the Air Asia staff we proceeded on. I can safely say that 'traveling while black' with Air Asia was the most humiliating airlines experience of our lives for all three of us. Our holiday was ruined as we were unable to shake the blatant discrimination and hassle that we endured with Air Asia.
What if I chose not to put those extra hundred dollar bills in my wallet that morning? Apparently Air Asia would have refused to issue our tickets, I would have had to eaten the cost of the tickets, lost all our money on our hotel booking and been deprived of a fun weekend in Laos. What policy is it where African passport holders have to walk around with huge sums of cash to prove they can have a ticket to go to Laos for two days, and in such manner that there is no warning or caution of such practice?
On our return trip from Luang Prabang to Bangkok, at the airport in Laos the ticketing agent looked at all of our passports, noted the multiple entry visas and issued our tickets within a period of less than three minutes (I counted). This is what should have happened two days prior in Bangkok.
Mr. Fernandes, in your August 2017 issue of the Air Asia in-flight magazine (Issue 121) you write:
"…rest assured that even while chasing dreams, our promise to you, our valued guest, remains the same – to make flying more affordable and enjoyable for everyone."
Well Mr. Fernandes, you've made it more affordable to fly, however for a Kenyan, flying with Air Asia has been anything but enjoyable. Such incidents I feel should be brought to the attention of those who can institute change from the top, and in 2017, staff should not be singling out races or nationalities to enforce rules or regulations that they have no business enforcing.
I trust you receive this well, and given your reputation and public display of business ethics, I further trust you'll investigate the matter.
PHOTO: Philip Culbertson
- The Thaiger & The Nation
Same-sex civil union bill ready for Cabinet in two months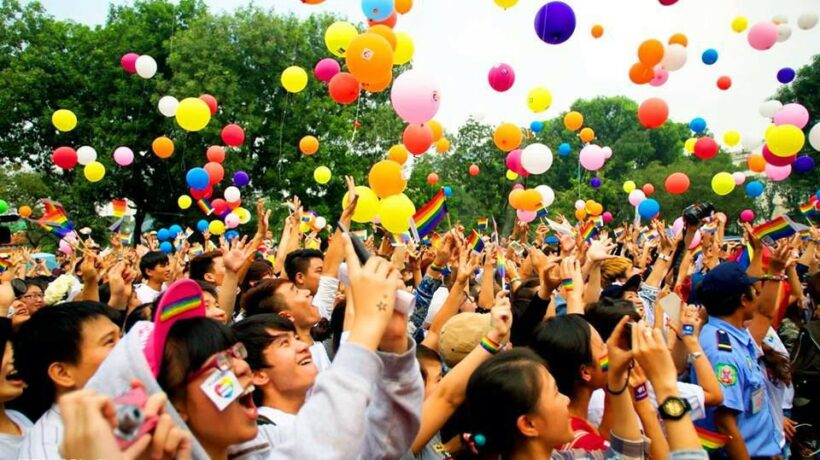 A same-sex civil partnership law should be drafted and discussed before next year's elections.
Pitikarn Sitthidech, the Rights and Liberties Protection Department chief, saystThe law, allowing same-sex couples to formally register as life partners, should be drafted by September.
It would then be submitted to Deputy PM and Justice Minister ACM Prajin Juntong, who would decide whether it should go to the Cabinet, she said.
Pitikarn says the sub-panel drafting the legislation that's been hailed by some as a progressive step towards the legalisation of gay marriage would meet on July 25 to review its 63 articles. Panel members were likely to make adjustments, she said, some based on the experiences of other countries that have adopted similar legislation, such as Mexico, South Africa, Canada, Australia and Britain.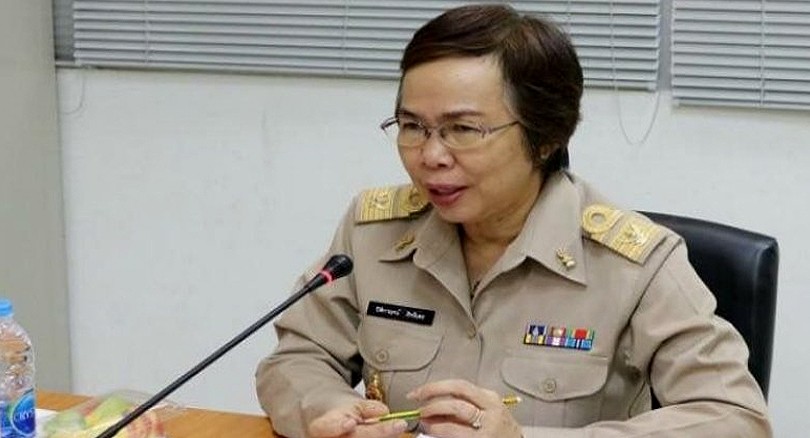 Pitikarn Sitthidech – Rights and Liberties Protection Department chief 
The bill will then be forwarded to the Rights Department's law development committee for further tweaking in September, and then to Prajin, Pitikarn said. She pointed out that the process in some countries had taken up to 10 years, but Prajin wanted to fast-track Thailand's version because of the many LGBT (lesbian, gay, transgendered and bisexual) citizens who deserve the same rights as everyone else.
Pitikarn said Prajin had insisted that the authors of the legislation understand the situation in society well and the sensitivities involved. He wanted guidelines set out to support the status of same-sex life partners registered in other countries who were now living in Thailand to ensure they enjoyed the rights to which they were entitled.
Prajin wanted it made clear which agency would handle registrations once the law comes into effect. And he expects the law to lay the foundation for the legalisation of gay marriage.
"Since the ministry began moving forward on this law, we have received good feedback from the LGBT community and a 60,000-name petition expressing support for the action, as well as much useful information," Pitikarn said.
"I believe many more people are passively supporting this law – the many who haven't yet expressed their LGBT status."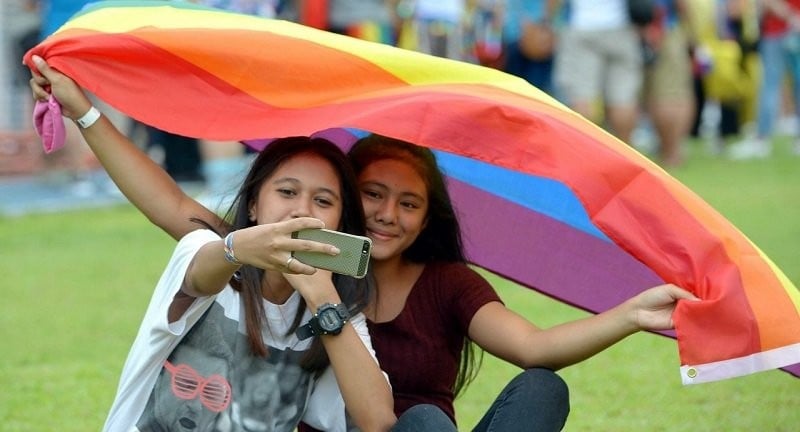 SOURCE: The Nation
Floods continue to cause havoc in the north, west and central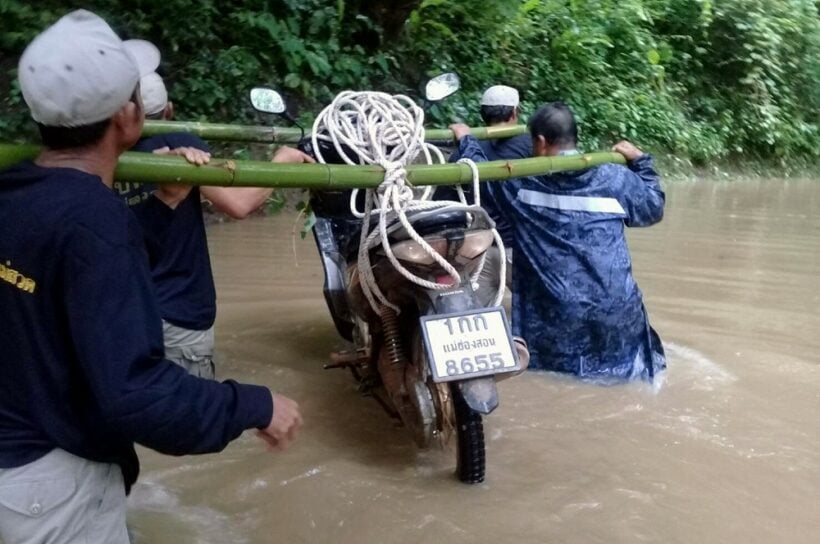 Floods are causing havoc across swathes of provinces across Thailand. From the north in Chiang Mai, to the west in Kanchanaburi and as far south as Prachuap Khiri Khan and Ranong.
The Thai Department of Disaster Prevention and Mitigation chief says that the flooding has been triggered by tropical storm Son-Tinh which still sits over Laos, so far affecting 13 Thai provinces and 2,369 families between July 17 and today (July 22).
Director-general Chayapol Thitisak said 23 districts witnessed flooding and in some cases landslides in Kanchanaburi, Tak, Chiang Mai, Mae Hong Son, Phichit, Nakhon Sawan, Trat, Phrae, Phetchabun, Phitsanulok, Ranong, Phetchaburi and Prachuap Khiri Khan.
Conditions have normalised in 10 provinces, he said, but there is still flooding in six districts in three provinces.
In Kanchanaburi's Sangkhla Buri district, 400 families are affected, in Tak's Mae Ramat, Phop Phra, Tha Song Yang and Umphang districts 80 families, and in Prachuap Khiri Khan's Hua Hin district another 80 families, though the water level is decreasing.
Next cause for concern, says the Meteorological Department, is a tropical depression over the upper South China Sea that's moving towards the upper Philippines at a maximum sustained wind speed of 55 kilometres per hour.
It will not affect Thailand directly, the department predicted, but travellers should monitor the situation if they are travelling in these regions.
"The southwest monsoon over the Andaman Sea and Gulf of Thailand is also strong, creating waves up to three metres high", it says.
"Ships should proceed with caution and small boats should stay ashore".
Chayapol said he had contacted officials in provinces in the East and upper South to be prepared in case of flooding or seaborne mishaps.

STORY: The Nation
Boeing says Asian region biggest growth area for aviation in next two decades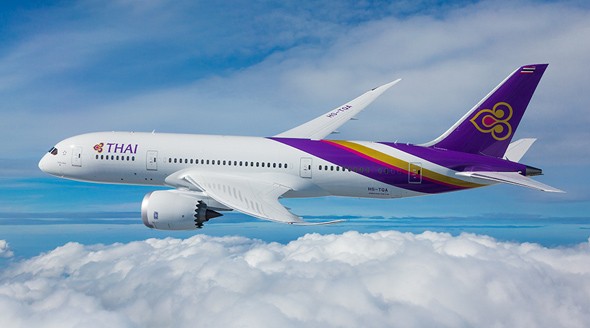 By Data Leads. PHOTO: Thai Airways Boeing 787
Asian countries are estimated to require 16,930 more airplanes by 2037, making the region the fastest growing aviation area in the world.
Boeing's annual forecast, the Commercial Market Outlook, reveals that the world fleet of jet planes would need 42, 370 new planes valued at US$6.3 trillion. The forecast predicts that the global demand for commercial aviation services will create a market opportunity of US$15 trillion.
According to Boeing the region operators will demand 40 per cent of passenger jet deliveries in the next twenty years, more than double the amount as compared to other regions.
China will be a key player in Asia that will contribute to Boeing's growing business in the region. Analysts predict that China's growing middle class will eventually lead to the country overtaking the U.S. within 10 to 15 years as the largest domestic airplane passenger market in the world.  Airplane demands will be highest in the region at 16,930 deliveries valued at US$ 3, 365 billion.

North America is predicted to have second highest demand of airplanes with the requirement of 8,800 deliveries valued at US$1,850 billion.  The aviation industry in the region has been experiencing a steady growth in the last few years. Boeing forecasts that the total fleets will increase 44 per cent in the next twenty years.
Europe will be the third highest region in terms of demand of airplanes and estimated profit that it generates. Edging close to North America, the region is estimated to demand 8,490 airplanes in the coming twenty years. The market value is estimated to be US$ 1,240 billion.
Latin America and Middle East will see the demand in fleet deliveries at 3,040 and 2,990 respectively. The market value is estimated to be US$ 360 billion and US$ 745 billion respectively.  Russia, CIS and African region will see low demand as compared to other regions.  The market value is projected to be US$ 265 and US$ 215 billion respectively.
The Commercial Market Outlook is the longest running jet forecast and considered  as the most comprehensive analysis of the commercial aviation industry.