A mid June summit in Singapore – The Trump/Kim meeting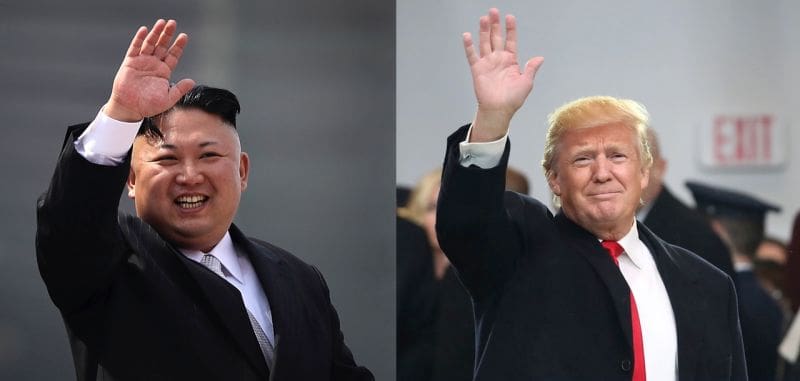 Mid June. Singapore. That's the latest betting for the proposed meeting between North Korea's Dear Leader Kim Jong Un and the US Dear Leader President Donald Trump.
Many Asian nations have put up their hands to host the historic summit with Thailand being a favourite a few weeks ago, citing it's long term relationship with the US, neutrality over the ongoing North Korean politics, security, ease of media coverage and great photo opportunities.
Who wouldn't love to see President Kim Jong Un and President Trump dressed up as the cast from the popular soap opera "Bupphesaniwat" (Love Destiny)"?
But this week the 'most likely' location is Singapore in mid-June, according to South Korea's largest newspaper.
Citing diplomatic sources in Washington, the Chosun Ilbo is reporting that Singapore is deemed the 'strongest' candidate to host the summit, although there is still a possibility that Trump "who likes dramatic effects" would choose Panmunjom in the Demilitarised Zine at the last minute.
In its front page report, the Korean language paper also said the meeting will most likely be held in the third week of June (9-15), after Trump visits Canada for the G-7 summit on June 8-9.
Trump announced on Friday that a date and venue has been set for his meeting with Mr Kim.
"We'll be announcing it soon," he told reporters as he left the White House for a trip to Texas, without elaborating.
The two leaders are expected to discuss the denuclearisation of North Korea during their meeting, which comes weeks after Kim Travelled to the truce village of Panmunjom located in the North-South border to meet South Korean President Moon Jae In.
Kim reportedly wanted to meet in Pyongyang, but was later persuaded to travel to Mongolia, a country which has diplomatic ties with both the US and North Korea and is accessible by rail so Kim can travel there in his bulletproof train.
European countries Sweden and Switzerland have both offered to host the summit, but were ruled out due to distance from Pyongyang.
South-east Asian countries Indonesia and Thailand have also expressed willingness to play host.US officials reportedly prefer Singapore, which is well known for its security.
"Singapore's neutrality is a draw for both (US and North Korea). Public security is not a worry. Both Pyongyang and Washington have embassies here. The US is also favourable towards a location with prestige and glamour.
"Singapore's Prime Minister Lee Hsien Loong, however, said on April 28 that the city state has not received any formal invitations or request to host the summit. Meanwhile, the White House said that President Trump will host his South Korean counterpart Moon Jae In for talks at the White House on May 22.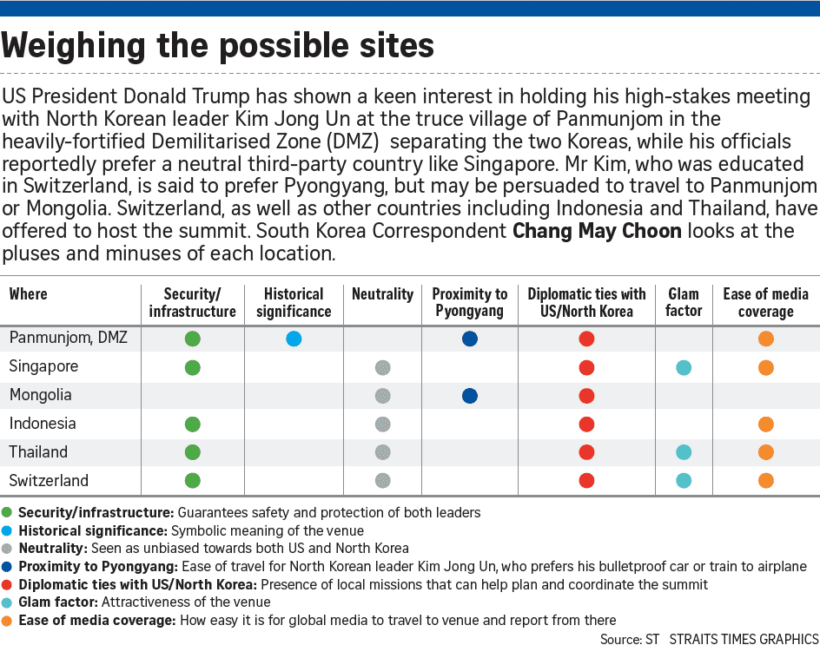 SOURCES: The Straits Times, The Thaiger, The Nation
Keep in contact with The Thaiger by following our
Facebook page
.
No date for resumption of international arrivals: PM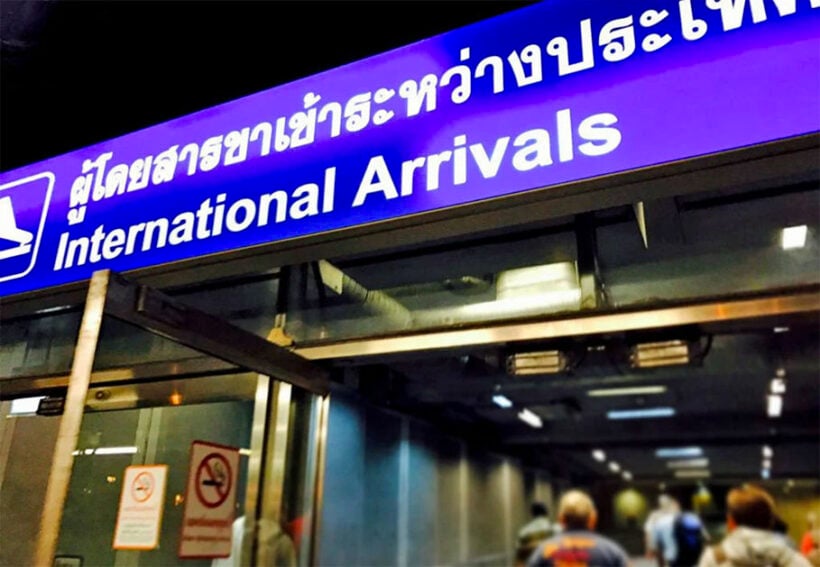 In an apparent effort to quell rumours and undue optimism, PM Prayut Chan-o-cha is downplaying the notion that international tourists will be allowed to return to Thailand in July. The government had set a tentative deadline of 1 July for lifting all restrictions put in place under the Emergency Decree to combat the spread of Covid-19. Last week it was reported the lifting of restrictions would mean that international arrivals would resume from July 1.
But yesterday the Thai PM said Thailand still has a long way to go in its fight against the virus before international tourists can be allowed to return. He added that the issue hasn't yet been even discussed by the Cabinet, and that only tourists from certain countries may be allowed to visit Thailand, namely those where the outbreak is deemed to be under control.
When tourists are eventually allowed back in, he said, they'll face "a number of restrictions" which he didn't specify. This will include so called "travel bubbles," using bilateral agreements with individual governments to help limit any further outbreak or second wave of infections.
The idea is similar to those enacted elsewhere as countries try to safely kickstart their tourism sectors.
In May, a "travel corridor" allowed people to travel between Seoul and 10 regions in China, including Shanghai, and in Europe, Estonia, Latvia and Lithuania established their own travel bubble on May 15.
Australia and New Zealand have discussed plans to resume travel between the 2 countries, potentially as early as September.
The news comes as Tourism Authority of Thailand's governor said last week he doesn't expect international tourists to return to Thailand until later in the year.
"It is still dependent on the outbreak situation, but I think at the earliest, we may see the return of tourists in the fourth quarter of this year."
If and when foreign tourists can return to Thailand, there will likely be restrictions in place to determine where they can visit. The resumption of any form of tourism will also rely heavily on airlines, most of which are struggling with huge financial losses and grappling with restarting flights in a very new international travel paradigm.
The PM has said he is in no rush to open up the borders, reminding reporters that all the new infections are now coming from repatriating Thais.
"We are not going to open all at once. We are still on high alert, we just can't let our guards down yet. We have to look at the country of origin to see if their situation has truly improved. And lastly, we have to see whether our own business operators are ready to receive tourists under the 'new normal'."
A ban on all international travel in and out of Thailand remains in place until at least the end of June. The CAAT have made no comment at this stage about dates for a possible resumption of flights from Thailand's international airports. Phuket Airport remains closed to all traffic.
SOURCE: thaivisa
Keep in contact with The Thaiger by following our
Facebook page
.
Major makeover proposed for Pattaya's Walking Street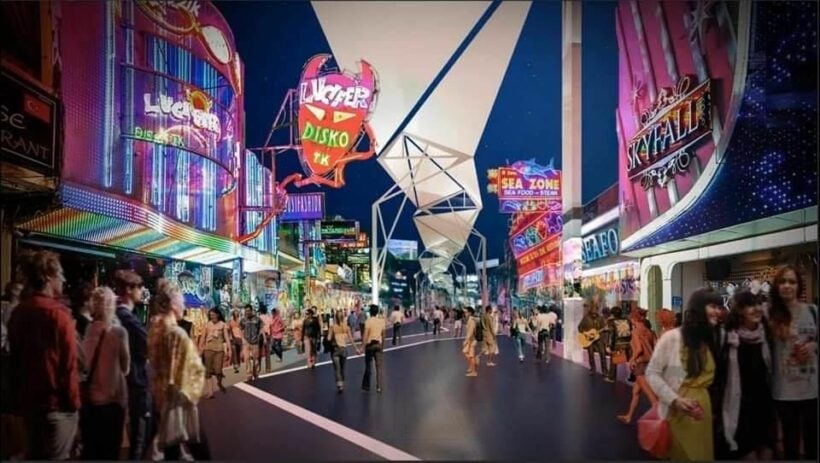 … but few are impressed. Images on the Facebook page of Pattaya City reveal plans for a major re-imagining and makeover of one of the resort's most notable, and notorious, landmarks – Walking Street. Gone are the grotty road, broken pavements and lurid signs and frontages, and in their place will be an easy to navigate walking area fit for families.
Problem is the tourists and traffic Walking Street has attracted in the past are likely not interested in the swish makeover and quite liked the red light atmosphere and the bar girls in hot pants leaning out of the noisy bars.
But the Thai government has seemed fixated on cleaning up the streets' reputation for years, with little success. Now, the futuristic design and slick new look make the red light district look like just another shopping street. Online critics are already jumping on the bandwagon saying it will be "just another mall."
"There is not a hanging wire – or streetwalker – in sight!" one complained. Where are the tangled coils of telephone and power cables? Where are the neon signs with at least one letter not working? Where will the crusty old expats end up if they're pushed out of Walking Street?
The designs were presented by the city's engineering team to Pattaya's mayor and his deputies yesterday, to an apparently "lukewarm" reception.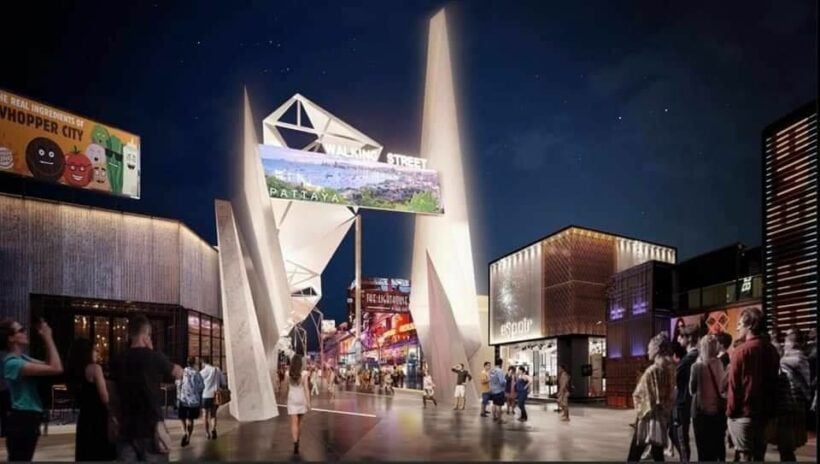 The mayor remarked that Walking Street has to be "fit for purpose" and any revamp "must not adversely affect livelihoods. Though he seemed to agree that the area must be fit for daytime as well as nightlife use, he stressed that any makeover must ensure that the "special smell and flavour" of Walking Street are maintained. Oh yes, THAT smell.
"After all, Pattaya is a renowned world class resort. And it must be able to generate revenue, that's important."
He sent the engineers away to revise their designs ahead of the next discussion on the issue.
Thai and foreign comments on the news were extensive and mixed. Most agreed that it's time for a makeover, but opinion differed widely over exactly how and how much.
The reality for the city is that the Walking Street occupies prime real estate and the owners of the land want to maximise the potential value of retail and food and beverage offerings, and would prefer that it had a broader appeal beyond its raunchy nighttime-only activities. It's inevitable that the red-light district will move into lower-rent areas of the city.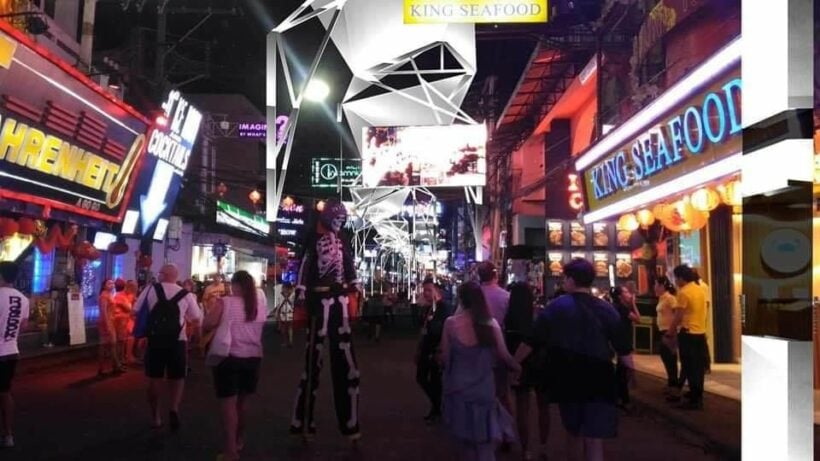 SOURCES: thaivisa | Pattaya City
Keep in contact with The Thaiger by following our
Facebook page
.
PM distancing himself from party room clashes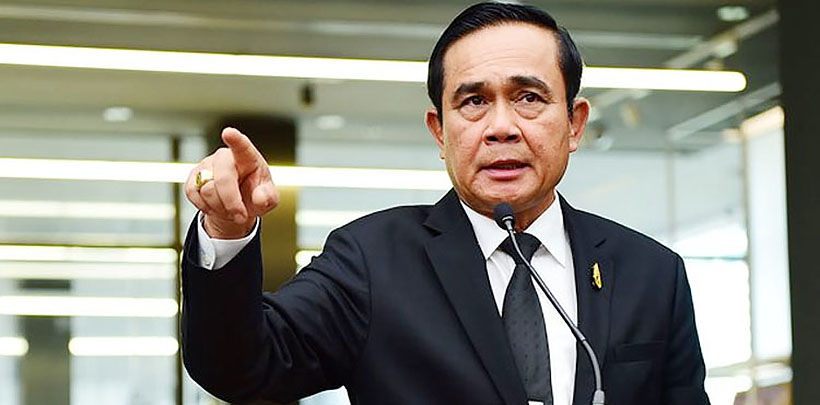 PM Prayut Chan-o-Cha appeared to distance himself from party politics, and internal strife within the ruling Palang Pracharat party, after 18 members resigned en masse to pave the way for the election of a new executive committee, party leader and secretary-general. He repeatedly deflected questions from reporters about speculation that the resignations were intended to replace party leader Finance Minister Uttama Savanayana with Deputy PM Prawit Wongsuwan, who has been the party's chief strategist.
The PM says it's is an internal affair and quite normal for any political party. He says he doesn't want to make excuses, and he will not get involved in internal party politics unless it concerns the Government or the coalition's stability. He told reporters that the conflict within the party should be settled by party members, without the need for him to get involved, and warned the media not to dramatise the issue.
Prayut also made it clear that changes to the executive committee are a separate issue from Cabinet appointments, which concern all parties in the coalition, adding that he has to prepare to address the House of Representatives tomorrow about changes to the 2020 fiscal budget bill.
"Be cool, don't be temperamental. I have been very calm so far because it won't do any good for me to get upset."
Culture Minister Itthiphol Khunpluem says most Palang Pracharat party members don't object to Prawit being elected party leader. Like Prayut, he maintains that a change of the party's executive committee is a normal process.
SOURCE: Thai PBS World
Keep in contact with The Thaiger by following our
Facebook page
.