73% of Thais are buying online – Experian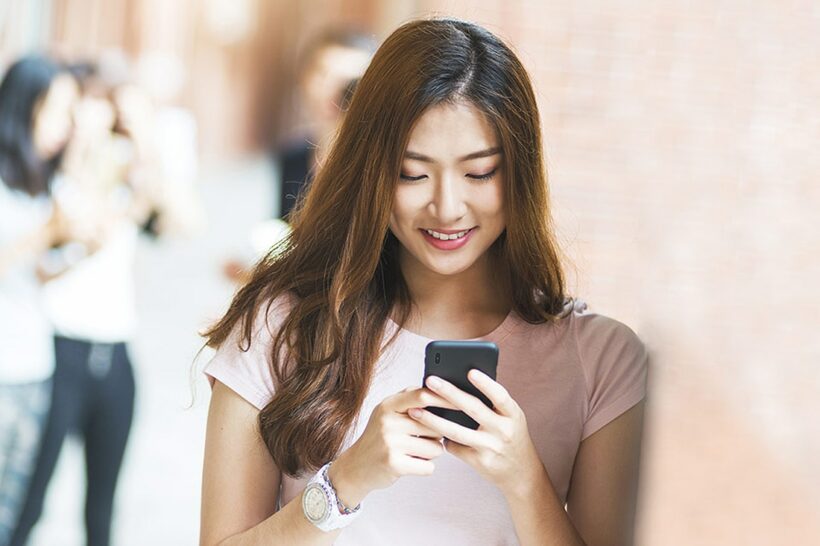 Three quarters of Thai consumers are making online purchases, with Beauty and Fashion, and Electronics being the top categories. However, as consumers continue to look towards convenience, fraud exposure will likely increase – these are the findings of the Digital Consumer Insights 2018 by the world's leading information services company Experian, co-authored with leading ICT market research and advisory firm IDC.
The Digital Consumer Insights 2018 report is based on a consumer survey across ten APAC markets including Australia, China, Hong Kong, India, Indonesia, Japan, New Zealand, Singapore, Thailand and Vietnam. It looks at how businesses fare in fraud management, through their customers' eyes and is a complementary report to the Fraud Management Insights 2017 report which looked at fraud management through the eyes of enterprises.
The report found that there was an interplay between convenience and fraud. With the growth of convenient interaction and transaction platforms such as frictionless payments, and a continuous goal to provide better and seamless customer experiences, opportunities for fraud increases.
"Thailand's e-commerce market is rapidly growing, with 73% of respondents having made online purchases," said Dev Dhiman, Managing Director, Southeast Asia and Emerging Markets, Experian Asia Pacific.
"However, fraud rates are also high, with an average of 19% of Thais having experienced fraud across various e-commerce and services segments, and more than half of our respondents (51%) intending to switch service providers when fraud occurs."


Dev Dhiman, Managing Director, Southeast Asia and Emerging Markets, Experian Asia Pacific
"Unfortunately, the reality is that greater digital convenience is linked to higher fraud exposure. However we also found that greater fraud exposure may lead to consumers being more likely to adopt convenient security measures like biometrics – which will allow businesses to ensure a seamless customer experience while managing fraud."
While the Thai government has begun pushing out biometrics registration (e.g. fingerprinting, facial and voice recognition) nationwide for sim card signups to combat electronic fraud and enhance mobile banking security, only 15% of respondents in Thailand indicated they were willing to adopt biometrics in commercial applications. Thais rank fourth in their willingness to adopt biometrics, after the other developing economies of India, China, and Vietnam.
The Vicious Cycle of Fraud Response: Managing the Fraud Response Cycle and Negating Business Risks
The research found that mismanagement of fraud response results in two different types of losses for companies, due to differing reactions from consumers which are based on their risk attitudes and perceptions. The report identified two groups of consumers, the Digital Voyagers and the Digital Pragmatists. Digital Voyagers dominate in mobile-led, emerging economies and they are more convenience-driven and less risk-averse. On the other end of the spectrum are Digital Pragmatists who tend to come from mature economies and are more cautious and concerned about security.
"Understanding the difference between Digital Voyagers and Digital Pragmatists is important for companies as they react differently to fraud," said Dhiman
"In the case of Digital Voyager centric countries, like Thailand, companies may face escalating fraud costs as digital consumption continues and companies absorb fraud losses to retain customers. In Digital Pragmatist centric countries like Hong Kong, people are more likely to avoid digital transactions in fear of fraud and this results in a loss of digital revenue for businesses."
Consumer's Willingness to Share Data
One of the ways companies can help protect against fraud is to have high quality information about their consumers so that they are able to properly verify transactions. When asked, 51% of Thais are willing to have their personal data shared with businesses specifically for better fraud detection.
Consumers are also selective in the information they share with companies, with 3.8% of Thais saying that they have provided inaccurate information to avoid disclosing personal data. This is lower than the APAC average of 5%. Thais are also the most likely in the region to supply inaccurate information to companies, with 35% having made mistakes in basic personal details like addresses, phone numbers and names, 25% having made mistakes in providing highly guarded personal information like payment details, and 30% having given wrong information relating to their age, gender, income and education level.
"Across the region, we found that there is a trust gap between people and organisations," said Dhiman.
"Consumers are submitting inaccurate data or purposely omitting important information to companies. This, unfortunately, results in it being more difficult for businesses to identify their customers online and fight fraud effectively. With the acceleration of the digital economy, fraud challenges will only grow and companies must ensure they leverage the right technologies and solutions to address the complexities of the digital age."
To download Digital Consumer Insights 2018, please visit HERE.




Read more headlines, reports & breaking news in Thailand. Or catch up on your Thailand news.
Thai PM condemns southern violence. Urges media to be 'careful' covering the story.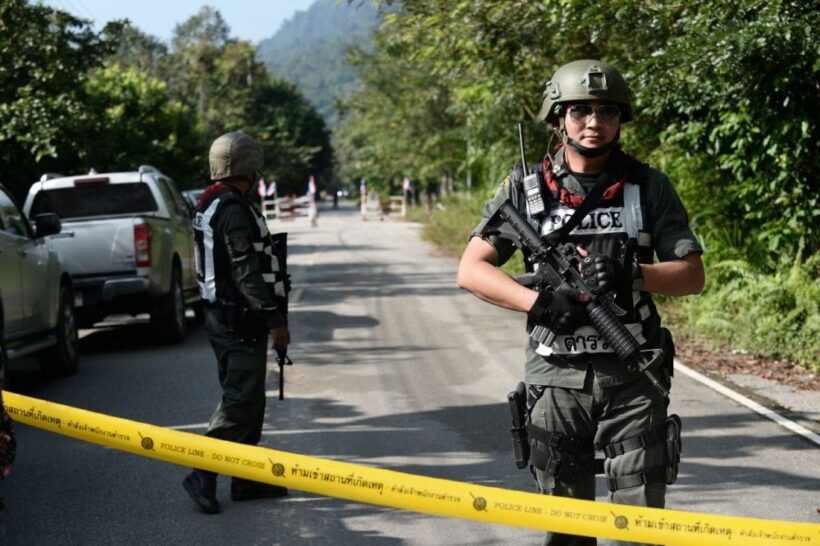 PHOTOS: The Nation
Thai PM Prayut Chan-o-cha has responded to escalating violence in the strife-torn South today by saying that the people behind the deadly attack at a temple in Narathiwat province on Friday night were seeking to ramp up attention given to the violence in the South to the international level and lure officials into conducting "forceful suppression".
"Those who were behind the attack in Narathiwat's Sungai Padi district on January 19 intended to destroy morale, spirits as well as the patience of Thailand in using peaceful methods to solve the ongoing conflicts and violence in the South."
"They want us to use all-out suppression so that the case could draw international attention and later international involvement, as has happened in many countries facing internal violence," he added.
"The attackers also exploited for their own benefit the reports in the media and social-media platforms concerning the attack in which two monks were killed, using them as channels for spreading their acts inside and outside the country."
Trying to suppress coverage of the violence the PM urged the media to be careful with their coverage.
"The media and social-network users should understand the issues and help create confidence and be cautious in their reporting, so that they do not become supporters of the attackers."
He acknowledged that the size of the areas subject to attacks had made it difficult for the authorities to fully take care of people, as well as sensitive targets such as teachers, students, monks and religious leaders.
"Those who want special protection should alert officials and authorities concerned. The public should help the authorities by providing information."
Prayut also asked politicians to be careful in the statements they use in their political campaigns for the upcoming national election.
He vowed to continue the peace talks between the authorities and insurgents' movements and groups, in order to demonstrate to the world that "we have adopted all kinds of measures, not only law enforcement, to restore peace in the southern region of Thailand".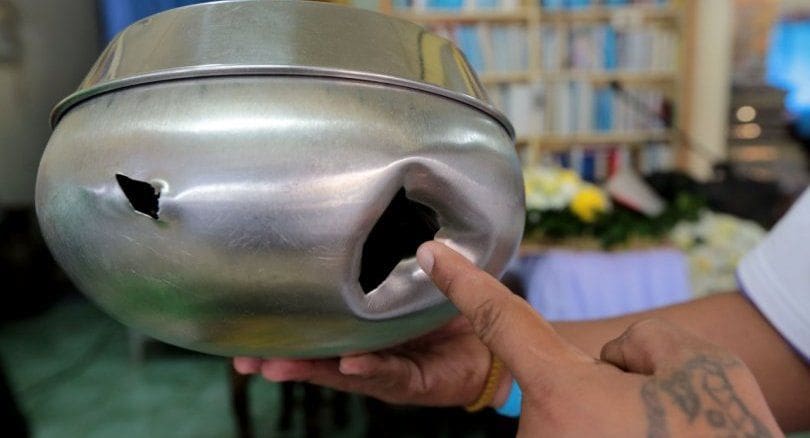 SOURCE: The Nation
Legal action taken against people who removed beer cans from beer truck accident scene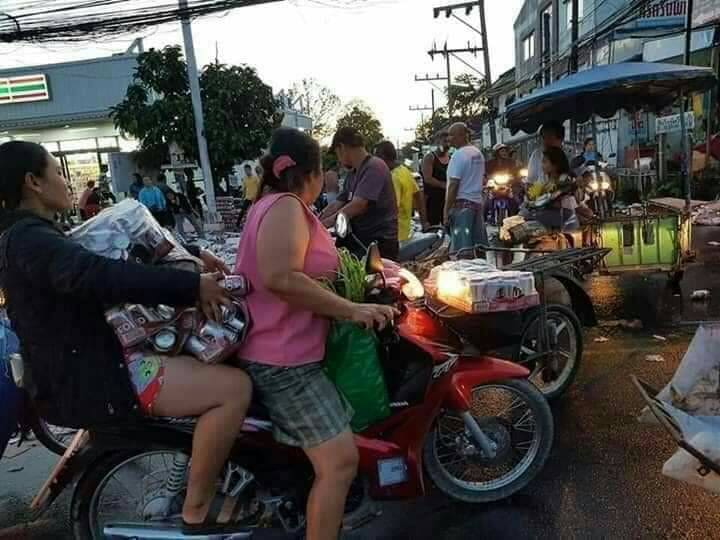 PHOTOS / VIDEO:  Thanakrit Asulyakul / Mana Sombat / Kanlaya Singkangrang / Kritsada Mueanhawong
Legal action has already been taken against four people who 'removed' beer cans after a truck carrying boxes of beer cans overturned in Phuket on January 11.
A logistic company representative has filed a report with police after more than 80,000 beer cans, valued at more than two million baht, mysteriously "vanished" after the truck overturned in Rassada.
Read more about the incident outside a Rassada 7/11 HERE.
The Phuket City Police Chief Col Sompong Thiparpakun says, "Four people have now been arrested. They have admitted that they saw other people taking beer cans, so they did too. They say they have consumed the contents of all beer cans. "
"If evidence can be provided that other people took these beer cans and sold them, legal action will be taken against them too."
"It was illegal to remove these items from the crash scene."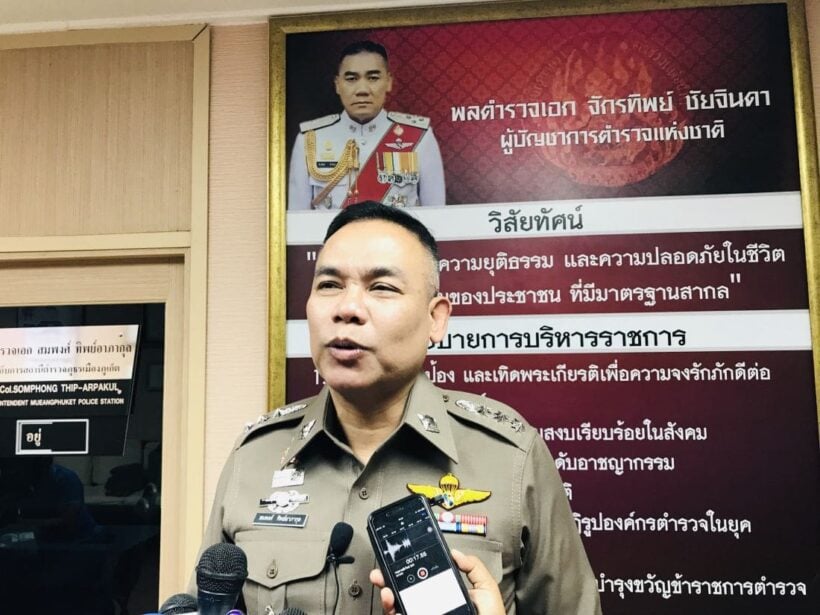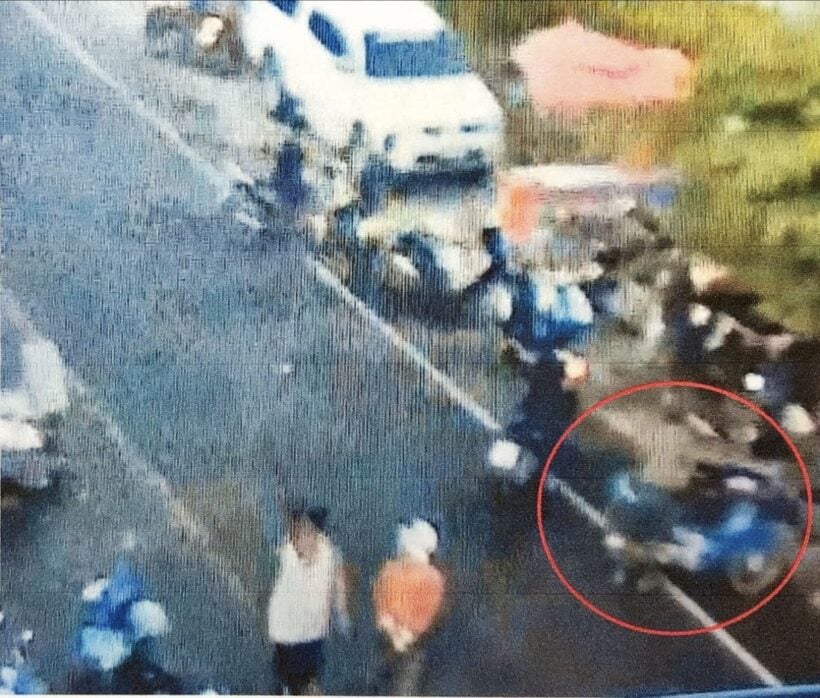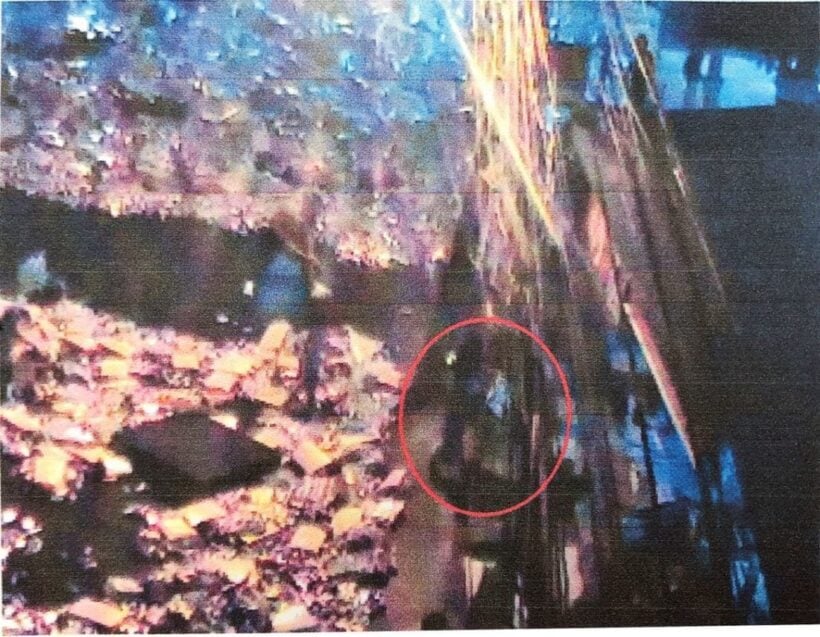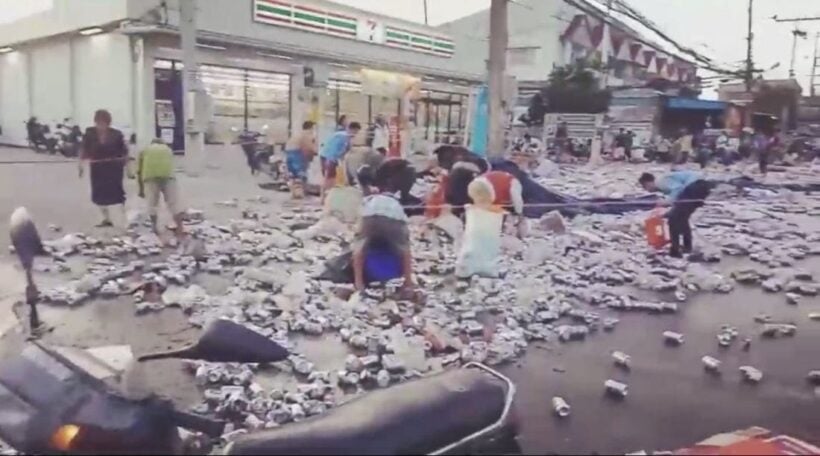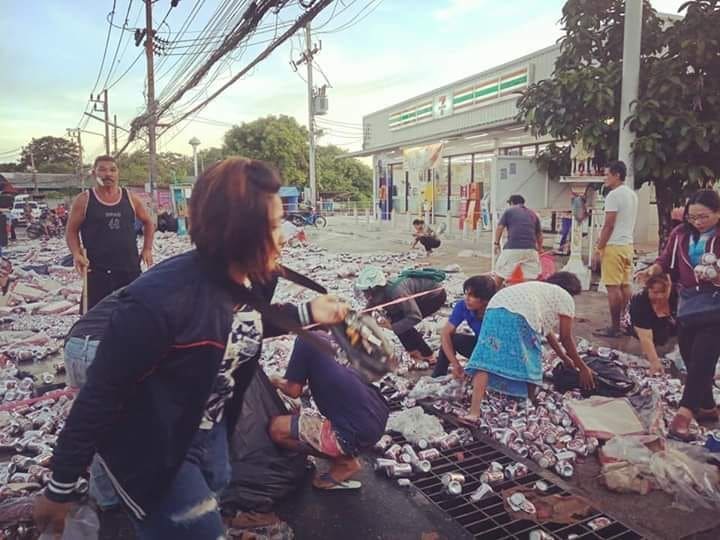 Woman badly injured in Rayong car accident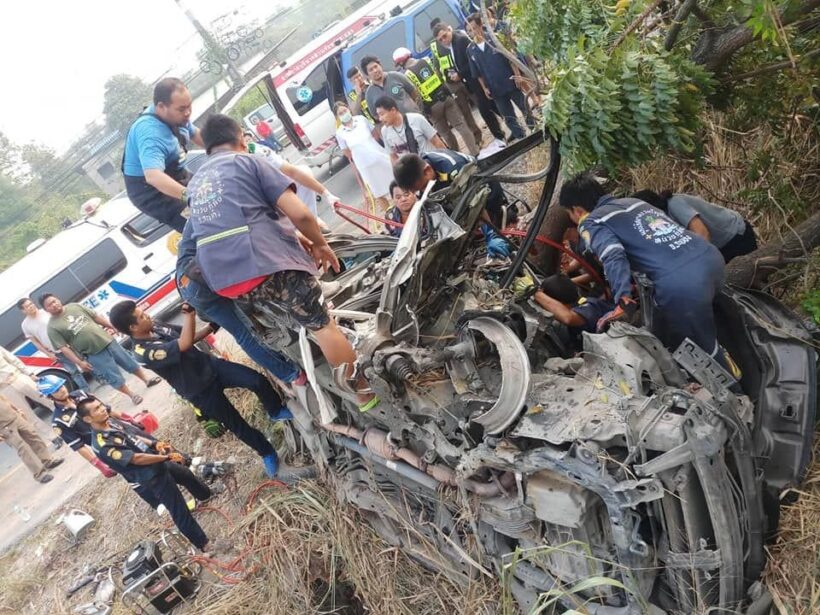 PHOTOS: สื่อสาร 01 / Siam Rayong Rescue Foundation
Rescue workers took two hours to free a woman from a car following a road incident in Rayong south east of Bangkok.
The Siam Rayong Rescue Foundation has reported that they were notified of the incident in Rayong city at 7am this morning.
Rescue workers arrived to find a car overturned after colliding at speed with a tree on the side of the road.
Rescue workers used four set of hydraulic cutters to free the injured passengers from the car. One woman suffered two broken legs and was rushed to a nearby hospital.
Looking at the wreckage it is a wonder no one was killed.