Suspect arrested with over 100,000 meth pills after road accident in Krabi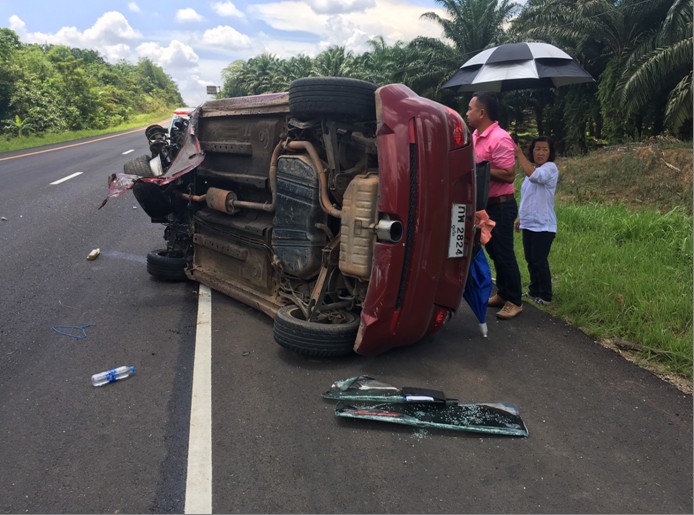 Krabi Police have arrested 36 year old Supat 'Bao' Pueaksom. Police seized 115,150 methamphetamine pills along with a handgun and 10 bullets.
The arrest came after Tuesday (May 5) when Plai Phraya Police in Krabi were notified of that a car collided with a kilometre marker on the side of the Route 44 Southern Seaboard road in Krabi. The car was heading from Surat Thani to Krabi.
Rescue workers and police arrived at the scene to find a damaged car. The driver, Supat, had minor injuries. He was taken to Plai Phraya Hospital.
Police later found that the car was a 'target car' that was being used to transfer drugs. Police continued the search and found 150 of methamphetamine pills and a gun inside Supat's bag .
Supat admitted that he kept more drug at his house in Nakhon Sri Thammarat. Police found 115,000 methamphetamine pills at his house.
The Krabi Provincial Police Commander Maj Boontawee Toeraksa says, "This is the biggest drug arrest this year. We received a tip-off from rescue workers who assisted the accident that led us to arrest Supat."
"Supat admitted that he received drug from his elder brother in Chiang Rai and then delivered them by train to Surat Thani. Drugs were kept in his house before being sold to southern dealers.
"We are continuing to find more dealers to face legal action in regards to this case."




Keep in contact with The Thaiger by following our Facebook page.
Never miss out on future posts by following The Thaiger.
Woman talks about the life of a Thai "pretty" after model's death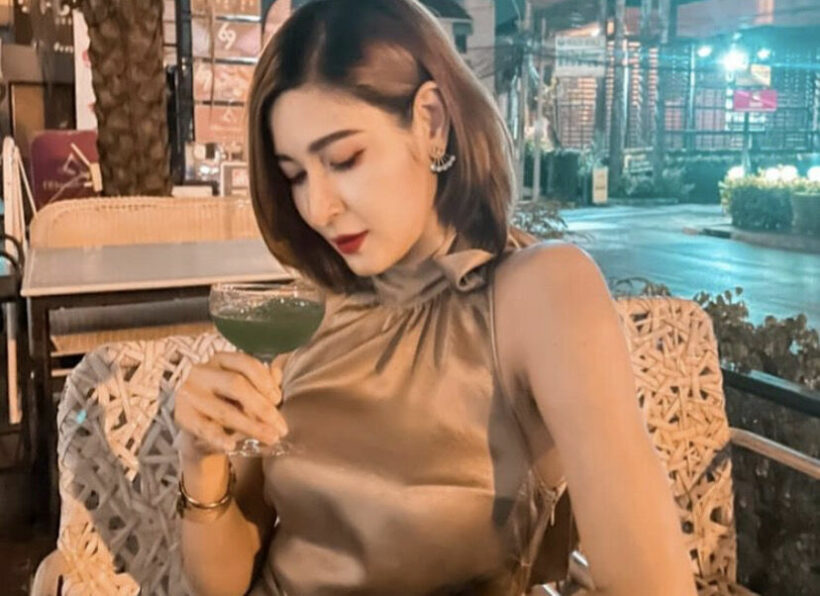 Following the news of a model who died after working as a hostess at a Bangkok party, Thai media spoke with a woman, known in Thailand as a "pretty," about what it's like to work in the lucrative, yet shady Thai model entertainment industry where many work as hostesses at parties and events that often involve alcohol, drugs and sex work.
"Miss Cake" told the Thai news outlet Daily News that pretties are sent to parties by "modelling agencies." The parties are even categorized depending on if drugs or sex are involved. Apparently the parties are either "En-Up," "En-V" or just "En" for entertainment. En-Up means drugs are involved, while En-V means the pretties will offer sexual services. Other pretties work at promotional events like auto shows. Since nightclubs and other entertainment venues in Bangkok have been closed due to the pandemic, many of the parties are now held at private homes.
If a pretty is working at an En-Up party, Miss Cake says that means there will be ecstasy, known as "khanom," the Thai word for a dessert or snack. She says good "khanom" shipped from overseas costs around 900 to 1,000 baht while the poor quality, Thai-made drugs cost 500 baht. Just about every pretty takes drugs, she says. If mixed with ketamine, Miss Cake says it can be dangerous.
Daily News spoke with Miss Cake following the death of a 33 year old Witchayaporn "Wawa" Wisetsombat who worked died in a hospital after working as a hostess at a party in Bangkok's Chatuchak district. She had been hired by a modelling agency to serve drinks at a private party. Her younger sister told the Bangkok Post that Wawa was a product presenter and never sold sex or used narcotics. Doctors told the Post Wawa died from respiratory and blood system failure. They are still waiting for the results for a toxicology test.
The death of another model back in 2019 shed light on the abuse and danger many pretties face in the industry. 25 year old Thitima "Lunlabelle" Noraphanpiphat died from "extreme alcohol intoxication," according to an autopsy report. Her dead body was found in the lobby of a Bangkok condominium. 6 people were found guilty for involvement in Lunlabelle's death.
Abuse is common in the industry and many women working as pretties are often pressured into drinking excessive amounts of alcohol. The work of pretties is looked down upon in Thai society. Due to the stigma, many due not file complaints when they are abused.
SOURCE: Thai Visa
Keep in contact with The Thaiger by following our Facebook page.
Never miss out on future posts by following The Thaiger.
Governments & old media versus social media – who will win? | VIDEO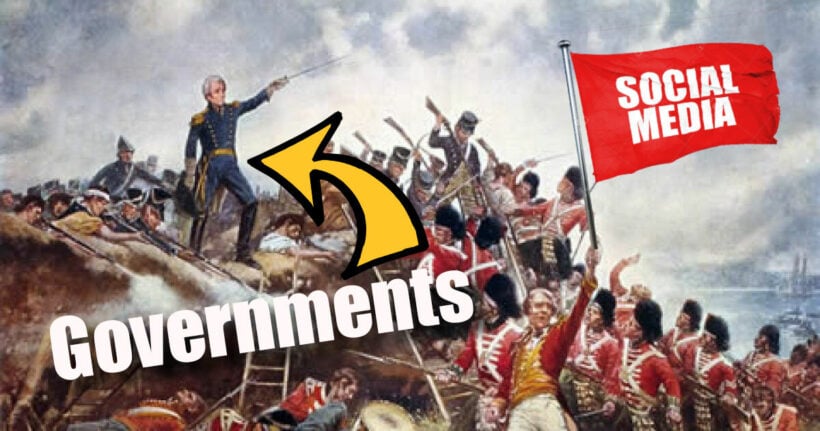 We look at the recent changes made by the Australian and Indian governments to except control over the world's biggest social media platforms. India has issued strict new rules for Facebook, Twitter and other social media platforms just weeks after the Indian government attempted to pressure Twitter to take down social media accounts it deemed, well, anti social. There is now an open battle between the rise of social media platforms and the governments and 'old' media that have been able to maintain a certain level of control over the 'message' for the last century. Who will win?
The rules require any social media company to create three roles within India… a "compliance officer" who ensures they follow local laws; a "grievance officer" who addresses complaints from Indian social media users; and a "contact person" who can actually be contacted by lawyers and other aggrieved Indian parties… 24/7.
The democratisation of the news model, with social media as its catalyst, will continue to baffle traditional media and governments who used to enjoy a level of control over what stories get told. The battles of Google and Facebook, with the governments of India and Australia will be followed in plenty of other countries as well.
At the root of all discussions will be the difference between what governments THINK social media is all about and the reality about how quickly the media landscape has changed. You'll get to read about it first, on a social media platform… probably on the screen you're watching this news story right now.
Keep in contact with The Thaiger by following our Facebook page.
Never miss out on future posts by following The Thaiger.
Myanmar's representative to UN urges strong action against military after increasing violence against protesters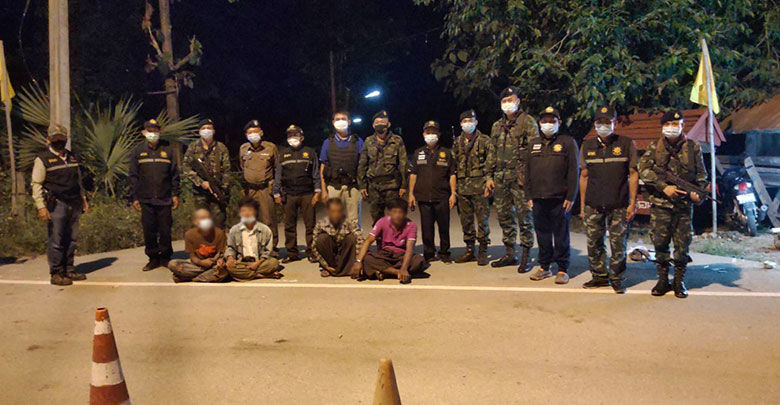 A representative to the UN for Myanmar is urging the "strongest action" to be used against the military after it has used increasing amounts of violence against anti‐coup protesters. The latest round in violence occurred as riot police violently broke up peaceful protesters, arresting over 100 people in 3 major Myanmar cities.
Kyaw Moe Tun made the appeal to the UN General Assembly in New York asking for the international community to end the junta's rule in his country, while displaying the 3 finger salute that has been adopted from the Hunger Games as a symbol of resistance from anti‐coup supporters.
"We need… the strongest possible action from the international community to immediately end the military coup, to stop oppressing the innocent people, to return the state power to the people, and to restore the democracy."
Former UN ambassador for the US, Samantha Power, also tweeted her support for the movement.
"It's impossible to overstate the risks that #Myanmar UN ambassador Kyaw Moe Tun just took in the UN General Assembly."
UN envoy to Myanmar, Christine Schraner Burgener, also agreed saying the use of lethal force against protesters was "unacceptable."
So far, at least 5 people have been killed since the overthrow, which has seen police open fire on protesters. Thandar Cho, a street food vendor, says she saw police point their guns in a threatening manner towards apartments during the rallies.
"They beat young protesters with rods and cursed them while doing it."
A Japanese journalist, Yuki Kitazumi, was also allegedly arrested according to a Facebook post by his assistant, Linn Nyan Htun, during the crackdown.
He "was beaten on the head by baton but he was wearing a helmet."
The military has justified the coup by alleging that the 2020 November democratic elections, which saw Aung San Suu Kyi's National League for Democracy elected by landslide, were fraudulent.
Suu Kyi was arrested, along with other leaders, and is now facing 2 charges of illegally posessing walkie-talkies in her home and for breaking Covid-19 rules. But her lawyer, Khing Maung Zaw, is concerned as he has still not made contact with her, saying it is dire to get her permission for him to represent her in court.
"It's very important to get her signed power of attorney before the hearing starts on March 1 because we won't be allowed to act as her defence counsels if we cannot file (it)."
"Then Daw Aung San Suu Kyi will be rid of her right of fair trial without a legal counsel."
SOURCE: The Phuket News
Keep in contact with The Thaiger by following our Facebook page.
Never miss out on future posts by following The Thaiger.