Live broadcast for Singapore – Palestine World Cup qualifier tonight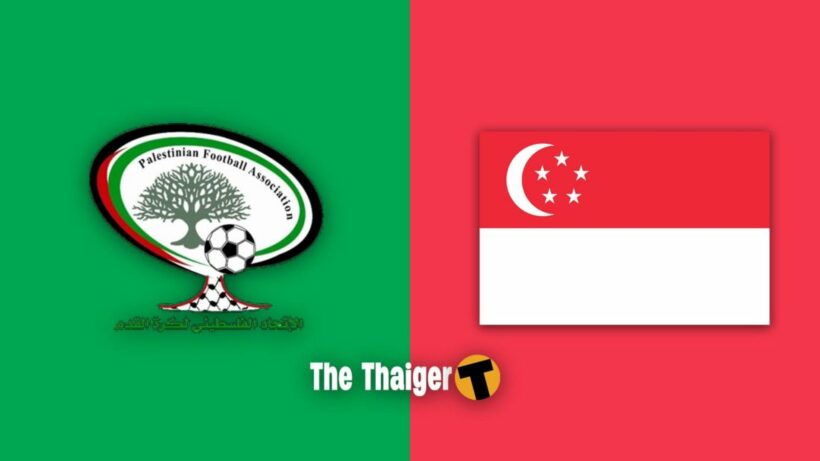 Singapore and Palestine meet up tonight for the Group D match in the World Cup qualifying matches for the Asia region. The match is a vital part of their journey following last Thursday's 2-2 draw against Yemen.
Current standings

Singapore will be without veteran forward Khairul Amri who withdrew before the series and the Japanese coach Tatsuma Yoshida admits he was disappointed to be missing his services in the competition.
"We are a bit disappointed that he's withdrawn from the squad. I respect his decision for personal reasons and I appreciate what he's done as a player for the country."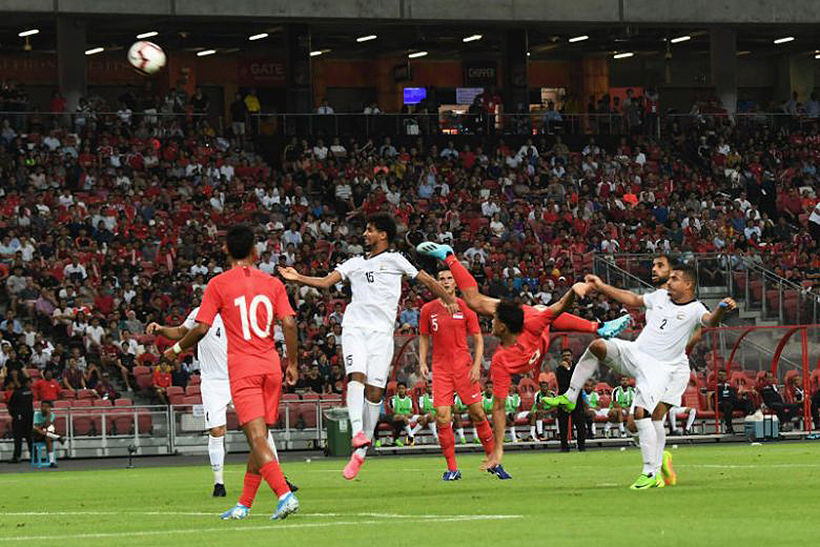 Singapore's Ikhsan Fandi flying high during the second-round World Cup Qualifiers match against Yemen last week – KHALID BABA
On paper Palestine are looking the stronger of the teams. They've have prepared for this latest stage of the campaign by taking part in the recent West Asian Football Federation Championship, where they finished runners-up behind hosts Iraq after registering wins against Syria and Yemen, drawing with Lebanon and losing to the Iraqis.

Palestine coach Noureddine Ould Ali spoke about their participation in the regional tournament and preparations for the qualifiers.
"For Singapore and Yemen, we will work hard to prepare for them and will not be taking them for granted."
Our players only had five days to rest before travelling to Singapore and hope to return with a good result."
Forwards: Shawal Anuar, Ikhsan Fandi Ahmad
Midfilders: Hariss Harun, Yasir Hanapi, Shahdan Bin Sulaiman, Gabriel Quak Jun Yi, Faris Ramli, Hami Syahin, Zulqarnaen Suzliman
Defenders: Safuwan Baharudin, Irwan Shah, Irfan Fandi Ahmad, Muhammad Shakir bin Hamzah, Nazari, Amirul Adli Bin Azmi, Baihakki Khaizan
Goalkeepers: Hassan Sunny, Mohamad Izwan Bin Mahbud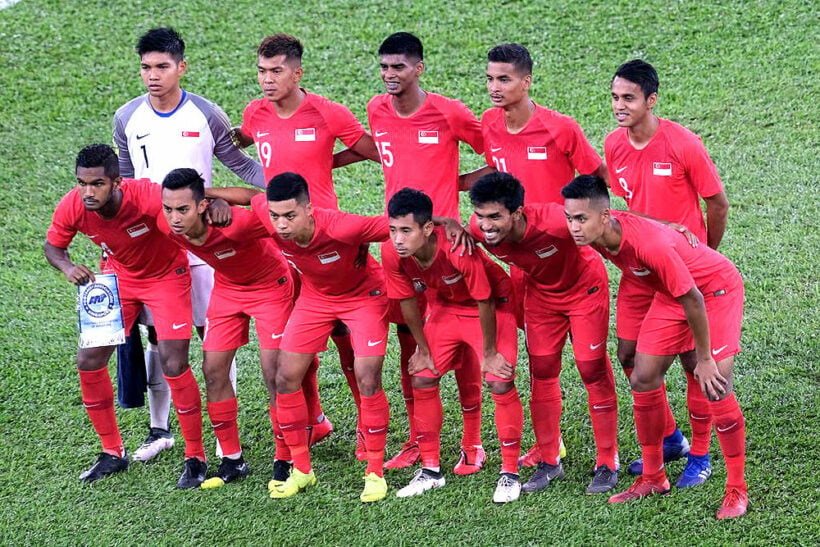 Singapore ended up with a 2-2 draw against Yemen at the National Stadium last Thursday (September 5).
It was not the opening win they hoped for as Singapore kicked off Group D of the second-round World Cup qualifiers. But to put things in perspective the island team rank No. 162 and are the lowest ranked team in the group. Yemen were 20 rungs higher in the FIFA standings.
The men in red peppered the visitors' goal with numerous shots but found Yemen goalkeeper Salem Awad in good form. But despite their first half dominance, the Lions were twice caught napping as Yemen scored from their only two chances.
Tatsuma Yoshida's men responded well after the interval and equalised in the 51st minute. Ikhsan did well to outmuscle and outsprint the Yemen defence to get his shot away and Salem could only palm the ball into Faris' path and the forward slotted home.
The Lions are looking for a positive result tonight against an experienced team.
Keep in contact with The Thaiger by following our
Facebook page
.
Anh nối dài chuỗi chiến thắng nhưng vẫn bị chỉ trích vì thi đấu khó hiểu trước Kosovo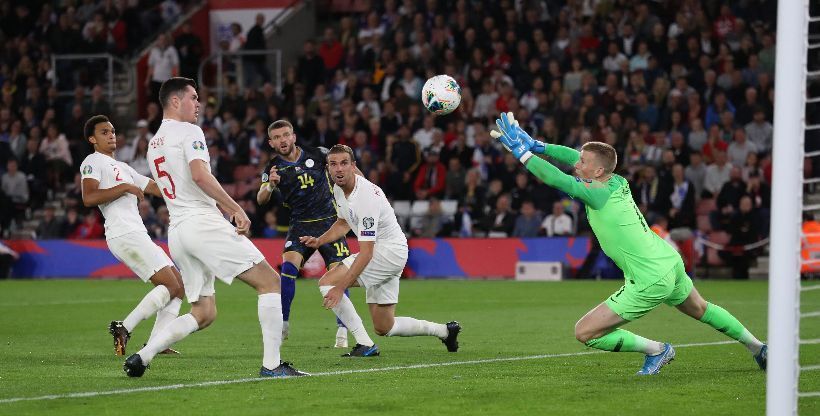 Trong loạt trận vòng loại EURO 2020 diễn ra rạng sáng nay (11/9, giờ Việt Nam), tuyển Anh tiếp Kosovo ở sân nhà Wembley. 
Trận đấu mang nhiều bất ngờ cho người xem bởi có đến 8 bàn thắng được ghi phần lớn nhờ lối chơi hết sức khó hiểu của tuyển Anh.
Tiếp đón Kosovo, vốn là đối thủ rất khó chịu, nhưng hàng phòng vệ tuyển Anh đã chơi không tốt một chút nào. Ngay từ giây thứ 35, trung vệ Michael Keane có đường chuyền ngang bất cẩn, để cho Vedat Muriqi cướp được bóng và chuyền cho Valon Berisha ghi bàn cho Kosovo.
Sàn thua bất ngờ từ sai lầm ngớ ngẩn, Anh nỗ lực tấn công và được đền đáp bằng 5 bàn thắng chỉ trong hiệp 1 được ghi bởi Raheem Sterling, Harry Kane, Valon Berisha cùng cú đúp của tài năng trẻ Jadon Sancho.
Ghi đến 5 bàn thắng một lúc, cổ động viên và các cầu thủ Anh có lẽ đã ăn mừng quá sớm và quên đi hiệp đấu thứ 2 còn ở phía trước. 
Highlights trận đấu giữa Anh và Kosovo (Nguồn: Super Football)
Sai lầm từ hàng phòng ngự cùng sự bứt phá mạnh mẽ của Kosovo, khiến các học trò của HLV Southgate vô cùng khó khăn để giữ thế trận trong hiệp 2 mặc dù đã dẫn trước với cách biệt lớn. 
Berisha và Muriqi mỗi người ghi 1 bàn ở các phút 49 và 55 đưa tỷ số xuống còn 3-5 cho Kosovo.
Đẩy mạnh tấn công nhưng thiếu tinh tế và may mắn, Kosovo đành chịu kết quả chung thua chung cuộc 3-5 trước Anh.
Mặc dù thắng trận thứ 4 liên tiếp nhưng có lẽ HLV Gareth Southgate không thể vui nổi vì màn trình diễn của các học trò. Kết thúc trận đấu, truyền thống xứ sở sương mù lao vào chỉ trích lối chơi công làm thủ phá của đội bóng nước nhà.
Nguồn: 24h.com.vn
Keep in contact with The Thaiger by following our
Facebook page
.
Ronaldo lập poker, hủy diệt Lithuania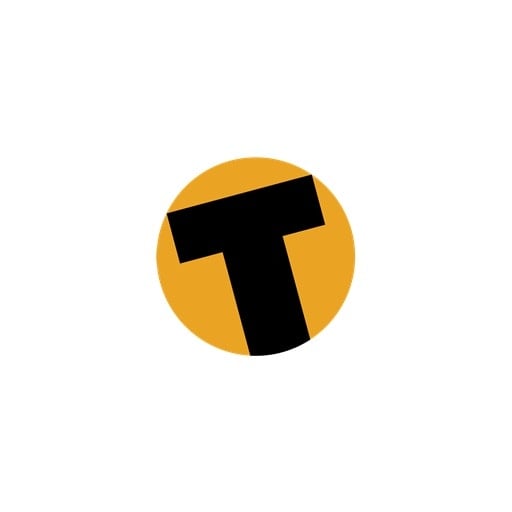 Hành quân đến sân của Lithuania, Cristiano Ronaldo có trận đấu thăng hoa khi ghi tới 4 bàn mang về chiến thắng 5-1 cho Bồ Đào Nha, ở lượt trận thứ 4 bảng B vòng loại EURO 2020.
Chỉ phải thi đấu với đối thủ quá yếu là Lithuania, không ngạc nhiên khi nhà đương kim vô địch châu Âu dễ dàng làm chủ thế trận với thời lượng kiểm soát bóng 66%. 
Chỉ mất có 5 phút, họ đã có cơ hội mở tỷ số khi trọng tài cho rằng một cầu thủ Lithuania để bóng chạm tay trong vòng cấm nên đã chỉ tay vào chấm phạt đền. Từ cự ly 11m, Ronaldo dễ dàng đánh bại thủ môn đối phương giúp các vị khách vượt lên.
Highlights trận đấu thăng hoa của Cristiano Ronaldo (Nguồn: FootballMedia)
Khá bất ngờ là dù bị Bồ Đào Nha dồn ép nghẹt thở, Lithuania lại tìm được bàn gỡ ở phút 28. Tuy nhiên đây là tất cả những gì đội nhà có thể làm được.
Bước sang hiệp hai, Ronaldo ghi liên tiếp 3 bàn chỉ trong vòng 15 phút từ 61 đến 76. Đến phút thứ 90+2, William Carvalho ấn định chiến thắng 5-1 cho đội bóng của HLV Fernando Santos.
Chiến thắng đậm giúp Bồ Đào Nha có 8 điểm sau 4 lượt trận và vẫn xếp thứ 2 tại bảng B.
Với tổng cộng 24 bàn thắng tại vòng loại EURO, chân sút đang khoác áo Juventus chính thức vượt qua kỷ lục của Robbie Keane.
Nguồn: 24h.com.vn
Keep in contact with The Thaiger by following our
Facebook page
.
Siaran langsung untuk Indonesia – Kualifikasi Piala Dunia Thailand, malam ini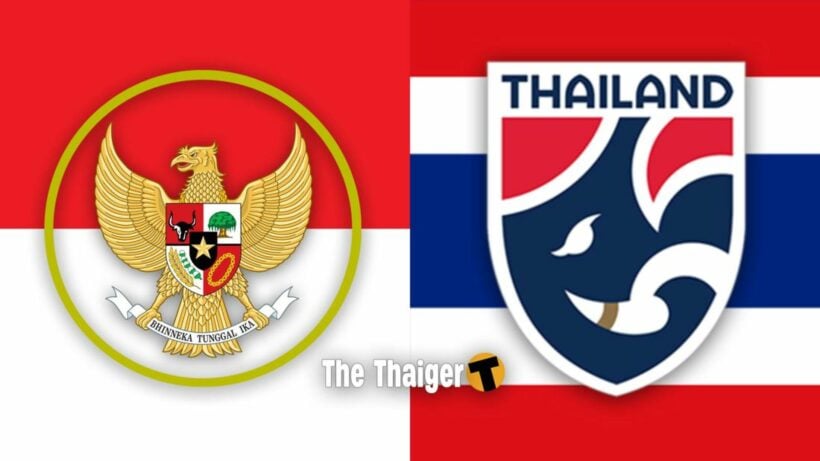 Setelah mengalami kemunduran dalam pembukaannya, baik "Garuda" dan "War Elephants" Thailand saling berhadapan dalam pertandingan kedua Kualifikasi Piala Dunia FIFA 2022 di Stadion Gelora Bung Karno di Jakarta ,malam ini. Pertandingan ini adalah salah satu dari pertandingan paling penting yang dimainkan malam ini ,Dan paling di nantikan bagi para penggemar sepak bola Indonesian mau pun Thailand
Current standings

Sementara Thailand ditahan imbang tanpa gol oleh juara Suzuki Cup 2018 Vietnam di Bangkok, Indonesia mengalami kekalahan 3-2 dari finalis Suzuki Cup 2018 Malaysia. Mohamadou Sumareh mencetak gol kemenangan di injury time babak kedua di Gelora Bung Karno, Kamis lalu. Pertandingan malam ini adalah bagian penting dari perjalanan kedua tim di babak kualifikasi tahun ini. Mari kita lihat apa yang terjadi terakhir kali kedua tim berhadapan …
AFF Suzuki Cup 2018. Thailand 4-2 Indonesia on November 17, 2018
Itu adalah pengulangan final 2016 dua tahun yang lalu di Stadion Rajamangala Bangkok, tetapi kali ini di babak grup edisi terbaru Piala Suzuki AFF. Pertandingan itu termasuk dua gol kelas dunia dan kemenangan yang pantas bagi tim Thailand ketika peluit akhir berbunyi. Tapi kali ini Indonesia yang mengejutkan suporter Thailand terlebih dahulu ketika Zulfiandi mencetak tendangan jarak jauh tepat sebelum tanda setengah jam untuk memberi Indonesia keunggulan 1-0.
Indonesia akan mencetak satu menit dari waktu melalui Fachrudin Ariyanto, tetapi itu akan menjadi penghiburan bagi tim Bima Sakti. Thailand akhirnya mengakhiri kampanye mereka di semifinal Malaysia, sementara Indonesia memiliki turnamen untuk melupakan tersingkir di babak grup dengan kemenangan tunggal.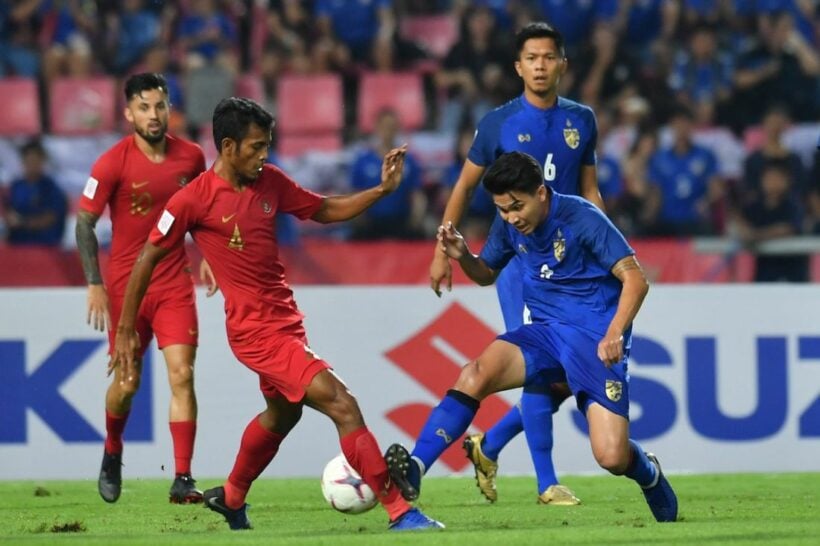 Pemain Thailand tiba di Jakarta pada hari Sabtu dan sejauh ini telah menjalani beberapa sesi pelatihan untuk menyesuaikan diri dengan ibukota Indonesia. Asisten pelatih Totchtawan Sripan telah mengakui bahwa para pemain tim nasional Thailand perlu meningkatkan sejumlah hal sebelum mereka berhadapan dengan Garudas di Stadion Gelora Bung Karno yang menakutkan.
LIVE LINK HERE
Keep in contact with The Thaiger by following our
Facebook page
.