Wedding bus burns, passengers unharmed in Chai Nat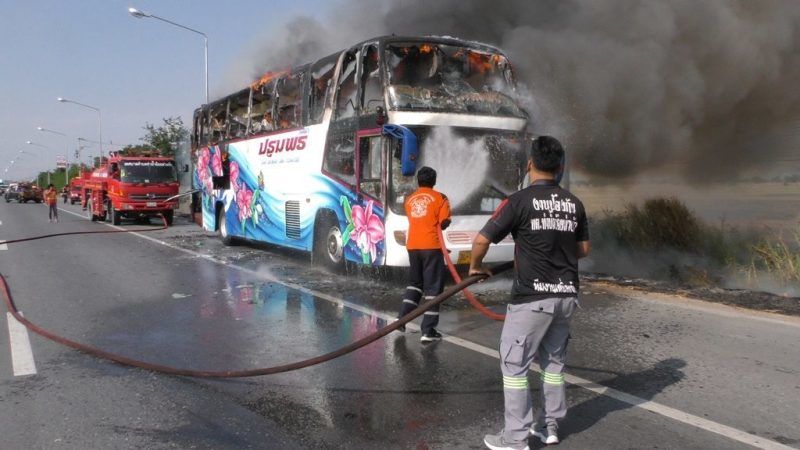 A chartered bus from a wedding was gutted by fire on Sunday in central Chai Nat Province. All 46 bus passengers escaped unharmed, according to police. The bus caught fire on the highway in Chai Nat, forcing all the passengers and the driver to urgently evacuate.
One passenger told Thai media the bus had taken the groom and guests to the bride's hometown in Phitsanulok province. But on the return trip, smoke started coming out of the bus's air conditioning vents. Fire then followed, forcing the bus driver to pull over and evacuate his passengers.
It took firefighters from Chai Nat and Nakhon Sawan provinces 45 minutes to put out the blaze that completely engulfed the vehicle.
The driver says the fire might have started from the malfunctioning cooling panel. He said the company would take full responsibility for the damage. But police and forensic experts are investigating the cause of the blaze and plan to press charges against the driver.
SOURCE: Chiang Rai Times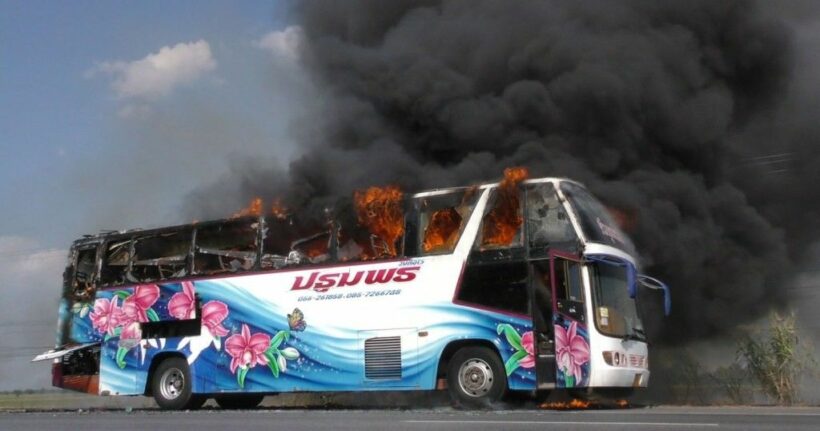 Keep in contact with The Thaiger by following our
Facebook page
.
Plant-based meat alternatives gain popularity in a fertile Asian market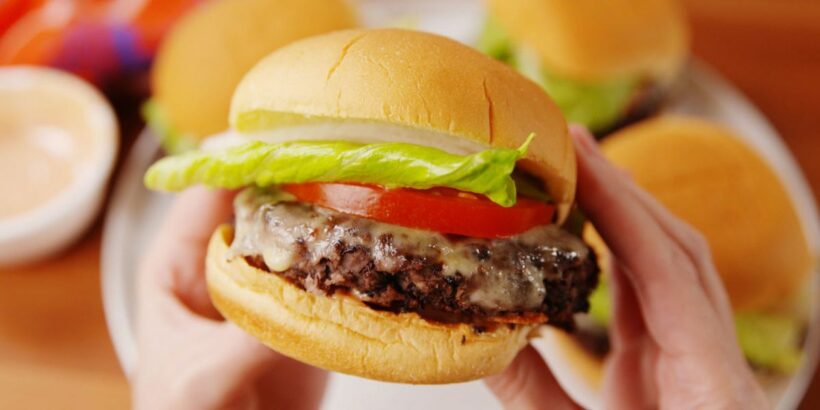 PHOTO: delish.com
Being a vegetarian, or vegan, in the land of smiles is a challenge. There are some excellent vegetarian options opening up, particularly in the tourist zones of Thailand. But outside of that you're struggling to find dedicated vegetarian options and just have to ask for your favourite Thai food, but without the meat.
But Asia, particularly south east Asia, is coming to the attention of the western alternative meat market. Because they're starting to make really interesting, and tasty, meat alternatives and they want to get a slice of the Asian market too.
In one of the largest meat-eating regions in the world (Asia), where nearly 50% of the world's meat products are consumed, it's a fertile market indeed for the growing number of vegans, vegetarians and flexitarians (people who eat a mostly non-meat diet but occasionally may have some meat as well).
The producers of the alternative meat products are now looking to take a bite out of the Asian market.
Impossible Foods, a developer of plant-based substitutes for meat products, has set its eyes on the meat market in Asia. The American firm, famous for its meatless-burgers, intends to make the region a key focus due to its huge meat consumption. The almost tasteless and inedible vegetarian 'patties' of a decade ago are now rich in flavour and gaining a large following as a viable and tasty alternative.
Asia accounts for over 46% of the world's meat intake according to the Agricultural Outlook 2019-2028 by Organisation for Economic Co-operation and Development and the Food and Agriculture Organisation.
And analysts at investment bank Barclays, predict that the alternative meat market is expected to hit US$140 billion within the next ten years.
Since April 2018, Impossible Foods has already featured its plant-based meat and dairy products in some of Hong Kong's beloved restaurants such as Little Bao, Happy Paradise, and Beef & Liberty. But they're not the only alternative meat brand eager to supply its products to the Asian market. Rival brands such as Quorn in the UK) and Beyond Meat from US, have been supplying meat alternatives in the region since 2015.
Quorn's meat free products are readily available in Singapore through FairPrice Online and RedMart, while Beyond Meat's alternative meat products are sold at NTUC Fairprice Finest and Little Farms outlets in the country. In Asia, supermarket brands like Villa Mart are carrying more alternative meat products, and they are featured often in vegetarian restaurants and starting to appear in menus of mainstream restaurants as well.
How mainstream? Even Michelin have provided a recent guide to some of the best meant-alternatives around at the moment.
As more Asians continue to adopt a vegan and flexitarian diet, the growing demand for plant-based meat alternatives is expected to steadily increase in the coming years.
NB. I'll admit to being vegetarian, part-time flexitarian, eater and happy to promote more plant-based alternatives for our diets. If you know of, or can identify, some good vegetarian restaurants or sources for meat-alternative products, we'll gather your intel and make an article to help people find vegetarian options. Send you email market 'VEGETARIAN' HERE. T
Keep in contact with The Thaiger by following our
Facebook page
.
Future Forward's Thanathorn says he'll "bring people to the streets"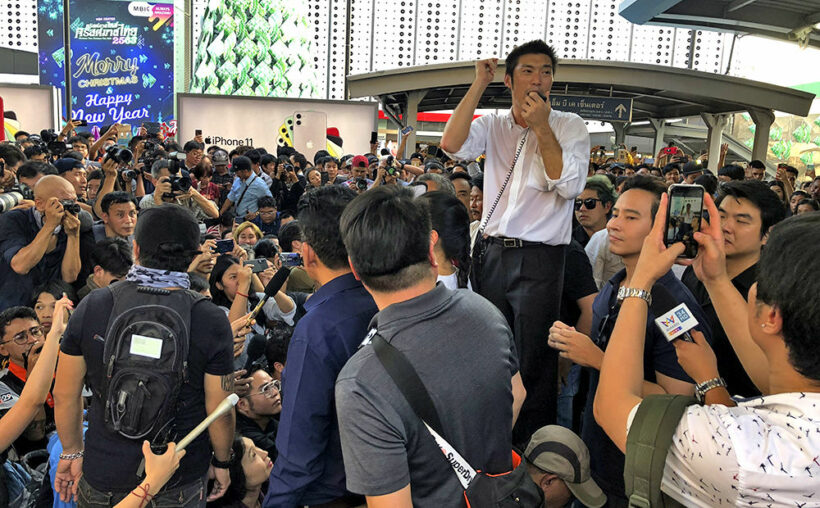 It's the biggest political rally since the general election in March, probably the largest rally in five years since before the military coup in 2014. Thousands of supporters chanted "Prayut get out" at an anti-military demonstration called by former MP, Future Forward Party leader Thanathorn Jungroongruangkit.
Thanathorn told demonstrators that last evening's rally on the skywalk linking the National Stadium and Siam BTS stations was just the beginning of actions against the government of PM Prayut Chan-o-cha. He threatened to "bring people to the streets," referring to the "Wing Lai Lung" (Run to Oust the Uncle) event, a running event planned for January 12.
Thanathorn says the rally was to demonstrate public anger at what he calls the injustice inflicted on him and the Future Forward Party. He organised the protest three days after the Election Commission voted to ask the Constitutional Court to dissolve Future Forward for alleged campaign finance violations.
The rally was peaceful, lasting less than an hour, with a minor skirmish between protesters and police around 5.40pm. The theme of the protest was a strong anti-military rhetoric. Although police say no permit was granted for the rally, they did not intervene.
Meanwhile PM Prayut dismissed the rally as "a personal matter," referring to Thanathorn's current legal problems.
SOURCE: Thai PBS World
Keep in contact with The Thaiger by following our
Facebook page
.
Justice minister says he'll speed up kratom decriminalisation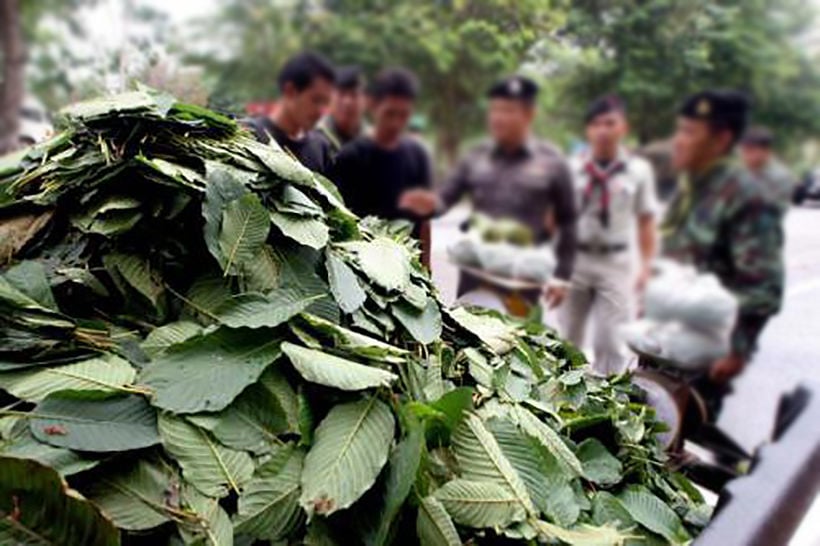 Justice Minister Somsak Thepsutin says he will speed up the decriminalisation of kratom, after researchers registered patents for kratom-based medicines in Japan and the US. Kratom is a local plant, related to coffee, whose leaves are still classified as a narcotic in Thailand.
Somsak said his ministry has formed a committee to consider legalising kratom-based medicines. Kratom leaves are a mild stimulant and are traditionally chewed by farmers and labourers.
The justice minister, a kratom fanboy, says…"I will proceed with this project as soon as possible because legalisation will truly benefit society."
He says a team of Thai and Japanese researchers has already registered four patents. Somsak points out that kratom has a long history as a traditional medicine, used to treat pain, fever, dysentery and diarrhoea, and to ease withdrawal from opium addiction.
Kratom is not considered a narcotic drug by the UN, and kratom products can be freely imported and exported in many countries. Yet in Thailand, it has been illegal since 1943 and in 1979 was classified as a narcotic. Possession can result a jail term of up to a year and a 2000 baht fine, and selling it can lead up to two years in jail and a fine of between 40,000-200,000 baht.
In recent years, kratom has also been mixed into a recreational cocktail known as "4 by 100", named after for its four main ingredients: kratom leaves, cough syrup, Coca-Cola and ice (frozen water not the other 'ice').
SOURCE: Bangkok Post
Keep in contact with The Thaiger by following our
Facebook page
.