Thai government might buy private pot – Health Minister
After years of speculation, some members of the coalition Thai government are pushing efforts to allow Thais to grow up to six cannabis plants for sale to the government for medical marijuana. Health Minister Anutin Charnvirakul said he is pushing for the Government to change laws to allow the medical use of marijuana freely.
"We have confidence that marijuana will be among the major agricultural products for Thai households. We are speeding up the changes. But there is a process."
In September, Anutin hinted that… "In the near future, families will be able to plant cannabis in their back gardens like any other herb."
Thailand has built what the government describes as the largest, industrial scale medical marijuana facility in Southeast Asia.
In September, Maejo University researchers planted 12,000 marijuana seedlings in Chiang Mai while officials watched. They expect the plants will produce medical marijuana within six months, according to the Asia Times.
"The university will be a centre where ordinary people can learn how to plant and grow good quality cannabis. Cannabis is not political; it's a product that can benefit people's health," according to Anutin.
While claiming cannabis is not a political issue, he caused a stir before Thailand's general election in March, campaigning for legalising of household cultivation. He led his Bhumjaithai party's campaign by promising each household could cultivate six marijuana plants. The Bhumjaithai party is now a vital part of the ruling coalition – without their votes the Palang Pracharat party would have not been able to form a government.
Anutin told voters before the election that the sale of each mature plant could earn up to 2,225 US dollars. A household could earn 13,350 dollars for selling six plants. An alluring thought, considering the average annual Thai salary is reportedly 8,200 dollars (24,000 baht per month) annually .
But experts caution that not every plant will produce medical grade cannabis, and the ones that do are hard to cultivate. Amateur cultivators might produce low grade plants, but without tending to the plants and investing nutrients and proper lighting equipment, the flowers produced might not qualify for medical use, purchasable by the government.
If recreational cannabis is allowed though, private growers could earn more with less quality control. But legislators warn there is a lot of legal distance between the current situation and the legalisation of recreational cannabis.
Anutin predicts fully legalised marijuana could be a more lucrative crop than rice, sugarcane, tapioca or rubber in the kingdom's mostly agrarian economy.
Anutin believes Thailand could gain a competitive advantage by creating niche strains for export. Recreational cannabis remains illegal in the kingdom, with punishments including imprisonment.
SOURCE: Forbes
Keep in contact with The Thaiger by following our
Facebook page
.
US delegation arrives, submits to Covid-19 screening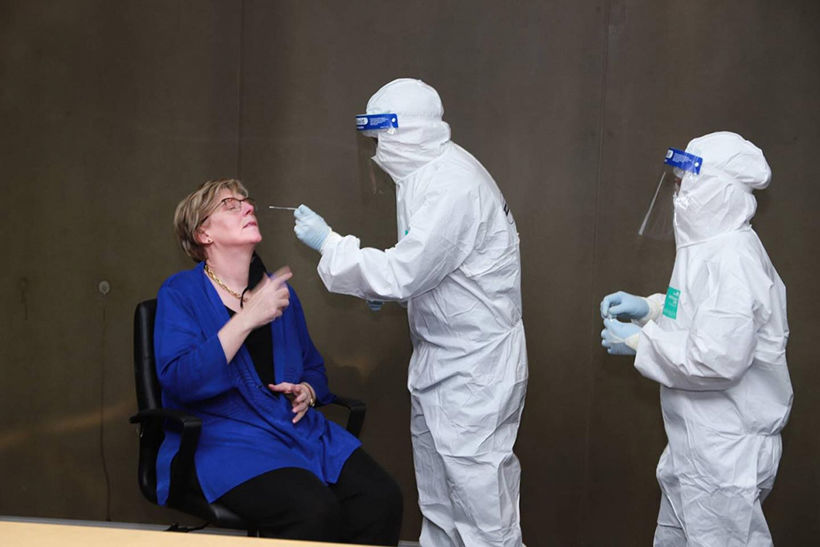 The chief of staff of the US army, General James C. McConville, arrived in Thailand today with an entourage for a 2 day trip, at the invitation of the Royal Thai Army. He has also granted permission for the publication of the results of his Covid-19 swab test. McConville and his entourage landed at Bangkok's Don Mueang Airport at 10:15am after completing an official visit to Singapore. The entire delegation had to undergo Covid-19 tests immediately upon arrival.
Army chief Apirat Kongsompong was on hand to welcome his guests as well as provide information on the preventive measures Thailand has taken, leading to its success in containing the spread of the virus, an extremely low mortality rate and a recovery rate of over 95%. The US delegation is the first group of government guests to arrive since the fifth phase of the easing of lockdown measures was announced.
The guests, as well as Thai Army officials, are required to strictly follow measures set out by the Centre for Covid-19 Situation Administration, including ensuring seats in all vehicles are partitioned, cleaned and sanitised as per guidelines.
The vehicles must also carry alcohol based sanitising gel and pads, waste bins for disposal, radio for communication with drivers and disinfectant spray for the driver to use to sanitise the vehicle.
The Thai Army chief says that if this system proves successfully, the government will use it for future official visits.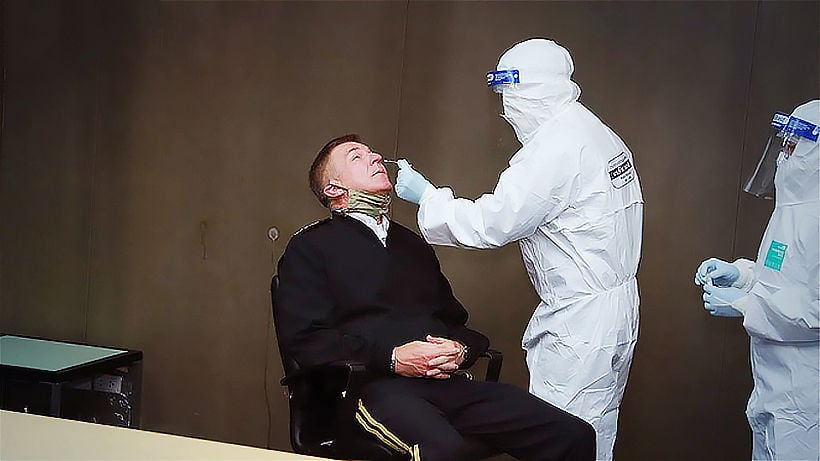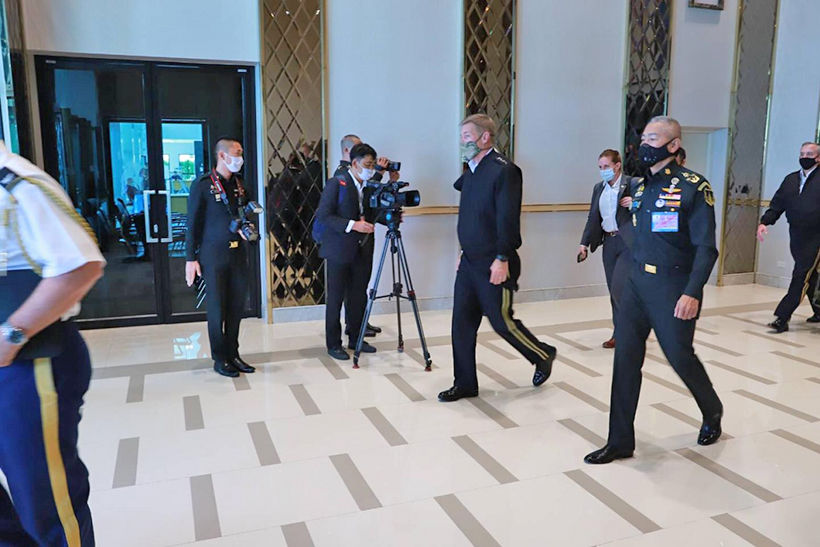 SOURCE: Nation Thailand
Keep in contact with The Thaiger by following our
Facebook page
.
Outgoing army chief says no plans for US base on Thai soil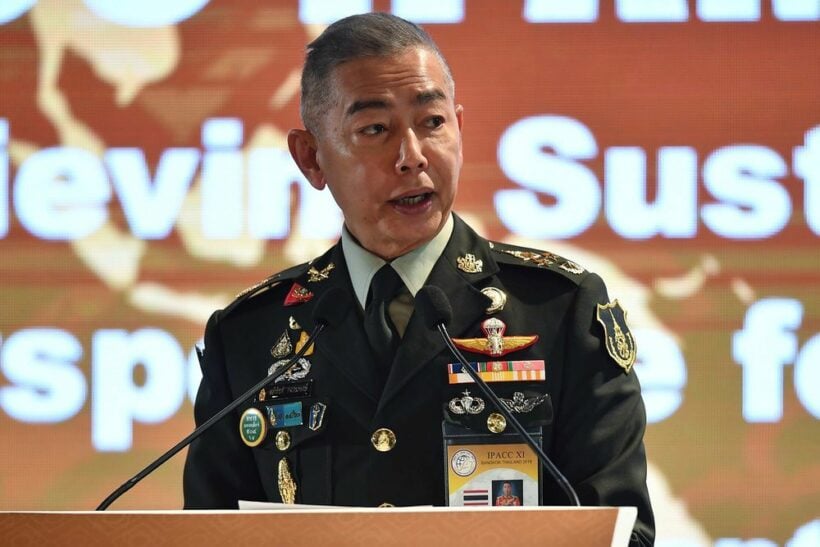 Outgoing army chief Apirat Kongsompong, is denying that the US is seeking to establish a military base on Thai soil. At a press briefing, Apirat said that Thai and US troops have only carried out joint military drills, code-named Cobra Gold, and nothing more. The drills are a multinational exercise held annually in Thailand.
Apirat insisted the US did not ask to use Thailand as a stage for a base but admitted that US troops left behind some of their military equipment deployed during the drills, but says reporters shouldn't read too much into this. However, Singapore has a longstanding agreement with Thailand, giving it access to a military area in Sai Yok district in the western Kanchanaburi province, in order to reportedly conduct military training. That agreement is renewed every 3 years.
Apirat also defended the 2 day visit by the US Army Chief of Staff James McConville and his delegation after an activist criticised the government for not sending the visitors into the mandatory quarantine that was imposed for all visitors. He says the delegation will be tested for Covid-19 before and upon arrival to Thailand. Tests will be performed by doctors from the Public Health Ministry, Phramongkutklao Hospital, and Thai Airways International staff. These procedures will become a model for future visits by foreign delegations.
"Don't stir up issues that might create conflict in the region."
The US delegation are the first group of foreigners to officially visit Thailand since the country began lifting Covid-19 restrictions. McConville will meet Apirat and PM Prayut Chan-o-cha today and tomorrow.
In a related development, General Narongpan Jitkaewthae is widely expected to replace Apirat as army chief during the annual military reshuffle at the end of September. A military source told Bangkok Post that the reshuffle dominated a pre-session discussion shortly before a meeting between top military officials and the Royal Thai Police yesterday.
The source says that this time around the reshuffle will involve high ranking personnel whose names were brought up during the pre-session discussion. The source said a list of high ranking officers up for promotion will likely be presented to the chief of the defence forces next week before it's forwarded to PM Prayut Chan-o-cha, who also serves as defence minister.
Apirat said yesterday he will retire at the end of September, adding he will no longer be active in handling government affairs after that month. He denies he will seek to extend his tenure as army chief. Apirat has also been rumoured to have long term political aspirations.
"I will pass the baton to the next army chief on Sept 30 when my duties will come to an end. There is absolutely no need to prolong my tenure."
SOURCES; Bangkok Post | Bangkok Post
Keep in contact with The Thaiger by following our
Facebook page
.
UPDATE: Thai Cabinet approves civil partnership bill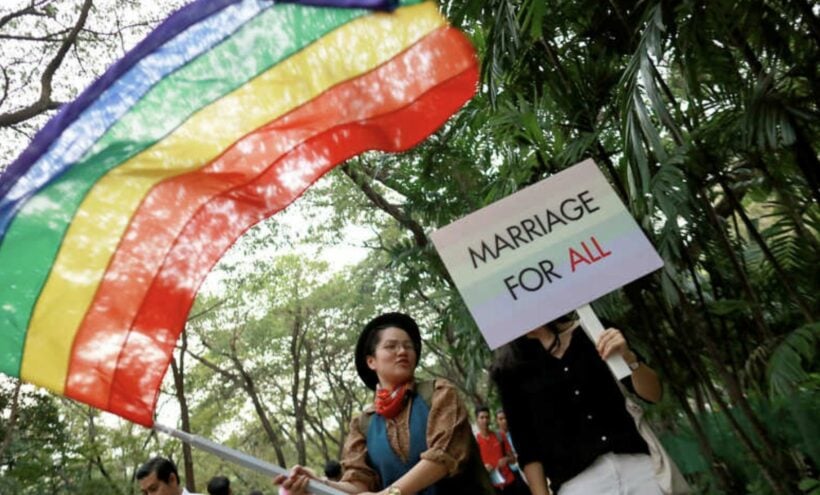 NOTE: Yesterday, The Thaiger referred to the bill as allowing "same sex marriage". Our headline was incorrect. We have corrected the story with updated information. We apologise for the error.
The Thai cabinet yesterday endorsed a bill allowing registration of same-sex couples, as well as legal amendments to ensure same-sex couples have the same rights and privileges as opposite-sex couples. The bill and the amendment will now be put to a vote in the Thai parliament.
The government's deputy spokeswoman says the new Civil Partnership Bill and the amendment to the Civil and Commercial Code will "ensure fairness for people of all gender identification". The bill defines civil partners as couples born with the same sex. Marriage registration will be available to consenting same-sex couples who are at least 17 years old. One or both must be Thai.
"The Civil Partnership Bill is a milestone for Thai society in promoting equality among people of all genders… This strengthens the families of people with sexual diversity and is appropriate for the present social circumstances."
But the bill is already coming under heavy criticism. A "No to Civil Partnership Bill" hashtag is trending on Thai social media saying the new bill isn't equivalent to marriage. They point out that the bill doesn't ensure the same rights as those enjoyed by heterosexual married couples, and it doesn't recognise engagement of same sex couples.
Minors who seek such civil partnership certification must have the consent of their parents, legal guardians or a court.
Spouses of civil partners will have the same legal rights as married husbands and wives, notably including with regard to personal and jointly-held property. Civil partners can adopt a child, or a partner can adopt an adoptive child of a spouse. When a partner dies, the survivor will have the same inheritance rights as conventional married couples under the Civil and Commercial Code. Sections of the code concerning married couples will also apply to civil partners.
Some of the key points of the Bill include…
Consenting same sex couples, who want to register their partnership, must be at least 17 years old and at least one must be a Thai national
In case the same sex couple are minors, they must have the consent of their parents, guardians or the court. After the registration of the partnership, the minors will be regarded as adults
Either member of the same sex partnership can act on behalf of the other, as with a heterosexual married couple.
A same sex couple can adopt a child
In case one of the partners dies, the survivor has the same rights and duties as a surviving heterosexual spouse
The Justice Ministry, which proposed the bill and the legal amendments, will monitor the effectiveness of the changes and plan other legal amendments to ensure compliance with those already enacted.
SOURCE: Thai PBS World
Keep in contact with The Thaiger by following our
Facebook page
.