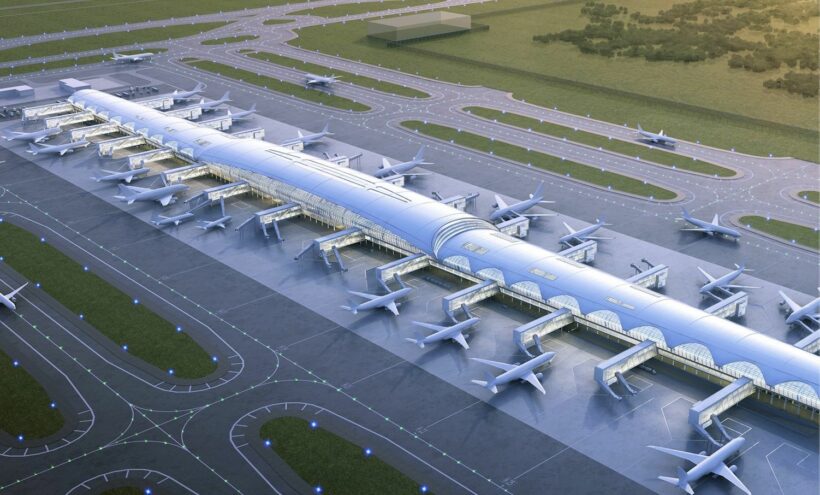 The extension of the Suvarnabhumi terminal will be operational by the start of 2022, according to Thai transport minister Saksayam Chidchop. The new Satellite Terminal 1 at Suvarnabhumi International Airport will increase the total capacity of Thailand's largest airport terminal by 15 million passengers a year, allowing the total airport capacity to cope with traffic up to 90 million per year.
The 4-level concourse building has 28 aircraft contact gates, 8 of which will serve aircraft up to the A380 jumbo size. A new underground automated people mover and baggage handling system connects the new building to Suvarnabhumi's main terminal.
The concourse's contemporary design is infused with subtle cultural references that add to its "Thainess". It includes a diamond-patterned ceiling, with crisscrossing arched ribs infilled with timber-coloured slats. Interior gardens follow the trend of Singapore's Changi adding a tropical landscape.
Construction on the 3rd runway has also commenced and should be receiving aircraft by 2023.
Suvarnabhumi Airport management has also used the downtime, whilst the airport has been quiet during the 'disruption' to fix the potholes and 'sinkage' in parts of the existing runways. Some 700,000 square metres of runway and taxiway service is under repair at this time, soaking up a budget of 4 billion baht.
The new terminal and repairs come at a time when world airline traffic is at its lowest for decades. The world wide Covid-19 pandemic has closed borders, grounded entire airline fleets and decimated the world's travel industry. Since March when air traffic plummeted, there has been a gradual ungrounding of fleets, primarily in non-commercial and non-passenger-carrying fleets. Commercial scheduled traffic is still very low.