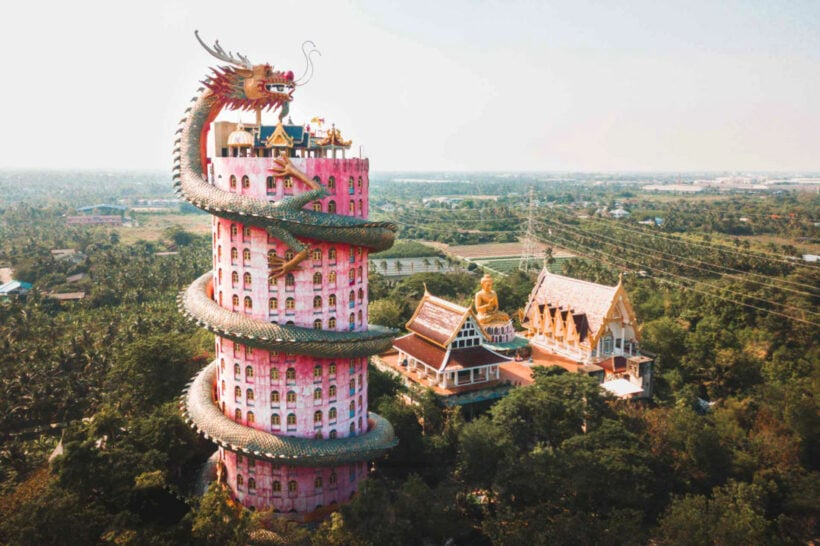 The Emerald Buddha? The Grand Palace? Khao San Road? A cruise on the Chao Phraya?
And now for something completely different. It's big, it's pink and it's unlike any temple you've ever seen.
Wat Samphran, aka. The Dragon Temple, is located about 40 kilometres west of the city centre of Bangkok in Nakhon Pathom. Somehow this excessive architectural wonder has not found its place on the tourist map.
It takes you about 50 minutes to get there, if the traffic is in your favour. You can easily reach Wat Samphran by taxi: show a picture of the temple and nearly every local will know where it is. It's not easy to reach the temple by public transport. Another option is to go to BTS station Bang Wa and take a taxi from there. It's doable by motorbike, but you need to have some skills to drive in Bangkok traffic – in this case it will take about an hour. The entrance is free, but feel free to leave a donation.
This 17 storey temple used to require stairs to get up to the top, but now there's a walkable tunnel that leads you up to the very top. The temple grounds are home to multiple animal-inspired buildings and statues, including an elephant, a turtle and a rabbit. All of these have significance in Buddhist culture and folklore.