Two new airlines to hit Thai skies in 2020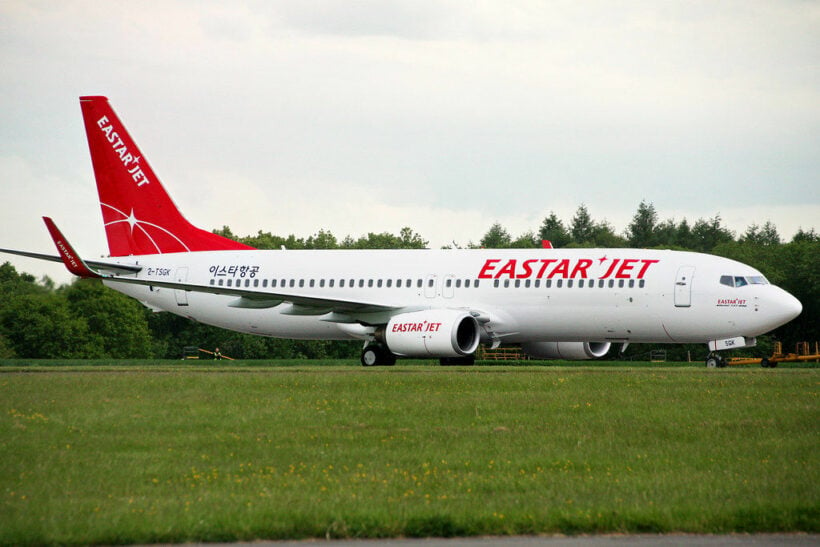 PHOTO: Eastar Airlines
Two new Thai low-cost carriers are set to take to the skies early 2020. The Civil Aviation Authority of Thailand made the announcement yesterday. They are the first new Thai airlines being launched since the lifting of the 'red flag' by the International Civil Aviation Organisation in 2017.
Thai Eastar Jet and Thai Summer Airways have already received their Air Operating Licences and are now in the process of obtaining their Air Operator Certificate. Thai Eastar Jet is poised to receive its AOC in January 2020, after it passes the final phase of airworthiness testing by the Thai civil aviation authorities. Thai Summer is also waiting to receive its AOC and has already begun recruiting employees.
Thai Eastar Jet is a joint venture between Thai and South Korean investors. Thai Summer counts Thai and Chinese businesses as its investors. The airlines are expected to provide low-cost tourist links between South Korean and Chinese cities, into Thailand.
Thai Eastar Jet's first commercial service will be between Bangkok and Taiwan's southern port city of Kaohsiung. The airlines is also planning to link Bangkok and South Korea but those plans will be delayed.
Like VietJet, the new operators may also seek to take a chunk out of the domestic airline market as well.
By law, any new airlines are required to start their commercial operations within a year of being granted theAir Operating Licence. So both new airlines will be expected to carry their first passengers in the next year.
The two new budget airlines are the first two Thai-registered carriers to launch commercial services since Thailand was red-flagged by the International Civil Aviation Authority in June 2015 for failing to properly deal with "33 significant safety concerns". It took over two years of upgrading safety checks and paperwork to meet international benchmarks. Thailand has been in the "all clear" situation since October 2017.
Both new airlines will be allowed to hire just Thai pilots, as the requirement to employ a certain number of foreign pilots has been removed.
SOURCE: Bangkok Post
Keep in contact with The Thaiger by following our
Facebook page
.


Looking to jettison some items before jetsetting away or chartering a yacht? Look no further than Thaiger Classifieds where you can find and post items, work, property and more for free. Be sure to check out YonderTours for things to do in Thailand and tours across the country.

Read more headlines, reports & breaking news in Thailand. Or catch up on your Thailand news.

Thai, Air Asia suspend flights to Wuhan because of Novel Coronavirus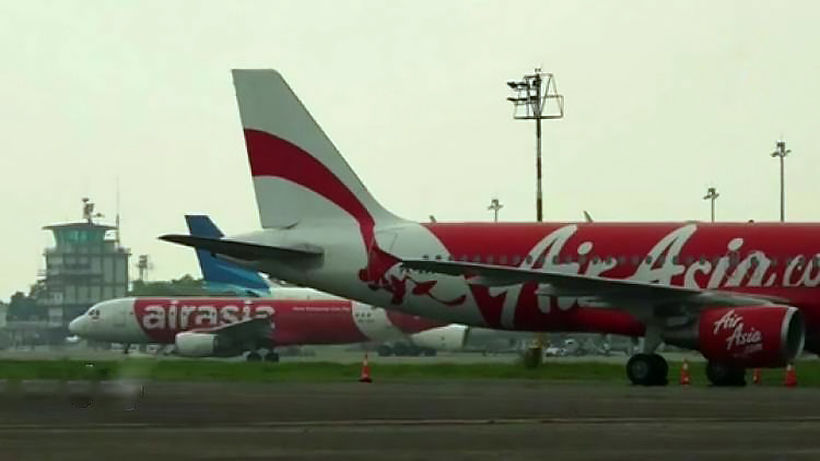 Thai Airways and Thai Air Asia are both taking steps to prevent any possible spread of Novel Coronavirus pneumonia through tourist arrivals from Wuhan, the source of the outbreak. Thai Air Asia, which operates two daily flights to Wuhan from Bangkok and one from Phuket, suspended services yesterday. Meanwhile Malaysia-based Air Asia, has also suspended scheduled flights to and from Kota Kinabalu to Wuhan.
Passengers who have already booked these flights will be able to seek refunds before February 15, or change their bookings to other cities in China at no extra charge, depending on seat availability.
A spokesperson for Thai Airways says the national carrier has also adopted preventive measures to maintain confidence among passengers and Thais concerned about the spread of the virus beyond the shores of China. The measures include cabin cleanliness, thermal screening of passengers before boarding, observation of unusual symptoms of passengers while onboard and the use of face masks and gloves by cabin crew. AoT airports in Thailand are also routinely screening passengers as they disembark flights from China.
At the same time, China has introduced unprecedented measures to curb the spread of the Coronavirus, basically placing Wuhan, a city of 11 million, on lockdown. Steps include suspension of all public transport, long distance coaches and outbound traffic at airports and railway stations. Highways have also been sealed off.
"Without a special reason, city residents should not leave Wuhan," the city's special command centre to combat the virus said today. Hours later, state media in neighbouring Huanggang, a city of six million, announced it was also placing the city on lockdown. Residents are required to wear face masks in public and are not allowed to leave city without approval.
China's National Health Commission announced today as of yesterday Thursday January 23, the number of patients infected with the Novel Coronavirus had risen to 830, while the death toll from the virus had risen to 25, according to Al Jazeera.
SOURCE: Thai PBS World | Al Jazeera
Keep in contact with The Thaiger by following our
Facebook page
.
SCAM – Thailand's PM2.5 micron smoke screen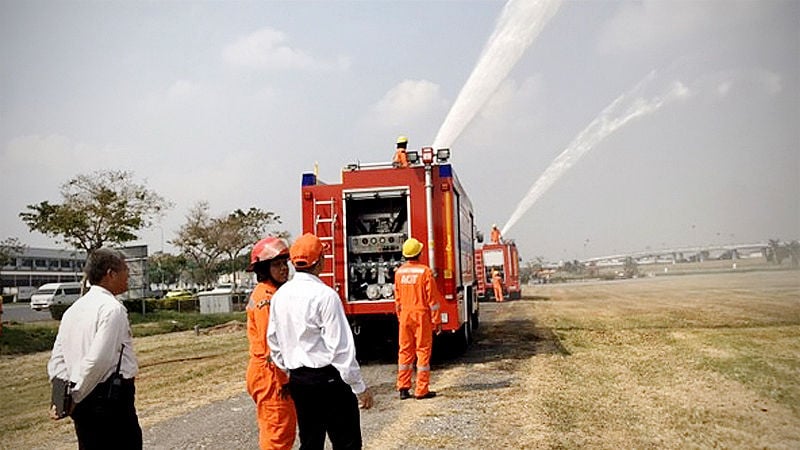 It's cars, it's the polluting buses, it's people burning too many incense sticks. Every year it's the same culprits in Bangkok, people driving their cars too much, polluting factories and old buses belching black smoke. All those things contribute to city pollution but are far from the main problem.
So the government, reactive as usual, rolls out its PR machine and invites the media to take photos of water cannons blasting thousands of litres of valuable water into the sky, doing precisely NOTHING to address the air pollution problem, beyond a short-term, extremely local solution. Very local indeed, and probably pleasing the assembled press as they enjoy a bit of overspray cooling them down. For the bigger air pollution problem, no help at all.
Even today the Bangkok media scrum was summoned to Suvarnabhumi Airport to get the story of the local airport solution where they've deployed water cannons that blast 144,000 litres of water per day about 50 metres into the air above the one of the airport's ring roads.
"The trucks will be deployed at 10am, 11am, 1.30pm and 2.30pm at the duty-free zone and along the Suvarnabhumi 2 Road, as these areas have high numbers of trucks and other vehicles passing through during weekdays."
We kid you not, there appears to some officials who actually think this grotesque waste of water is achieving something… anything, beyond a woefully useless media stunt.
"The airport has enforced pollution control regulations on all public vehicles running in theairport areas, which include taxis, shuttle buses, public buses, public vans and coaches. These vehicles were told to turn off the engine while waiting for passengers and make sure to have their vehicle condition checked regularly."
All this obfuscation from officials and the government is completely ignoring the PM2.5 micron "elephant in the room". Indeed, the oft-used "PM2.5 micron" word salad is just another way of confusing the public and shifting the narrative.
It's smoke, smog, haze, air pollution. And most of it is coming from fires deliberately lit by farmers who are providing crops for Thai multi-nationals, mostly corn, rice and sugar. The cheapest way to clear the land for the next crop is burning it to the ground. The machinery to complete that task without burning is expensive. Of course it's all about cutting costs, so lighting a fire and sending smoke into Thailand's skies is much easier… f**k the environment and the millions of people that are affected by the months of smoke-filled air.
Even the Pollution Control Department (an oxymoron indeed!) and its daily missives about the air pollution problem completely avoid any discussion about the forest and plantation fires, burning mainly in central and northern Thailand, and over the border in Myanmar. The northerly and north-easterly airstream at this time of the year casually wafts the offending smoke south, affecting the capital and its 10 million residents.
Here's today's active fires in and around Thailand, clearly identified by NASA satellites with constant updates. You can see active fires in Cambodia, Vietnam and Myanmar, but there is a big concentration in central, northern and north-eastern Thailand.

There's the evidence of where the smoke is coming from. Check out the link HERE. Pollution Control Department officials are able to click on the link too.
Or let's go to the Air Visual map which lists the air quality around the country (or the world) any time of the day. It also lists some of the key fires burning at the time.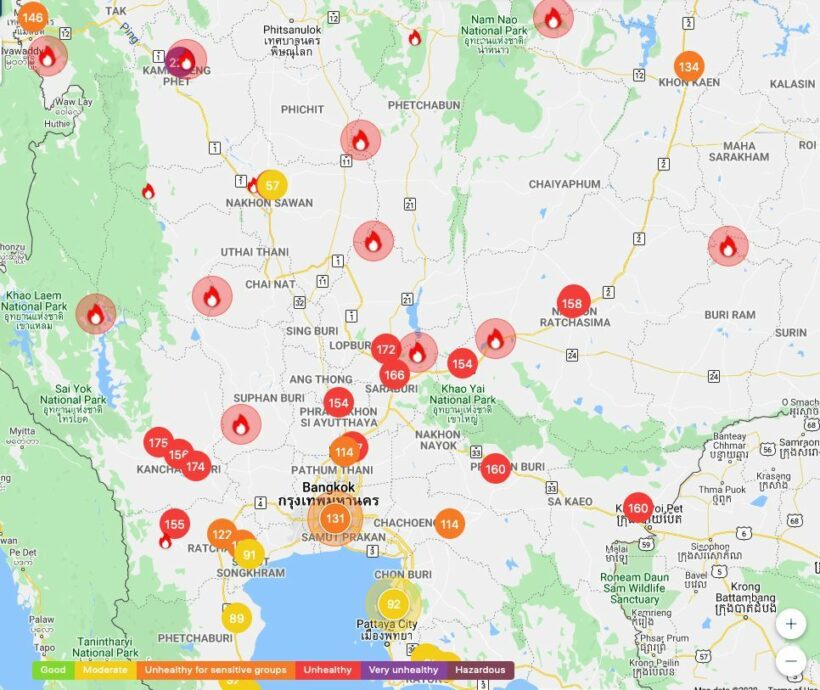 The information from Air Visual clearly shows the link between areas of poor air quality and the fires that are burning, also linked to the direction of the wind.
Bangkok's slightly improved air quality readings today have nothing to do with the water cannons blasting water into the sky at Suvarnabhumi and everything to do with changed, favourable wind conditions. If the problem was 'traffic' then Bangkok, a city of some 10 million people, would always have worse air quality than all the provincial air quality measurement stations.
At some stage the Thai government and public servants will be forced to bite the bullet and admit that the annual pollution problem is what it is – a cover up to protect large and powerful multi-nationals and their agricultural pursuits.
Now that Thai celebrities and some concerned residents are starting to see through the mist and fog of the misleading PR, and posting these air quality maps, their own experiences, and lack of confidence in the officials to address the problem, there is hope that public shaming might finally bring about some honesty and long-term measures to face the PM2.5 micron elephant in the room.
Keep in contact with The Thaiger by following our
Facebook page
.
Doctors advise good hygiene as Wuhan virus outbreak evolves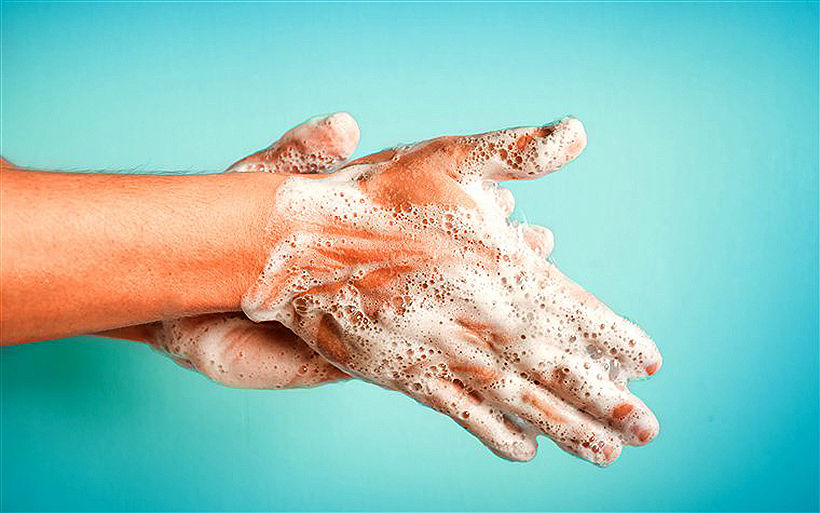 "China's healthcare system and disease outbreak control capabilities have also improved dramatically since 2003 and I believe they will contain the outbreak."
As the coronavirus outbreak in Wuhan, central China continues to evolve, potentially spreading further outside of China, health practitioners and experts in Thailand are advising people to protect themselves by maintaining simple, practical hygiene practices such as washing your hands often. An advisory from medical chain Raffles Medical, which recommends washing your hands frequently, says human coronaviruses are most commonly spread from an infected person to others through…
• the air by coughing and sneezing
• close personal contact, such as touching or shaking hands
• touching your mouth, nose, or eyes after touching an object or surface with the virus on it, before washing one's hands
Although vaccination against the seasonal influenza does not guarantee protection, Raffles Medical says people should still get vaccinated, especially if they are planning to travel.
"This will prevent you from contracting influenza symptoms and signs that may mislead screening authorities at temperature checkpoints, and result in unnecessary anxiety and delays to your travel."
Dr Edwin Chng, medical director of Parkway Shenton, recommends travellers should avoid contact with live animals and consumption of raw or undercooked meats and avoid close contact with people who are unwell or showing symptoms of illness. However, infectious disease experts say there was no need to be unduly worried as Singapore is better prepared to handle an outbreak today. Professor Paul Tambyah, from the department of medicine at the NUS Yong Loo Lin School of Medicine, says the coronavirus outbreak in Wuhan could be like the H1N1 outbreak in 2009, which quickly spread all over the world.
Fortunately, the outbreak was less severe than feared, he said. But in any case, Singapore is even better prepared than in 2009 in terms of testing, equipment and resources.
"I think that we should be concerned but there are plenty of measures in place to detect cases, isolate and treat them appropriately in Singapore as well as in the other countries in the region."
"Ensure good hand hygiene, stay away from live animal markets, seek medical attention from your GP if you are not feeling well and are still not better after three, four days."
"China's healthcare system and disease outbreak control capabilities have also improved dramatically since 2003 and I believe they will contain the outbreak."
Keep in contact with The Thaiger by following our
Facebook page
.