Finance Ministry approves stimulus package to spur tourism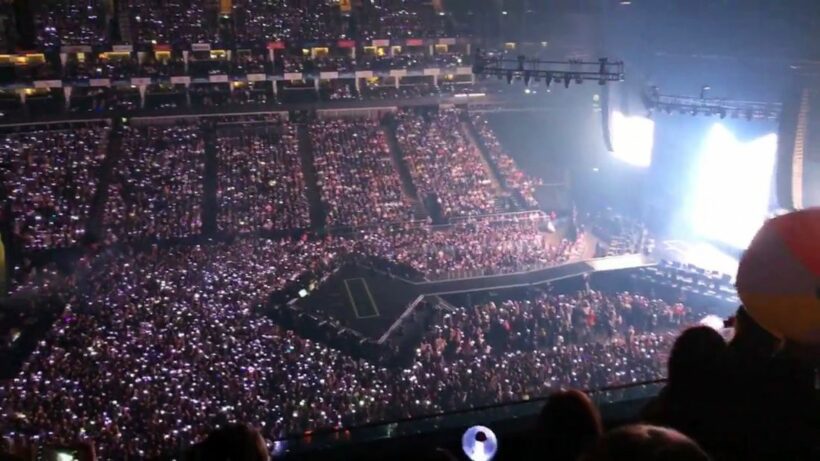 PHOTO: Among other things, the TAT are organising some big concerts over the last three months of 2019. Some of the 50,000 that attended the BTS 'Love Yourself' stadium concert in Bangkok in April 2019.
The Finance Ministry has now approved a stimulus package for the last three months of the year to boost Thailand's tourism sector. The aim is achieve a 3% growth rate.
The Thai Tourism and Sports permanent secretary Chote Trachu says the purpose is to increase the total tourist arrivals for the second half of the year to 20 million, with the aim to reach the year-start projections of more than 40 million tourists to Thailand for 2019.
Tourist arrivals for the first eight months of the year totalled 26.5 million, generating 1.3 trillion baht of revenue, according to official figures from the Ministry of Tourism and Sport. For the remaining four months of the year, Mr. Chote said there would likely be another 13 million tourist arrivals, with expected revenue of 750 billion baht.
Tourism Authority of Thailand governor Yutthasak Supasorn says that events have been planned to boost tourism for the final months of 2019 including World Cannabis Festival, Super GT, a Tour de France cycling competition and concerts featuring famous bands such as Tomorrow Land and EDC.
Meanwhile, last Thursday, the World Bank slashed Thailand's economic growth projection for 2019 to 2.7%, down from an earlier 3.5%, because of the contraction of the country's exports.
In its latest "East Asia and Pacific Economic Update", the World Bank said today the 2.7% GDP forecast for Thailand is the lowest among ASEAN's developing countries. The Washington-based institution also cut Thailand's GDP growth forecast for 2020 to 2.9% from 3.6%.
The World Bank's report attributes the lower GDP growth outlook to an export slump in the first half of the year, the global economic slowdown and fallout from the US-China trade tensions. The World Bank also says "the Bank of Thailand has limited scope to tackle the baht's strength, but the currency's climb is a sign of investor confidence in the country's economic fundamentals".
SOURCE: Thai PBS World
Keep in contact with The Thaiger by following our Facebook page.
Never miss out on future posts by following The Thaiger.
Migrant workers risk losing their legal status, the Cabinet to extend work permit amnesty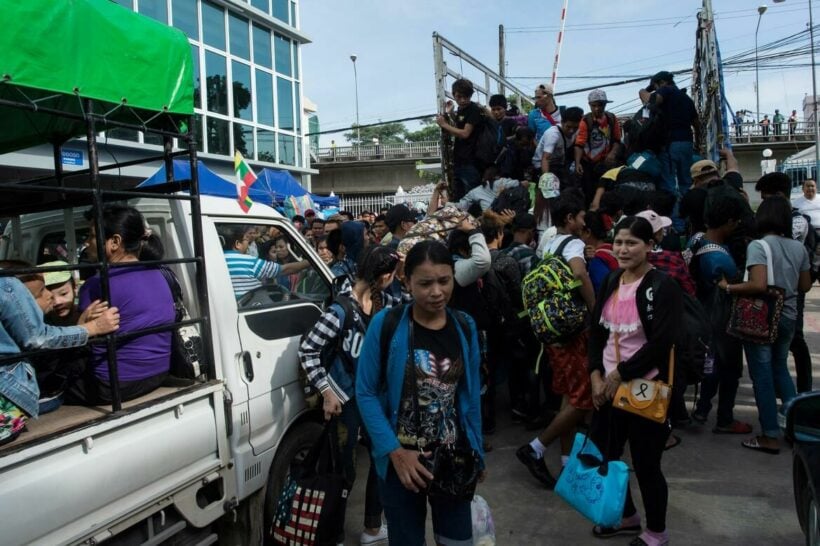 Over 1.7 million migrant workers in Thailand are going to lose their legal working status because they can't submit work permit renewal and a health certificate with Covid-19 test results in time. The Labour Ministry then proposes the cabinet will extend the registration period (amnesty) for migrant workers to help maintain their legal status. Migrant workers, including those illegal and unemployed workers, are required to register with authorities via the ministry's website from January 15 until February 13.
According to the Labour Minister, every migrant worker to renew their work permit must receive a Covid-19 test at hospitals designated by the Public Health Ministry. The Department of Medical Sciences will be responsible for the testing costs.
Illegal and unemployed workers, who registered with the Ministry, will be allowed to stay in the Kingdom for 2 years without penalties. Only those migrant workers from Cambodia, Laos, and Myanmar are allowed to overstay their current visas, but are required to register with the provincial employment office in the area they work, as part of the amnesty.
SOURCE: Bangkok Post
Keep in contact with The Thaiger by following our Facebook page.
Never miss out on future posts by following The Thaiger.
Thailand's poorer areas may suffer if vaccines funded by local municipalities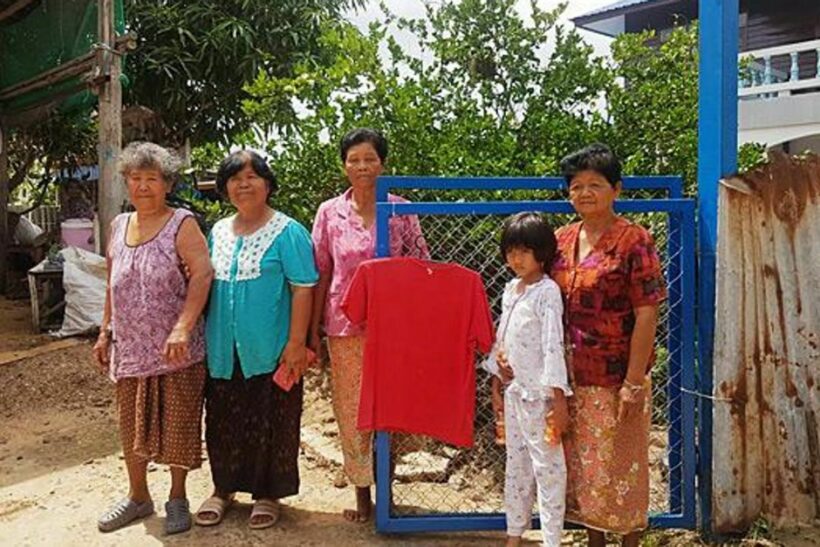 Thailand's poorer areas may suffer if Covid-19 vaccine distribution is given the green light to be funded by local municipalities. Suspicions are already being raised as critics say many municipalities who offer to fund the vaccines may have alterior political motives. As many as 20 municipalities are reporting that they have already set aside funding.
Ratchaburi Town Municipality, for example, has set aside more than 200 million baht to purchase the Covid-19 vaccines but is waiting for the government's approval to go ahead with local funding. In Bangkok, which has over 5 million residents, the Bangkok Metropolitan Administration is on standby to use 10 billion baht towards vaccinating its residents.
While those in charge of "richer" municipalities say they are confident they can afford Covid vaccines for their residents, their eagerness is being met with suspicion as local administrations historically have limited experiences and capabilities in this area. Many municipalities have shown to lack medical or public health specialists required to administer such vaccinations.
Nonthaburi Municipality mayor Somnuek Thanadechakul and other local administrators agree on the idea of inoculating residents using local funds as they say it can help speed up the vaccination process.
"If the government gives the green light, we can complete vaccinations in a month instead of three months."
Pita Limcharoenrut, leader of the opposition Move Forward Party, disagrees as he says it is the responsibility of the government alone to get quality vaccines for everyone. If local administrations are allowed to buy vaccines, he says poorer ones will be at a disadvantage.
"It's clear that local administrators are using this opportunity to boost their popularity ahead of the next elections."
Former transport minister Chadchart Sittipunt, has also suggested that the BMA has enough funds to vaccinate 8 million people living in the capital for free.
"The BMA has enough money to shoulder this responsibility immediately."
Elections for mayors and municipal council members are set to take place in the first half of this year, while Bangkok's gubernatorial election is likely to take place in the latter half, in which Chadchart is contesting.
PM Prayut has, indeed, confirmed local administrations can acquire vaccines for their residents using their own funds. But the vaccines they purchase must be approved by the FDA to prevent possible side effects. The spokesman for the BMA, Pongsakorn Kwanmuang, is echoing those concerns as he says they are taking into consideration the safety and quality of the vaccines they receive.
"Talks are ongoing over vaccine imports. We are trying to get the vaccines as soon as possible, but they must be the best and safest."
Supakit Sirilak, director-general of the Department of Medical Sciences, is also worried about quality and safety during inoculation and allocation of the vaccines and proposing a rhetorical question.
"Could there be misuse of vaccines that stray from the original goal and target group?"
PM Prayut has also joined in on the concerns by recently saying he wouldn't let Thai people be "guinea pigs" and is waiting for see more evidence of the safety and accuracy of the vaccines.
According to the Public Health Ministry, Thailand is set to receive China's Sinovac Biotech vaccine in 3 batches starting next month with the first batch seeing 200,000 doses arrive. 800,000 more doses are expected in March, and 1 million in April.
The government has also ordered 26 million doses from AstraZeneca in an agreement that facilitates a "knowledge transfer" for Siam Bioscience, a Thailand firm, to produce the vaccine locally. 35 million more doses from AstraZeneca are also reportedly planned. The government plans to have half of the population or 33 million people inoculated against coronavirus.
SOURCE: Thai PBS World
Keep in contact with The Thaiger by following our Facebook page.
Never miss out on future posts by following The Thaiger.
Tower Of Babble – Have your say on The Thaiger – January 21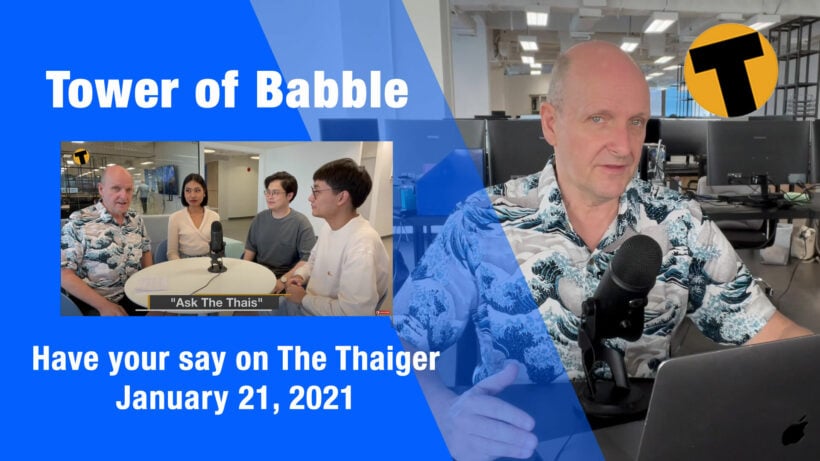 Tower of Babble is where we read some of your comments made on The Thaiger YouTube videos, as well as our website thethaiger.com and Facebook page. Some are insightful, some are interesting, some need to be shared! And some are just plain funny.
If you leave a comment under any of our videos it may be shared on our Tower of Babble each day.
Please don't post links when you make a comment. But you can copy and paste bits of text to support your comment if you wish.
Keep in contact with The Thaiger by following our Facebook page.
Never miss out on future posts by following The Thaiger.