Journey back to Tham Luang in 'The Cave' – VIDEO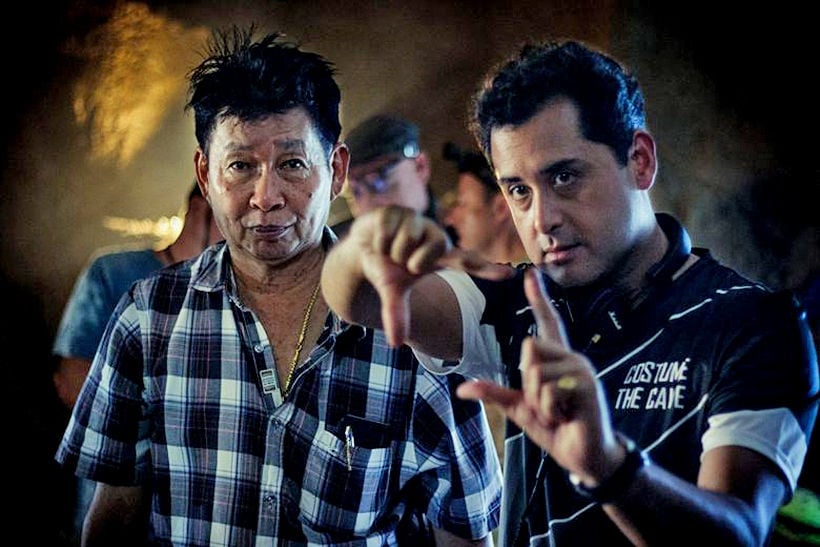 PHOTO: Tom Waller on site during the filming of The Cave – AFP
Determined divers racing against time. Rising waters threatening lives. 12 teenagers and their soccer coach trapped inside for two weeks. A remote cave that most had never heard of.
The stuff of a Hollywood drama, except that it's all true and happened in Chiang Rai last year. Now the first of several re-tellings of the story comes to the big screen in The Cave.
The ordeal in late June and early July last year had barely ended when filmmakers began their own race to get the nail-biting drama onto cinema screens. The first of those projects premiered at the start of October, when director Tom Waller's The Cave showed at the Busan Film Festival in South Korea.
The film was shot over three months earlier this year and has been in post-production since then. The 45 year old Thai-British filmmaker says the epic tale of the Wild Boars (Mu Pa) football team was a story he simply had to tell.
"I took the view that this was going to be a story about the people we didn't know about, about the cave divers who came all the way from across the planet."
The 13 young men entered the Tham Luang cave complex after soccer practice and were quickly trapped inside by rising floodwater. The boys were forced to spend nine nights lost in the cave, whilst Navy Seal and other diver searched frantically, before they were spotted by a British diver.
It would take another eight days before they were all safe, against all odds, in a risky mission.
Waller was visiting his father in Ireland when he saw television news accounts of the drama.
"I thought this would be an amazing story to tell on screen."
But putting the parts together after their dramatic rescue proved to be a challenge. Thailand's government, led by the military NCPO, became very protective of the story, barring unauthorised access to the Mu Pa team or their parents. Waller often feared his production might be shut down.
His good fortune was that the events at the Tham Luang cave in Chiang Rai province had multiple angles and interesting characters. Especially compelling were the stories of the rescuers, particularly the expert divers who rallied from around the world. He decided to make a film "about the volunteer spirit of the rescue."
Other people proposed telling the story from the point of view of the boys, and Netflix nailed down those rights in a deal brokered by the Thai government.
"I took the view that this was going to be a story about the people we didn't know about, about the cave divers who came all the way from across the planet. They literally dropped everything to go and help, and I just felt that that was more of an exciting story to tell, to find out how these boys were brought out and what they did to get them out."
Waller even had more than a dozen key rescue personnel play themselves.
Waller said they were natural actors, blending in almost seamlessly with the professionals around them, and helped by the accuracy of the settings and the production's close attention to detail.
"What you are really doing is asking them to remember what they did and to show us what they were doing and what they were feeling like at the time. That was really very emotional for some of them because it was absolutely real."
Waller says his film is likely to have a visceral effect on some viewers, evoking a measure of claustrophobia.
"It's a sort of immersive experience with the sound of the environment, you know, the fact that is very dark and murky, that the water is not clear."
"In Hollywood films, when they do underwater scenes, everything is crystal clear. But in this film it's murky and I think that's the big difference. This film lends itself to being more of a realistic portrayal of what happened."
Some scenes were filmed on location at the entrance to the actual Tham Luang cave, but most of the action was shot elsewhere.
"We filmed in real water caves that were flooded, all year-round. It is very authentic in terms of real caves, real flooded tunnels, real divers and real creepy-crawlies in there. So it was no mean feat trying to get a crew to go and film in these caves."
The Cave goes on general release in Thailand on November 28.
ORIGINAL ARTICE: Associated Press | Time.com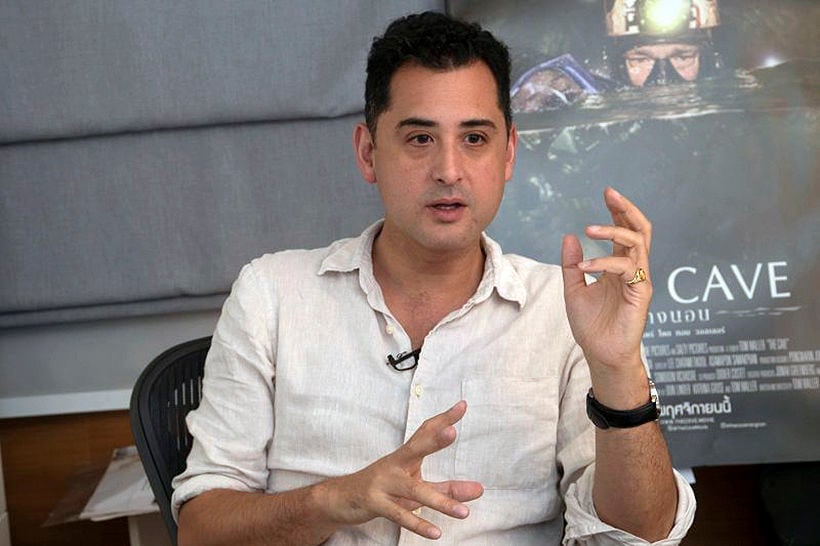 PHOTO: Tom Waller – Associated Press/Sakchai Lalit
Keep in contact with Thaiger by following our Facebook page.
Never miss out on future posts by following Thaiger.
Chiang Rai sees 2 new infections linked to Bangkok, Chiang Mai entertainment venues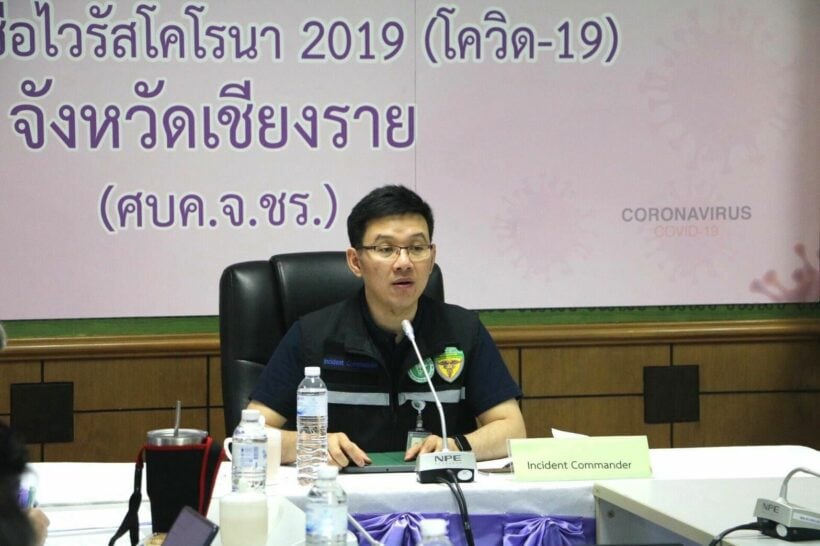 Chiang Rai is reporting 2 new Covid infections that are linked to entertainment venue clusters from Bangkok and Chiang Mai. The people who tested positive for the virus have entered a 14 day mandatory hospital quarantine. The governor of Chiang Rai and chair of the Communicable Diseases Committee ordered anyone travelling to the province from a red zone to self-monitor for 14 days and avoid contact with others.
He also noted that anyone returning to Chiang Rai from a controlled area must contact the village headman and community leader to organise village health volunteers. All of those who enter the province must follow Covid safety precautions with anyone violating the measures to be fined up to 20,000 baht under the Communicable Disease Act B.E. 2557.
Chiang Rai's local officials have also voiced concern over Songkran, or the Thai new year festivities, and have banned water-splashing, foam parties, food catering and other types of close contact activities. Entertainment venues, pubs, karaoke, bars, and taverns are temporarily closed. And, other facilities like gyms, and tutoring companies are also ordered to limit visitors.
Health officials are also waiting for Covid-19 test results from 2 other people in Mae Sai district who returned from the same entertainment venues in Bangkok and Chiang Mai. The news of another Covid outbreak has prompted the government to cancel the Songkran festivities in Bangkok.
Meanwhile, Chiang Rai Province has received 5,000 doses of the Sinovac Covid-19 vaccine that will be administered to certain groups of people who are on the frontlines in areas of Muang Chiang Rai District and border areas in 7 districts: Mae Sai, Mae Chan, Mae Fah Luang, Chiang Saen, Chiang Khong, Wiang Kaen, and Thoeng. The government also plans to distribute 800,000 doses of Sinovac's Covid-19 vaccine to 22 provinces sometime in April.
But the vaccine's effectiveness has come under scrutiny after Brazilian officials reported that the vaccine was only 50.4% effective in preventing Covid infections. That number is apparently quite low compared to what Sinovac Biotech quoted at 78%.
Keep in contact with Thaiger by following our Facebook page.
Never miss out on future posts by following Thaiger.
Officials tracking down foreigners with fake IDs opening up illegal businesses in Chiang Rai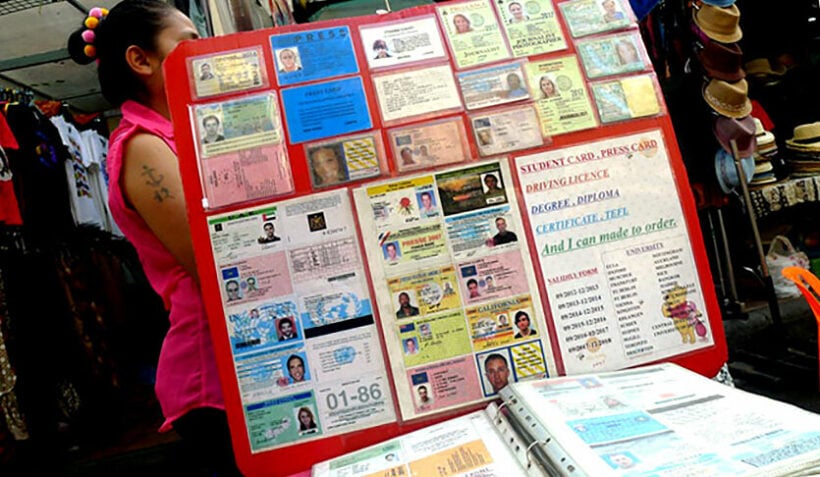 Thai news site TNA is reporting that the Department of Special Investigation is investigating 255 foreigners who are allegedly in possession of fake Thai IDs in the Wiang Kaen district of Chiang Rai. The report also claims that they were operating illegal businesses.
One of the suspects is Chinese but carried a Thai ID saying that he was a Thai citizen "Apao Saesoen". The man later registered a company to run a business reserved for Thai citizens. The DSI believe that the issuing of fake Thai IDs could affect national security. The Chinese man, whose real name is Wen Haomiao, is now being tracked down after the issue of an arrest warrant.
The origins of the other foreigners, reported as 'aliens' in the Thai media, were not made apparent in the article.
The DSI director-general says his department is working with the local Department of Provincial Administration as they track down the sources of the fake documents. So far the investigation is concentrated in the Wiang Kaen district, in the far east of the province, on the Laos border.
The provincial office is trying to find and revoke Thai ID cards earlier issued for 50 foreigners. 7 of them had already set up alleged fake Thai companies.
Fake Thai IDs and other documentation was readily available is various markets around the country, especially in touristy areas. But recent crackdowns have pushed the lucrative market underground although fake documentation remains a popular business in Thailand. Khao San Road was a hive of fake documentation until a crackdown in 2018 forced most of the illegal vendors off the streets.
SOURCE: TNA
Keep in contact with Thaiger by following our Facebook page.
Never miss out on future posts by following Thaiger.
Border officials on alert for Burmese coup protesters fleeing military crackdown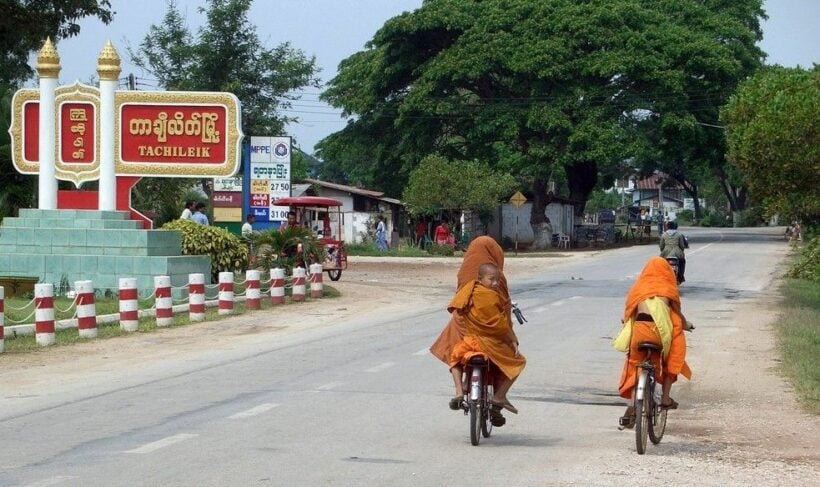 Border police have increased patrols in the northern province of Chiang Rai amid concerns that Burmese protesters may try to cross into the Mae Sai district. This follows a military crackdown in the Burmese border town of Tachilek as the army tries to quell anti-coup rallies.
According to a Bangkok Post report, Sompong Chingduang from Thailand's Immigration Bureau says the authorities in Mae Sai continue to monitor the situation in Tachilek. On Saturday, 2 protesters were killed in the Burmese city of Mandalay after officials opened fire on demonstrators protesting the February 1 coup.
The following day, thousands rallied in the town of Myawaddy, on the border of the Mae Sot district in the Thai province of Tak, while another protest was held in Tachilek. The Tachilek protest led to the border between Thailand and Myanmar being shut for 2 hours. It's understood the largest rallies yet are being planned for today.
Meanwhile, Sompong has issued a warning that nobody fleeing the military crackdown in Myanmar will be granted entry to Thailand but will instead be turned away from the border. He says to do otherwise would pose too much of a health risk for Thailand, given the Covid-19 situation.
SOURCE: Bangkok Post
Keep in contact with Thaiger by following our Facebook page.
Never miss out on future posts by following Thaiger.