A breathtaking travel experience in Thailand is only available for few more days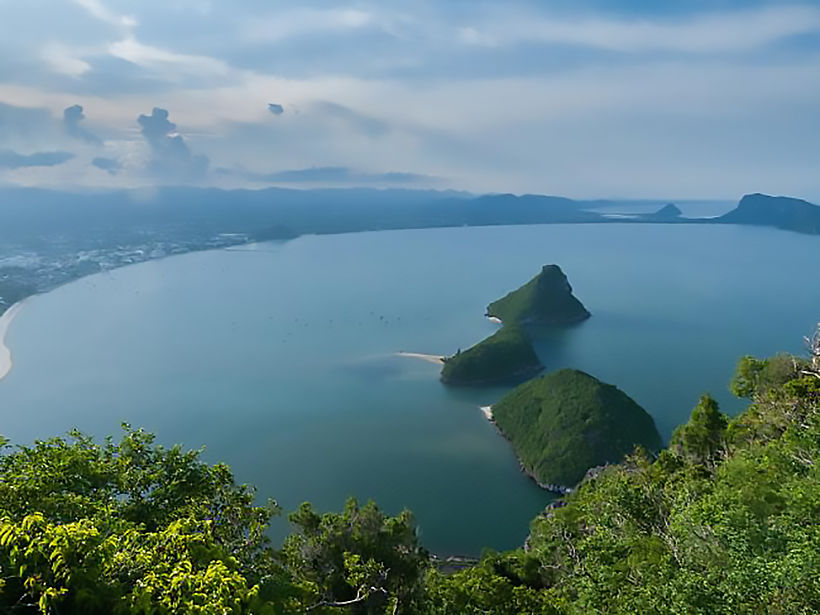 Thailand, the land of smiles, is well known for its travel destinations and experiences, from unique cuisine to white sand beaches, from elephant camps to breathtaking views. But ironically, one of the best lookout spots in Thailand is also one of the most exclusive. An incredible hike lets tourists enjoy some of the best views in all of Thailand, but it's only available for a few short times each year.
A spectacular hike takes visitors to the top of Khao Lom Muak, a 300 metre tall hill by the seaside that offers magnificent views of the town of Prachuap Khiri Khan below and nearby beaches, about 290 kilometres south of Bangkok. But because the hill is on a Thai air force base, it's not usually open to the public, except for a few very small opportunities every year.
The Prachuap Air Base allows public access to Khao Lom Muak on public holidays and during tourism fairs. It's open now, but only until Sunday, to coincide with a local tourism event. But there are strict provisions that come with enjoying this magnificent vista:
Tourists can only climb in the morning, before it becomes too hot, with climbing times between 6am and 1030am. Climbers must register and have their blood pressure taken. And once they're given the all-clear, they're not in for an easy trek.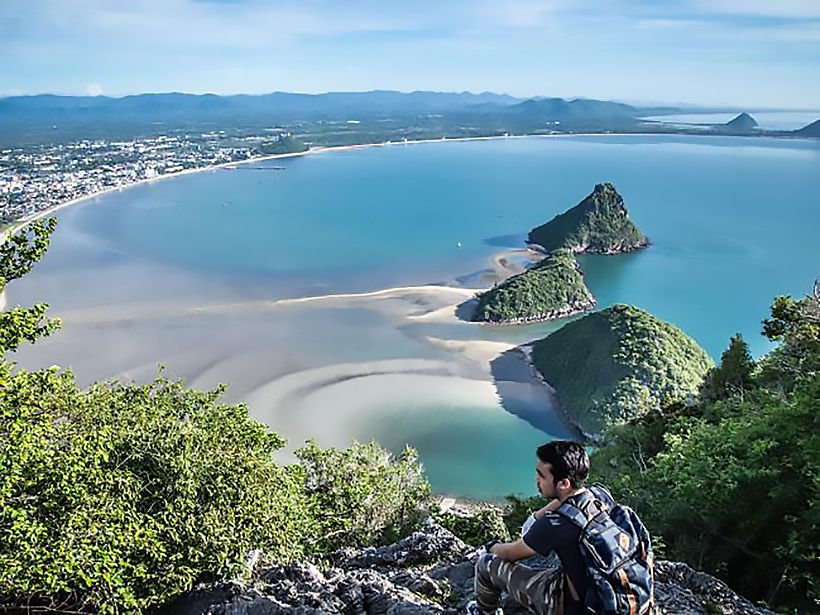 The journey begins with a climb up a 496-step stairway, and the two-hour trek only gets steeper from there. But the rewards are great. There are plenty of lookouts along the way, and the legendary view from the top of Khao Lom Muak takes in the Gulf of Thailand and the many bays and islets that typify the coast.
But you'll have to start heading back down at noon, according to the rules.
After Sunday the next chance to climb Khao Lom Muak will be during Songkran, the the Thai New Year, from April 13 to 15.
SOURCE: news.com.au
Keep in contact with The Thaiger by following our
Facebook page
.
Visa amnesty for foreigners – but conditions apply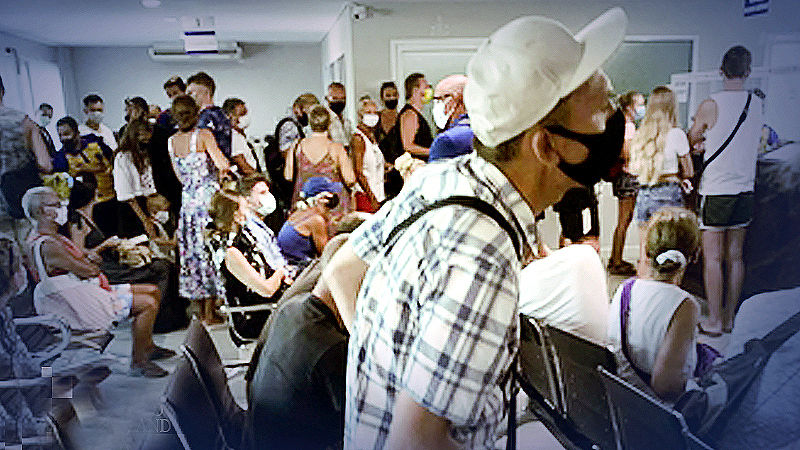 "All foreign nationals are advised to closely monitor the Immigration Bureau's website for updates, though the measures announced on Wednesday are valid until April 30 unless otherwise updated."
The visa amnesty has been announced, hopefully relieving some of the stress on stranded tourists and other foreigners that have ended up without flights or ways to get home. Many flights have been cancelled, confusion has made people miss flights or their home borders may have been closed.
The Immigration Bureau has now announced, after a few false starts, that it is granting visa relief for all foreign nationals who have found themselves marooned in Thailand. The announcement is now up on the bureau's website.
• Visas that have expired from March 26 onwards will be automatically extended to April 30.
• Foreigners are no longer required to apply in person for an extension at an immigration office
• They will not be charged 500 baht per day for overstaying their visa
• Foreigners who are due to file their 90 day reports, between March 26 and April 30, are also temporarily exempted.
• Foreigners with border passes will be allowed to stay in Thailand for now but will be required to leave Thailand within 7 days once the borders are opened again.
Tourists, expats and other visitors have been forced to queue up, sometimes in cramped or hot conditions, putting themselves and the immigration officials at risk.
Meanwhile, many Thais remain stranded overseas with the government's latest edict to allow only 200 Thais to re-enter the country each day so that quarantine facilities can be prepared for them – they will not be allowed to return to their homes until they have spent 14 days in a government-controlled quarantine area.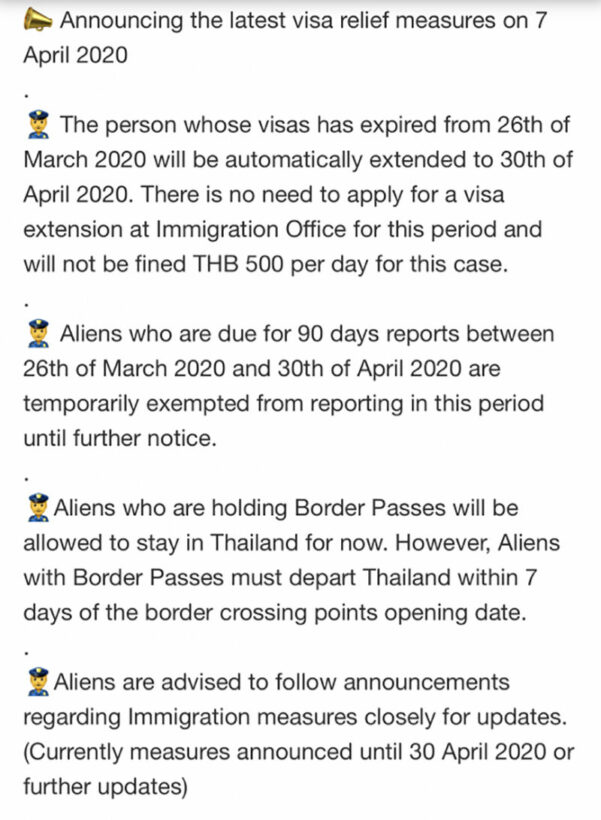 Keep in contact with The Thaiger by following our
Facebook page
.
International visitor numbers down 35% January-March, exceeding worst predictions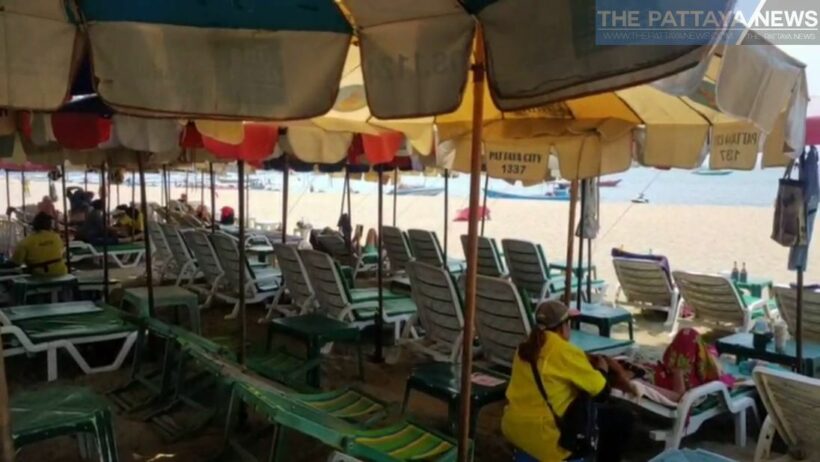 International visitor numbers to Thailand from January to March dropped by 8.5 million, or 35.3% year-on- year, according to the Civil Aviation Authority of Thailand. You can be sure the specific numbers for March would have been a lot worse.
The biggest decline, unsurprisingly, was in Chinese visitor numbers, which dropped by 59.4% compared to 2019, to around 2.4 million. China placed a ban on group tours leaving the nation in January as the Covid-19 coronavirus pandemic began to spread. Visitors from Japan fell by 28% to 1.6 million, while those from Russia dropped only 0.6% per cent to 1.19 million passengers.
The top 10 sources of travellers to Thailand were China, Japan, Russia, Singapore, India, South Korea, Malaysia, Hong Kong, and Vietnam, followed by the United Arab Emirates, Qatar, Taiwan, Cambodia, Myanmar and Indonesia.
Tourism accounts for about 16% of Thailand's total GDP, and has been called the "lifeline" of the kingdom's already battered economy. Thailand's tourist industry could be decimated in the wake of the world coronavirus outbreak.
Only weeks ago, the governor of the Tourism Authority of Thailand mourned that, in the worst case scenario, Thailand could bleed 10 million of its projected 40 million tourist arrivals this year.
SOURCE: The Nation
Keep in contact with The Thaiger by following our
Facebook page
.
New immigration measures for stranded visitors considered by Thai cabinet tomorrow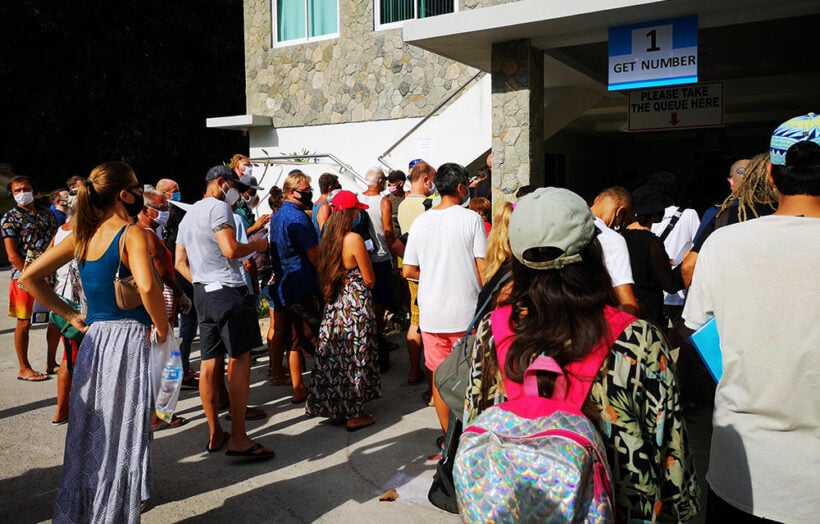 "Under the government's social distancing policy, these tourists will no longer have to visit the immigration bureau and risk contracting the virus in a crowd." 
Thai Immigration officials are seeking cabinet approval for new measures to categorise foreigners stranded in Thailand because of the Covid-19 crisis. The proposals will be submitted to tomorrow's cabinet meeting.
Last week Thai TM Prayut Chan-o-cha expressed concerns about foreigners who are stuck in Thailand after flights were in short supply and many countries had, as Thailand has, locked their borders to incoming passengers. Social media has been full of complaints from well-intentioned expats and visitors who have been forced to wait for hours in queues trying to sort out their immigration woes. Of course their main concern has been the lack of social-distancing.
There will be three classifications…
• Foreigners with resident visas who normally reside in Thailand but cannot return to Thailand due to the Covid-19 crisis
• Foreign tourists who are unable to depart Thailand due to the crisis
• Visitors from neighbouring countries who hold a temporary border pass and were stuck in Thailand after the borders were shut
Bangkok Post reports that foreigners in the first group are normally required to return to Thailand within 12 months of their departure and because they might not be able to re-enter the country in time, the Immigration Bureau will propose extending their compulsory return deadline until after the pandemic subsides.
"The extension of the return period would not affect any immigration rights and benefits they usually receive when strictly following the one-year return period requirement."
But immigration officials are advising them to return to Thailand as soon as they can after the situation improves and they can safely travel again.
"For foreign tourists in the second group who reported to immigration authorities for a 30 day extension after their visas expired on, or after, March 26, their visas will be automatically renewed every 30 days until the pandemic subsides."
The updated measures, as recommended, won't apply to any foreigners who are currently working and/or have a family in Thailand.
"They will still be required to report to immigration authorities regularly."
"For visitors from neighbouring countries in the third group, they will be allowed to stay in Thailand until the borders are re-opened. They will be required to leave Thailand within seven days after the borders reopen."
"Foreigners who are in Thailand and affected by the Covid-19 crisis, but not covered in the three new categories are advised to adhere to the usual laws," (meaning they will likely be required to report to a local Immigration office).
NOTE: These proposed measures are currently NOT in place and will need cabinet approval and an official announcement before they are.
SOURCE: Bangkok Post
Keep in contact with The Thaiger by following our
Facebook page
.