Six per cent of Thai university students have attempted suicide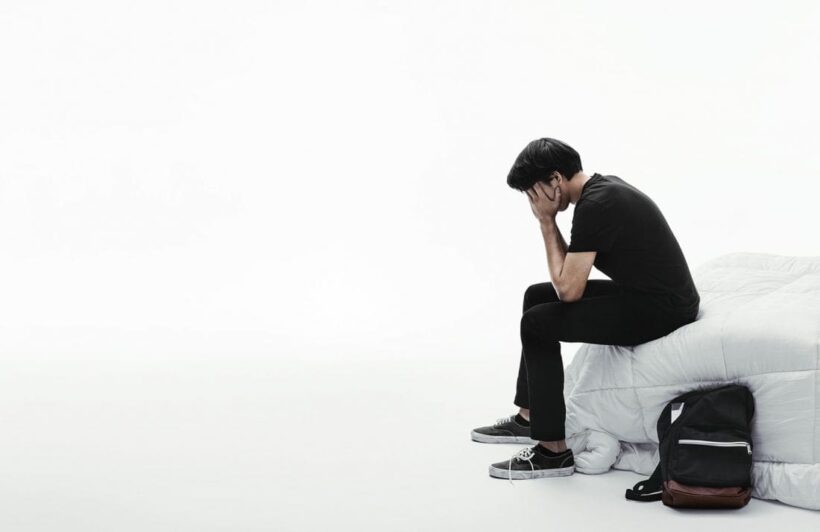 Recent research reveals a disturbing finding that over 6 per cent of university students have attempted suicide.
The study findings have been highlighted after several students killed themselves in recent weeks.
"From research on university students' depression during the past three to four years, it can be concluded that 6.4 per cent of students turned suicidal and tried to take their own life," said Asst Professor Dr Piyawan Visessuvanapoom, lecturer at the Chulalongkorn University's Faculty of Education.
The studies were both in Thailand and overseas, she added.
According to the research, most student suicide attempts were in dormitories or homes.
The common triggers for the actions were quarrels with someone very close, learning problems and relationship issues.
"Health problems, anxiety, stress and poor ties with parents and friends contribute to depression," Piyawan said.
"Given that half of university students' lives were about studies, lecturers could play a role in preventing a descent into depression."
"Lecturers should understand that students are diverse. When a group of students cannot do something, try to understand them and see how you can help."
Asst Professor Dr Nattasuda Taephant, who heads the Centre for Psychological Wellness, explained that everyone becomes sad from time to time.
"But if sadness is prolonged, a person may sink into depression."
Nattasuda said academic results that were below expectations, plus money problems, soured romantic ties or friendships, or the sudden loss of something important could upset students' lives and drive them into depression.
"The depressed tend to view the world and their situation negatively. Their past experiences affect their interpretation of what they are facing," she said.
She said those with depression tended to keep themselves away from others, lose interest in their studies and become suicidal.
"What the depressed want most is someone who agrees to listen and think for them. Lecturers, friends and family members can improve their emotional wellbeing," she said.
She said parents in particular should avoid any suggestion that they do not accept their children's mistakes.
In serious cases, he recommended that the depressed seek counselling from experts.
If you or anyone you know is in emotional distress, please contact the Samaritans of Thailand 24-hour hotline: 02 713 6791 (English), 02 713 6793 (Thai) or the Thai Mental Health Hotline at 1323 (Thai).
SOURCE: The Nation
Keep in contact with The Thaiger by following our Facebook page.
Never miss out on future posts by following The Thaiger.
Hotels and restaurants raided, 50 arrested for allegedly cheating "We Travel Together" subsidy scheme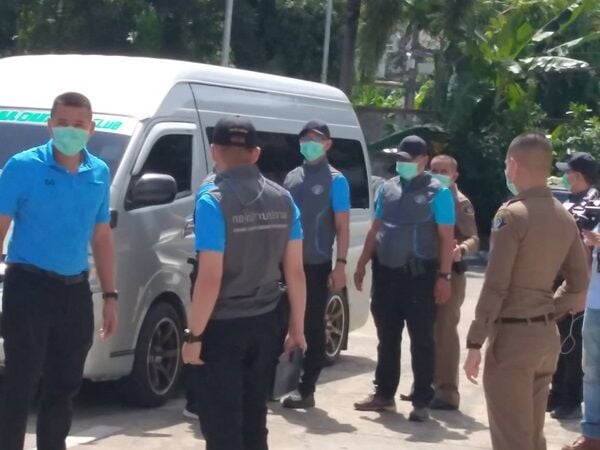 Several hotels and restaurants in Phuket and Chaiyaphum were raided this morning and 50 people were arrested for allegedly stealing from the government subsidy scheme "We Travel Together." The scheme was launched to help businesses that were financially hit by the lack of tourists during the Covid-19 pandemic and to stimulate the battered economy.
Last month, the Tourism Authority of Thailand governor Yuthasak Supasorn filed a criminal complaint against 312 hotels and 202 shops for allegedly cheating the scheme which covered 40% of room rates and offered e-vouchers. Instead of lowering prices to draw in more travellers, some hoteliers and restaurateurs allegedly raised their prices to get more subsidies.
This morning, police arrested 38 people in Chaiyaphum and 12 people in Phuket suspected of cheating the subsidy scheme. Suspects, including hotel and restaurant operators, face charges ranging from fraud and false identification to misusing electronic cards and adding fraudulent information to the computer system.
Nation Thailand says the verification system for the scheme was not stringent and people were able to register fake hotels and list fake bookings. Some hotel operators recorded higher prices for rooms to get a bigger payoff from the government.
SOURCE: Nation Thailand
Catch up with the latest daily "Thailand News Today" here on The Thaiger.
Keep in contact with The Thaiger by following our Facebook page.
Never miss out on future posts by following The Thaiger.
Chon Buri could be removed from "red zone" list, tourists expected to flock to Pattaya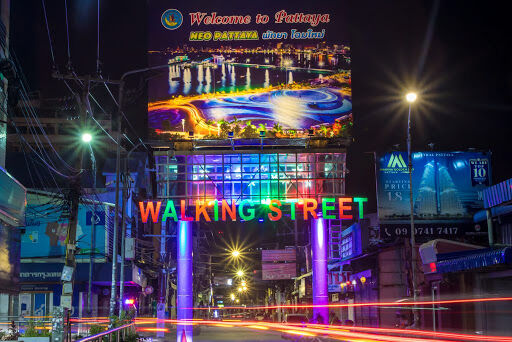 After several consecutive days without a local Covid-19 case, Chon Buri might soon be removed from the government's list of "red zones" for high risk of Covid-19. Once lockdown restrictions are eased, the coastal province expects to have an influx of tourists to Pattaya.
The province has been under strict disease control measures and is classified as one of the 5 coastal province with the highest risk under maximum control to prevent the spread of the coronavirus.
Many have been calling on the government to loosen restrictions and allow nonessential businesses to reopen. Massage and spa workers gathered yesterday, calling on the governor to allow their businesses to reopen. President of the Thai Hotels Association Eastern Chapter, Phisut Saekhu, is also calling for restrictions to be lifted, saying many hotels have shut down due to the pandemic and other businesses face serious liquidity problems.
Chon Buri has gone 6 consecutive days without a local Covid-19 transmission. The provincial governor Pakarathorn Thianchai says he's informed the Centre for Covid-19 Situation Administration and expects the province will be able to ease restrictions soon.
Other high risk "red zone" provinces, including Rayong, Chanthaburi and Trat, may also be removed from the list. Deputy Public Health Minister Satit Pitutacha says the CCSA will meet on Thursday and will look into changing the classification for those provinces from red to orange.
SOURCES: Bangkok Post| Nation Thailand
Catch up with the latest daily "Thailand News Today" here on The Thaiger.
Keep in contact with The Thaiger by following our Facebook page.
Never miss out on future posts by following The Thaiger.
Air pollution reaches "unhealthy" levels in Thailand's north and northeast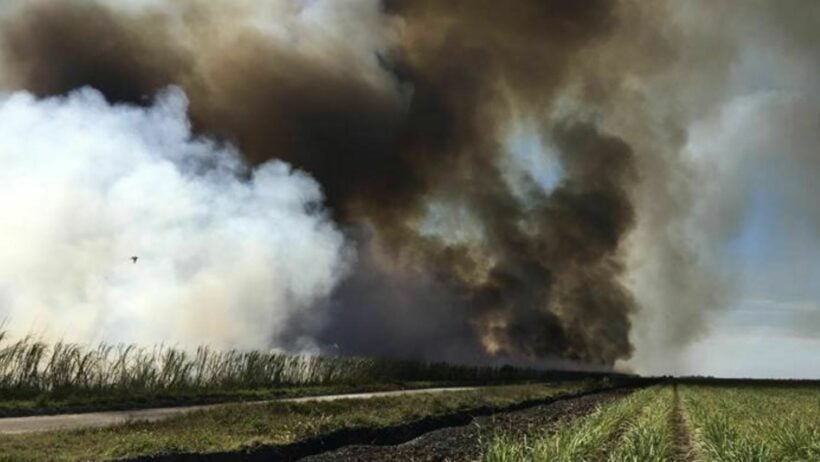 18 provinces in Thailand's north and northeast are being hit by a wave of smoke and air pollution as the burning season kicks in for the country's agricultural sector. The next 2 months are the peak of the burning off season for agricultural waste as farmers prepare their land for the next crops of corn, rice and sugar and use the fires to aid the harvest of some of their crops.
With sugar cane plantations, for example, farmers choose to burn the leaves off the plant, exposing the stalks, before harvesting the profit-making stalks, saving time and money. There are mechanical ways to achieve the same result but the farmers, pushed to slender profit margins by the multinational food companies, are unable to invest and amortise the additional costs.
The levels of PM 25 micron particulate, a measure of the smoke and haze, has been at "unhealthy" levels in Chiang Rai, Phrae, Sukhothai, Phitsanulok, Tak, Phetchabun, Phayao, Nan, Chiang Mai, Lampang, Khon Kaen, Roi Et, Chaiyaphum, Ubon Ratchathani, Saraburi, Nong Khai, Nakhon Phanom and Nakhon Ratchasima.
The Pollution Control Department are now openly admitting that the major cause of the seasonal smoke is "open burning by farmers who are preparing their land", according to the Bangkok Post. On Monday the Deputy PM Prawit Wongsuwan issued orders to prevent farmers from starting the plantation fires. You can check the result of his orders in the fire map below.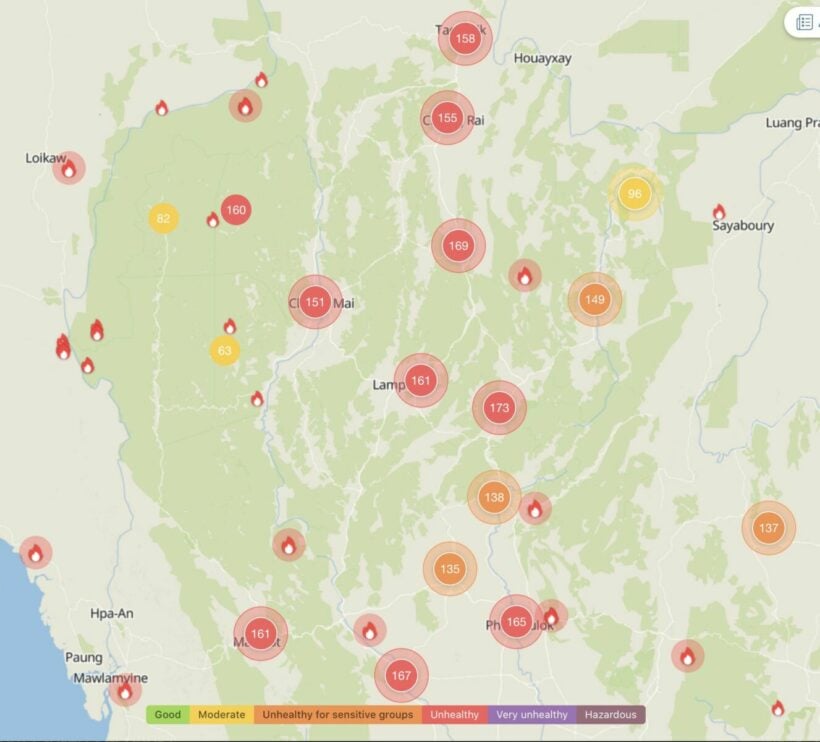 iqair.com measures the average level of PM2.5 dust in the North at between 35-85 micrograms per cubic metre (μg/m³) yesterday, considered "unhealthy". In the Northeast, the levels ranged between 40-99μg/m³.
The Thai Pollution Control Department considers PM2.5 readings below 50μg/m³ as "safe" but the Thai standard is twice as high as what is considered safe by the World Health Organisation.
firms.modaps, the NASA satellite fire tracking service, shows the number of fires currently alight around Thailand and the concentrations in the north and north east. The fires in northern Cambodia and north east Myanmar are also contributing to the Thailand's smog and haze, depending on which way the winds are blowing. During this time of the year, the winds are predominantly north east and light across much of Thailand. The firms.modaps feed is live, registering the fires alight at the time the screen capture was taken.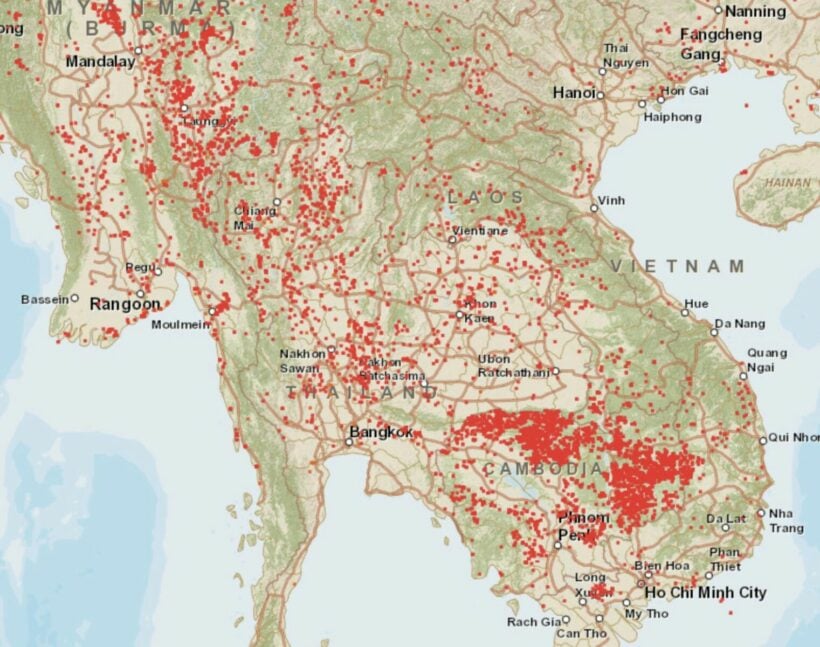 Bangkok starts off Wednesday with relatively better air quality than the past few weeks.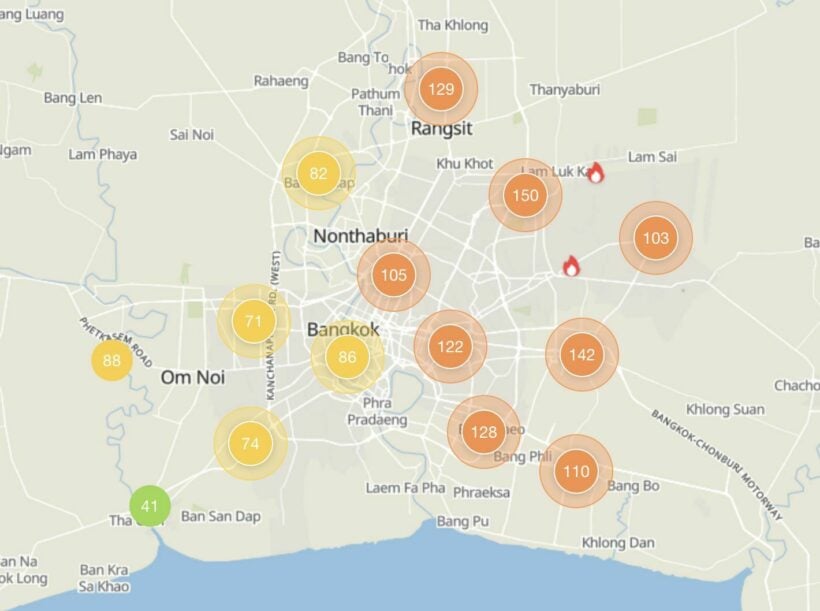 SOURCE: Bangkok Post
Keep in contact with The Thaiger by following our Facebook page.
Never miss out on future posts by following The Thaiger.