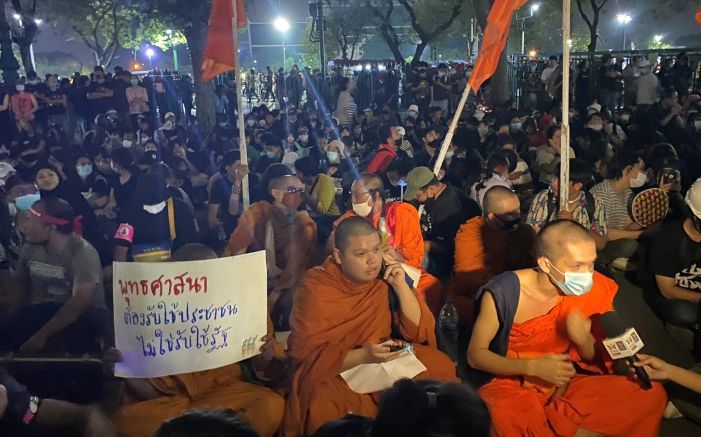 Monks and novices are banned from joining political protests and urgent notifications have been sent to temples advising them that monks could be expelled for participating. As the pro-democracy movement continues, some monks have already been seen at rallies calling on government and monarchy reformation as well as a rewrite of the 2017 Constitution.
The National Office of Buddhism director Narong Song-ar-rom says the Sangha Supreme Council has issued urgent letters to temples all over Thailand stating that monks and novices are barred from participating in political protests.
Some Buddhist monks have already been seen at protests, drawing public attention. At a protest at the Sukhumvit-Asoke intersection last month, a monk stood out in the crowd. He was dressed in the traditional, bright orange robes and sitting on a chair in the middle of crowd. Hundreds of people were sitting on the road, blocking the intersection.
While many people held signs pushing for democracy and monarchy reformation, the monk, a highly respected member of the Thai society, caught attention. Photos were taken of the monk holding his protest sign saying "We won't be blinded by your PR team no more" with his other hand raised in the movement's 3-finger salute.
According to Thai PBS, 7 months were seen at Sunday's rally where protesters attempted to deliver letters to HM the King – a move considered unprecedented in Thai society.
If monks or novices are caught participating in a political protest, the chief monk their local administrative division will decide whether or not to punish the them or even force them to leave the monkhood.
The National Office of Buddhism will also ask police to investigate the states of monks and novices at protests to make sure people aren't dressing as monks and "defaming Buddhism."
SOURCE: Thai PBS