Australian newspaper reports on Thai minister's criminal drug past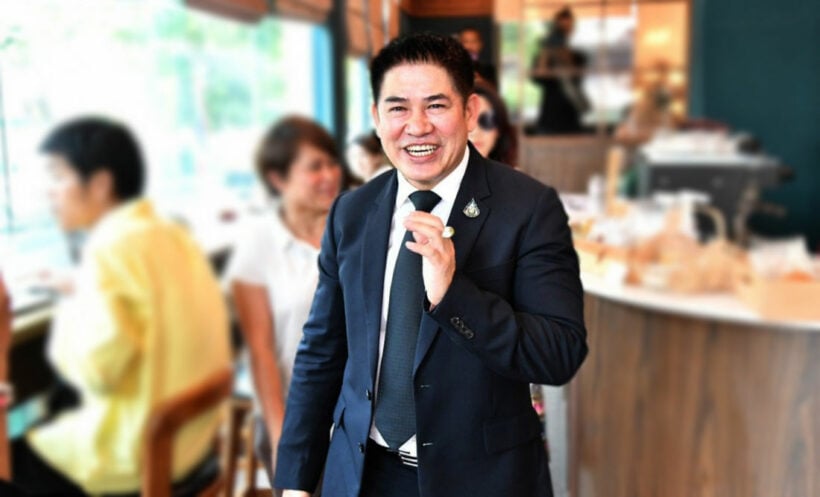 The Deputy Agriculture Minister Thammanat Prompow has had his accounts about his role in a 3.2 kilogram heroin-smuggling ring challenged by an Australian newspaper. The events back in 1993 landed Thammanat in a Sydney jail for four years.
Thammanat Prompow is the Palang Pracharath MP for Phayao province in Thialand's north.
The article by the respected Sydney Morning Herald, "From sinister to minister: politician's drug trafficking jail time revealed" is the result of an investigative report team going back over court documents at the time.
"The Herald and The Age can reveal that a newly appointed senior member of Thailand's ruling party spent four years in a Sydney jail in the 1990s for his role in trafficking 3.2 kilograms of heroin into Australia. He was deported on his release from Parklea prison."
At the time the, now Thai government Minister, changed his names several time which further complicated the verification of his claims and made tracking the story more complex. But the Sydney Morning Herald team dug out details about the case and began investigating. The court documents also allege the Minister was involved in drugs in Bangkok before the Sydney arrest.
"Asked last week to respond to details in the court file, Thammanat's office issued a statement calling the case an "unfortunate event" that "went through the proper course of the Australian judicial system where all parties were held accountable fairly and justly"."
Deputy PM Wissanu Krea-ngam said earlier this year that the case did not have a bearing on his qualifications as a minister because a person could not take a ministerial post only when his guilt was decided by a Thai court.
This is the first time full details have emerged about the Minister's alleged past transgressions.
Last July, when it became clear the Palang Pracharath MP was being considered a ministerial post, there were questions about his suitability because past jail terms and charges in Australia in the 1990s. But the full details were unknown, at least until today's revelations in the SMH.
Back in July Thammanat Prompow spoke to the media about the heroin charges against him in Australia but claimed the charges were not serious and that he was "in the wrong place at the wrong time" and that it was a "minor offence".
"I lived a normal life in Australia, in Sydney, for a full four years. You can ask the court in Sydney whether what I'm saying is true or not."
So the Sydney Morning Herald reporters did just that.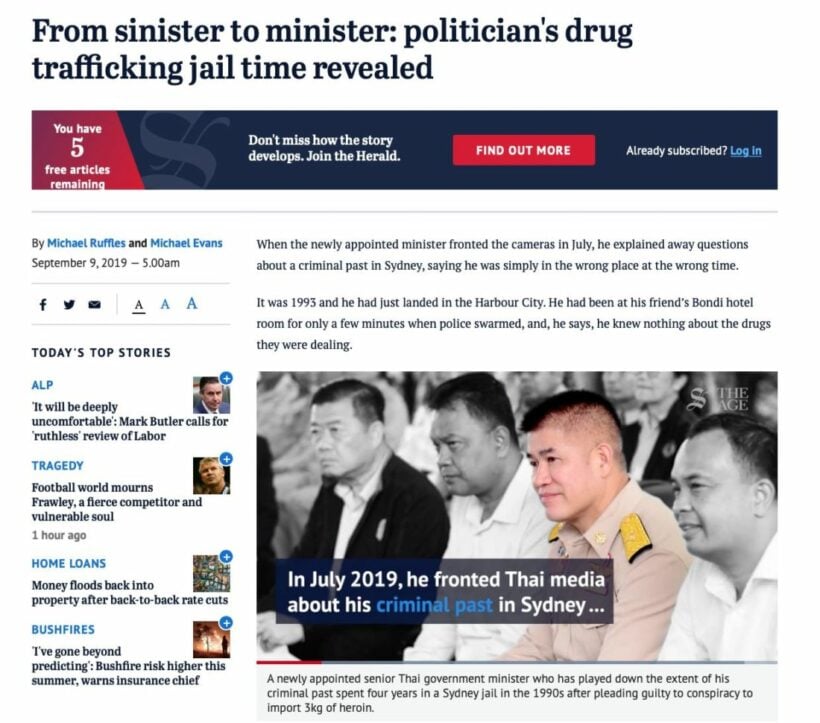 The SMH report claims that "Captain" Thammanat, who was known as 2nd Lt Manat Bophlom at the time, was a key member of the smuggling gang. The SMH report quotes court filings and police reports, some that had been obtained with covert listening devices in a Sydney hotel room where the gang met.
The article claims that Thammanat knew what was being smuggled and had been involved in arranging a visa and purchasing a plane ticket for a courier. This is contrary to what Thammanat had told the media and Cabinet members.
After being arrested in Sydney, along with other gang members – a Thai half brother and two Australians – he was charged with conspiracy to import heroin and refused bail. The article clarified that he had denied the charges and was sentenced to nine years in jail. After that, he cooperated and later confessed.
"Sorasat pleaded guilty first and by November Manat had been committed to stand trial when a judge indicated he faced nine years' jail. After that, he began co-operating with police and pleaded guilty. In one police interview he promised, "I'm going to tell the whole story about Wera," including that Wera has people killed. Police asserted that Manat told them couriers smuggled drugs into Australia by swallowing condoms of heroin."
He was sentenced to six years in jail with a non-parole period of four years.
"Manat's deep connections in Thailand were underlined when he produced character references from a judge and a police lieutenant-colonel who each said he "always has good behaviours [sic], honesty and is reliable."
Capt Thammanat and his half-brother were released on April 14, 1997 and immediately deported.
Apart from his role as deputy agriculture minister in the new Thai government, he acted as a 'fixer' to keep the shaky coalition together at the time it was 19 separate parties.
SOURCE: Sydney Morning Herald
Keep in contact with The Thaiger by following our
Facebook page
.


Have something to say? Scroll down to leave a comment, or visit our Thaiger Thailand Q&A Forum to discuss people, events, to-do and more with the local community.

Read more headlines, reports & breaking news in Thailand. Or catch up on your Thailand news.

Prachin Buri roadside flower seller gives yesterday's earnings to Thai flood victims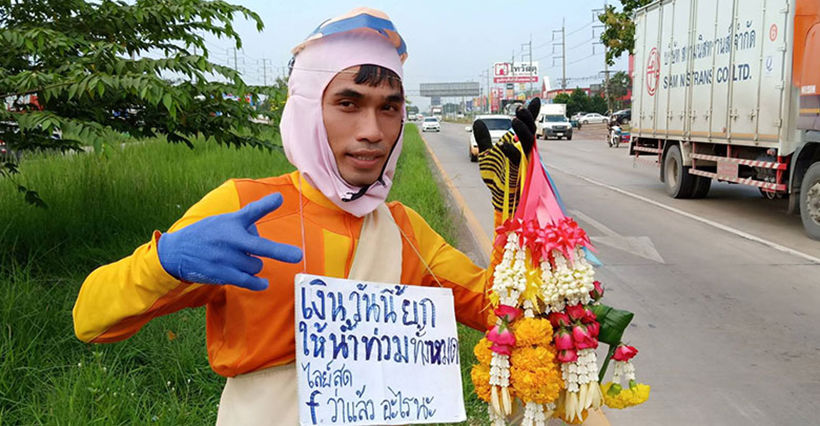 PHOTOS: INN News
A roadside flower seller in Prachin Buri, just to the north east of Bangkok, is giving all his earnings from yesterday to help flood victims in Thailand's north east provinces. INN News reports that he was wearing a sign… "All earnings from today will be given to flood victims".
Flower sellers are often seen at red lights around Thailand serving the 'captive' audience who buy the floral scented decorations 'puang mah lai' as good luck amulets. The price of one of the hand-made decorations is about 20 baht.
Chatri is originally from Chachoengsao province, just to the south. He says he's been following the news about the floods affecting north-eastern provinces and feels extremely sad for the victims.
He has been selling flowers on the road for a while now and makes enough money to live comfortably. But all the earnings made yesterday will be sent to a government account to support the flood victims.
As soon as the flowers had sold out Chatri went to the local SCB Bank and deposited all the money taken for the day, around 1,000 baht, into an account. When the bank's manager saw Chatri depositing the money staff also put in 1,000 baht as well.
Chatri's kind act inspired drivers that saw him so they came to the back later in the day and put some more money into his good cause.
Thanks Chatri. You've done you bit and sacrificed a day's earnings to help fellow Thais in distress.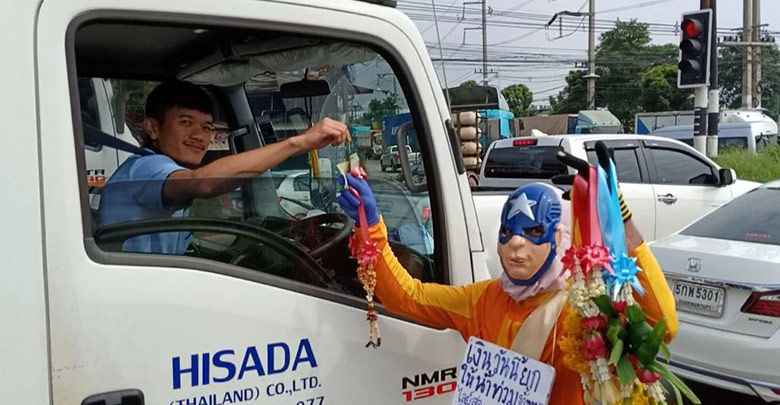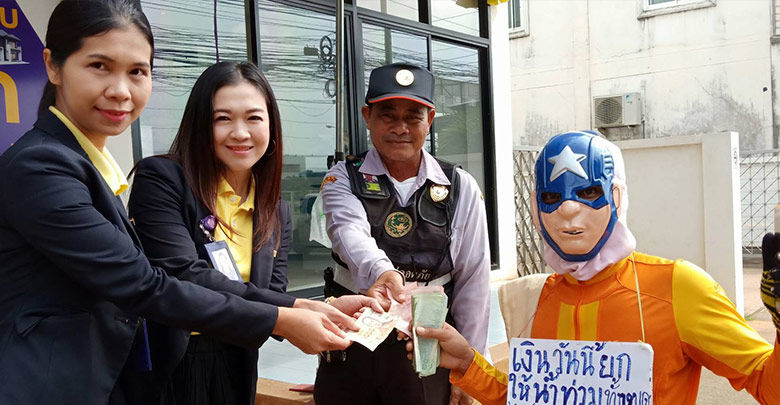 SOURCE: INN News
Keep in contact with The Thaiger by following our
Facebook page
.
Nepali climber pushing for record 14 peak record attempt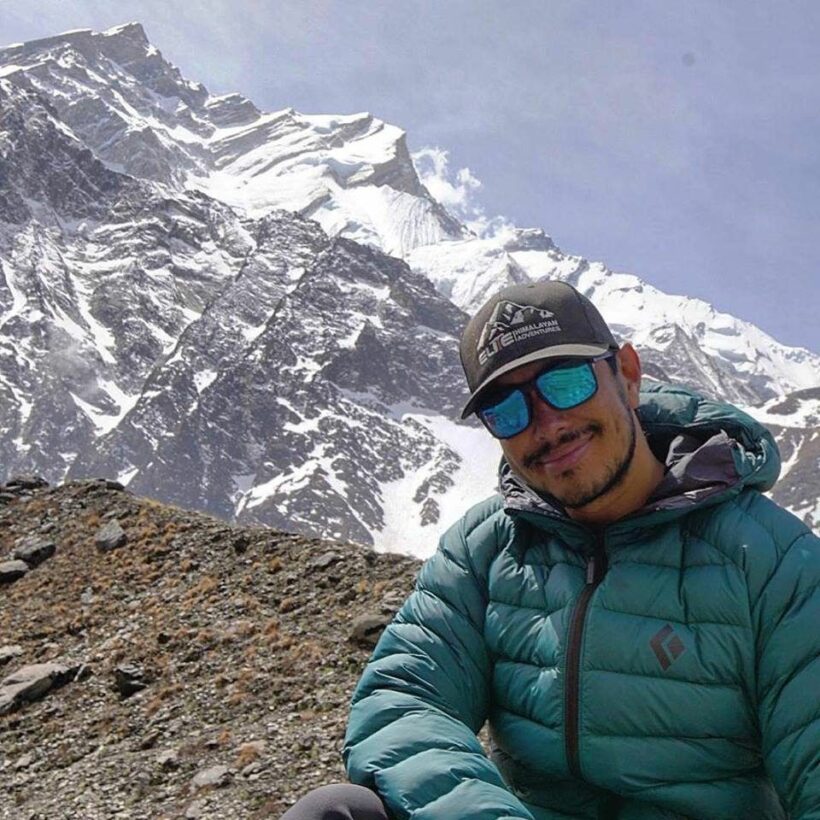 The current record for climbing the world's 14 tallest peaks is almost eight years. Now Nepali climber, Nirmal Purja, who served in the British special forces, has set a target of just seven months.
Purja arrived at the advance base camp of the 8,201-metre Cho Oyu yesterday, ready for the final phase of the last three peaks in his feat of astonishing endurance.
"Nobody believed I could do this when I first said it… I'm so glad to be inspiring generations of all ages through this endeavour. This is what keeps me going," Purja told AFP by phone.
"This is not about me… it is to show what the human body can do. To establish a paradigm shift in perception of human potential," Purja said.
Only a teenager when he joined the British Gurkhas, Purja or "Nims dai" climbed both the 8,848-metre Everest and Lhotse at 8,516 metres in a record 10 hours and 15 minutes in 2017.
This inspired the 36 year old to start "Project Possible", scaling the 14 peaks, all higher than 8,000 metres, in seven months.
But doing so is radically ambitious. In the 1980s, it took Polish climber Jerzy Kukuczka seven years, 11 months and 14 days.
South Korean climber Kim Chang-ho managed it in about a month less – although he did, unlike Kukuczka and Purja, do it without supplementary oxygen.
Before he set off on his first expedition, Purja had a detailed tattoo of the 14 mountains engraved on his back, with colourful prayer flags tracing his journey to the peaks.
Sprinting up K2
Swapping his army boots for crampons, Purja quit the military after 16 years of service and re-mortgaged his house to begin his expedition and start raising funds.
Purja began his attempt in April with the 8,091 metre Annapurna, checking the illustrious "8,000ers" Dhaulagiri, Kanchenjunga, Everest, Lhotse and Makalu off his list in only a month to finish his first phase.
A month later, he was heading to Pakistan for the second part of his mission where he first tackled the notorious Nanga Parbat at 8,125 metres. 23 days later he was standing atop Broad Peak, his fifth and final mountain of the second phase.
Battling sleep deprivation to meet his target, Purja said he was almost sprinting up and down five of Pakistan's highest peaks including K2, the second tallest in the world.
"I felt like this is one down and next to go (with every summit). We still have another to climb," Purja said.
On track to make climbing history, the phenomenal mountaineer has in the process also set several speed climbing records this year.
This included his summits of Everest, Lhotse and Mount Makalu, three of the world's five highest mountains, in a record 48 hours – and despite the deadly overcrowding this season on the planet's top peak.
Purja also made headlines with his miraculous rescue operation of a Malaysian climber from Mount Annapurna after two nights in the open above 7,000 metres.
"It is only a matter of time until he completes his project, he has already proven his amazing capability," said Mingma Sherpa of Seven Summit Treks, Purja's expedition operator.
No flip-flops
Raised in a village in the northwest district of Chitwan, Purja said he did not even have flip-flops growing up.
"My life story tells anyone who doesn't have privilege to dream about bigger things. Anything is possible if you put your heart and mind and give 100 percent to it," he said.
He also hopes to lift the standing of Nepali climbers – Sherpas who often work as guides for foreign climbers in the Himalayas – as he feels they are not "given the right credit".
But there is a potential spanner in the works. The Chinese government's decision to close Mount Shishapangma for the season could potentially stymie Purja's plans. But efforts are underway to seek a special permission for him.
"Dealing with all sorts from admin, logistics, fundings and politics; now my climbing mode is ON."
SOURCE: Agence France-Presse
PHOTO below: National Geographic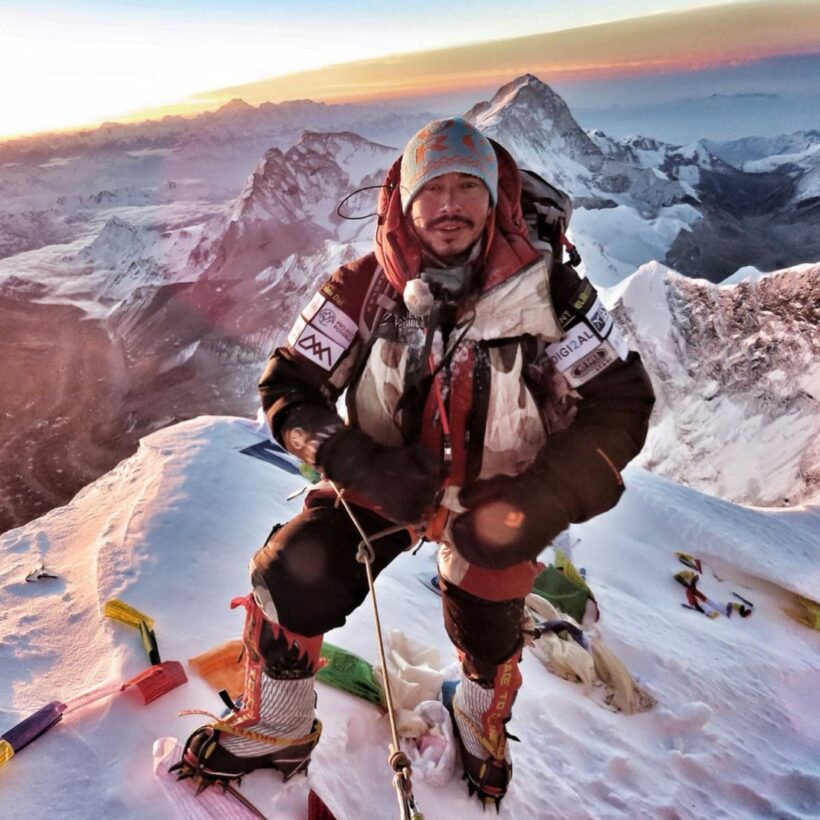 Keep in contact with The Thaiger by following our
Facebook page
.
Lilly wages war on Thailand's plastic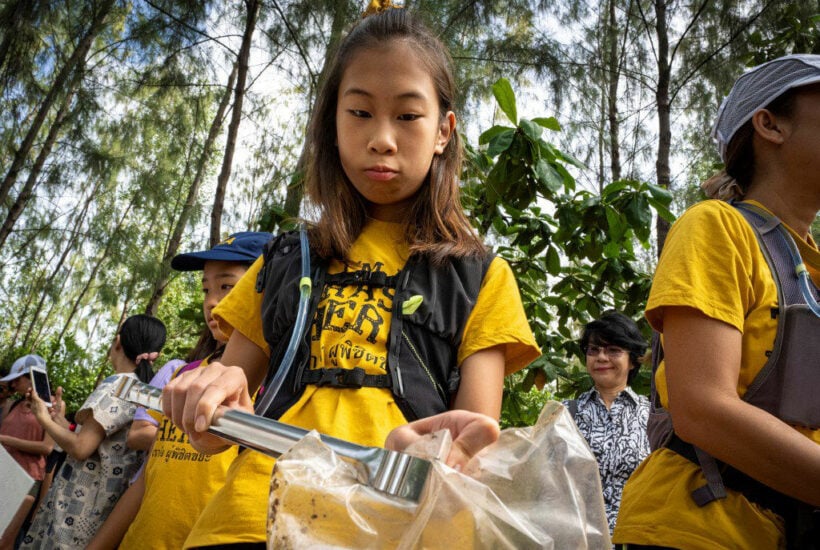 Skipping school to glide through a dirty Bangkok 'klong' on a paddleboard, Lilly fishes out rubbish in her mission to clean up Thailand, where the average person uses eight plastic bags every single day. Single-use plastic is now on the radar in Thailand and has become a hot topic on social media.
"I am a kid at war," the bubbly 12 year old says after a painstaking hour-long routine picking up cans, bags and bottles bobbing in the canal.
"I try to stay optimistic but I am also angry. Our world is disappearing."
Thailand is the sixth largest global contributor to ocean pollution, and plastic is a scourge.
Whether it's for wrapping up street food, takeaway coffees or for groceries, Thais use 3,000 single use bags per year – 12 times more than someone from the EU.
In June, Lilly won her first victory: she persuaded Central, a major supermarket in Bangkok, to stop giving out plastic bags in its stores once a week.
"I told myself that if the government did not listen to me, it would be necessary to speak directly to those who distribute plastic bags and convince them to stop."
This month some of the biggest brands, including the operator of the ubiquitous 7-Eleven convenience stores, pledged to stop handing out single-use plastic bags by January next year.
Mindsets have started to shift this year with the deaths of several marine mammals whose stomachs were lined with plastic, stirring emotions.
The demise last month of a baby dugong was mourned on social media, reviving discussion in the government over a proposed ban on most single-use plastics by 2022.
But critics say along with new rules there need to be enforcement mechanisms such as fines.
For now young activists like Lilly can help capture attention.
"You might be able to tune out all of the evidence and advocacy in the world, but it's very hard to ignore a child when they ask why we're trashing the planet that they have to live on," says Kakuko Nagatani-Yoshida, regional coordinator for chemicals, waste and air quality with UN Environment.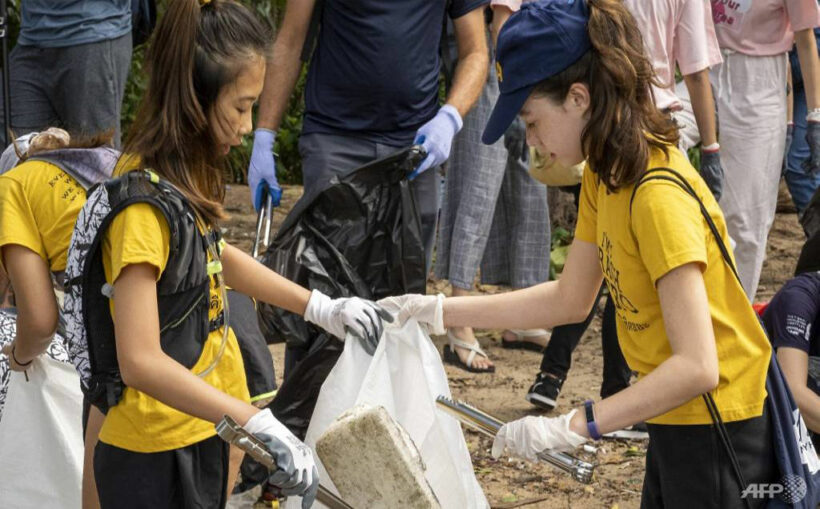 'It's up to us'
'Lilly' is Ralyn Satidtanasarn's nickname.
The US-Thai youngster started campaigning at the age of eight after a seaside vacation in southern Thailand where she was horrified by a beach covered in rubbish.
"We cleaned up with my parents, but that was not helpful because other waste was thrown out by the sea the next day," she recalls.
Then came the global movement initiated by 16 year old Greta Thunberg, who has become a key face in the battle against global warming.
Inspired by the young Swede, Lilly did sit-ins in front of the Thai government buildings.
"Greta Thunberg gave me confidence. When adults do not do anything, it's up to us children to act," she insists.
Though she often skips class to carry out her activism, she will not be in New York alongside Thunberg for a protest on September 20 just days before the UN climate conference.
"My place is here, the fight is also in Southeast Asia," she says.
Even if she sometimes wants to take a break and "go play" like other kids, she also takes part in cleaning sessions organised by local association Trash Hero.
Other activists praise her but say she is up against massive corporate interests.
The main obstacle is the petrochemical industry, one of the main markets for plastics, accounting for 5 percent of Thailand's GDP and tens of thousands of jobs.
"Lilly is a very good voice for the youth of this country but the lobbies are very powerful and that makes any change difficult," concedes Nattapong Nithiuthai, who set up a company turning discarded waste into flip flops.
She can also count on the support of her parents, who help her write speeches to the UN and government officials.
Her mother, Sasie, herself a former environmental activist, adds: "At first, I thought it was a child's fad, but Lilly hung on, so I decided to support her."
SOURCE: Agence France-Presse
Keep in contact with The Thaiger by following our
Facebook page
.