Organisers meet with immigration over TM30 petition – full report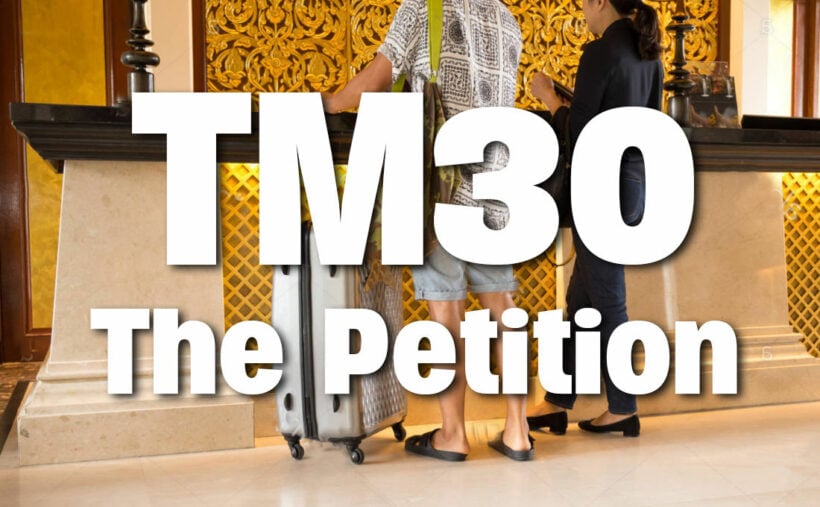 (This post, re-published with permission, has been edited by The Thaiger to clear up the grammar and spelling without changing any of the intentions or meanings. Here it is, in full…)
Yesterday, I met the Officer Longtor at Korat immigration. He was very nice, very polite and we had a conversation in Thai. I had with me a copy of the petition made by a group of expats and Thai people, a translation, some examples of problems related to TM30, statistics and an interpreter in case I could not fully understand. The interpreter was also a witness of everything that was said.
I live in Thailand since 2004. I have permanent residency and do not need to make Form TM30, form TM47 or a yearly extension. If I helped this group of expats with the petition, it is because I feel the current system needs to improve. It was recently reported that Australians and British are coming less to Thailand because of the high value of the baht. It was reported that Scandinavian are also about 10% less living in the land of smiles as before.
The current systems seems a mess and foreigners don't know what to do. I don't do this for exposure and spent an incredible amount of time on this project. I manage a law firm in Thailand, and know how things work in Thailand. Often you need connections and I work on difficult cases each month. I was pretty well placed to try something new with a group of people on Facebook. A closed group. I work with Thai lawyers every day even if visas are not our specialty. We are more litigators and make contracts and documents in Thai and English.
Recently, I was told that foreign teachers traveling in other provinces on weekends had to report to immigration Monday morning so even Thai students were penalised by the strict enforcements of sections 37 and 38 of the immigration act. Like the Bangkok Post mentioned this week, Thailand is shooting itself in the foot and the expats are furious about these rules that we find draconian.
It is Thai tradition to discuss, negotiate and not to confront people. The petition is a way to show discomfort and open a dialogue with authorities. It is not a perfect document, some complaints about the English (I am a French native speaker – the first version was edited), some complained it was not going far enough (talking about help insurance or amounts required but we can not fix everything), some complained about the SSL security of the website (added).
In other words, many pissed me off all week whilst all I was doing was trying to help others, knowing what I was doing.
I am not perfect (nobody is) but nobody had the guts to do it and many feared to sign the petition thinking they could be deported. I personally helped to change some laws in Canada, i am not afraid to expose what I think. I sued immigration twice (never for fun) in administrative court with success and I felt that our voice needed to be listened to. So with the help of hundreds of people, we made this petition. Yes, hundreds of people helped to correct, make this website, commented on the website, translated in Thai and much more. I couldn't see what else could be done?
You want to contest articles 37 and 38 of immigration act based on clause 34 of the constitution? Well, good luck. Talking directly to Bangkok immigration is the next step…. but things in Thailand move slowly. Mediators, arbitrators, negotiations are often used in court and starting, by talking to local immigration on the back of few thousands signatures, was the best idea we had.
It became quickly the talk of the town in English medias: Richard Barrow, frontpage of Bangkok Post, illustration of Stephff, The Thaiger, the Thai Examiner, Pattaya News, etc. I was amazed it went so quick but I was expecting more signatures. The website is still there, "Reform-Thai-immigration" and we hope you sign, share and things go faster.
Here's a summary of the conversation of yesterday with immigration:
We were told that tourists are not affected by these rules. They want the same as before. But AirBNB must report foreign guests just like hotels. Immigration understand that expats brings a lot of money to Thailand. But they seem to see two problems:
A) there is a large proportion of workers from Cambodia, Laos and Myanmar – something like 3 million in the country. And often they do not respect the rules and regulations. That is a major problem for immigration. Rules are enforced for them but as there is only one law, it affects foreigners from western countries.
B) it seems that Indian people abuse some rules – arrived, for example, in Phuket, got fake marriages with Thai ladies, and disappeared into other provinces. TM 30 started to be enforced especially for them, to be able to trace where criminals or people abusing the system are. I do understand terrorists won't provide their addresses and I pointed this out. Still, immigration seems to be strict on TM30 and TM30, once registered, is the responsibility of the Thai landlord.
Each immigration office can have its own rules, which I think is a headache and nonsense. But this 'high ranking' officer explained to us how he wants them applied in Korat. If you are not a tourist and arrive from abroad, even if articles 37 and 38 talk about 24 hours, they will give you 7 days to register the TM30. Foreigners have to register TM30 only ONCE (and not tourists) and after, it is the duty of the Thai landlord. If you leave in Thailand for a while and never registered TM30, you will be fined as a foreigner. I believe it is between 800 to 2,000 baht.
Once you are registered in the system, it is the Thai landlord (or hotel), and NOT the foreigner that will pay the fines. I STRONGLY suggest the Thai landlords to ask for a RECEIPT for ANY FINE and it is the duty of immigration to provide these receipts. We all know about 'corruption' and we should all fight it, slowly, to make this place better.
Now if you look at clause 37 (4) of the immigration act, a foreigner that goes to another province for 24 hours must report to authorities. This was never been enforced to my knowledge and in Nakhon Ratchasima they don't care about that. They care about the TM6 that you made when you arrived in Thailand (airport), the registration of TM30 that you make once, the 90 days notice (TM47) that you make if you live 90 days in Kingdom and your yearly extension.
Two great pieces of news:
1) There is a committee to modify the immigration laws already in place. But changing laws take time. The head of immigration in Korat is part of that committee and they know some changes must be made. They want to make it easier for foreigners. I even talk about the high value of the baht and they know it makes problems for some retirees.
2) But the best news is a document, an order signed on August 5, 2019 that I saw. They didn't allow me to make a copy as it is an internal document. It is an order from Bangkok to make an application online for all forms, to simplify things. That means TM6, TM30, TM47, will all be online, accessible on your phone and you won't have to go to immigration. You will only have to go once a year to immigration for your extension. August 5 was the same day that the Bangkok Post made a frontpage with "Furore over TM30 forms". Sincerely, I think they did listen to us and the petition helped. It is a coincidence?
Other comments were said but again, it can be different depending on the immigration office you live. In Korat, they told us that if we go to Pattaya for a weekend we don't have to report. This is clearly against the articles 37 and 38, but I think immigration understand that they do not want to hurt tourism. But if you do go abroad, yes, your landlord must report TM30 on your return.
If you go sleeping at your friends house, outside the province, this officer told us not to bother with reporting and paperwork… that is also against the rules, but if you think about it, who could know if you sleep in your friend's house.
This is different from hotels, or landlords, and are the ones that must report you. Again, 37(4) is not enforced according to immigration.
Let's hope this online application works well and comes quickly. On that, we have no assurance.
The current system is confusing. There are too many forms, too many rules and I clearly explained that. Immigration could explain the rules on their websites and apply them the same way in each office. That would be a great improvement.
I would like to note that in the last 10 days some individuals have tried to block our initiative. Some make money by helping others having visas and they have interest to keep the rules complicated and unclear. That is a shame. If you want to develop tourism, investment and economy, make things clear.
We were told also that because there is a new government, new cabinet, things are now slower.
On August 15, the FCC is planning a panel on TM30 and immigration rules. Foreign journalist will be invited and the subject might hit the news again. We were told that if the FCC wants an immigration officer there, they need to write a letter to immigration. I should be there if this panel is still happening.
No name of anybody who helped, signed the petition, or contributed, was named. You can share this post, copy it and provide the information to whoever you want. If you think something is wrong in the following text, let me know. Thanks.
Keep in contact with The Thaiger by following our
Facebook page
.
Never miss out on future posts by
following The Thaiger
.
Government to raise 5-year Elite visa fee by 20%, as foreigners flee Covid countries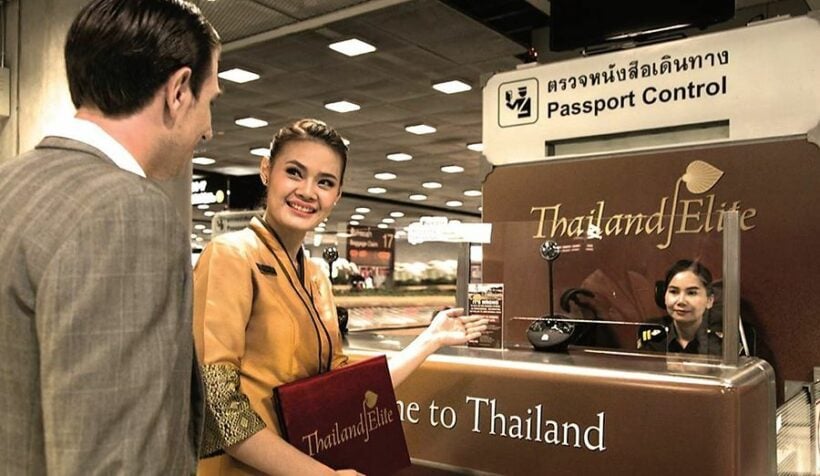 As more foreigners opt for one of Thailand's "elite" visas, allowing stays of between 5 and 20 years, and costing anything from 500,000 baht to 2 million, the most popular version is in for a price hike. The cost of the 5-year "Easy Access" visa will go up by 20% from January, to 600,000 baht.
It's understood there were a record number of new applications for the visa this year, as foreigners sought refuge in a country that appears to have pretty much suppressed the Covid-19 virus. Nikkei Asia reports that an additional 2,674 applicants signed up for an elite visa during the company's 2020 financial year, which ended in September. That's an increase of nearly 25%, with the scheme generating revenue of 1.6 billion baht.
Somchai Soongswang from Thailand Privilege Card, which sits under the umbrella of the Tourism Authority of Thailand, says applications were received both from tourists stranded in Thailand, and people overseas who wished to escape Covid-19 in their own country. To date, Thailand has recorded just over 4,000 cases of the virus, significantly lower than the numbers logged by other south-east Asian countries.
It's understood that as of the end of September, over 11,100 people hold an elite visa, as part of 9 different packages offered by Thailand Privilege Card. Most of them are from China, Japan, South Korea, the UK, and the US. The company plans to sign up at least another 2,700 for the fiscal year 2021, and is currently working on its latest offering, which will be the 10th visa package in the scheme.
The "Flexible One" elite visa is aimed at property investors who spend at least 10 million baht. For their investment, they will be offered a 5-year visa, either for free or at a discount, in a move aimed at boosting the Kingdom's flailing property market.
SOURCE: Thai Visa | Nikkei Asia
Keep in contact with The Thaiger by following our
Facebook page
.
Never miss out on future posts by
following The Thaiger
.
Ban on sales and promotion of alcohol online starts December 7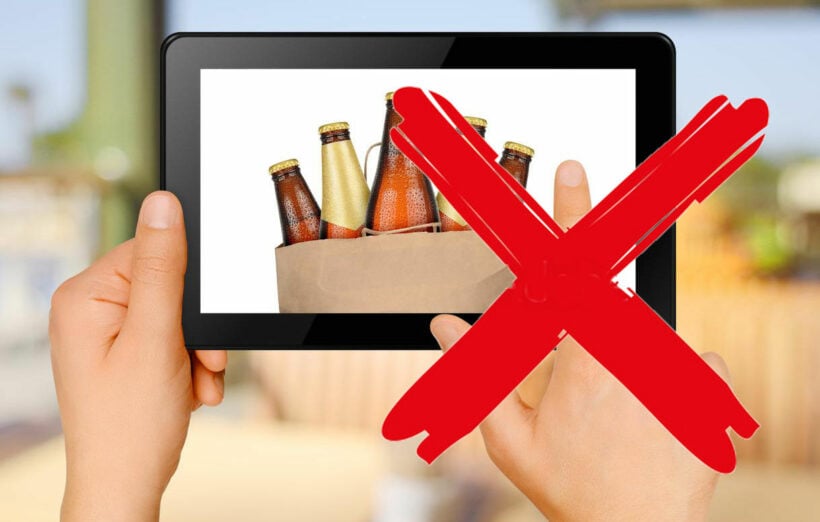 From December 7 you'll no longer, officially, be able to purchase alcohol online in Thailand, according to a posting in the Royal Gazette back in September, the Thai government will prohibit the sales and promotion of alcoholic drinks on every online platform from December 7.
The ban includes direct sales, promotion and introduction of alcoholic products online, but will not include electronic payments of purchases at retail stores, restaurants and bars.
Selling and buying beer, wine and spirits online has become more popular, but the Thai PM says that internet alcohol sales are harder to control than sales at local liquor stores. The announcement said that it's difficult to check that the provisions of the Alcoholic Beverage Control Act are being followed online, like no alcohol sales before 5pm or on certain holidays (although many local stores didn't follow the rules anyway).
"The Royal Gazette had published the announcement of 'Prohibition of the sale of alcoholic beverages via electronic sales nationwide' on September 8 noting that alcohol has become more easily accessible online due to the popularity of social media platforms and specialist Apps.
"No person shall sell alcoholic beverages or provide services related to alcoholic beverages on electronic channels. Online payment for trading such beverages at actual stores are excluded."
With Thai officials obsessed with the perceived evils of alcohol, Thailand already has a ban on the sale of alcohol before 11am, between 2 – 5pm, and after midnight. It's also illegal to brew your own beer at home or to post pictures of branded alcohol online, either as a private citizen or as a company. But the government's latest announcement, that drinkers won't be able to purchase alcohol online that really ignited the Twittersphere and social media.
Deputy PM and the Minister of Public Health, Anutin Charnvirakul, told AP after a meeting of the alcohol control committee on November 7, that they'd agreed to draft guidelines, under the revision of the Public Health Ministry, to inform the Public regarding the Royal Gazette announcement of banning online alcohol trading.
"Violators of the new ban will be subject to up to six months in prison and/or a fine of up to 10,000 baht."
People will still be able to use electronic methods of payment, like bank transfers, when buying alcohol at stores, restaurants or other establishments, just not purchase from online portals.
The Ministry is going to launch a publicity campaign about the new bans in the week leading up to December 7.
Keep in contact with The Thaiger by following our
Facebook page
.
Never miss out on future posts by
following The Thaiger
.
Government aims to offer work permits to foreigners who invest at least US$1 million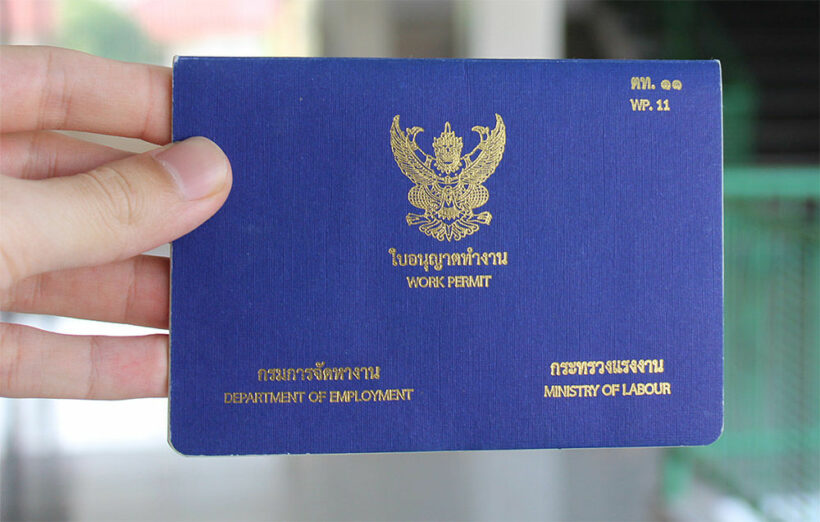 Probably the most expensive Work Permit in the world. The Thai government is considering offering work permits to foreigners who invest at least US$1 million in Thai property or businesses. The Centre for Economic Situation Administration has approved a proposal to grant work permits to eligible Elite Card holders. In order to qualify, they must have the top-tier Thailand Elite visa card, which costs 1 million baht and is valid for 5 years. They must also be prepared to invest their funds for at least 5 years.
The governor of the Tourism Authority of Thailand, Yuthasak Supasorn, says it's hoped the move will boost foreign investment in the Kingdom. It's hoped the plan could generate 31 billion baht for the economy, 1 billion of which would come from Elite card fees, with the remainder being generated by foreign investment.
PM Prayut Chan-o-cha has instructed the TAT and the Foreign and Interior Ministries to work together on the proposal, before submitting it to Cabinet for final approval.
The CESA has also approved the proposed partnership between the TAT, Thai Airways, and local hotels, in which tourism packages inclusive of quarantine, can be offered to foreign arrivals. It's understood the packages will be available from December 1 until March 31 next year. The government is targeting 2,000 visitors, generating revenue of 200 million baht every month.
Just another 'proposal' we have to keep track of as the visa situation in Thailand becomes increasingly complex.
SOURCE: Nation Thailand
Keep in contact with The Thaiger by following our
Facebook page
.
Never miss out on future posts by
following The Thaiger
.