Tour De France comes to Phang Nga – L'Etape Thailand on October 27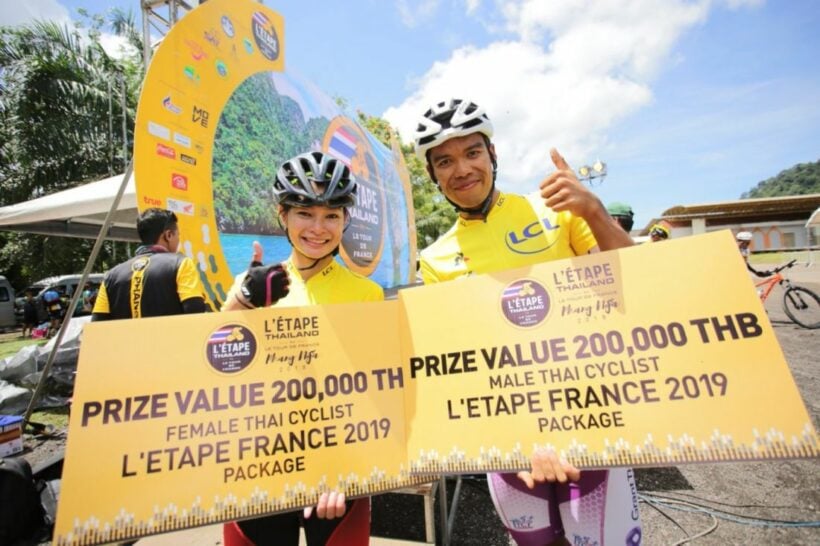 PHOTO: L'Etape Thailand by Le Tour De France
Thailand will be the first country in ASEAN to attract the world-class cycling event to Thailand for local and international cyclists to experience a challenging and scenic ride on a course comparable to the world's most popular cycling event, The Tour De France.
The event is being held around Khao Lak in Phang Nga on October 27.
"L'Étape by Le Tour De France" will be an organised participation event allowing amateur cyclists to face the same challenges and race conditions as if they were riding in the Tour de France. Additionally, there will be activities and an Expo including a travelling Tour De France museum to welcome newcomers to the event.
L'Étape by Le Tour De France is one of the most popular events operated by Tour de France and been held in 11 countries over five continents. Its founding event, L'Étape du Tour, started in France in 1993, and expanded in the 2010s to the US, Australia, UK, South Korea, Colombia, Brazil and others. In 2017, there were about 50,000 participants.

Here is a list of the Khao Lak events in Phang Nga…
The race 159 KM Super Early Bird (Limited)
• The race 159 KM (Individual)
• Thais baht 2,500 baht
• Foreigners 2,600 baht
The race 159 KM (Group 5 Pax)
• Thais 2,500 baht
• Foreigners 2,600 baht
The race 159 KM (Group 8 Pax)
• Thais 2,500 baht
• Foreigners 2,600 baht
The race 159 KM (Group 10 Pax)
• Thais 2,500 baht
• Foreigners 2,600 baht
The race 70 KM Super Early Bird (Limited)
• The race 70 KM (Individual)
• Thais 2,500 baht
• Foreigners THB 2,600
The race 70 KM (Group 5 Pax)
• Thais 2,500 baht
• Foreigners 2,600 baht
The race 70 KM (Group 8 Pax)
• Thais 2,500 baht
• Foreigners 2,600 baht
The race 70 KM (Group 10 Pax)
• Thais 2,500 baht
• Foreigners 2,600 baht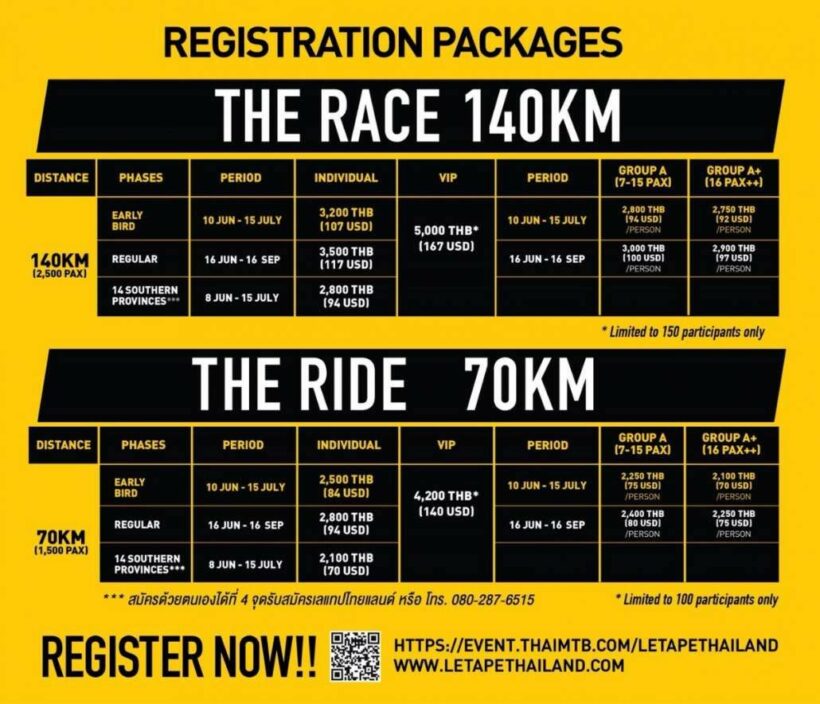 Keep in contact with The Thaiger by following our
Facebook page
.
Thai PM says he wants to prevent political protests, from either side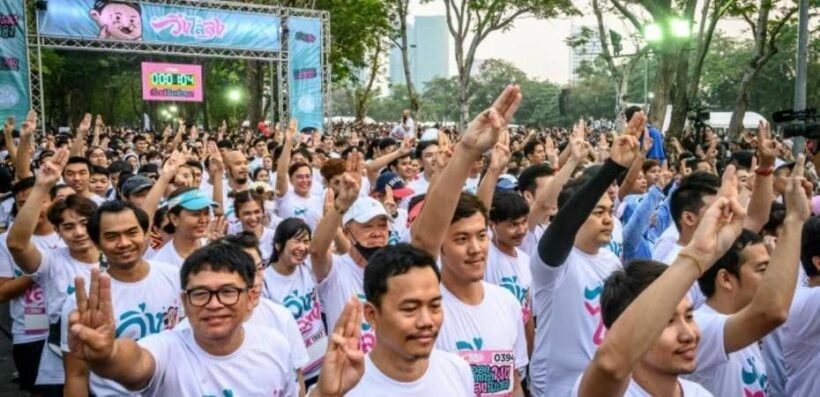 In a move that is sure to be seen as a bid to stifle opposition gatherings, protests and debate, the Thai PM Prayut Chan-o-cha is voicing concern that opposition-organised political rallies, as well as those of his supporters. will "lead to fresh conflicts". The PM told reporters yesterday that "…he has instructed security authorities to find ways to prevent such activities in the future".
Gen Prayut told reporters that he doesn't want to see divisions among the public.
"People should not be divided according to the group they belong to or along the lines of old and new generations. This will not benefit the country whatsoever. We must find ways to cooperate," the prime minister was reported as saying in the Bangkok Post.
"No matter who wants to support or oust me, I don't want anything that will lead to violence to happen again."
Deputy PM Prawit Wongsuwon has also said he disapproves of a planned anti-Prayut run in Chiang Mai on February 2. He says the event would "only deepen social divisions".
Meanwhile, Tanawat Wongchai, the organiser of the "Wing Lai Lung" (Run to Oust the Uncle) held in the Chatuchak area last Sunday, maintained the Chiang Mai event would go ahead, despite the threats from the PM. An event, to show support for Prayut and the Government, called "Dern Cheer Lung" (Walk in Support of Uncle), was also held at Lumpini Park in central Bangkok on Sunday.
Complimentary anti-government events for "Wing Lai Lung" were also held in other provinces – Buri Ram, Phayao, Chiang Mai, Nakhon Ratchasima and Nakhon Pathom. Metropolitan Police confirmed that 14,178 people participated in the Bangkok "Run Against Dictatorship" event. Various police estimates from the other provinces indicate and addition 2,500 people joined from provinces outside Bangkok.
A Future Forward Party MP, spokesman of the House committee on law, justice and human rights, and anti-government activist, Rangsiman Rome, claimed that some participants in the last Sunday's anti-Prayut event in Buri Ram were summonsed by police to "acknowledge charges for violating the public assembly law".
Pol Col Pramote Uthakit, from the Nakhon Phanom police station, told reporters that rally organisers "failed to seek permission in advance to hold the activity from police".
SOURCE: Bangkok Post
Keep in contact with The Thaiger by following our
Facebook page
.
Thousands gather for this morning's protest running event in Bangkok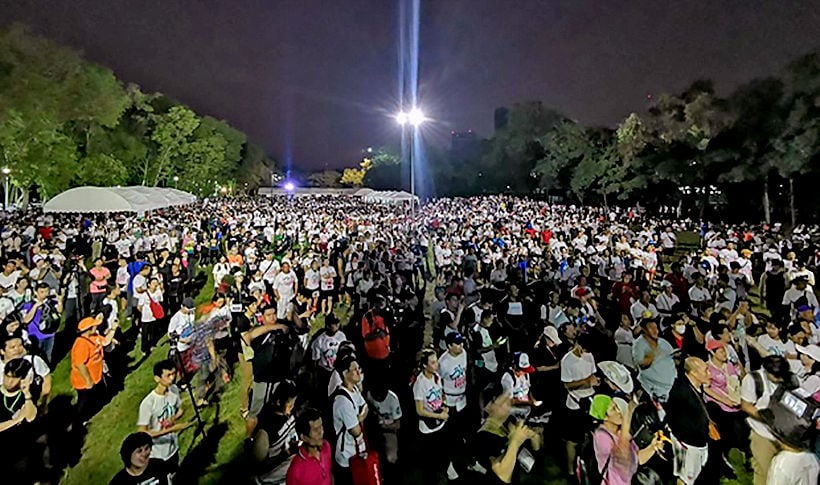 This morning's fun run/rally/political event/marathon/jog/protest at Suan Rot Fai park in Chatuchak, a northern Bangkok suburb, attracted thousands of runners. The run was organised as a protest against Thailand's Prime Minister Prayut Chan-o-cha and his government. The "Run Against Dictatorship" was organised by opposition political parties and activists calling for greater political freedom. The event was held less than 10 months after the general election.
The demonstrators gathered at Suan Rot Fai, aka. Vachirabenjatas Park, for a pre-dawn run to show their opposition of the current government. The event is the second high-profile anti-government protest in a month, following a gathering in central Bangkok on the 'skywalk' outside MBK shopping centre on December 14. Read about that HERE.
There is no official tally of the numbers at this morning's fun-run so far – the Bangkok Post is reporting 'thousands' whilst organisers claim 10,000 people had registered to participate, a self-imposed ceiling they placed on registrants.
General Prayut Chan-o-cha led a bloodless Army coup in May 2014 and seized power, ousting the democratically elected Yingluck Shinawatra government. Despite a general election in March last year, many of the same faces, who served in the military-led junta government, now appear in the new government with Prayut narrowly winning a vote to become the country's PM.
The protesters, broadly, question the fairness of last year's general poll under a military-sponsored constitution. The new constitution was voted for in 2017 and is believed by activists and opposition forces to heavily weight in favour of the army-supported regime.
While there was no official count of the numbers at Sunday's fun-run style gathering, a rough tally at the site indicated thousands of people, many wearing T-shirts and bibs made for the event. Organisers earlier said 10,000 had registered for the run, adding parallel events would take place in other provinces.
Paphatsara Netsang, a Thai who lives in Singapore, flew to Bangkok for the rally.
"Nothing changes. Everything is still the same. There's no economic improvement. I'm here to show that we're fed up. There's no economic improvement," he told the Bangkok Post.
Meanwhile, a separate rally was also being held this morning in Lumpini Park as a spoiler event to show support for the Prime Minister.
PM Prayut had a win yesterday when the Lower House passed the annual budget after a month of delays and debates. The Bangkok Post opined that "the bill was viewed as a test of his ability to shepherd key legislation through a bitterly divided legislature".
SOURCE: Bangkok Post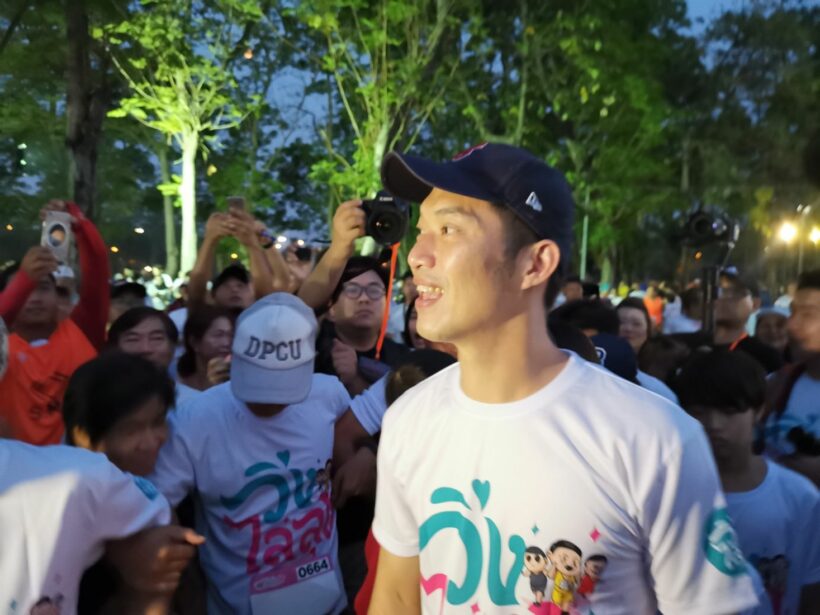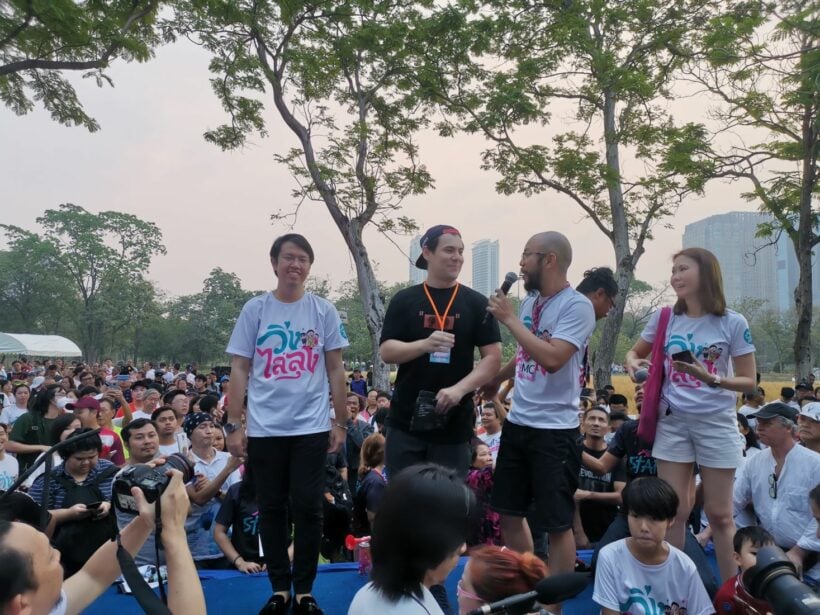 Keep in contact with The Thaiger by following our
Facebook page
.
Guns, tanks and political speeches. Just another Children's Day in Thailand.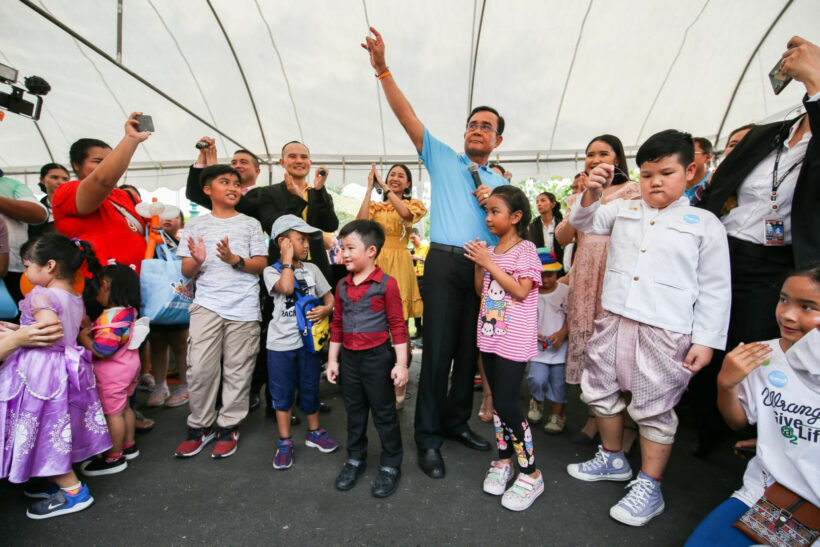 Children's Day has come and gone for another year. As usual, the media like to follow the Thai PM in the hope of a perfect photo of him and an unsuspecting Thai child. The prime minister certainly enjoys the annual interaction and appears more comfortable surrounded by children than performing in Parliament. It's also a day that the Thai armed forces like to get out their weaponry, big and small, and invite Thailand's youngsters to come and get close and personal with the country's military machine.
The Royal Thai Armed Forces headquarters on Changwattana Road is always a popular visit for children in Bangkok each year.
But in the end it's all politics and Prayut Chan-o-cha didn't miss the opportunity of making some political points whilst the cameras were whirring away. Prayut say that his government wants to see "Thailand and the Thai people of all ages make progress toward democracy together and be free of conflict".
The PM reminded Thai children and adults alike of the importance of national unity, "the need for all to know their duties and responsibilities as good citizens and of not taking advantage of one another".
The Prime Minister chaired the formal opening of the National Children's Day celebration at the Ministry of Education yesterday morning. The theme was "Wonderful Kids: Smart Thai Children".
Speaking at the opening of National Children's Day, Prayut noted that it is important to promote appropriate capabilities in Thai children, "to train them to be able to cope with changing technologies and, at the same time, instil ethics in them so they grow up to become good citizens".
He said Thai children should learn about Thai history, the courage and honesty of their ancestors, be able to think critically and not just learn by rote. (These two issues are constant criticisms of the Thai education system: 1) That 'history' is a white-washed Thai-centric version of regional stoushes with invaders, and 2) Thai education continues to be very much about rote learning with an absence of teach critical thinking)
Meanwhile, children around Bangkok were urged to wear face-masks when they go outdoors, state authorities suggested after the capital's air quality dropped below safety standards in over 50 areas on National Children's Day. The face-masks distributed for free by state authorities and government agencies are completely useless at filtering out the PM2.5 micron particles. Several districts of the capital – Pathumthani, Samut Prakarn, Samut Sakhon provinces – reported air quality as unhealthy for sensitive groups such as "people with respiratory or heart disease, the elderly and children".
The Thai armed forces also put their annual display of military hardware – an institution in National Children's Day celebrations – including tanks, armoured cars, military aircraft and weapons.
Thai PBS World | The Thaiger | The Nation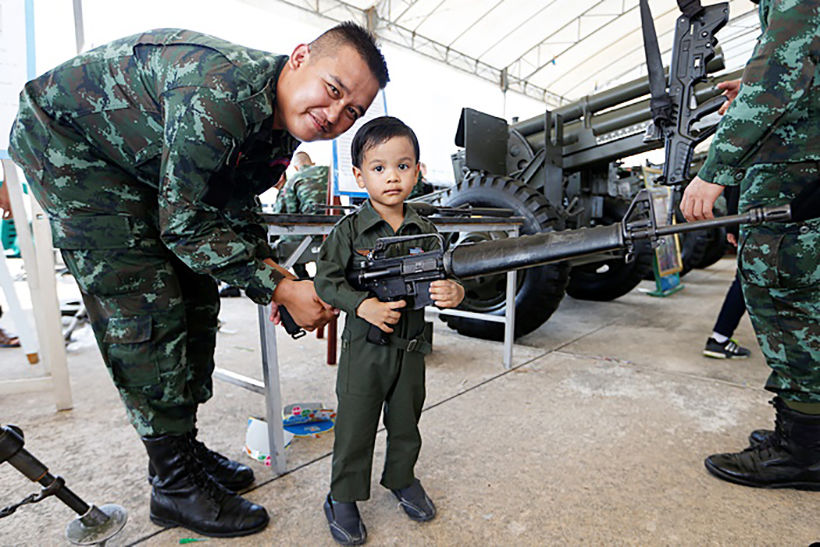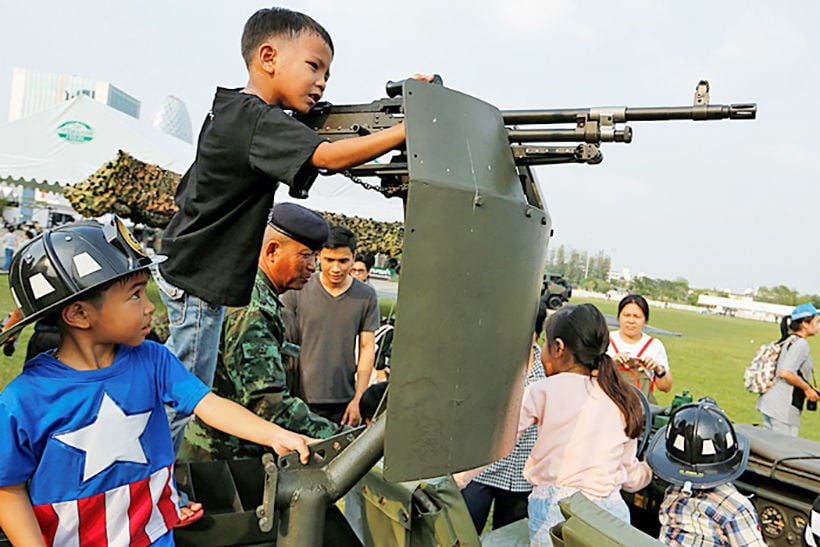 PHOTOS: Children's Day in Thailand – Reuters 2017
Keep in contact with The Thaiger by following our
Facebook page
.