Rising tide of concern over lifting ban on elephant exports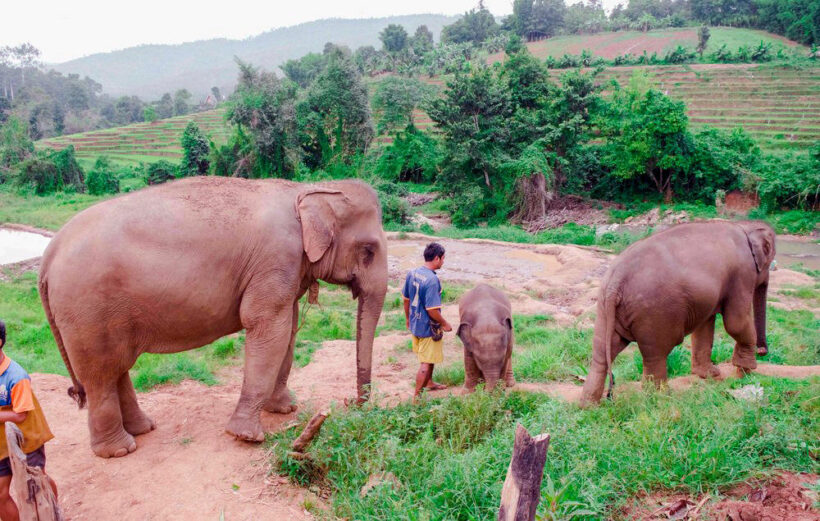 by Pratch Rujivanarom
Animal rights activists, along with a strong voice of disapproval on social media, are complaining about the Commerce Ministry's plan to legalise the export of live domesticated elephants.
Somsak Soonthornnawaphat, head of Thai operations for the organisation World Animal Protection, strongly disapproves of the plan, citing the likelihood of the elephants suffering distress and even agony on lengthy trips overseas. He noted, too, that lifting the ban on elephant exports could add further incentive for the illegal capture of wild elephants.
The Thailand Animal Rights Alliance has, meanwhile, launched a petition on change.org urging that the idea be abandoned. As of publication time, 3,000 signatures had been collected.
The ministry regulation announced last month withdraws a 2009 ban on the export of live elephants and elephant-related products such as ivory. Somsak pointed out that it does not violate the terms of the Convention on International Trade in Endangered Species of Wild Fauna and Flora (CITES).
"Domesticated elephants already registered with the authorities are allowed to be exported under the regulation, for diplomatic and research purposes only, and isn't violating CITES," he said.
But he pointed out that elephants are not built for long-distance transportation and are highly likely to suffer stress and become sick en route. Once at their destination, they will struggle to adjust to a new setting, compounding the stress.
"There is also no guarantee our elephants will be well treated. There have been cases where Thai elephants have been handled harshly to train them to entertain people at zoos.
"The elephant is our national animal and we need to protect it. We insist that elephants be protected from any harm and be able to live in a good environment."
Edwin Wiek, another prominent animal-rights activist, shares Somsak's concern over the risk of the elephants being maltreated at their destinations. He recalled a major controversy about a decade ago when it was reported that nine Thai elephants had been shabbily treated at Australian zoos.
"The final decision on exporting domesticated elephants and body parts including ivory lies with the CITES office in Thailand under the Ministry of Natural Resources and Environment. So, for now actually, nothing has really changed."
Regardless of whether the export ban is lifted or not, Wiek said, safety and welfare standards for domesticated elephants in Thailand remain a major concern, especially among those in elephant camps that suffer maltreatment by their owners.
SOURCE: The Nation
Keep in contact with The Thaiger by following our
Facebook page
.
Another baby dugong dies in Thailand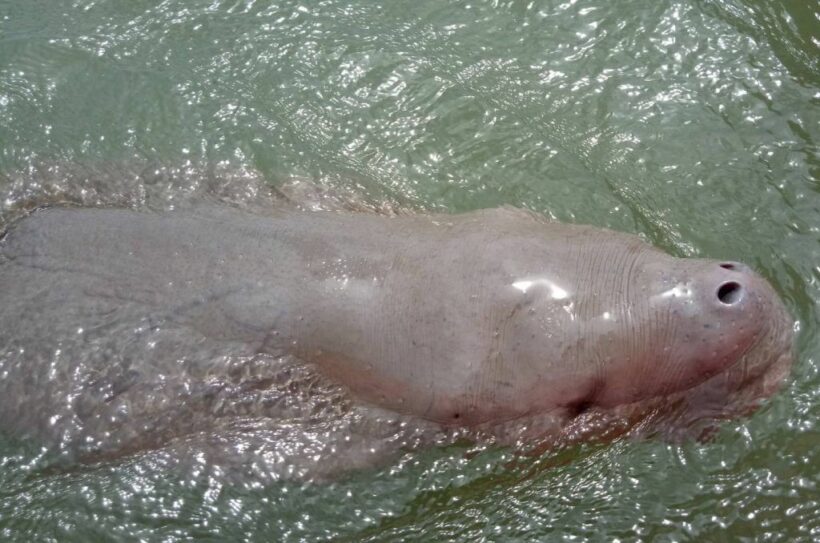 PHOTO: Thai PBS World
The Phuket Marine Biological Center (PMBC) revealed on Thursday that Yamil, the dugong being cared for in Phuket after being found stranded on a Krabi beach, has died. It was brought to Vachira Hospital at 5.00pm for a planned endoscopy to remove a large amount of seagrass stuck in its stomach.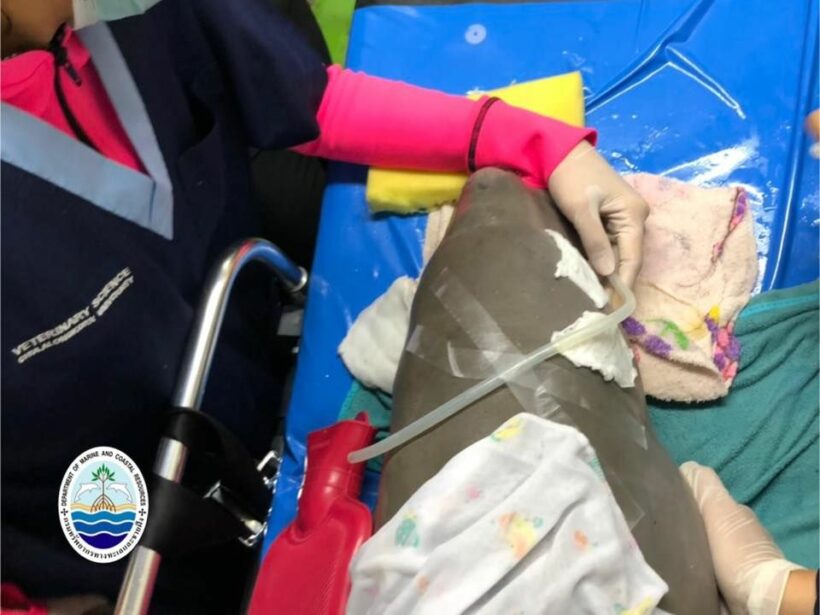 The medical team used water to break apart the seagrass and managed to suck out 30% of it in a procedure that took about an hour and a half. Yamil was then transferred back to the rehabilitation pond at the PMBC. The dugong's heart rate was quite low, so the team continued to monitor it closely.
Later that evening, a CT scan showed an infection in the dugong's lungs. Yamil went in to shock and its heart stopped beating. Despite carrying out CPR, the medical team was unable to bring the baby dugong back. Yamil was pronounced dead at 9.43pm.
The Department of Marine and Coastal Resources (DMCR) thanked the public for the outpouring of love and concern shown to the dugong, as well as acknowledging the efforts of the vets and volunteers from the Libong Island community and various department officials.
The DMCR has stated that they would like to apologise to all Thais for being unable to save Yamil's life, following the recent death of another dugong, Mariam.
"Even though both dugongs have gone, they have raised awareness of the importance of ocean preservation. We promise you that we, together with all Thais, will do our best to take better care of our marine and coastal resources."
SOURCE: The Department of Marine and Coastal Resources
Keep in contact with The Thaiger by following our
Facebook page
.
Biologist calls on Thailand to list all sharks as endangered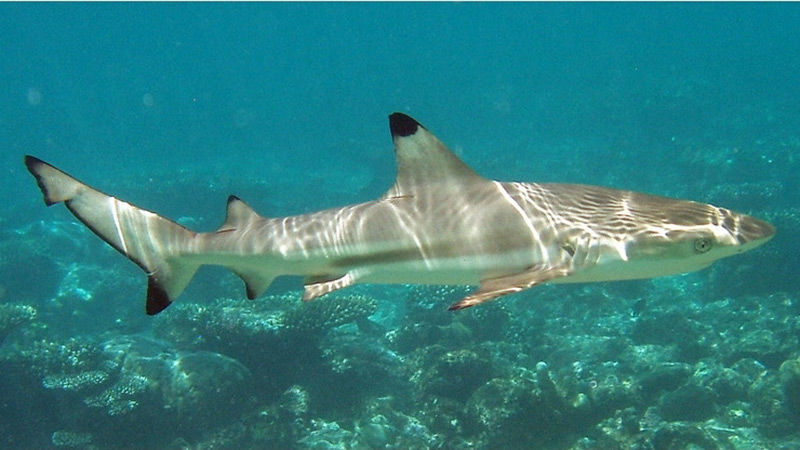 PHOTO: Wikipedia
Marine biologist Thon Thamrongnawasawat, insists Thailand must place all shark species on its list of endangered animals. His warning is accompanied by Facebook photos showing chopped up blacktip reef sharks being sold on Koh Lanta, in Krabi province.
As black tip reef sharks are not listed as endangered, no law is currently being broken. And while the waters around Krabi are considered a wildlife conservation area, sharks that are less than 50 centimetres in length may be caught.
But Thon warns that such practices are threatening many shark species, including hammerheads and leopard sharks.
"The number of sharks in Thai waters has been decreasing rapidly in recent decades. I have been urging government agencies for years to change this rule and list sharks as endangered, but sadly most people still don't realise the importance of shark conservation."
Thailand's marine life is a huge tourist attraction, bringing scuba divers from around the world to the Krabi region, where the population of blacktip reef sharks is currently the largest in Thailand.
But Thon is concerned that these numbers are threatened unless urgent steps are taken.
"I posted these two pictures so you can see and decide for yourself where the sharks belong – in an iced cooler or in the sea."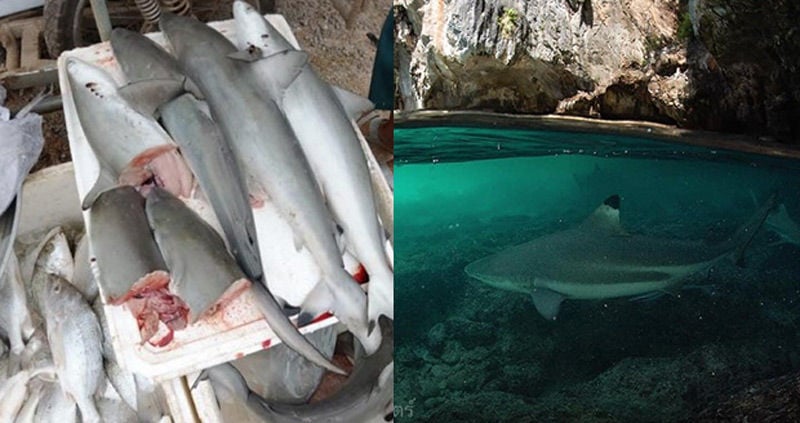 PHOTOS: Thon Thamrongnawasawat
SOURCE: The Nation
Keep in contact with The Thaiger by following our
Facebook page
.
Dead deer found in Thai national park with 3 kilos of plastic bags in its stomach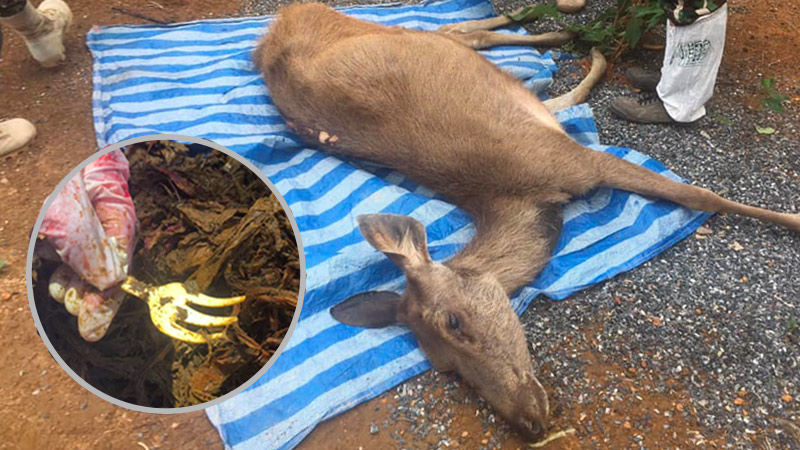 PHOTO: Coconuts Bangkok
Plastic bags continue to take their toll, and not just on marine life. A dead deer has been found in Khao Yai National Park, central Thailand, with 3 kilos of plastic bags inside it.
The deer died after eating plastic bags and plastic cutlery left behind by visitors to the national park.
The heart-breaking photos were posted on Facebook, with this latest death coming in the wake of the death of Mariam the dugong. A second rescued dugong, named Yamil, has now also passed away.
For the Facebook user who shared the photos, enough is enough.
"It's about time that we stopped discarding garbage, especially in reserved forests and national parks."
SOURCE: Thai Residents
Keep in contact with The Thaiger by following our
Facebook page
.