Chemical ban now in effect, farmers say they have few alternatives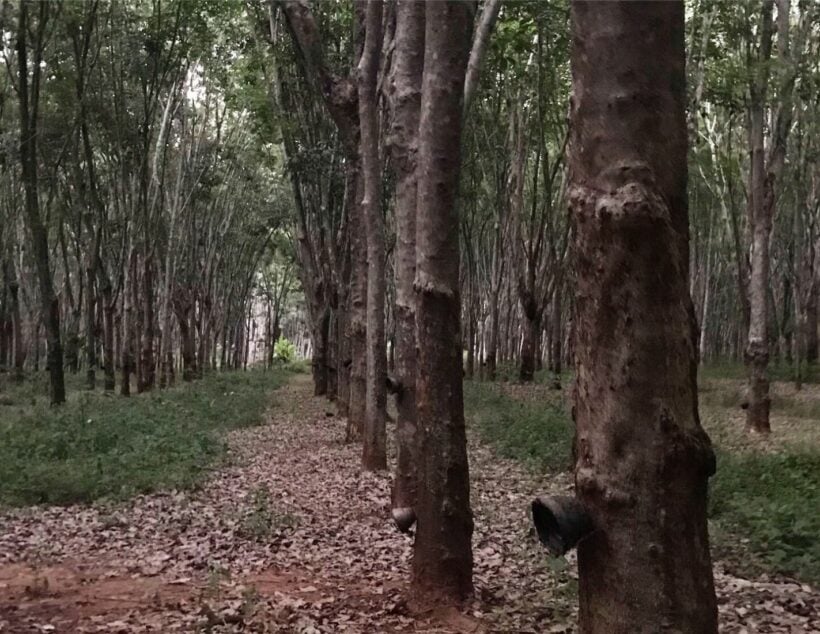 Thailand's ban on 2 toxic chemicals in herbicides and pesticides, is now in effect. While the move focuses on a sustainable, eco-friendly future, farmers say they are at a loss with no alternatives to keep bugs and weeds from killing their crops.
The 2 chemicals, paraquat and chlorpyrifos, have been shown to be toxic to humans in some studies, in sufficient quantities. Paraquat is used to kill weeds on palm, rubber, sugarcane, corn and cassava plantations while chlorpyrifos is used to kill worms on fruit. The two chemicals were added to the Type 4 list on Thailand's Hazardous Substance Act last month and the ban started on June 1. A group of Thai farmers again tried to appeal the ban last week.
"Without paraquat, Thai farmers will face losses in key crops because there are no alternatives."
Secretary-general of the Federation of Safe Agriculture Sukan Sungwanna says that around 10 million farming households in Thailand use the chemicals.
Thailand's deputy chief for the Department of Agriculture says they've prepared 16 alternatives for substitutes for the chemicals, but declined to discuss the details.
Farmers are given 90 days to return unused chemicals back to sellers. Farmers caught storing or using the chemicals after June 1 face charges of malfeasance. Those who sell, produce, import or export the chemicals can also face up to 10 years in jail and an up to 1 million baht fine.
SOURCES: Reuters | Bangkok Post
Keep in contact with The Thaiger by following our Facebook page.
Never miss out on future posts by following The Thaiger.
WildAid launches ad campaign in Thailand to raise awareness about illegal wildlife trade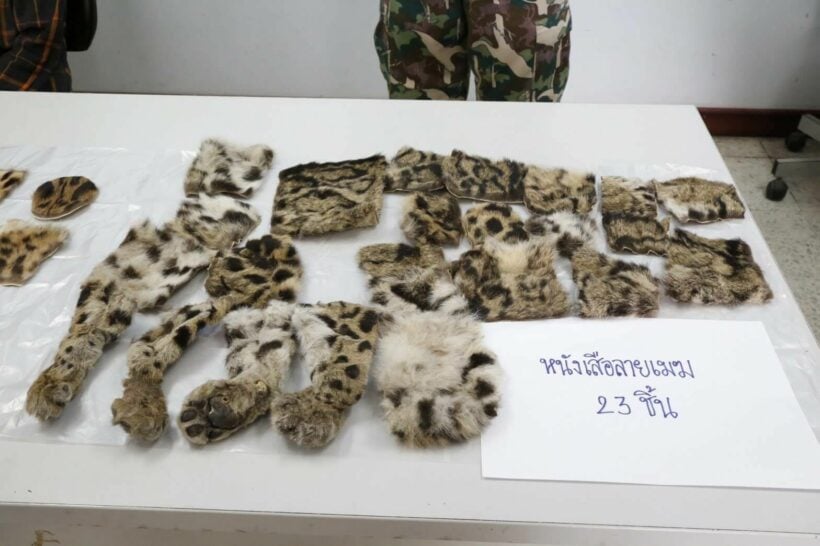 The following is a press release submitted by WildAid, a non-profit organisation pushing to end illegal wildlife trade.
In honor of World Wildlife Day, WildAid is launching a series of advertisements highlighting the plight of endangered species, a result of poaching to meet consumer demand for wildlife products such as elephant ivory, rhino horns, shark fin, tiger parts and helmeted hornbill casques. The advertisements released today feature the five species and ask the public to react against wildlife trade by refusing wildlife products and reporting illegal wildlife crime to authorities.
Like many markets, trade in wildlife and wildlife products is shifting online. TRAFFIC's monitoring of 31 websites and e-commerce platforms in China between 2012 and 2016 found ivory was the most-advertised wildlife product (60%), while rhino horns and associated products were the second most-traded products (20%). In the last few years, social media has also played a role in fostering the illegal wildlife trade because of the platform's popularity and reach. A more recent study in Indonesia, Thailand and Vietnam recorded 2,489 ivory items for sale in 545 posts on social media platforms over the span of just five days in July 2019.
The series of advertisements launched through social media is in response to the increasing market and accessibility of wildlife products on popular platforms. The concept of the advertisements was developed pro bono by BBDO Bangkok, Thailand's leading creative and advertising agency. The #ReactAgainstWildlifeTrade campaign uses a familiar "angry reaction" emoji to illustrate the message that killing endangered species for their parts is unacceptable and this senseless poaching should evoke anger in us all. The campaign was developed based on WildAid's slogan "When the buying stops, the killing can too," with an aim to encourage people to REACT against any wildlife trade on their social media channels, putting social pressure on those who are consuming or selling wildlife products.
The illegal wildlife trade is a multi-billion dollar global industry largely driven by consumer demand in expanding economies. The demand for illegal wildlife is highest in Asia, where owning or consuming wildlife products is reflective of status, wealth, or purported health benefits.
For 20 years, WildAid has been campaigning to end the demand for illegal wildlife products using the same technique as top advertisers and delivering high-impact media campaigns. The campaigns are featured on broadcast television and radio, on trains and airplanes, at bus stops and subway stations, and on online platforms, adapting to shifting trends in the wildlife market.
"WildAid's campaigns are designed keeping in mind cultural and consumer insights, and the latest trends for maximum impact. As a result, there have been significant drops in prices and consumption of endangered species products, such as ivory, rhino horn and shark fin," said John Baker, Chief Program Officer at WildAid. "We hope that these ads will continue to help increase unacceptability of trading and posting wildlife products online, as well as offline."
The United Nations estimates that global illegal wildlife trade is worth between $7 and $23 billion a year, making it the fourth-largest illicit trade after arms, drugs and human trafficking. The trade puts not only biodiversity and endangered species at risk, but also our health and economies, as highlighted by the recent COVID-19 outbreak which likely emerged from a live animal market.
"We are proud to support WildAid in its fight to help protect endangered wildlife," said Somkiat Larptanunchaiwong, CEO at BBDO Bangkok. "BBDO Bangkok is deeply concerned by the depletion of wildlife populations worldwide and the trade of products, such as elephant ivory, rhino horn, shark fin and tiger parts. With this hard-hitting advertisement developed for WildAid, we are confident that our efforts can have an impact on ending consumer consumption behaviors that threaten our planet's biodiversity."
"Every small action matters! #ReactAgainstWildlifeTrade every time you see wildlife products on your social media." added Anuwat Nitipanont, Chief Creative Officer at BBDO Bangkok.
The series of advertisements will be launched through WildAid's platforms in the U.S, Hong Kong and Thailand.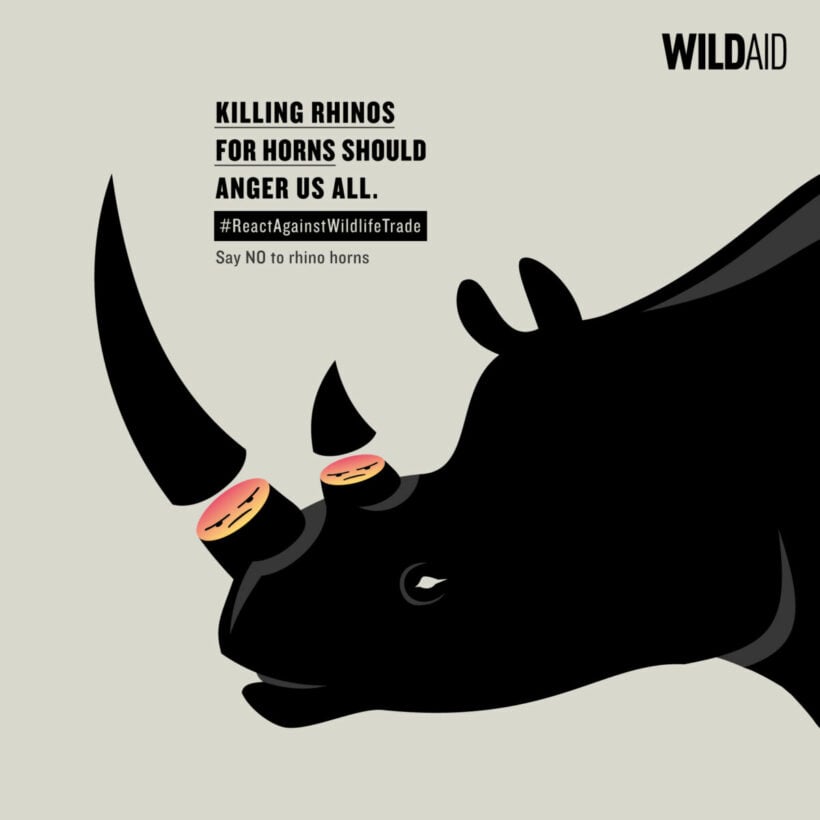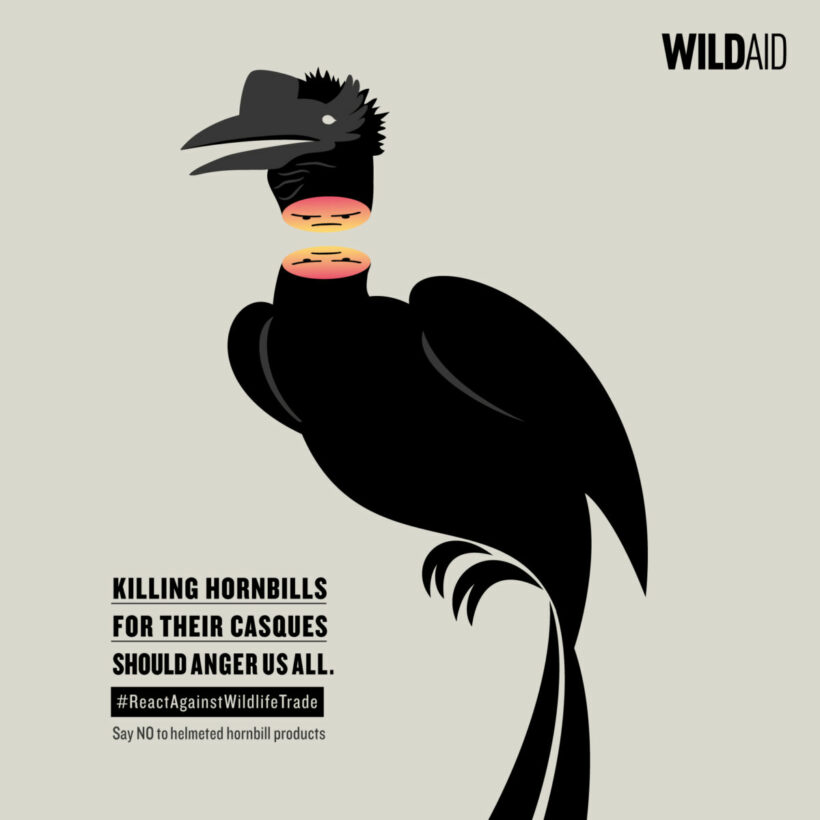 Among the adult urban Thai population, roughly 500,000 own ivory products and around 250,000 use tiger products based on USAID Wildlife Asia's 2018 study, Research on Consumer Demand for Ivory and Tiger Products in Thailand. In addition, roughly 750,000 intend to buy and use these products in the future. An estimated 2.5 million and around 1.8 million adult urban Thais find use of ivory and tiger products socially acceptable, respectively. The study also found that the belief held by some that the power of elephants and tigers can bring good fortune and ward off evil is another driver of demand for derivative products from these endangered animals.
Helmeted Hornbill: TRAFFIC's online survey in Thailand found a minimum of 236 online posts offering a minimum of 546 hornbill parts and products in 32 of the 40 groups surveyed on Facebook. These were posted over a period of 64 months, spanning June 2014 to April 2019. Helmeted Hornbill parts and products constituted 452 (83%) of all hornbill commodities recorded.
Keep in contact with The Thaiger by following our Facebook page.
Never miss out on future posts by following The Thaiger.
Bryde's whale in Gulf of Thailand gives birth to third baby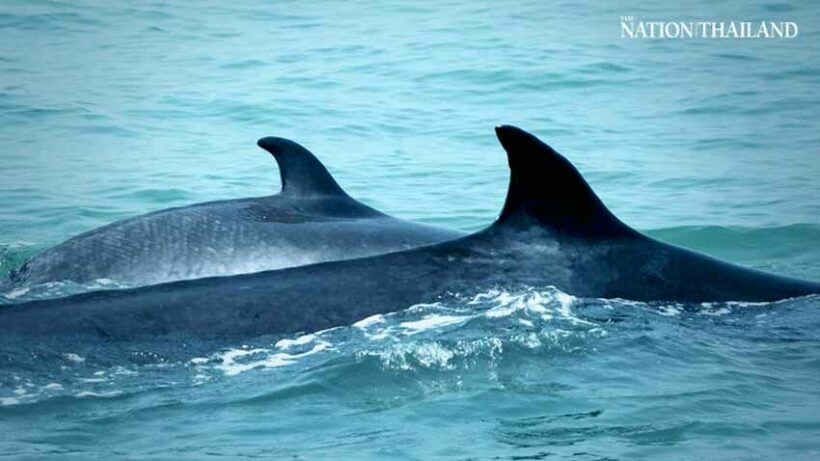 A Bryde's whale living in the Gulf of Thailand has given birth to her third baby whale. Nation Thailand reports that Mae Thong Dee was photographed by wildlife photographer Jirayu Ekkul, whose team has been monitoring the whale. It's understood she has a number of injuries, including a ripped dorsal fin and serious eye injuries.
"We found Mae Thong Dee and her baby whales about 2 hours after taking a ship to the Gulf of Thailand. It may have been our destiny to meet these whales."
Jirayu says that 2 years ago, there were concerns Mae Thong Dee wouldn't survive after sustaining injuries to her eyes, but the latest sighting has given them hope.
"I finally realise why she ate so much and lived in the gulf for over 9 months. It wanted to take care of its health to give birth to a baby whale."
The Bryde's whale belongs to the same group as blue whales and humpback whales. Usually spotted individually or in pairs, they will sometimes gather in groups of around 20 in feeding areas. The Bryde's whale is on Appendix II of the Convention on the Conservation of Migratory Species of Wild Animals, with its conservation status listed as unfavourable. It is also covered by the Memorandum of Understanding for the Conservation of Cetaceans and Their Habitats in the Pacific Islands Region. It was named after Johan Bryde, the Norwegian consul to South Africa, who helped create the first modern whaling station in the country.
SOURCE: Nation Thailand
Keep in contact with The Thaiger by following our Facebook page.
Never miss out on future posts by following The Thaiger.
Chon Buri zoo invites people to vote on baby hippo's name – VIDEO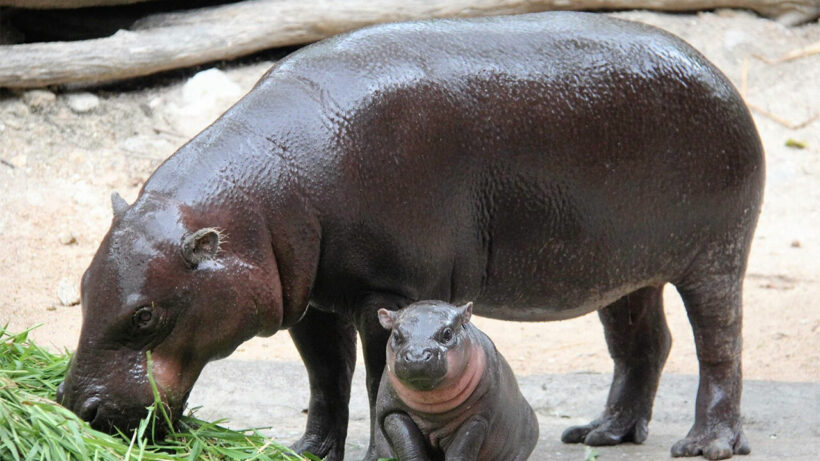 A zoo in the eastern province of Chon Buri is inviting people to vote on the name of a baby pygmy hippopotamus born last month. Anuphong Anont from Khao Kheow Open Zoo says the baby made its first public appearance yesterday.
"The female baby hippo was born on January 14 to 6-year-old mother Kanya and 21-year-old father Tony. The baby hippo is healthy but is very attached to her mum, so we let them have some privacy before introducing the new family member to the public."
VIDEO: Thai Rath
The zoo is home to 10 hippos and now 8 pygmy hippos, which are a tenth of the size of regular hippos. Among the zoo's residents is Mali, Thailand's oldest hippopotamus, who is 55 years old. Visitors to the zoo are being asked to choose from 2 potential names for the latest arrival, with voting taking place on the facility's Facebook page.
"We have narrowed it down to 2 choices: Moo Wan or Bacon. People can vote for their favourite choice at the zoo's Facebook page until April 5."
Nation Thailand reports that everyone who votes will be entered into a draw, with a chance to win the top prize of 3,000 baht. 10 others will receive free entry to the zoo for a year. The results will be announced on April 12.
SOURCE: Nation Thailand
Keep in contact with The Thaiger by following our Facebook page.
Never miss out on future posts by following The Thaiger.