Guns used in majority of Thai crimes, criminologist calls for stricter laws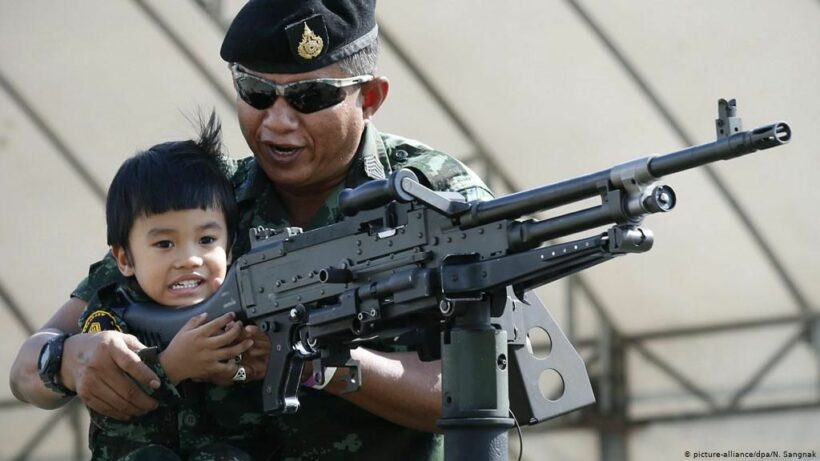 The country's rise in firearm violence has the Bangkok Post describing the problem as "Thailand's other pandemic." More than half of crimes in Thailand involve firearms according to statistics. In many reports, people lose their temper, even over petty comments, and turn to a gun to solve the problem.
Last week, a man shot and killed 3 of his coworkers at a radio station after what seems to be relatively minor, negative comments over things like one coworker telling him not to smoke (according to the shooter). A man shot and killed a monk after the monk criticised his drinking habits last month. And just over the weekend, a man shot and injured his friend who had been having an affair with the man's wife. The Bangkok Post story claims 60% of crimes in Thailand involve firearms.
Discussion on stricter gun laws were prompted after two mass shooting incidents earlier this year: February's Terminal 21 shooting in Korat where a Thai army soldier killed 29 people and injured 57 people, and January's shooting at a Lop Buri gold shop where 3 people, including a young boy, were killed. A 'bored' school director was later arrested and confessed to the crime.
But discussion on the topic has died down again according to Rajabhat University criminologist associate professor Piyaporn Tunneekul.
"Thailand's gun laws are outdated. Currently, a person as young as 20 years old can own a gun and have a lifelong gun license. There are loopholes in the system of registering, buying and selling guns."
"The concept of owning a gun for a Thai in the past was for the purpose of protection. Now that mindset has changed."
"Today people believe ownership of guns conveys a sense of wielding power. A firearm is also a sign of authority and control, a sign you are not afraid of anything."
Tunneekul suggests Thailand follow Japan's laws on gun ownership, such as raising the age to own a gun to 25 years old and requiring that gun licenses be renewed every 3 years. She also suggests capping the amount of ammunition that can be sold and banning certain types of guns that are typically used in crimes.
"Japan is stringent in the types of guns one is allowed to own. And for a good reason."
SOURCES: Bangkok Post| Thai PBS| Chiang Rai Times| Bangkok Post| Thai Residents
Keep in contact with The Thaiger by following our Facebook page.
Never miss out on future posts by following The Thaiger.
Cambodian dog slaughterhouse shut down, owner says he is "ashamed"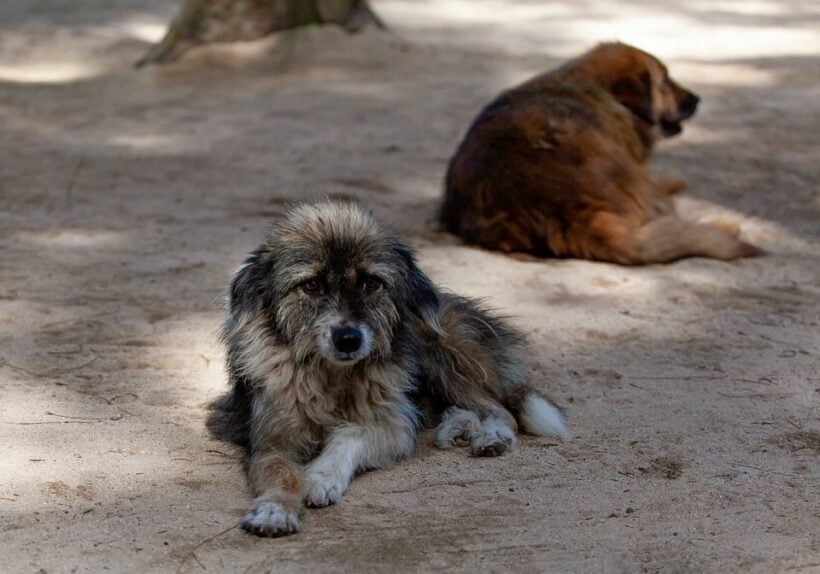 After increasing calls to end the dog meat trade, a Cambodian slaughterhouse is shutting down, with its owner saying he is "ashamed." Ouk Mol, the owner, says the dog slaughterhouse has killed more than a million dogs since opening in 1995.
According to Four Paws animal rights group, Cambodia slaughters between 2 to 3 million dogs per year, while offering the cheap meal of protein at more than 100 dog meat restaurants in Phnom Penh, its capital.
Mol's slaughterhouse is responsible for all the supply to Phnom Penh, but he says he will no longer be killing dogs, citing increasing pressure from animal rights groups and civilians alike. The 50 year old former soldier says he feels ashamed.
"But I want to quit the business because I am getting old and a lot of people have criticised me about the dog meat trade."
The operator was offered financial support from Four Paws to open a grocery store if they shut down their slaughterhouse with Ouk Mol's wife, Sao Phally, saying she is glad they have found a way out of the business.
"We were always worried about sin because of our killing. People looked at us in a bad way."
The slaughterhouse, which uses vats to drown the dogs, and blowtorches to remove their fur, slaughtered up to 200 dogs per day. Now, as of yesterday, the company has shut down, with the remainder of dogs being sent to animal charities for rehabilitation and placed for international adoption.
Phnom Penh is the 2nd city in Cambodia to follow increasing calls to close the dog meat trade, as Siem Reap banned the trade last year in a victory for animal rights groups. Until 2020, Siem Reap, Cambodia's largest tourist city, was known by rights groups as the "lynchpin" of the trade.
Despite Cambodia's efforts to begin closing down its dog meat trade, it is not the only Asian country that features dog meat as a cuisine. Consuming dog meat in Vietnam is more popular than in Cambodia, which shows the industry has a long way to go with regards to respecting animal rights.
SOURCE: Thai PBS World
Keep in contact with The Thaiger by following our Facebook page.
Never miss out on future posts by following The Thaiger.
Pattaya police raid nightclub suspected of presenting pornographic shows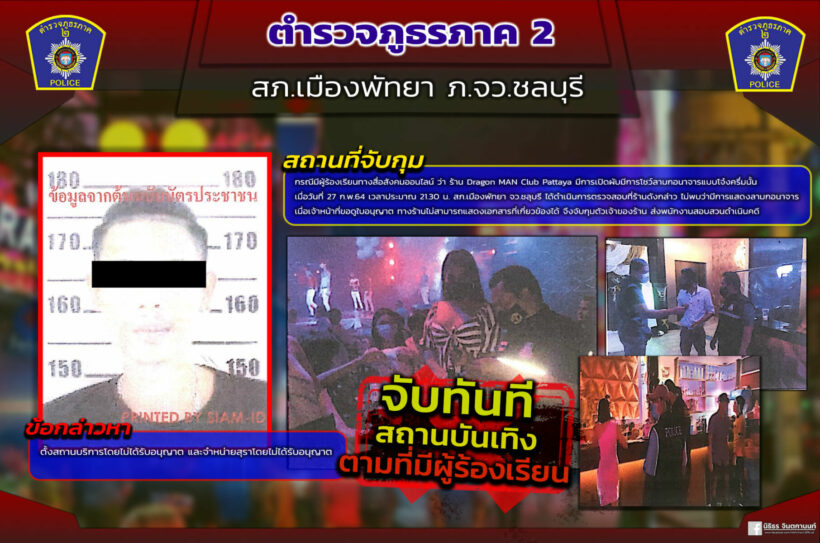 Pattaya City Police inspected a nightclub after reports that the venue was hosting pornographic shows on the weekends. Although the nightclub, Dragon Man Club, wasn't presenting a sexually explicit show when officers came by, the owner was arrested for operating an entertainment business and selling alcohol without the proper permit.
Police say a tip was made through social media from an anonymous source. Officers asked the nightclub owner for the venue's license, but the owner did not have the document at the time. Police arrested the owner. The nightclub owner was not named in reports.
SOURCE: Pattaya News
Keep in contact with The Thaiger by following our Facebook page.
Never miss out on future posts by following The Thaiger.
Bangkok Military Court issues arrest warrant for medic accused of injecting troops with fake Covid-19 vaccine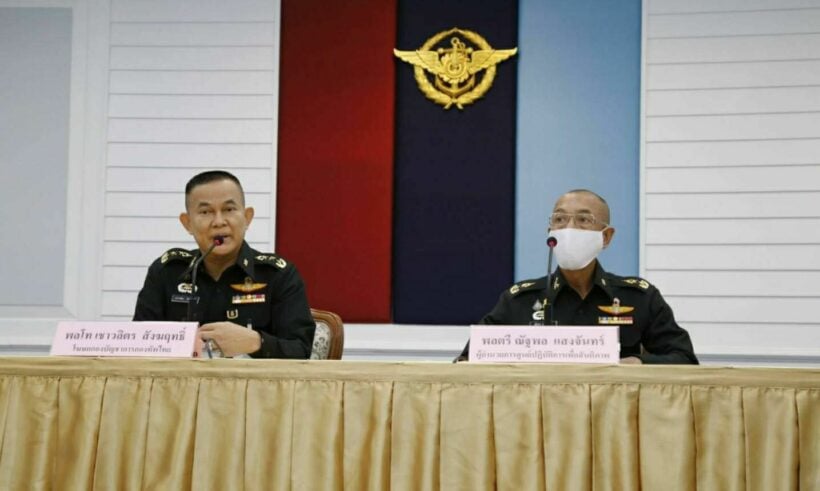 The Bangkok Military Court has issued an arrest warrant for a Royal Thai Army medic who is accused of injecting troops with a fake Covid-19 vaccine. He reportedly made more than 100,000 baht by charging troops, who were on a United Nations mission, 500 baht each for a tetanus vaccine and a fake Covid-19 vaccine, which an internal army investigation determined was just saline solution.
The Thai Army held a press conference after the medic's fake vaccine scam made headlines, saying the incident had tarnished the army's image. The field medic, who was also a lieutenant, injected more than 250 Thai troops stationed in South Sudan on a UN peacekeeping mission with the fake vaccine, claiming it was the head doctor's order, Army Army spokesperson Santipong Thammapiya confirmed. He says the medic was in the Thai-South Sudan Horizontal Military Engineering Company.
"This incident affects the image of the Thai Armed Forces and Thailand in the United Nations mission. It is a serious disciplinary offence and also violates ethical standards as the wrongdoer is a doctor."
The medic injected troops with a legitimate vaccine for tetanus as well as a saline solution shot he claimed was a Covid-19 vaccine. He charged 500 baht for the vaccine package, adding up to more than 100,000 baht, according to a UN investigation.
The medic had been sent back to Thailand. The Bangkok Military Court has now issued a warrant for his arrest. Previous reports said the medic's license was revoked, but a recent report by Nation Thailand says the Medical Council is considering whether to revoke his doctor's license.
SOURCE: Nation Thailand
Keep in contact with The Thaiger by following our Facebook page.
Never miss out on future posts by following The Thaiger.