UPDATE: Election results – what it all means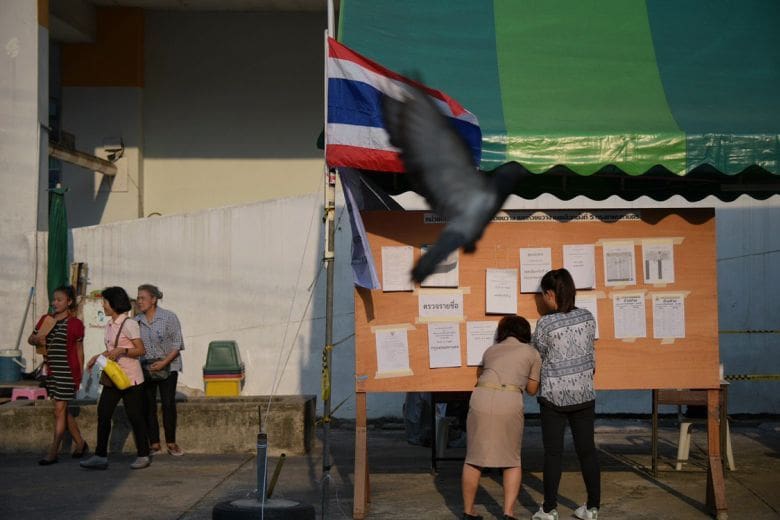 The Election Commission says the official results of the Thai general election will be announced today.
By the close of counting last night around 92% of the votes had been counted. The bleary-eyed commission decided to delay the announcement until this afternoon.
The EC chairman says the announcement of winners in each constituency had to be deferred because expat' votes from New Zealand had not arrived on time.
The election results were widely followed as internet sites went into meltdown (including The Thaiger) as people clambered for the latest booth counts.
The map, courtesy of Bangkok Post, shows that general voter sentiment was largely unchanged after five years of military rule with the north and north east still favoring the Pheu Thai (pro-Thaksin, pro-democracy) party, versus the rest of Thailand.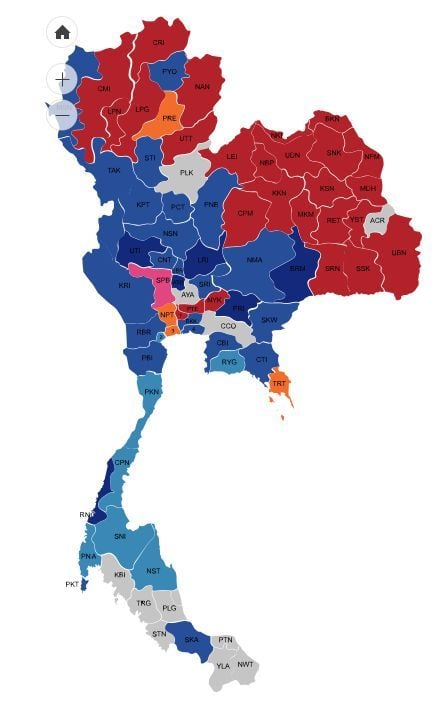 The Palang Pracharat (pro-regime) party and Pheu Thai were neck and neck all evening as the numbers rolled in from booths around the country. The two big surprises during the evening were the high polling of the new Future Forward party which clearly hit the right note with the seven million new eligible voters who exercised their democratic right for the first time. The other key aspect of the evening was the failure of the Democrats to woo their past constituency.
Thailand's former PM Abhisit Vejjajiva said he will resign as leader of the Democrats.
State-owned television station MCOT calculated the distribution projection of all 500 lower house seats, including party list winners, also based on the election authority's data. At 10 p.m., it forecast 146 seats would belong to the Thaksin Shinawatra-linked Pheu Thai, followed closely by the junta's Palang Pracharat Party, at 141. MCOT expected the Future Forward Party to win 85 seats, Bhumjaithai 55 and the Democrats 36.
If MCOT's estimate is accurate, the junta will have enough seats to make their candidate, Prayut Chan-o-cha prime minister.
The Bangkok Post reported an unofficial estimate for all 500 seats, also based on commission data. With 93% of the vote counted, Pheu Thai had the lead with 129 seats. Palang Pracharat followed with 117. Bhumjaithai was seen taking 49 seats, with the Democrats winning the same number. Future Forward was seen taking a surprising 78 seats.
BUT, the big issue that will be discussed today, is if Pheu Thai and Future Forward decide to collaborate, they could form a coalition that would come close to having a majority of lower house seats.
According to popular vote figures from the EC, Palang Pracharat garnered the most votes with 7.5 million, with Pheu Thai following at 7.3 million. But these figures do not necessarily reflect the actual makeup of the parliamentary seats to be announced some time today.
The lower house is made up of 500 members, 350 will come from single-seat districts. The remaining 150 will be distributed among parties based on how they fared nationwide.The current constitution states that the PM should be chosen by a majority of all 750 legislators, a number that includes 250 Junta-appointed senators.
An anti-junta coalition would need 376 lower house seats if its preferred candidate is to become PM.
Keep in contact with The Thaiger by following our
Facebook page
.
Boxer wants officers prosecuted after false imprisonment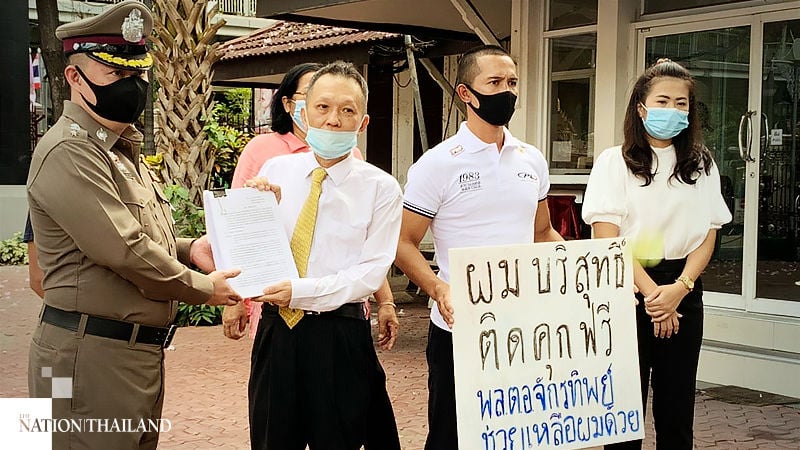 A former boxer recently released from custody for drug trafficking charges claims he was wrongfully imprisoned and is calling on the national police chief to prosecute the officers that filed the drug charges. He has submitted documents to Thailand's police chief Chakthip Chaijinda as evidence he had been wrongfully imprisoned for 14 months. Now he's demanding justice and wants the police who arrested him investigated and prosecuted.
Atchariya "Max" Wirotesunobon was a WBC Asia super-lightweight champion. The title was stripped from him after he was arrested in 2018 at the Don Mueang International Airport in Bangkok on his way to a boxing match in Japan. He was accused of involvement with an operation to smuggle and sell more than 3 million methamphetamine pills.
Wirotesunobon was incarcerated for 14 months, but was acquitted and released last week. The only thing that linked him to the crime, he says, is that a car he sold to a dealership was used by people in involved in the drug smuggling operation. The car was sold in 2015. Others arrested in the operation said they were not associated with the boxer, and Wirotesunobon said he does not know them.
SOURCES: Bangkok Post | Nation Thailand
Keep in contact with The Thaiger by following our
Facebook page
.
Bangkok man shoots, injures friend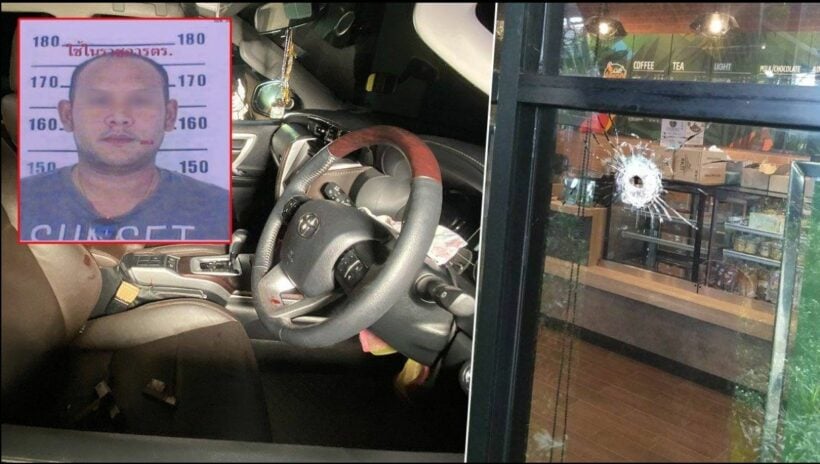 A Thai man has shot his best friend in Bangkok over the weekend after he found out his friend had an affair with his ex-wife. The 34 year old man, reported as 'Paratkorn', found photos of his wife and friend, 31 year old Pongsitthat. In a fit of rage, he shot and injured Pongsitthat.
Police say Paratkorn has a history of violence. He spent 6 years in prison for attempted murder and had also been arrested for drug and gun related charges. During Paratkorn's time in prison, his friend stepped in to help out his wife and daughter, and ended up having an affair with Paratkorn's wife.
Paratkorn shot at his friend who was sitting in his car at the time. Bullets hit his face and arm, injuring Pongsitthat. Another bullet hit a cafe, but no one else was injured. As of yesterday, Paratkorn has not been arrested and the Bang Khen Police Station are tracking him down.
SOURCE: Thai Residents
Keep in contact with The Thaiger by following our
Facebook page
.
Quality quarantine options for those who want some luxury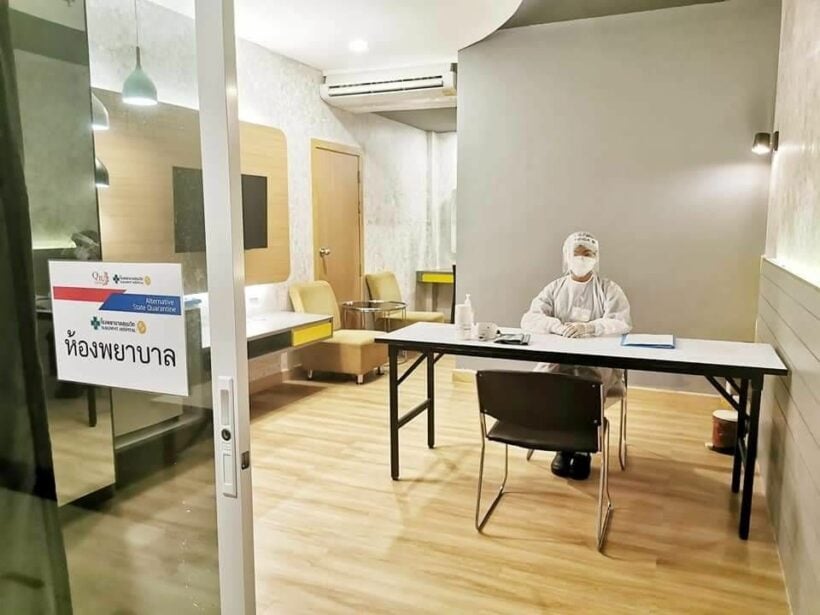 Private state quarantine options are available for those returning to Thailand and willing to pay a hefty price. The 14 day quarantine is required for everyone re-entering the country to prevent any possible spread of the coronavirus, but there are more luxurious options from hotels that have passed the test from the public health and defence ministries.
Around 90 guests so far have opted for the their mandatory quarantine at Qiu Hotel Sukhumvit. The hotel says they have received hundreds of enquiries about the alternative state quarantine service. The hotel is selling its quarantine package for 32,000 baht per person (for 14 days) which includes 3 meals a day. They are parenting with the Sukhumvit Hospital to provide, if needed, free ambulance service, coronavirus testing and a video call consolation with a doctor.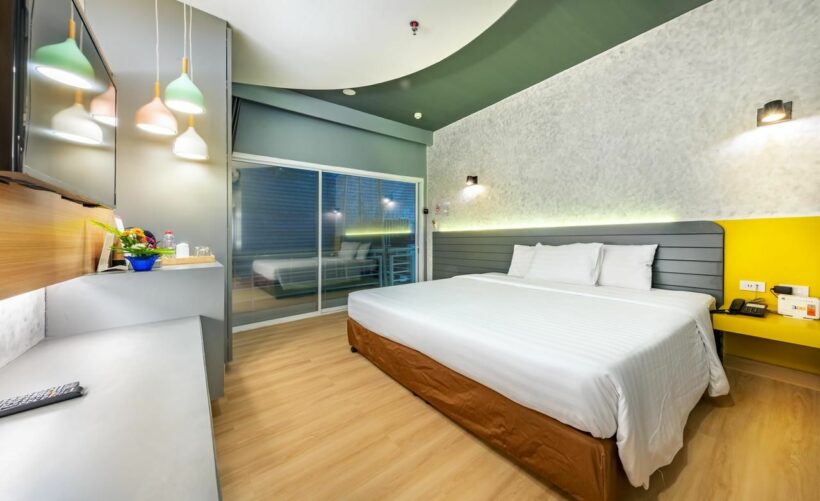 PHOTO: A room at the Qui Hotel, a step up from the state quarantine facilities
But Qiu Hotel is cheap compared to other alternative quarantine services. Other hotels include Movenpick Wellness BDMS Resort Hotel, Grand Richmond Hotel, Royal Benja Hotel and the Idle Residence. Prices at these venues range from 45,000 – 60,000 baht for a two week quarantine stay, according to hotels' Facebook pages.
Foreigners with work permits or permission from the labour ministry are allowed to enter the country, but they need health insurance, a health certificate and also need to be in quarantine for 2 weeks. They also need to be able to find flights to return to Thailand.
SOURCE: Nation Thailand
" Alternative State Quarantine "by Qiu Hotel and Sukumvit Hospitalท่านสามารถตรวจสอบรายชื่อโรงแรมทางเลือกสำหรับการกักตัวได้ทาง www.hsscovid.com หรือ https://www.naewna.com/local/490404

Posted by Qiu Hotel on Saturday, 2 May 2020
Keep in contact with The Thaiger by following our
Facebook page
.