Same same but not very different – Election 2019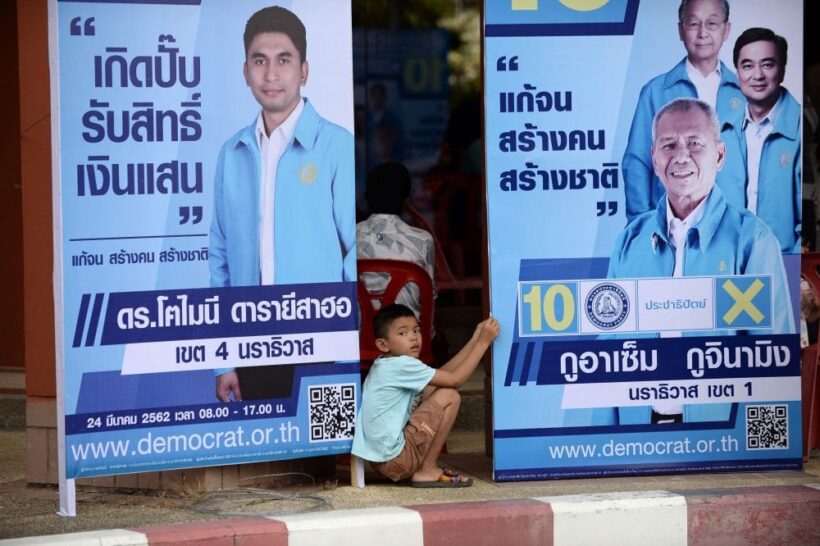 By Jintana Panyaarvudh
Campaigning ahead of the March 24 election is getting a little too heated in the view of some observers.
The old habit of slinging mud between rival politicians has revived prompting critics to raise concerns.
"The world has evolved but Thai politicians have failed to develop or employ new, creative methods in their campaigns to attract voters," said Wilaiwan Jongwilaikasaem, associate dean for academic affairs at Thammasat University's Faculty of Journalism and Mass Communication.
She notes that traditional posters and banners were still being used to familiarise voters with the candidates, though some parties are also making good use of social media and infographics.
But she says there is still a lack of focus on policies and the overall campaign is instead being used to propagate hate speech and smear rivals. Voters will inevitably have difficulty deciding whether some accusations in circulation are even factual, Wilaiwan said.
"We expect the 7 million first-time voters, including those who have just turned 18, to be enthusiastic about casting their ballots. But what concerns me the most is whether their votes will be 'quality votes'."
Wilaiwan also wonders whether new voters will be able to play a major role in changing the face of politics, especially given such a short time before election day. Although some young voters are interested enough to look into candidates' qualifications and verify whether claims made are true or false, she pointed out that many more are attracted to specific candidates based only on their celebrity status.
The academic cited presidential elections the US where there are typically only two rivals and they compete on policy. Candidates win or lose depending on what their parties have to offer.
Fugitive former premier Thaksin Shinawatra's now-defunct Thai Rak Thai Party introduced a slew of populist policies in the 2001 campaign and they've remained a signature of the Shinawatra camp, never failing to win elections.

In fact, the policies are so popular that the camp has continued winning, no matter what the party's name, be it the now-disbanded People Power Party or the current Pheu Thai Party. This time around, though, many other parties are also embracing populist policies.

The main message candidates have been delivering to voters has not changed much, with many parties' political discourses still "trapped" in either the fight for democracy or populist policies, said Titipol Phakdeewanich, dean of political science at Ubon Ratchathani University.

The Democrat and Future Forward parties are leaning towards populism, while the pro-junta Phalang Pracharat is disguising its policies under the theme of "reconciliation", he said.

"But in reality, these discourses do not reflect any changes in Thai politics," he said

"The Democrat and Future Forward parties are offering a welfare state but have yet to show how it will be sustainable or if recipients would be self-reliant. Phalang Pracharat Party is relying on the reconciliation discourse to explain why the military is still necessary to maintain order."

"The political discourse used by pro-junta parties is undermining the progress of Thai democracy, he added.

However, he said, though the election is not expected to bring massive change to society, it will at least encourage voters to pay more attention to democracy.

"I think this election is more like a referendum on democracy or an indicator of how desperately Thai voters want democracy, rather than actually returning to true democracy. What we will have is just  pseudo-democracy," he said.

"This election is being held just so that Thailand can be a part of international democracy. Otherwise it will be difficult for it to promote its economic policies internationally."

Titipol, who lectures on political communication, said the most important concern was not about what politicians convey to voters, but rather voters being open to two-sided information.

"It doesn't matter who you support, but you should make time to listen to all opinions so you can make a good decision," he said.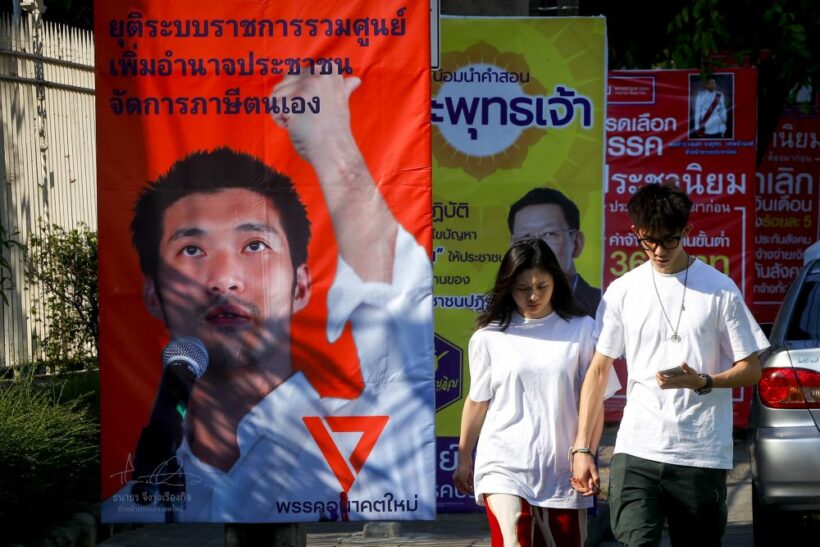 SOURCE: The Nation


Read more headlines, reports & breaking news in Thailand. Or catch up on your Thailand news.
Some election results out by 8pm Sunday night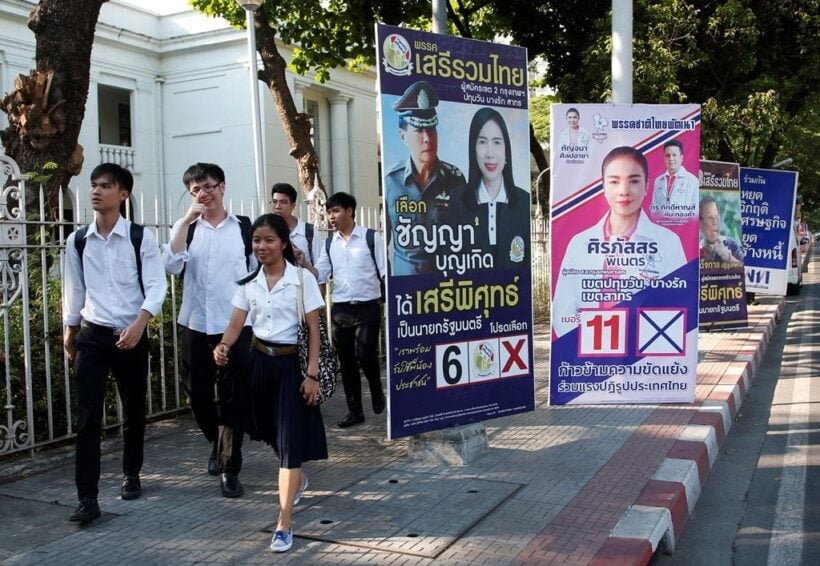 More than 92,000 polling stations will be operating this Sunday for the national poll to elect a new Government. Seven million new voters, eligible since the last poll in 2011, will make a new impact on the election results making predictions more complex than in the past.
Election results will start dribbling out of smaller polling booths just an hour after voting in this Sunday's national election.
Voting will close at 5pm on Sunday, according to the Election Commission.
The EC secretary-general Jarungvith Phumma says results can be expected in less than an hour from smaller polling stations, adding that unofficial results from at least 95 per cent of the polling stations should be ready by 8pm on Sunday.
These results will reveal the number of constituency seats won by each party, but figures on party-list seats will not be released until after the EC has officially endorsed the election results, Jarungvith added.
"The agency will not do the calculations to find out the number of party-list MPs on Sunday. Also, numbers may change, especially if by-elections are required or if ballots need to be recounted in some areas. We can only reveal the results once we have endorsed the votes," he said.
A private group led by rights watchdog iLaw have launched the vote62.com website to serve as a platform for updates on election results and as a means to prevent fraud during the counting of ballots.
Those participating in ballot counting can take photographs of the counting board and post the pictures on the website, while those keeping track of the vote-count on TV or online platforms can enter tallies or upload photos on the website.
The group said the results displayed on the website will later be compared by the official results released by the EC to ensure transparency.
Meanwhile the Health Department is issuing tips advising voters to get at least six hours sleep before casting their vote.
Voters are being urged to wear light clothes because the temperature on Sunday is expected to rise up to 40C in central and northern parts of the country and up to 35 or 36 in southern areas.
SOURCE: The Nation
Foreign Affairs denies attempts to extradite Thaksin from Hong Kong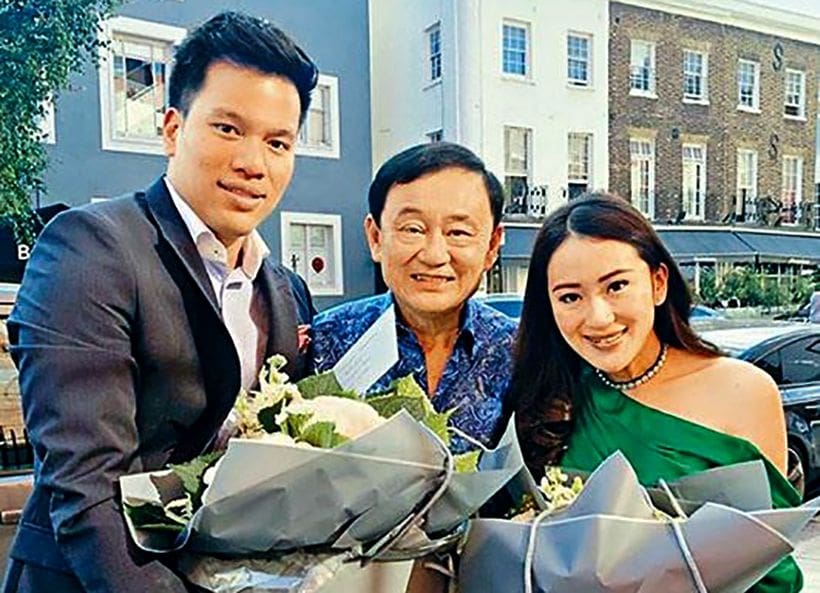 PHOTO: The happy couple and 'dad', in HK for tomorrow's wedding
The director of the foreign affairs department of the public prosecutor's office in Thailand says media reports that the Thai officials are trying to extradite former PM and fugitive Thaksin Shinawatra in Hong Kong, are wrong.
Daily News reports that Chatchachom Akkhapin says there was no truth in stories of efforts to extradite Thaksin from Hong Kong.
Thaksin is in Hong Kong from tomorrow (Friday) to attend the wedding of his youngest daughter Paetongtarn "Ing" Shinawatra to a commercial pilot.
Chatchachom says no contact had been made with Hong Kong authorities but he concedes that, even  though Thailand and Hong Kong have no formal extradition treaty, it would still be possible to request the return of a wanted fugitive if the evidence presented was sufficient.
In the first instance he says they would need to ascertain the address of Thaksin in Hong Kong and the public prosecutor's office don't know where Thaksin is staying.
The denial follows a post on "Thaksinlive" on Instagram earlier this week that indicated Thaksin would be in Hong Kong for "Ing's" wedding on March 22.
Read The Thaiger's report, that the Department has now denied, HERE.
SOURCE: Daily News
Man caught masturbating in front of election banner in Lampang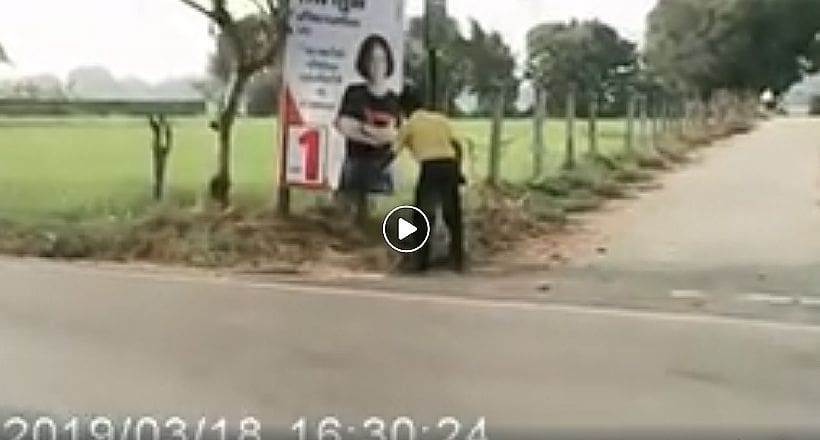 Locals in Lampang in Thailand's north have complained to the media that an older man had been caught on dash cam masturbating in front of an election banner for a female candidate for this Sunday's election.
Sanook reports that the woman in the poster was 'attractive'.
The man, estimated to be between 60 – 70 years old, was shown in Thung Fai sub-district repeatedly rubbing the poster of the female candidate with his left hand before using the same hand to masturbate.
When he realised he was being filmed he abruptly stopped. Locals told Sanook that they caught the man behaving like this before, although The Thaiger notes the last election was back in 2011.
SOURCE: Sanook