Deputy police chief denies foreign diplomats present at Thanathorn interrogation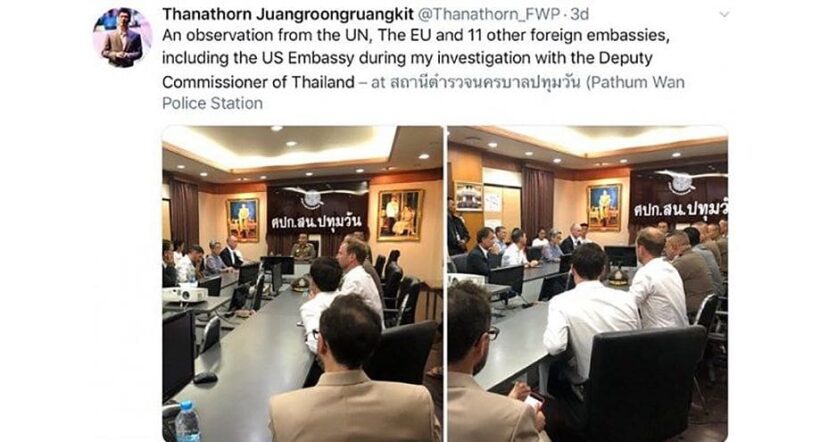 The deputy national police commissioner is denying that a group of foreign diplomats were present at a questioning session when the Future Forward party leader reported to Bangkok police on Saturday morning over sedition charges.
Pol General Srivara Rangsibhramanakul said the diplomats were invited to a briefing after the interrogation of Thanathorn Jungrungruengkit at Pathum Wan police station.
The Future Forward leader, facing sedition charges for an alleged offence he committed four years ago, tweeted two photos showing the diplomats sitting in a room with Srivara at the top of the table.
Thanathorn claimed that the diplomats attended the interrogation.
"Observed by the UN, the EU and 11 other foreign embassies, including the US Embassy, during my interrogation by the deputy commissioner of Thailand," he tweeted.
His tweet triggered criticism about why the diplomats were allowed to be present in the room.
The Thai Foreign Minister Don Pramudwinai yesterday lashed out at the diplomats' presence at the police station, despite the claim that they only wanted to observe the process.
Don said the only way a diplomat could attend a police interview was if the suspect was a citizen of the country they represent.
Srivara said the 12 diplomats observed the case. "I did not know how they came up. They began to ask many questions after the questioning of Thanathorn finished. Police then invited them to a briefing," he said.
"They did not attend the questioning. We invited them in for the sake of good manners. They asked, we answered. No problems at all," he said.
Srivara said he was willing to talk to the diplomats to make them feel at ease. He showed them documents concerning the case, such as an order to set up an investigation.
Keep in contact with The Thaiger by following our Facebook page.
Never miss out on future posts by following The Thaiger.
CCSA mulls the easing of Covid-19 restrictions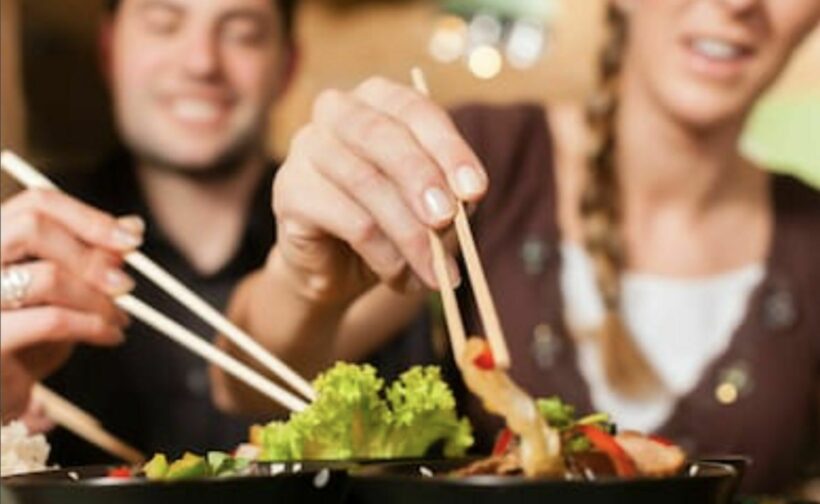 Late night diners rejoice. Your option to eat all that great Thai food around the country looks to be back on the table as the government looks to lift some of the current restrictions on dining and business operating hours. Deputy Prime Minister and Public Health Minister Anutin Charnvirakul has announced that they're likely to lift restrictions on dining, currently set at 9pm, by the end of this week.
The Thai Restaurant Association have been lobbying hard for an extension of the opening times for in-restaurant dining times to at least 11pm.
The CCSA will gather on Friday to assess the current Covid-19 situation and decide if the extension is viable at this time. But the Public Health Minister maintained that alcohol will still be prohibited and other precautions like hand-sanitisers at entry points and social distancing will still need to be strictly applied.
Speaking to Bangkok Post, Anutin said the alcohol ban must remain in place for now.
"If violations of the alcoholic beverage-drinking ban are found at any restaurants, they can't simply get away with claiming that it was their customers who brought the alcohol to drink at the restaurants because the ban applies to 'alcohol drinking' at restaurants in particular, not only alcohol selling or serving."
Meanwhile, PM Prayut Chan-o-cha says the easing of various restrictions around the country will be looked at on a case-by-case basis depending on the outbreak situation in each area. The early clusters in the four eastern coastal provinces of Chanthaburi, Chon Buri, Rayong and Trat, for example, appears to have eased and the local governors are pleading with the government for some relief from the strict restrictions on their provinces. Chon Buri has had a run of days over the past week where there has been no new Covid infections reported to the CCSA.
Yesterday there was a surge of new cases uncovered by a strategic track and trace program in Samut Sakhon, but the government says it will base its decision to ease restrictions around the county on the overall outbreak situation province by province. Provincial governors have also been given powers to add or modify national restrictions, a different situation from the April and May 2020 'lockdowns' which were much more restrictive.
959 new Covid-19 infections were announced yesterday, 844 of them were found through the track and trace operations in Samut Sakhon, the ground zero for Thailand's latest outbreak which kicked off 5 weeks ago and has now spread to most provinces.
Keep in contact with The Thaiger by following our Facebook page.
Never miss out on future posts by following The Thaiger.
Thai DJ Celebrity party is likely to be "super spreader" event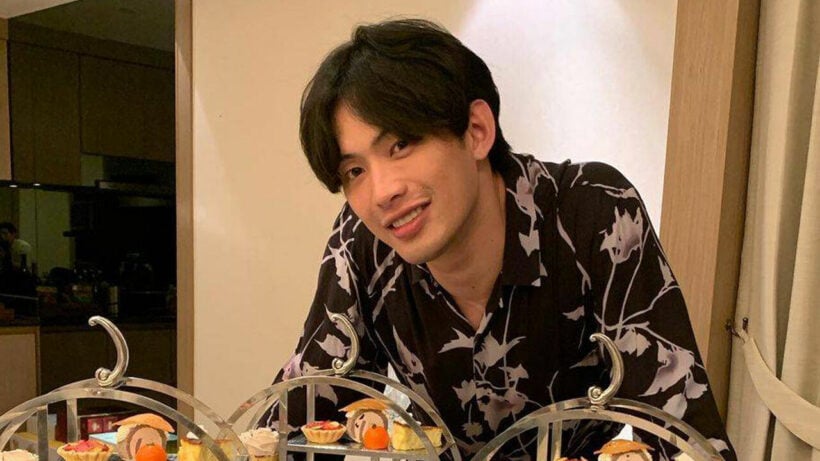 The birthday party of Techin Ploypetch, better known as "DJ Matoom", is now considered a super-spreader source of Covid-19, with 19 people already found infected after attending the event. According the CCSA spokesperson during the daily briefing today, "Transmissions in Bangkok should be highlighted. They show the possibility of a person becoming a super-spreader".
The birth of the super spreader birthday party started with a guest to the DJ's party who had visited a well-known entertainment venue in Chiang Mai between January 1 and 4. He sought a Covid-19 test on January 5 following news that infected people had visited the pub, but tested negative. He should have self quarantined for 14 days, but he still flew to Bangkok and then attended the DJ celebrity's birthday party on January 9.
DJ Matoom says he met the guest, one of his friend, on January 9, but that friend didn't know he was infected until January 19 in which he told Matoom.
According to Dr Tanarak Plipat, now acting inspector-general of the Public Health Ministry, an infected person can transmit disease to two others on average, while a "super spreader" will transmit to multiple people.
DJ Matoom and the party's guest were criticised of violating the disease control measures.
SOURCE: Thai PBS World
Keep in contact with The Thaiger by following our Facebook page.
Never miss out on future posts by following The Thaiger.
Owners of vehicles emitting black smoke to be fined up to 5,000 baht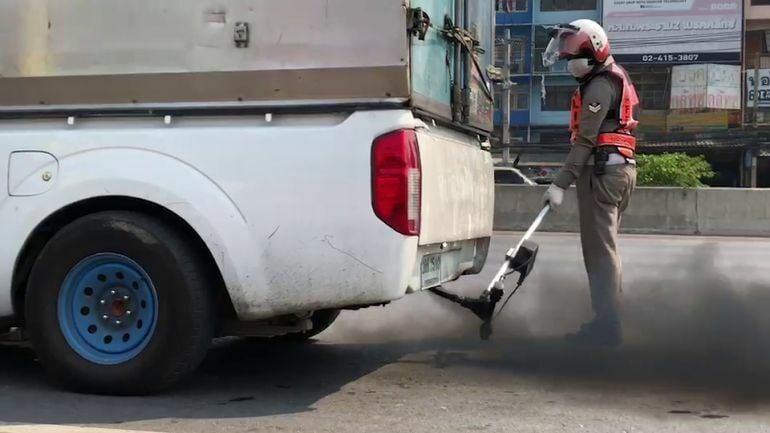 Owners of cars and trucks emitting an excessive amount of black smoke face a fine up to 5,000 baht. The heavy fine is an attempt to reduce air pollution in Bangkok. Along with the fine, the Department of Land Transport will also order the vehicle be suspended from use until its emission system is fixed.
According to the department, from October last year until January, 689,333 vehicles in Bangkok areas have been inspected for black smoke emissions, while 8,762 of them have been suspended from usage. Those vehicles emitting a high volume of smoke, but are under the safety standard, will receive warnings and owners are urged to check vehicle conditions and keep proper maintenance.
Vehicles with exceeding black smoke are urged to check their vehicles at the department's certified vehicle inspection centres located around Bangkok's outskirts, including Phutthamonthon, Romklao, and Khlong Luang areas. Motorists are also encouraged to help reduce air pollution caused by black smoke and PM2.5 particles by having their vehicles regularly serviced or alternately switching to electric or NGV-powered vehicles.
People who witness vehicles emitting black smoke can also report the authorities by calling 1584, or contact Line: @1584DLT, or via DLT GPS mobile application.
SOURCE: Nation Thailand
Keep in contact with The Thaiger by following our Facebook page.
Never miss out on future posts by following The Thaiger.