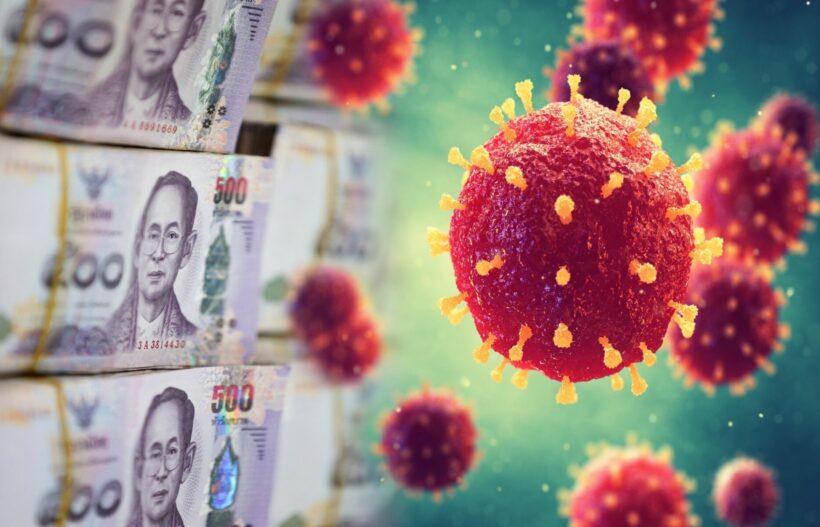 Will the new and rapidly spreading Omicron variant of Covid-19 have a strong effect on the economy of Thailand? According to the Ministry of Finance, the answer is a solid maybe. Minister of Finance Arkhom Termpittayapaisith says it's just too soon to know if and how Thailand's economy will be affected by the Omicron variant.
The Ministry of Finance is currently looking at the overall economy and trying to gauge the impact of a new variant that has proved to be more transmissible than any previous variant but is looking likely to be less severe in symptoms and death than other strains.
When the Omicron variant first emerged it sent shock waves through countries' economies with stock markets worldwide tumbling on fears of new lockdowns and financial turmoil. But with the milder symptoms that seem to come with Omicron and new data on several vaccines showing that, with a booster shot, they retain efficacy against the new strain, the dddamage to the economy may not have as much staying power as the original outbreak of Covid-19 or the Delta variant earlier this year.
But the Finance Minister, who previously said he didn't expect the economy to fully recover until at least 2023, shied away from committing to either a positive or negative outlook on the impact on Thailand's economy, instead saying that they are still analysing the likely trajectory and effects of the Omicron variant.
"You have heard that the Bank of Thailand has announced a reduction in its 2022 GDP target from 3.9% to 3.4% because they feel the impact of Omicron could be at a severe level. For us, the Finance Ministry, we must also assess how severe the impact would be. Will it be worse than the Delta outbreak?"
Meanwhile, the government of Thailand has been hard at work brainstorming future initiatives in emerging sectors to focus on in hopes of growing the economy, including medical cannabis, electronic vehicles, digital technology, and attracting digital nomads and high-quality tourists to the country.
SOURCE: Nation Thailand