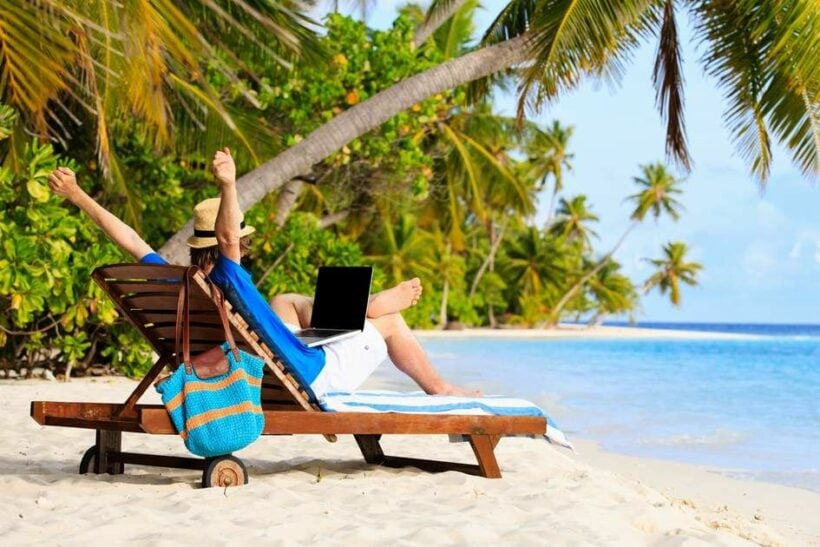 As the
Covid-19
pandemic has helped boost the demand for
digital nomads
, Thailand has yet to formalise a legal way for such workers to stay in the Kingdom. Although Thailand recently announced it is targetting highly paid digital workers to help aid in the country's economic recovery, it leaves the rest of online workers in the dark. Citing the fact that such wealthier digital nomads would increase spending in the country, the government hasn't realised that masses of lower-salaried digital nomads could also help the economy. Since Thailand has a low cost of living, even such lower-salaried workers from developed countries are still making much higher salaries than the average Thai person. As more and more countries move to offer digital nomad visas, such workers in Thailand are holding their breaths in hopes of also being granted a special visa for online working.
According to the Bangkok Post, even recent research by the Faculty of Economics at the Chiang Mai University Chiang Mai Entrepreneurship Assocation shows that digital nomads have contributed to the city's local economy. And, since 2017, the city has seen a digital nomad communities sprouting up, as the cost of living is low along with affordable working spaces. The report also noted that each digital nomad, that was evaluated in Chiang Mai, spent 200,000 baht annually on tourism activities.
Bangkok and other cities worldwide have seen multiple lockdowns, due to the pandemic, forcing many office workers to take up online work. And, the difference between in-office work and online work is not significant, according to many high-level managers. The shift has even changed the face of property demand as more people are seeking condos that offer more functionality for the purpose of working from home.
Thailand is more than ready to offer visas for digital nomads as the government and private sector have invested in high-speed internet which rivals that of most Western countries. Other investments include co-working spaces and digital trade promotion systems that attract digital nomads to the country's large cities. Yet, the issue of getting a long-term visa in order to take advantage of such modernised infrastructures remains.
And, the laws on visas and work permits continue to be a deterrent that can drive such online workers away. The same report noted that digital nomads need to spent 60,000 baht to pay an agent in order to get a visa. Furthermore, the lack of regulations for digital nomads, means they fall into a grey area, which forces them to obtain short-term visas to reside in the country. Such short-term visas, like tourist visas, don't allow visa holders to work while living in Thailand. In addition to working illegally, digital nomads aren't paying taxes and don't have access to social protections.
Despite the lack of a general, digital nomad visa, and many cultural aspects that take getting used to (for example, the culture of saving face), many still desire to work from home in Thailand. And, the most popular areas to work from home in Thailand, include Bangkok, Chiang Mai, Koh Pha Ngan, Koh Lanta, Krabit Town, Phuket, and Koh Samui. Bangkok is the winner if you are interested in living in a cosmopolitan city, while Chiang Mai is great if you like city amenities, but without the traffic and fast-paced life. Koh Pha Ngan wins for featuring the best island nomad community, but Koh Lanta and Koh Samui are great for their stunning beaches and quieter atmosphere. Krabi and Phuket are great for those wanting a fusion of island and city life, as they offer modern amenities against the backdrop of beautiful beaches.
With affordable prices, beaches and nomad communities, there are plenty of things that make living and working in Thailand an absolute pleasure. And, as the country continues to be innovative in ways to help boost its economy, offering a digital nomad visa could be in its future. As the pandemic has clearly impacted tourism and the economy, the government has already made changes to allow more long-term expats to stay legally by doing away with some of the strict regulations that were once deterrents to living in Thailand. As tourism is already somewhat bouncing back, time can only tell when visa options will expand to include the booming, digital nomad industry.
SOURCE: Bangkok Post