Careers and business heading for the scrap-heap. And the ones that will thrive.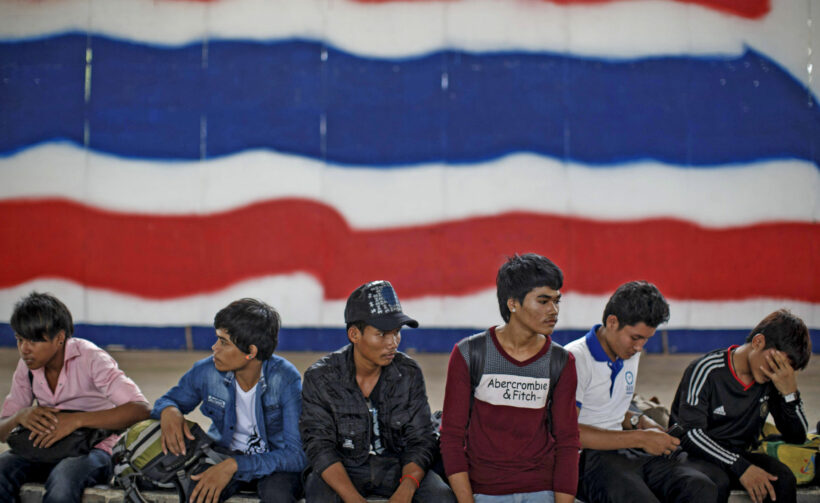 Is your career headed for the scrap-heap? Rangsit University's Economic and Business Research Centre for Reform has been studying the careers and businesses that are at high risk of disruption, layoffs or downright extinction.
They've also identified 10 other careers that have a promising future. In discussing the detailed survey, the centre's director, Anusorn Tamajai, said 12 careers faced high risk of layoffs or stagnant income.
The first group comprises businesses or professionals related to providing services for babies up to 15 year olds – in healthcare and education. The risk stems from the fact that the numbers in this group have been decreasing. Their numbers are estimated to be 12.7 million to 12.8 million next year given that the Thai population growth rate this year is only 0.18%, the slowest of the ASEAN nations. The total Thai population now is 69.3 million, or 0.9% of global population. Thailand's population is forecast to peak at 70 million (69.7 million) in 2025 before dropping to 65.4 million in 2050.
The population of the young age group will decrease to 10.4 million in 2027. Specifically, a large proportion of children are in the deep South provinces of Yala, Pattani, Narathiwat and Satun, or about 23-24% of total population in each province. But the first three provinces are already facing economic hardship due to the unrest.
Anusorn said that he expected more childcare centres and kindergarten and primary schools to be shut down which will adversely affect employment of teachers and other educators.
Those who are employed in counter services will also be hit hard as former customers will now do more transactions online. Brokers and direct sales forces also would be adversely affected by online business.
Those who are in print media, advertising, cable TV and satellite TV face a grim future. The print media is a tailspin of lay-offs, down-sizing or extinction as its economic model becomes impossible to sustain and its previous audience evaporates.
Employees or businesses in "dirty manufacturing" which contribute to climate change and pollution will be adversely affected as scientific and eventually political pressure will force their closure.
Taxi drivers have already been impacted by the emerging ride-hailing services such as GrabTaxi and GrabCar. In Thailand the legalisation of ride-hailing services will see the traditional taxi operations forced to evolve or become redundant.
Property leasing will not escape either. Traditional banks and financial institutions would be disrupted. Manufacturing of auto parts and obsolete IT manufacturing will be hit hard as new technology comes into favour and the old goes by the wayside.
As a side-effect, people in high-end and low-end property development will face a hard time due to lack of demand in the high-end property and lack of purchasing power at the lower end.
But, there is light in the sea of dark. The study identifies 10 careers that are expected to flourish in the future. These include care of the elderly and rehabilitation business. Those who work for electronic platforms will have bright prospects. With growing e-commerce, those in the transportation and logistics businesses will benefit.
Tourism and related services are expected to continue to grow. Medical services, healthcare and health foods will see expansion. Construction, rail system and communication systems will expand. Those who have knowledge to develop applications will be boosted by the IT revolution.
Advance data analysts, insurance economists, actuaries and investment advisers are also expected to be thrive. New careers such as user-experience manager, content and social media manager and virtual reality consultant will have a bright future. Online educators and related services will find a promising future, according to the report.
The report forecasts that in 2020, more people will be laid off hence the Social Security Office will have to make sure that the former workers are well protected. The rising ageing population will put high pressure on the social security fund, which needs to be reformed due to increasing compensation for laid-off workers and pension payment for retirees.
SOURCE: The Nation
Keep in contact with The Thaiger by following our
Facebook page
.
US Treasury mulls putting Thailand on its 'watchlist' as a currency manipulator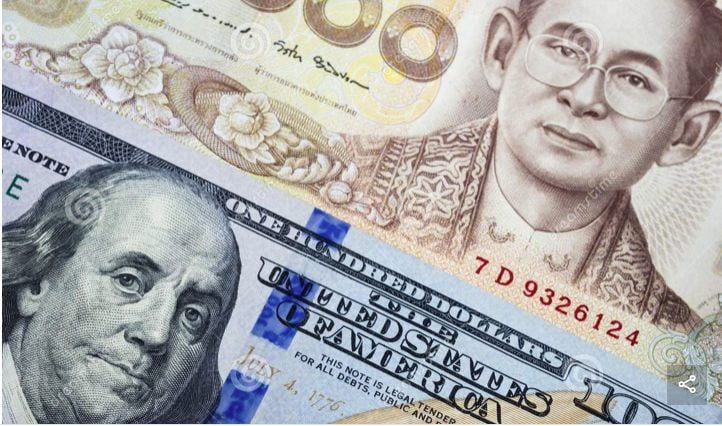 Thailand's trade surplus with the US has now exceeded US$20 billion. Bloomberg reports that this could trigger the Thai currency to be added to the US Treasury's watchlist of "currency manipulators".
According to US Census Bureau data, the surplus reached US$20.05 billion in the 12 months up to the end of November 2019. That exceeds a $20 billion upper limit the US Treasury has set for bilateral goods trade deficits, and means Thailand now violates two of the three criteria needed to add the strong south east Asian economy and currency onto its watch list.
This latest development will increase scrutiny on Thailand's currency policies. At the same time Thai's senior finance officials have been working to rein in the baht's 8% rise against the US dollar since the start of 2019, the fastest appreciation among major Asian currencies. The US is Thailand's third-biggest trading partner.
Veerathai Santiprabhob, the Bank of Thailand Governor, speaking yesterday with Bloomberg, says that Thailand is engaged in a close dialogue with US officials about Thailand's performance on key measures used to evaluate a "currency manipulator. He says Thailand is yet to verify a an alleged breach of the $20 billion trade surplus threshold with its own official data.
Veerathai also mentioned that the baht's progress against the USD in 2019 should show that "no one should consider Thailand as one that has tried to manipulate" the currency to gain an export advantage.
In a May 2019 report by the US Treasury, three south east Asian nations – Singapore, Malaysia and Vietnam – were cited for the first time with two violations each, while Thailand was charged with one: for its high current-account surplus.
SOURCE: Bloomberg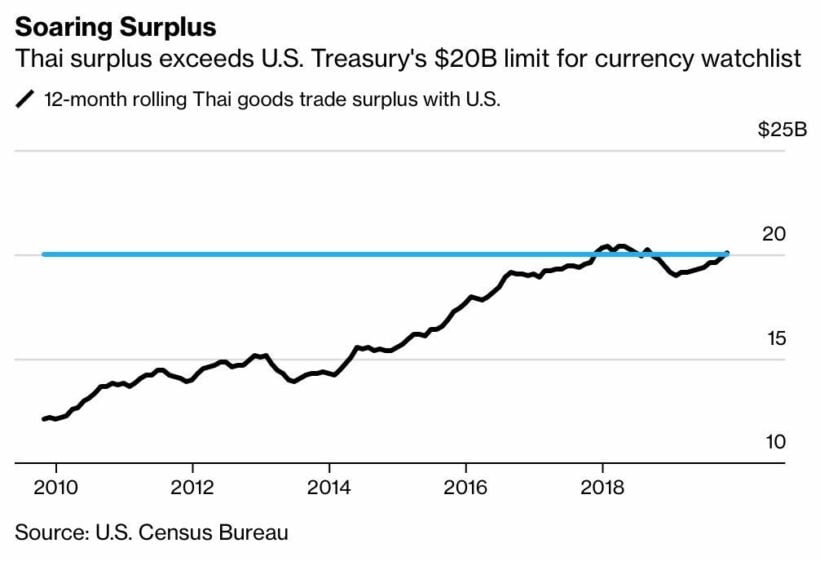 Keep in contact with The Thaiger by following our
Facebook page
.
Cabinet threatens to open up fishing labour to migrant workers
Fisherman from 22 of Thailand's 76 provinces are demanding the government solve the labour problem in the fisheries' industry. The government, in turn, is threatening to invoke Article 83 of the Royal Ordinance on Fisheries, which would essentially allow immigrant labour in the sector.
The relevant committee in the House proposes opening two registration periods for migrant workers, the first from January to March, another from July to September.Applicants would have to hold valid passports or official travel documents,
The Thai Immigrant Employment Management Policy Committee is expected to submit its proposal for Cabinet approval.
Thailand has one of the world's largest fishing industries and seafood products generate massive export revenue annually. A labour shortage in the industry has been a perennial andpressing issue, but Thais tend to shun the labour-intensive occupation, creating a vacuum which migrant labour can help fill. There have also been accusations of maltreatment and even allegations of slavery in the industry until an industry 'clean up' over the past four years.
SOURCE: thainews.prd.go.th
Keep in contact with The Thaiger by following our
Facebook page
.
Two out of three CEOs say the 2020 Thai economy will not improve – Survey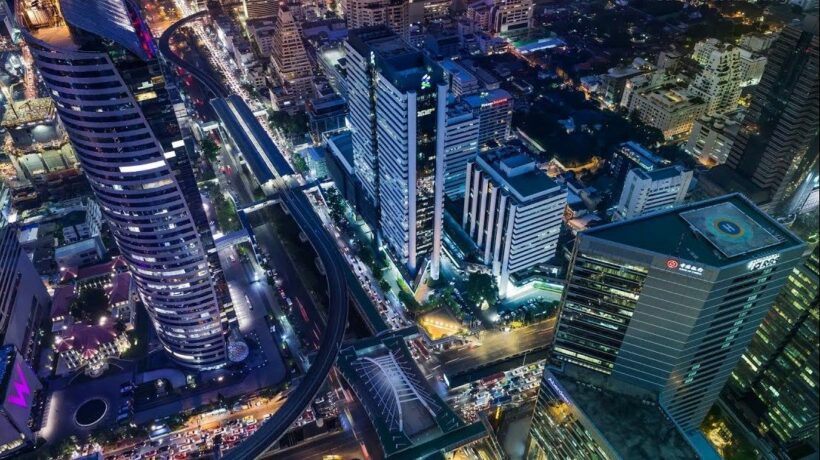 Many CEOs, based in Thailand, don't expect Thailand's economy to improve during 2020. Many surveyed cited global economic uncertainties, according to the "CEO Survey" of 100 individuals. The survey was conducted by Krungthep Thurakit newspaper a month ago.
Around 68.4% of the respondents didn't expect the economy to improve this year, while 31.6% were saying that the economy would fare better this year. In other words, the pessimism vastly outweighs the optimism for the next 12 months by a factor of more than 2:1.
Of those who did not expect an improvement, 29.6% said the economy was expected to slow down, while 25.5% expected the economy to flatline. Meanwhile, 40.2% of the respondents said that digital disruption would pose more business challenges over the next 12 months this year.
Of the total, 81.6% said they would go ahead with business plans while 51.5% would focus on developing business platforms for new revenue sources.
For Q3 and 4 last year the Thai stock exchange revealed listed company executives in a CEO Survey, called Economic Outlook, predicted that the Thai economy in the second half of 2019 would grow. With sentiment down from the previous survey, it expected that in the year 2019, the Thai economy will grow in the range of 2% to 3%
They predicted the Thai economy in the second half of 2019 would be strongly supported by domestic factors, both fiscal policy and government spending, better Thai political stability, and tourism.
SOURCE: The Nation
Keep in contact with The Thaiger by following our
Facebook page
.