Thai law on category II narcotics loosens up, allows sale and possession for research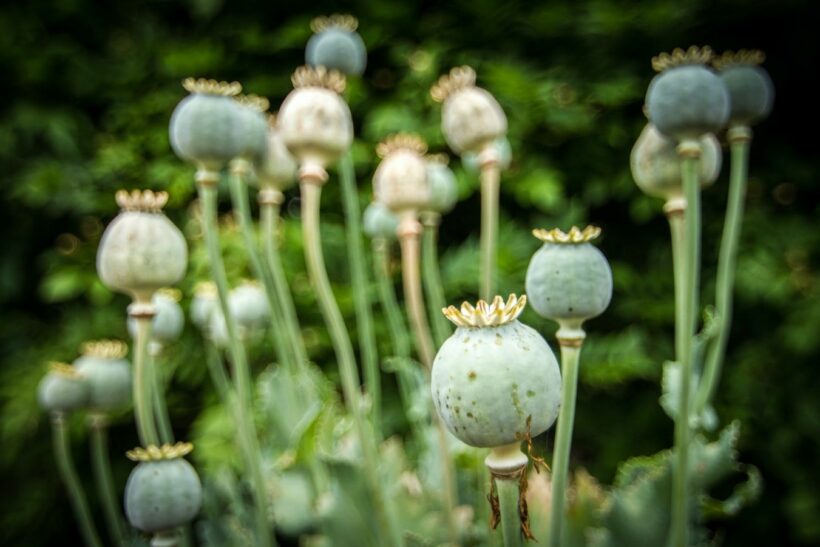 Thai laws on category II narcotics like cocaine, morphine and opium are loosening up. A new regulation by the Public Health Ministry allows the sale and possession of category II narcotics under certain circumstances such as research.
Drugs classified as category II in Thailand's Narcotics Act include morphine, cocaine, ketamine, codeine, opium, medicinal opium and methadone. Under the new regulation, those who are approved by the government will be able to sell category II narcotics for medical treatment or disease prevention for patients or animals, medical or scientific research, or for government purposes.
The government will grant permission to possess category II narcotics for specific purposes such as for research, education or for government matters. Category II drugs can be used to manufacture medicinal formulas like cough medicine. The narcotics can also be used for first aid or in case of emergency in public transport ships or airplanes, according to Nation Thailand.
The regulation was published in the Royal Gazette on Monday and will go into effect in 240 days.
SOURCE: Nation Thailand
Catch up with the latest daily "Thailand News Today" here on The Thaiger.
Keep in contact with The Thaiger by following our
Facebook page
.
Never miss out on future posts by
following The Thaiger
.
Monk arrested for alleged involvement in large methamphetamine delivery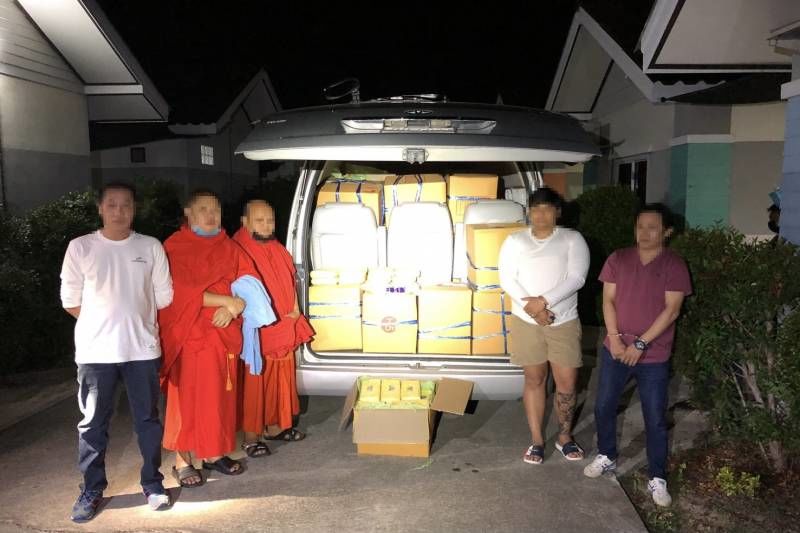 Police arrested a monk on drug charges and seized 4.8 million methamphetamine pills from a resort in the Central Thailand province Chai Nat. The man, a senior monk from Chiang Rai, was allegedly hired to help deliver large qualities methamphetamine 3 times and paid 300,000 baht per delivery. The monk allegedly told police that he needed the money to enroll in a master's degree program.
A photo shows the monk standing in front of a van packed with boxes. Along with the 4.8 million methamphetamine pills, police found a gun with 14 bullets and 11 mobile phones. According to Thai media, it was a significant drug trafficking bust, cracking down on a large network in the Chiang Dao and Chai Nat area. The monk allegedly sat in the van during deliveries to "trick" police and avoid getting searched at police checkpoints.
SOURCES: Chiang Rai Times | Thairath
Keep in contact with The Thaiger by following our
Facebook page
.
Never miss out on future posts by
following The Thaiger
.
Positive test for ketamine was a "technical error"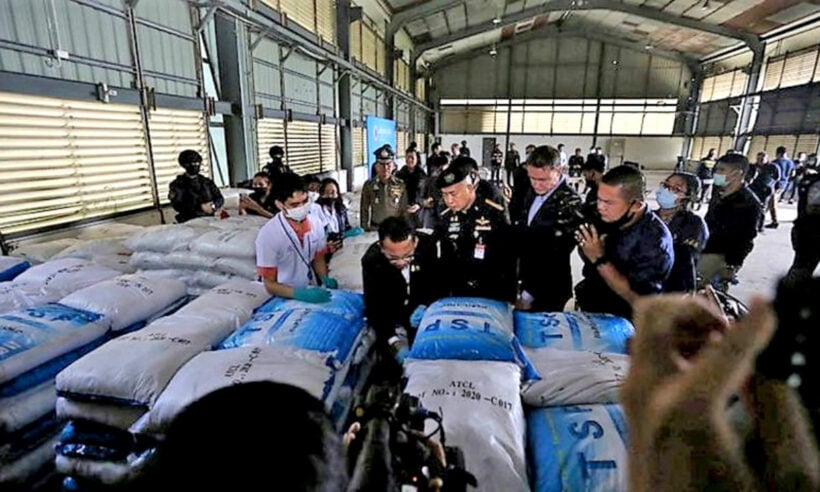 A "technical error" in field testing had led to the false claim that 11.5 tonnes of ketamine had been seized at a warehouse in Chachoesngsao province. Justice Minister Somsak Thepsuthin, made the admission at a media briefing called to clear up the matter.
The 475 sacks containing were seized by ONCB officials during a raid on a warehouse at tambon Tha Kham in Bang Pakong district, in Chachoengsao province, on November 12 which prompted authorities to tout the discovery as the biggest drug bust ever. But officials jumped the gun as the testing fluid that turned purple, indicating ketamine was found, was wrong after 66 sacks were further tested.
The further testing revealed the sacks were filled with trisodium phosphate, a compound used legally as a food additive and stain remover. Somsak said a "technical error in the field" led to the assumption it was ketamine as trisodium phosphate would also turn the testing fluid purple. The large TSP labels on the sacks could have been a valuable clue as Thai police paraded proudly in front of the contraband.
"No matter, we have admitted the mistake, and it may not be corrected in the short term."
Asked if the blunder could affect the credibility of the Justice Ministry and the ONCB, Somsak said he accepted all criticicism and to make the matter clear, he would ask the police Forensic Science Division, the Department of Medical Science and the ONCB to make lab tests with results being known this week.
"I accept the fact it might have been premature to hold a press conference to announce the seizure of a substance suspected to be a kind of drug. But in this case, the ONCB had been informed of the seizure of ketamine in Taiwan, investigated and found an undeniable link to it. It would have been a mistake if I did not make it public."
"The United Nations Office on Drugs and Crime said this also happened two or three times in other countries. This was the first time in Thailand. Moreover, on the day I held the press conference, I did not say it was 100% ketamine."
Authorities are saying they would find out where the substance in the warehouse came from, and for what purpose as they believed it could be used to conceal illicit drugs, including ketamine. The ONCB chief said the man who rented the warehouse to store the sacks had fled before the raid and avoided arrest. However, they are currently compiling a case to apply for a court warrant for his arrest in connection with the seizure of ketamine in Taiwan.
SOURCE: Bangkok Post
Keep in contact with The Thaiger by following our
Facebook page
.
Never miss out on future posts by
following The Thaiger
.
Clash with kratom smugglers by Songhkla border leaves 1 Malaysian cop killed and 1 injured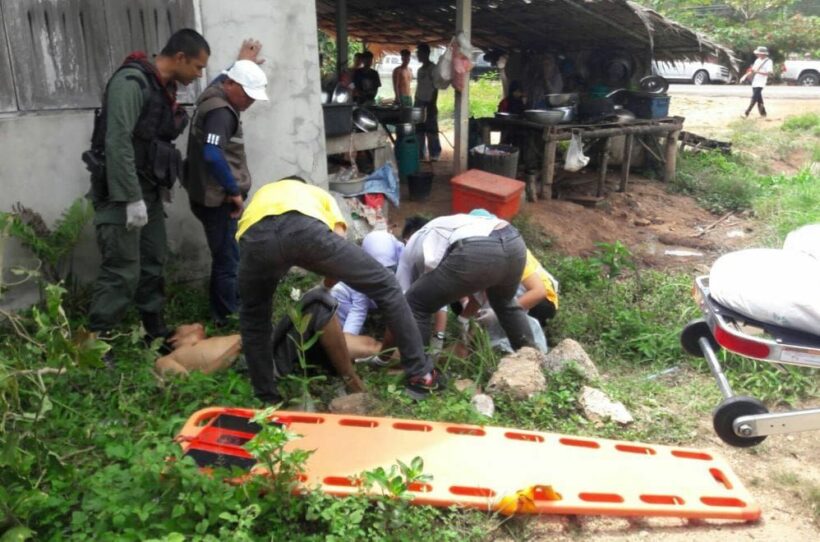 A clash with kratom drug smugglers by Thailand 's Songhkla border has left 1 Malaysian cop killed and 1 injured. The clash happened at around 2am this mornign as a Malaysian policeman came up on 13 men acting suspiciously near the border on the Malaysian side, which is opposite of Sadao district.
Gunshots were exchanged and 2 Thai smugglers were arrested with 3 other Thais wounded. The wounded Thais attempted to cross the border but were caught and sent to Hat Yai hospital for treatment. 54 year old Baharudin bi Pramli, was shot and killed whils 39 year old Norihan A/L Tari was wounded.
The kratom smugglers were believed to be both Malaysian and Thai nationals. Kratom, is a mild narcotic, which has been categorised as an illegal drug in Thailand. 1 of the injured men was taken to the area, as police say he was well enough to identify the scene of the clash and the gang's escape route. Across the border, Malaysian police reportedly arrested 2 Thai smugglers. One was 38 year old Sahamadyusob Talah from tambon Ban Khuan of Muang district, while the other was unnamed.
Recently, a Burmese man was busted with 20 kilograms of kratom after he illegally crossed a natural border into Thailand in the southern Muang district in Prachuap Khiri Khan. Border patrol police and administrative officials were patrolling Ban Hup Phueng, a village near the natural pass on the Myanmar border, after Thailand authorities sealed the border earlier due to an outbreak of Covid in Myanmar. Such arrests of illegal border crossing have been more prevalent in recent months as the province has stepped up surveillance of the border due to the Covid-10 pandemic.
Just last weekend, a Burmese refugee contracted Covid after sneaking across the border to visit his native country and upon coming back, he tested positive for the virus, causing officials to lockdown the refugee camp in Tak province.
SOURCE: Bangkok Post
Keep in contact with The Thaiger by following our
Facebook page
.
Never miss out on future posts by
following The Thaiger
.