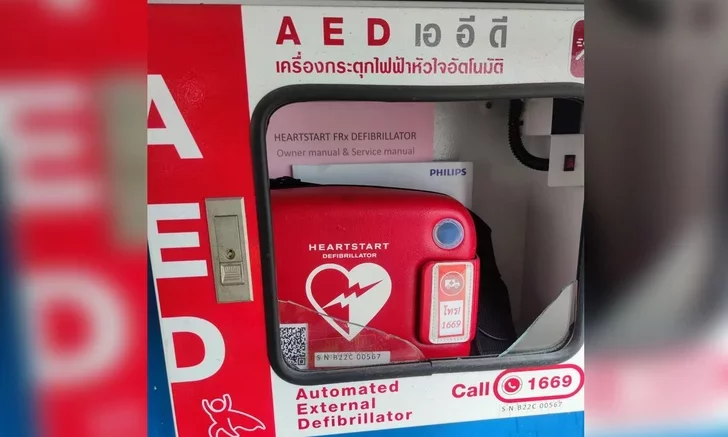 Thai news outlet Drama-addict reported that 27 public Automated External Defibrillators (AEDs) dotted around the streets of Bangkok, Thailand, have been stolen.
In total, 262 AEDs are stationed all around the city to be used to help people experiencing sudden cardiac arrest.
AEDs are life-saving, yet easy-to-use medical devices that can analyse the heart's rhythm and, if necessary, deliver an electric shock – or defibrillation – to help re-establish an effective heart rhythm.
When a person has a cardiac arrest, survival depends on immediately receiving CPR and defibrillation from someone nearby.
According to the American Heart Association, 90% of people who suffer cardiac arrests outside a hospital die.
The 27 defibrillators that disappeared yesterday are worth 1,890,000 baht (US$57,662) in total.
Drama-addict explained that the cabinets used to store AEDs are not locked because they need to be accessed quickly in an emergency.
One AED cabinet was smashed but the defibrillator inside was not stolen.
Police hope to track down and get the AEDs back after some were spotted for sale on Facebook yesterday.
Drama-addict asks the public to keep their eyes peeled for any cheap defibrillators for sale online or elsewhere.
Thieves sinking to new lows is reflective of Thailand's desperate economic situation at present.
Yesterday, a thief who stole 12,000 baht from an electrical appliance shop in Chiang Mai left an apology note stating, "Sorry, I cannot eat."
Police in Bangkok busted a motorbike delivery driver yesterday who stole from people's cars on nine occasions. He told police that he turned to sell stolen goods online because he couldn't feed his children with the money made from working as a delivery driver.
Thailand is dealing with the highest levels of household debt in 16 years, according to the University of the Thai Chamber of Commerce.
The survey interviewed 1,350 respondents during August 15-20 last year…
"Some 99.6% of respondents were in debt, which was incurred mainly from personal loans and credit cards as their income stagnated while expenses increased, driven by higher costs of living."