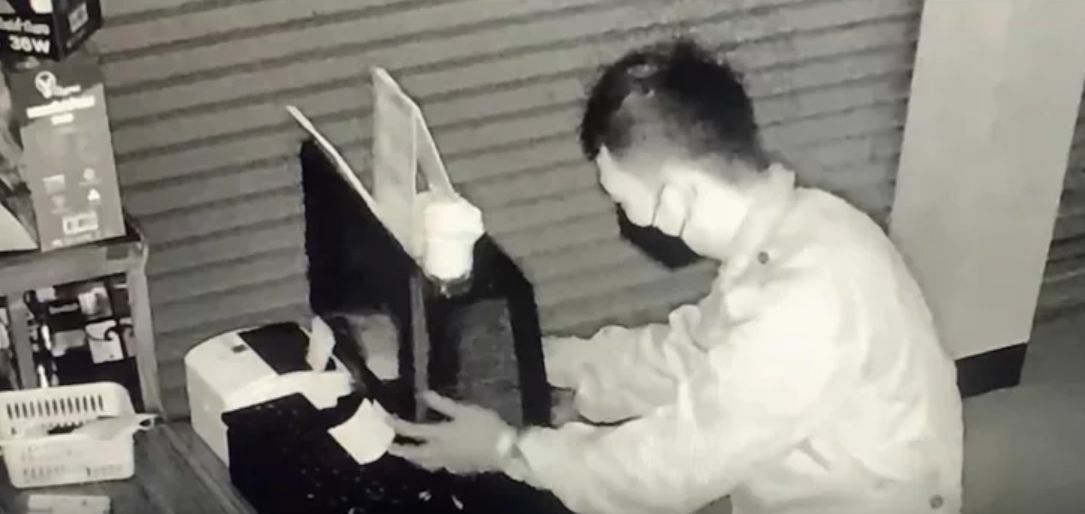 A thief stole over 12,000 baht from an electrical appliances store in Chiang Mai province in northern Thailand on Sunday morning and left behind a note apologising for his crime.
CCTV footage captures a masked assailant, a man estimated to be around 30 years old, breaking into an electrical appliance store next to Wat Tha Mai-i Temple in Chiang Mai's Mueang district at 1am.
The robber is pictured smashing the window and entering the shop armed with a flashlight. Then, he calmly removed the bolts of the cash register one by one.
He appeared to be in no rush at all, spending a leisurely 15 minutes in total in the shop before leaving out of the same smashed window with 12,213 baht.
Before leaving, the thief wrote a note on an A4 piece of paper and left it on the chair…
"Sorry, I cannot eat."
The 36 year old shop owner Jatupol did not realise his shop had been robbed until Monday morning when he went to work.
He suspects that the burglar strategically carried out the robbery on a Saturday night as the shop is closed on Sundays, suggesting he could be a local man.
Jatupol said there was nothing left in his till aside from a few coins. It is the first time his store has ever been broken into, he said.
The shop owner said he "almost felt sorry" for the thief when he first saw the note.
However, Jatupol decided to report the crime to the police because he said it was a lot of money to have lost.
Last year, the donation boxes at the nearby Wat Tha Mai-i Temple were stolen, said Jatupol. But he never expected thieves to target his store.
Jatupol said he hopes the police will catch and arrest the burglar soon to prevent him from causing damage to anyone else's businesses.