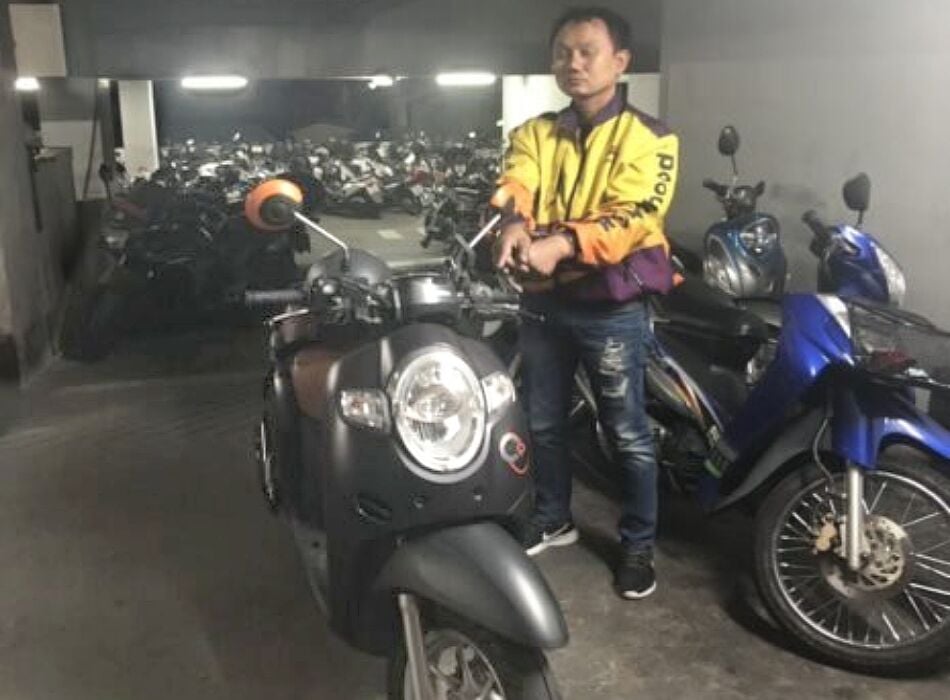 A motorbike delivery driver in Bangkok was busted after police tracked him down and revealed him as a serial thief. The investigation started after a woman reported her car had been burgled earlier in the month.
On January 13, a saleswoman named Saowalak reported a break-in of her car. It had been parked outside of the temple of Wat Traimit in Bangkok, famous for its giant Golden Buddha statue. She visited the temple in Chinatown to make merit and parked her Toyota Vios outside.
Upon coming back to her car, she discovered that her left rear window had been smashed in. Several items, including a notebook computer worth 23,000 baht, 15,000 baht worth of costumes, and a cloth bag worth 300 baht, had been stolen.
An investigation was launched to track down the thief. CCTV footage from various sources, including the police, the Bangkok Metropolitan Administration and residents, was examined.
The evidence all pointed to one place: a 44-year-old motorcycle delivery rider in Bangkok. The man was taken into custody at the Odeon roundabout on Charoen Krung Road in Bangkok. Police also gathered a few items of evidence including his Honda Scoopy-i motorbike, his uniform he wears as a delivery man, and a screwdriver he may have used to help break into cars.
The Daily News reported that Bangkok Police then went to search the delivery driver's home, in search of the stolen goods. During the room search, the man allegedly admitted to breaking into the woman's car and stealing her possessions.
But he didn't stop there. He also confessed to an additional eight similar robberies. The delivery driver's crimes took place in the Greater Bangkok suburb province Samut Sakhon as well as the Bangkok metro area.
He said he no longer had any of the stolen items though; he had sold them all on the black market for quick cash. The unlucky delivery driver said that his wife had left him and he was struggling to support his children as a delivery driver, so he had turned to less respectable extracurricular activities to help make ends meet.
The delivery driver was charged with the very specific crime of "theft at night while disguising himself and using a conveyance."