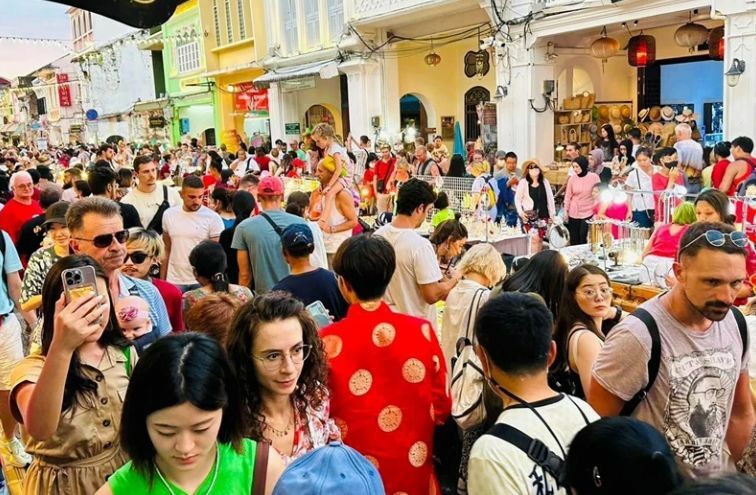 Thai tourism officials say the Chinese New Year Festival drew over 158,000 tourists to the holiday paradise of Phuket.
From January 21-22, the festival drew 158,414 Thai and foreign tourists to Phuket, said the Tourism Authority of Thailand (TAT) Phuket Office director Nanthasiri Ronnasiri.
Nanthasiri said the festival generated at least 2.6 billion baht, Thai media reported. Over the two days, there were 121 international flights from 40 airlines, which carried 24,809 passengers.
There were also 121 domestic flights, which carried 17,155 passengers.
Like many areas of Thailand, Phuket has a large, thriving ethnic Chinese population, meaning that Chinese culture has become interwoven with the local culture. Chinese New Year is a big deal on the island province.
Phuket's main city district launched the 'Phuket Lantern Festival 2023' on Sunday, January 15. The festival will run until February 5. During this time, all government offices in Phuket are decorated with lanterns. Phuket's city municipality has decorated tourist attractions and the area around Chartered Bank Intersection.
Chinese New Year is an annual celebration of the start of a new year according to the traditional Chinese lunisolar calendar. It's also called Lunar New Year because the dates of the celebration follow the phases of the moon. It starts with the new moon between January 21 and February 20, and the festivities may last until the following full moon.
Chinese New Year is full of activities that honour deities and ancestors. Families gather for dinner feasts and get together for parades featuring music, dancing, costumes, and firework displays.
Besides being celebrated in China and Chinese communities worldwide, the Lunar New Year is also a major event in some other East Asian and Southeast Asian countries, such as Korea and Vietnam. In China, the Lunar New Year is known as Chūnjié in Mandarin or the Spring Festival. Koreans refer to it as Seollal, and Vietnamese call it Tết.