Suspect arrested in Korat murder of 29 year old mother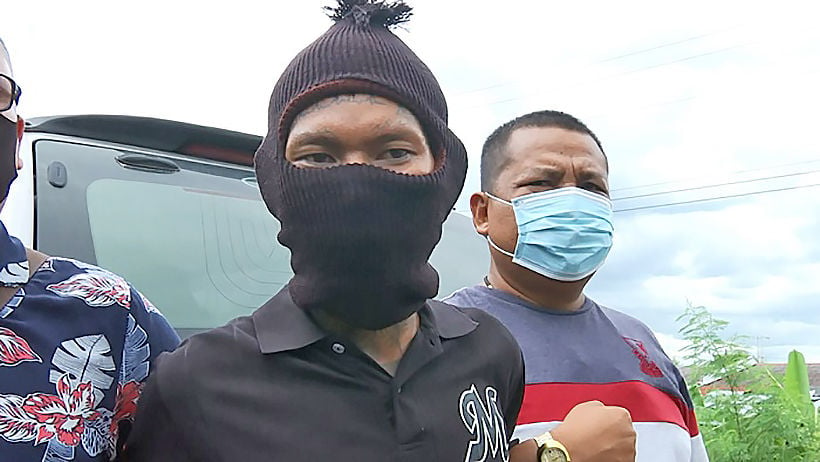 Police in Isaan's Nakhon Ratchasima province yesterday arrested an air-conditioning repairman for the murder of a 29 year old mother, the Thai wife of a Singaporean businessman at her house in the central city district. Police found 26 year old Theeraphol Duangkrathok, of Chaiyaphum province, hiding in a rough shelter in a paddy field in the province's Nong Bunmak district.
The suspect reportedly confessed to having killed Natrika Shibahara at her 2 storey house in Muang district of the northeastern province on Tuesday. She was was found dead on her bed in the second floor bedroom with her throat slit. Police say the room had been ransacked. They believe she died at least 3 hours before she was found.
Shibahara lived in the house with her 6 year old daughter. Her husband visited sometimes from Singapore and regularly sent money to her. The daughter was at school and the woman was alone on Tuesday when she was attacked. When nobody picked the daughter up from school, a teacher took her home. The teacher knocked on the front door and called out. When there was no response, the teacher tried the door. It was unlocked and she went inside, and soon found the murdered woman's body.
The deputy chief of Provincial Police Region 3 announced Theeraphol's arrest on yesterday. The suspect reportedly told police he worked at an air-conditioning repair shop near the victim's home. He had cleaned her air-conditioner 4-5 times. On Tuesday, he says, he went to her house on the pretext he had left some tools there.
When she opened the door, he threatened her with a knife and demanded cash and other valuables. He then forced her to go to her bedroom, because he wanted to search it for the cash and valuables he believed were kept there, according to police. Shibahara insisted she kept no money in the house.
The suspect allegedly demanded she transfer money to his bank account, and she deposited 10,000 baht as he ordered. Then she saw a neighbour walking in front of her house and shouted for help. He responded by cutting her throat to silence her, then stole her car keys and her mobile phone and fled.
Theeraphol said the dwindling number of clients at the air-conditioning shop led him to decide to rob her. He had personal financial problems and he never intended to kill her. He was later taken for a crime re-enactment, an important part of the Thai justice system, required in order to achieve a guilty verdict.
Police are pressing an initial charge of murder, and are compiling evidence for additional charges, including theft. Theerapol had a criminal record, having been arrested 4 times previously, for theft, physical assault and drug abuse.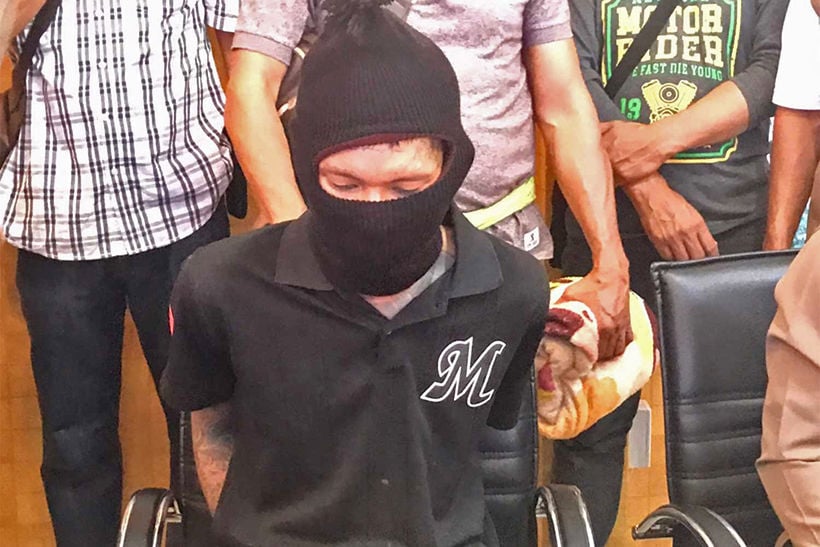 SOURCES: Chiang Rai Times | Bangkok Post
Keep in contact with The Thaiger by following our
Facebook page
.
Never miss out on future posts by
following The Thaiger
.
Police arrest 13 illegal Cambodian migrants in Sa Kaeo border province
According to police, the vehicle's Thai driver said he would send the migrants to Nonthaburi, Bangkok and Nakhon Nayok amongst other provinces.The migrants reportedly told police they paid 3,000 baht for an alleged human trafficker to transport them into Thailand. Officials say they sent the arrested migrants to the Ta Phraya police station to be prosecuted, but there was no word on whether the Thai driver would be charged as well.
Such a crackdown on illegal migrant arrests have come after Thailand has been trying to seal its bordersto prevent the spread of Covid after neighbouring countries, such as Myanmar, have seen a recent spike in cases. Just over 2 weeks ago, Thai authorities arrested 23 Cambodian migrants after they were found in a forest after allegedly crossing the border.
SOURCE:Pattaya Mail
Keep in contact with The Thaiger by following our
Facebook page
.
Never miss out on future posts by
following The Thaiger
.
Mother abandons 3 young children in their locked Bangkok room for 3 days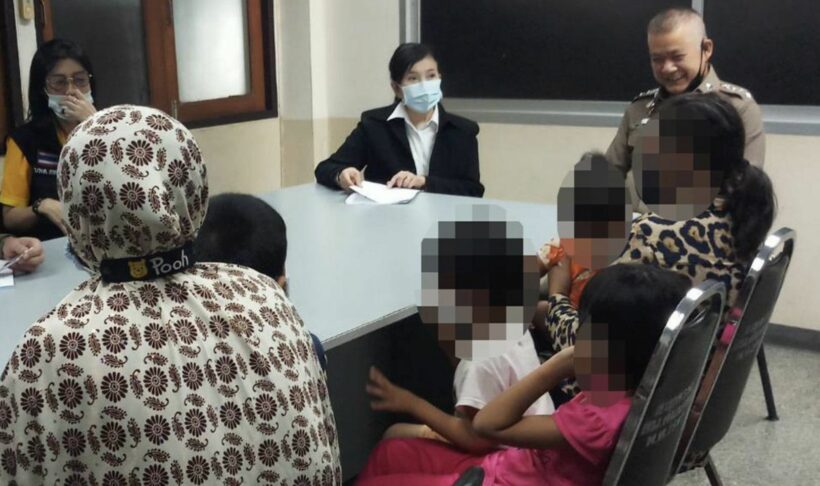 3 young Bangkok children were abandoned in a small room for 3 days after the mother allegedly visited her new boyfriend. A neighbour was taking care of the youngest of the 4 children, a 4 month old baby, but the mother never contacted anyone about her other 3 kids. The mother hadn't returned to pick up her baby from the neighbour, as promised. Police report that the 3 children had no food for the 3 days. Paveena Hongsakul from the Foundation for Children and Women called Police at the Khan Na Yao Police Station, a northeastern suburb of Bangkok.
Police received a report about the 4 children, aged 7, 6, 4 and the baby.
The 25 year old stepsister notified the foundation on Thursday informing police that her 32 year old sister, Gift, is the mother of the children. Gift's husband is serving a sentence for drug charges and has been incarcerated for 3 years. Since then Gift had the 4th child, although the family is unsure who the father is. The sister claimed that Gift was always asking the family for financial assistance.
Last Monday Gift's neighbour contacted the sister saying that she had been taking care of the young baby. She went to Gift's room to see if she was there and the room was locked. She checked through a window and could see the 3 other children and noted that they were stressed and looked hungry.
When she asked the children about their mother the youngsters remained silent. She worked with the other neighbours to rescue the children through the window. Gift's phone was left in her room. After filing a report with the local police the neighbour took the other 3 children in to care for them but told police that her room was only 33 square metres and there were 11 people living in her tiny room already.
Police and the neighbour tried to call Gift's new boyfriend. Eventually he answered but told them that he was "far away and didn't know when Gift could return".
All 4 children are now safe at the foundation after a visit to the local police station as police wait to interview Gift when she returns.
SOURCE: Thai Residents | Khaosod.co.th
Keep in contact with The Thaiger by following our
Facebook page
.
Never miss out on future posts by
following The Thaiger
.
Female prisoner on the run after escaping from Phuket Hospital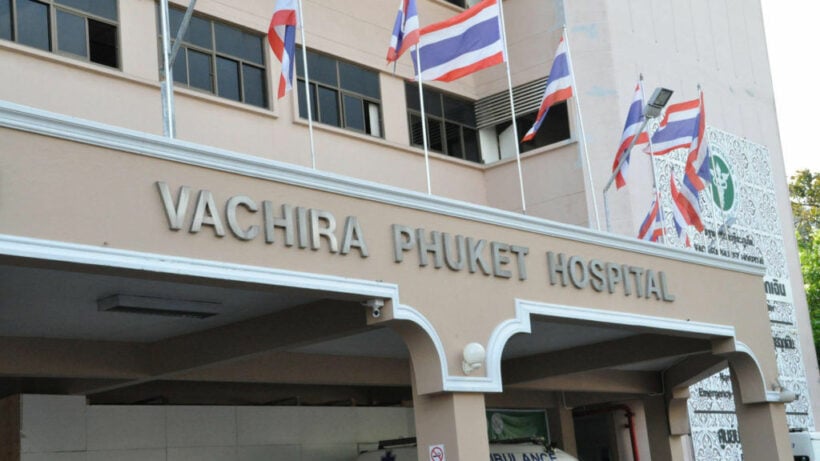 A female prisoner is on the run after escaping from Vachira Hospital in Phuket during a doctor's appointment. 58 year old Siri Phodam allegedly escaped after asking her prison escort officer to use the toilet. But she took a long time to come back, and was found to have escaped. CCTV cameras caught her dressed in a blue hospital patient shirt and a sarong leaving the hospital quickly. A Phuket prison officer says the woman is 158 centimetres tall and has dark skin.
"Some of our own officers are searching for her, and we have also sent the prisoner's description to all Phuket police stations. However, at this stage we have not found any clues."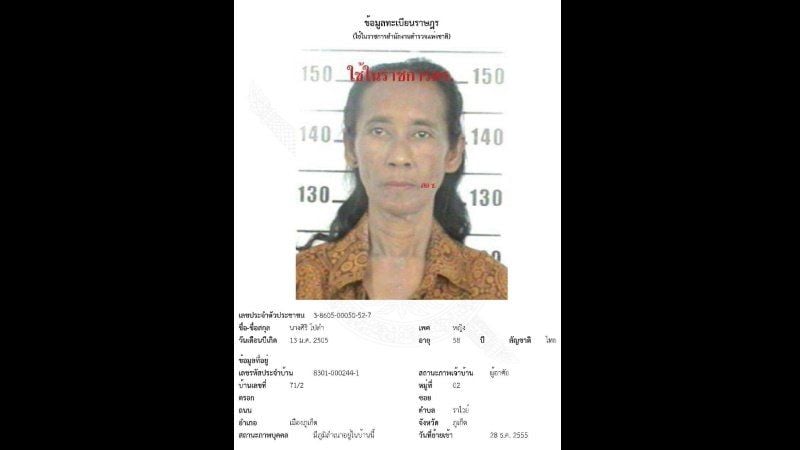 "If anyone finds a person matching the prisoner's appearance, please inform us by calling 076 212 104."
Siri was imprisoned after being charged with posessing illegal drugs and lived in Moo 2, Rawai.
SOURCE: The Phuket News
Keep in contact with The Thaiger by following our
Facebook page
.
Never miss out on future posts by
following The Thaiger
.